Details for the Current Unibet Promo Code Offers

Unibet is offering EatWatchBet readers a unique promotion this June. New players will get a 100% bonus offer, paid as a second chance bet worth up to $100.
With this new Unibet promo code offer, every new player will get a one-time second chance bet worth up to $100. If your first wager fails to win, get the bet back as a bet credit.
Find the details for each of the current Unibet promo code offers in the table below:
| | |
| --- | --- |
| SportsBook Offer | $100 Second Chance Bet |
| Casino Offer | $200 Second Chance Bet |
| Terms | New Players Only. Minimum $10 Deposit for Free Bet. |
| SportsBook States | AZ, NJ, IN, PA, VA |
| Casino States | NJ, PA |
| Last Verified | June 7, 2023 |
How Unibet Promo Code Offers Work
As any veteran sports bettor will tell you, it is important to understand the terms for any promo code offer before signing up and placing your first wager. We currently have three different Unibet promo code offers available to new players, and each promotion has unique terms and conditions. Find the details for each type of promotion in the table found below.
The most common Unibet promo code offer for new sportsbook players is a second chance bet. With this type of promotion, new players will get a full refund for their first wager if it fails to cash. This type of offer is available in every Unibet market and has a cap of $100.
In addition to the sportsbook offer, new casino players can get a $200 second chance bet. This offer works exactly like the sportsbook promotion, but has a higher total bonus amount ($200 cap).
Registering using any of our Unibet promo codes is easy, but we recommend that every new player review the terms for each offer before placing their first bet. It is important to follow the required to steps to ensure you get your full bonus.
Terms for Unibet Sportsbook Promotions
The terms for the current Unibet promo code offers are straightforward, but there are two terms you must be aware of before opening a new account.
First, these offers are only available to new players, placing their first bet with Unibet Sportsbook. Second, there is a 1x rollover requirement (must be met within 30 days of opening an account) for all bonus funds. For example, if you win $250 with your initial free bet, that $250 must be wagered one more time before being available to withdraw.
The 1x rollover requirement is an industry-best, as several popular books require considerably higher rollover requirements. The current requirement for our DraftKings Sportsbook promotion is around 6x. The current BetRivers deposit bonus is the only other 1x sportsbook promotion available this June.
In addition to the terms for each promotion, new players are subject to the eligibility requirements in each state that Unibet operates. The Unibet Sportsbook app will verify all this information as part of the registration process.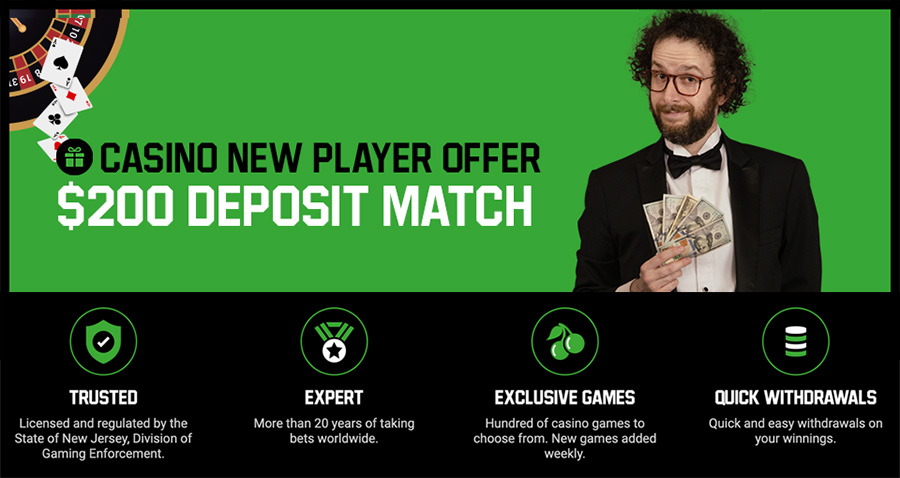 Steps to Register Using our Unibet Promo Code
Whether you are signing up at Unibet Sportsbook or Unibet Casino, the process to use our promo code remain the same. Be sure to follow each of these four steps to ensure you receive the correct bonus when you register.
Visit the Unibet website or app and begin the registration process.
Enter our promo code on the first page of the registration form.
Verify your location and eligibility as part of the registration process.
Make an initial deposit of at least $20.
Place your first wager and receive a full refund if it fails to win.
Once you have completed these four steps, your bonus should be immediately available in your Unibet account. Note that the bonus will only apply if your first bet does not cash.
Best Unibet Odds Boosts for June 7
Unibet knows that sports bettors appreciate any extra winnings that they can get. That's why they offer new odds boosts each day to keep players energized! Here are a few of the best odds boosts for today:
Jimmy Butler to record more rebounds than Michael Porter Jr: +115
Nikola Jokic to score 30+ points and Nuggets to win: +230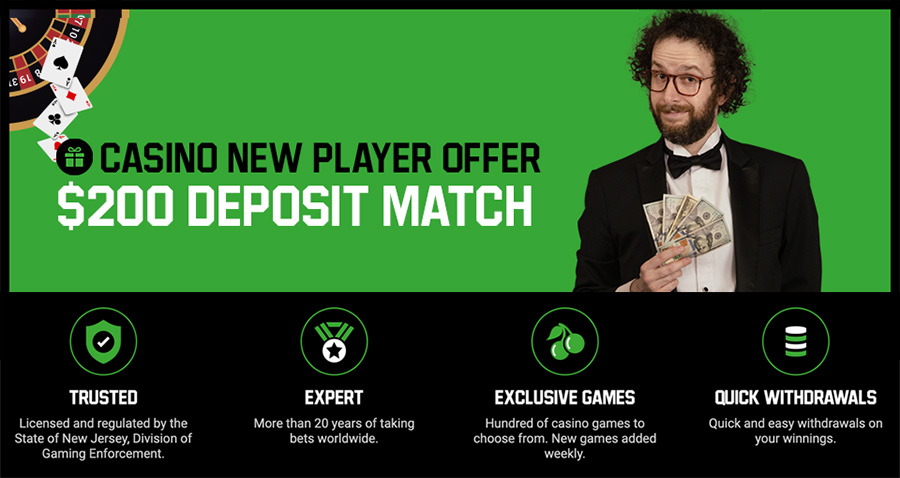 Details for the Unibet Casino Bonus Offers
Unibet Casino has two bonus offers available to new players this June. The first is a $10 no-deposit sign-up bonus that will allow you to try their casino app before deciding if you want to make a deposit. Once ready to fund your new Unibet account, the second promo code offer will provide you with a second chance bet worth up to $200.
This structure is arguably the best way for a casino to entice new players to give their online products a try. It has been a relatively successful strategy for Unibet as its casino product is among the strongest in the industry.
At the moment, Unibet Casino is only available in New Jersey and Pennsylvania. Gamblers in these markets can stack the current sportsbook bonus with the casino bonus to receive a total welcome package of up to $760.
Unibet also tied the two apps with new casino games, such as Eagles live dealer games, an entire suite of Philadelphia Eagles-themed games. Unibet players are also able to earn and track rewards points across both apps.
Top Features of the Unibet Casino App
There are plenty of features we love in the new Unibet Casino app, which has a 4.8 rating in the App Store. Here are a handful of features that stand out to us:
Massive Selection of Casino Games
When reviewing online casinos, we always start with the various casino games available. Unibet excels here, with hundreds of options available in the app and new games added weekly. Unibet Casino sends out a weekly email with a list of the new games that are now available on the website and in the mobile app.
Great Live Dealer Table Games
While most of the new Unibet Casino games tend to be slots, the company has also put together an impressive selection of live dealer and table games. Several online casino operators will slack here as live dealer options tend to be more expensive to operate and drive less revenue. However, Unibet's live dealer casino games are among the best in the industry, with options available 24x7.
Player Friendly Bonus Terms
Anytime you receive bonus money from an online casino operator, some terms and conditions apply to the funds. Our current Unibet promo code has an industry-leading 1x rollover. This means that the funds are yours once you play through them just one time. In comparison, the total bonus available trails apps like Caesars and BetMGM. However, the terms of the offer are what sets Unibet Casino apart.

How to Bet with Unibet Sportsbook
Unibet was founded in 1997, and they now offer legal online sports betting in ten different countries. Their first US betting location opened in New Jersey in 2017. Thankfully, Unibet has mastered the sign-up process. With only four steps, you can open your new Unibet account and start wagering today.
1. Visit the Website or Download the App
Unibet's website and app are nothing special to look at. Though their layout is basic, the app and the site are easy to navigate, even for newer sports bettors.
2. Sign Up Using Our Unibet Promo Code
Unibet is a big believer in simplicity, so much so that they don't even require a promo code. To take advantage of a promo, simply select the offer you want when registering your account. Select "Sports Offer" in the drop-down box for the sportsbook offer. That being said, there is a box that allows you to enter our promo code just to be certain you receive the right offer.
3. Make Your First Bet of $10 or More
The current Unibet Sportsbook offer requires you to deposit at least $10 to receive your free bets. Deposits can be made using a credit or debit card, checking account through Trustly, or PayPal.
4. If Your First Bet Loses, Unibet will Give You a Free Bet to Cover It
With Unibet's current second chance bet promotion, they will reimburse your account with a free bet if your first bet loses! The Unibet promo code offer caps at a $100 bonus bet, meaning your first wager is only covered up to $100.

What States is Unibet Sportsbook Available In?

As of June 2023, Unibet offers legal sports betting in 6 US states, including Arizona, Indiana, Iowa, New Jersey, Pennsylvania, and Virginia. Additionally, Unibet Casino is available in both New Jersey and Pennsylvania.
The current welcome bonus for Unibet Sportsbook includes a one-time second chance bet of up to $100. Players that sign up using this promotion will receive a full refund if their first wager doesn't win. This offer is available across every state that Unibet Sportsbook is currently available.
Here is a look at the current promo code offer for every state that Unibet is currently available in:
Unibet Pennsylvania
Unibet is one of our top-rated sportsbooks in Pennsylvania. They offer a polished mobile betting app, and all new PA players are eligible to receive a $100 second chance bonus bet. In addition to sports betting, Unibet Casino is available to bettors in the Keystone State.
Launch Date: November 2019
Online/Mobile Betting: Yes
Arizona Partner: Mohegan Sun Pocono
Retail Sportsbook: 1780 Airport Road Allentown, PA 18109
Current Bonus Offer: $100 Second Chance Bet
Unibet New Jersey
Unibet launched in New Jersey in September of 2019, making it the first state the Malta-based sportsbook launched in here in the U.S. Like Pennsylvania, Unibet offers both sports betting and casino games in New Jersey. New players that sign up using our promo code can receive a $100 second chance bet on any sport. New casino players can receive a second chance bet worth up to $200.
Launch Date: September 2019
Online/Mobile Betting: Yes
Arizona Partner: Hard Rock AC
Retail Sportsbook: Not Available
Current Bonus Offer: $100 Second Chance Bet
Unibet Arizona
Unibet is one of our highest-rated Arizona sportsbooks thanks in large part to their current $100 bonus offer. In addition to a great bonus offer, AZ bettors can earn Unibet Rewards points and get 24/7 support through the website and app.
Launch Date: September 2021
Online/Mobile Betting: Yes
Arizona Partner: Paradise Casino
Retail Sportsbook: 450 Quechan Drive, Yuma, AZ 85364
Current Bonus Offer: $100 Second Chance Bet
Unibet Indiana
Unibet offers online and mobile sports betting in Indiana, but does not have a retail sportsbook location at this moment. Compared to the other IN sports betting options, Unibet excels in customer support and offers a solid rewards program, but lacks the innovative product design that you find with DraftKings and FanDuel. The current welcome offer is a second chance bet worth up to $100.
Launch Date: July 2020
Online/Mobile Betting: Yes
Arizona Partner: Horseshoe Hammond Casino
Retail Sportsbook: Not Available
Current Bonus Offer: $100 Second Chance Bet
Unibet Virginia
Virginia is a sports betting state that allows stand-alone permits, meaning Unibet operates in the state without a casino partner or retail sportsbook location. While we have seen Unibet offer a 100% deposit bonus to VA bettors in the past, the current welcome offer is limited to a $100 second chance bet. This rates as one of the poorest welcome offers from a VA sportsbook.
Launch Date: April 2021
Online/Mobile Betting: Yes
Arizona Partner: None
Retail Sportsbook: Not Available
Current Bonus Offer: $100 Second Chance Bet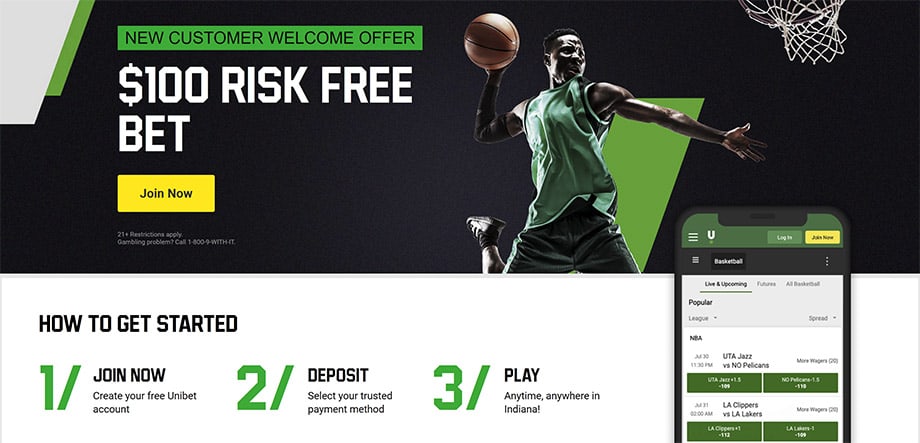 New Unibet Promotions for Existing Players
In addition to the sign-up bonus code offers listed on this page, Unibet announced a list of new promotions available to existing players for the start of the 2022-23 NFL and College Football seasons.
Here are the new ways Unibet players can win more, win easier, or even earn money without betting:
MLB Bet & Get - Here's a nice offer for Unibet customers to take advantage of during the MLB season. Simply place a $20 minimum two-legged parlay and get a free $10 live bet!
Boost Up Your Parlay - The more legs you add to your parlay, the higher the payout. All parlays from 3 to 12 legs can qualify for an odds boost. Players can opt into an unlimited number of odds boosts, but the max wager is $100.
Weekly Free Bet- If you're a big fan of live betting, this is a nice promo that you can use each week. Simply place (5) live bets of $10 or more to get a Free $10 Bet for the next week. On each of your bets, the odds must be -300 or less.
Refer-a-Friend - Unibet recently introduced its first refer-a-friend program. Get $50 for every friend you send to Unibet, as long as they create an account and deposit at least $50. Players can redeem this bonus up to 10 times for a total referral bonus max of $500!
PointsBet Sportsbook currently has our top-rated selection of promotions for existing players, but Unibet's total list of promotions is nearly as impressive. It's exciting to see that, noot only does Unibet incentivize new players, but they reward existing players for using the app as well!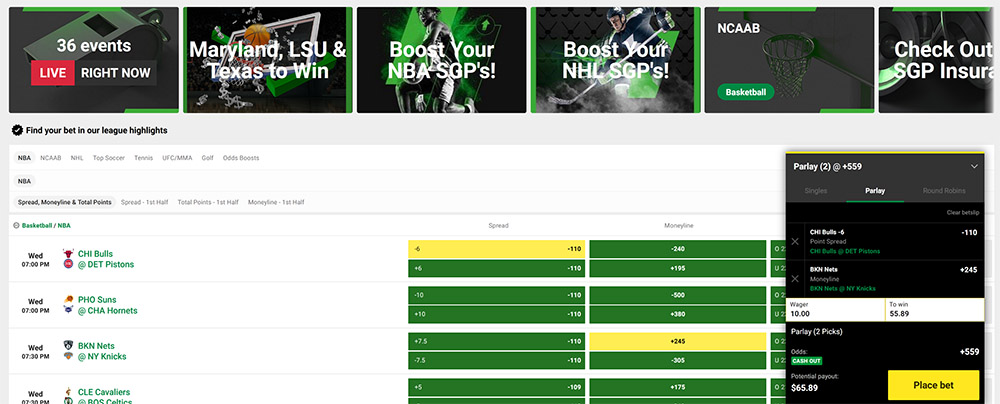 FAQs for Current Unibet Promotions
Unibet updates its new player offers as frequently as any US sportsbook. The current second chance bet offer is guaranteed to run through the end of the 2023 MLB season.
Unibet ran a $50 free bet offer for the first two weeks of the NBA season that could return at some point in the near future, especially with the NBA and NHL Playoffs only days away. With so many new promotions, we get a lot of questions about different offers work and what terms are attached.
We address most of the questions we receive regarding the current Unibet promotions in the FAQs below.
Is Unibet legal in the US?
Yes, Unibet is a licensed and regulated sportsbook in the US. They currently accept bets online and in-app in five US states: Arizona, Indiana, New Jersey, Pennsylvania, and Virginia.
What does the current Unibet promo code offer include?
The current Unibet Sportsbook bonus offer includes a 100% second chance bet that caps at $100. This offer is only valid on your first wager and can be used on any sport. Additionally, new casino players can lock in another $1,000 in bonus funds if they register before the end of June.
How do I use a Unibet promo code?
Whether you are signing up at Unibet Sportsbook or Unibet Casino, the process for using our promo code is extremely user-friendly. The easiest way to guarantee you get the right offer is to visit our offer's landing page, opt into the bonus of your choosing, and complete the required steps to receive your bonus money. While you don't have to enter our Unibet promo code, there is an option to as part of the registration process.
Does Unibet offer promotions for existing players?
While Unibet does not offer existing players promotions as often as sportsbooks like PointsBet and BetMGM, they offer reduced juice and improved odds bets occasionally. These offers will be featured at the top of the website and app when they are available.
Does Unibet have a referral program?
Yes, Unibet has an excellent referral program. Each time you refer a friend who deposits $50 and places at least $50 in bets, you'll both receive a $50 bonus. The cool thing is you can do this up to 10 times for a maximum referral bonus of $500.
Does Unibet have a mobile app?
Yes, Unibet offers a mobile app for both iOS and Android users. The app is far from the most polished in the US sports betting market but loads quickly, is well laid out, and allows users to quickly get in and out of bets. Check out our Unibet review for a complete breakdown of the app.
What sports are available at Unibet Sportsbook?
Unibet offers betting across every major profession and college sport. By now, bettors expect this from an online sportsbook, and Unibet does a great job of meeting this expectation. In addition to popular American sports, Unibet also offers odds for most international leagues and eSports.
What casino games are available at Unibet?
Unibet offers a wide variety of online casino games, including slots, table games, live dealer games, keno, and more. The app and website are both easy to navigate, allowing you to quickly browse and play casino games from the comfort of your home.
What customer support options does Unibet have?
Unibet offers four different options whenever you need customer support. Players can utilize their live chat function, email a rep through the Unibet community page, call their toll-free number, or use their search engine. The Unibet support number is 1-855-486-4072. Phone and live chat support are available 7 days a week from 8 AM to 11 PM.

Is my money safe with Unibet?
Yes, your money is always safe with Unibet. Though they are still fairly new to the US market, Unibet has been a major sportsbook brand in the UK for quite some time. The company is regulated by gambling commissions in the UK and the USA.
Can you have more than one account with Unibet?

No, Unibet has a limit of 1 account per person. Unibet will verify your identity and location on signup to ensure you don't already have an account. This policy also helps ensure each player is able to receive only 1 welcome bonus.

How fast does Unibet process withdrawals?

Unibet processes most withdrawal requests within 24 hours. Funds availability will depend on how your withdrawal is processed, but payouts to credit and debit cards are usually available within 2-3 business days.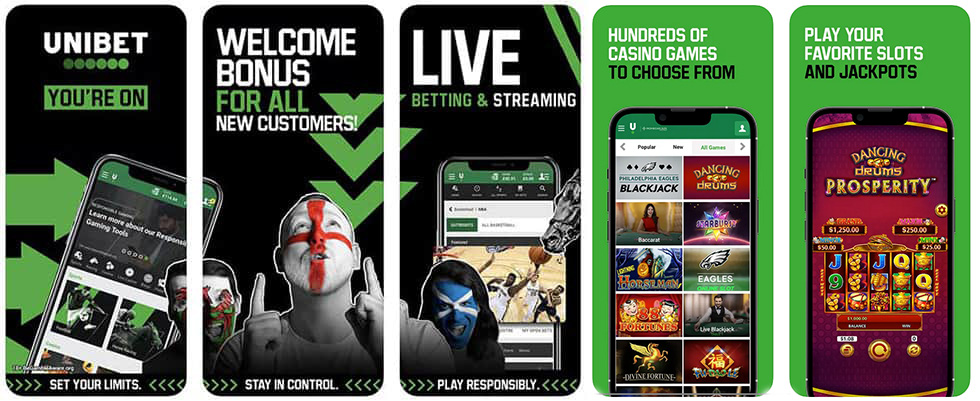 Unibet Promo Code Offer: Pros and Cons
Unibet is slowly becoming more and more popular in the US. The current Risk-Free Bet offer for new customers is a nice gesture, but does that mean that Unibet is a good fit for you? Check out the following pros and cons before making your decision.
Pros for the Current Unibet Bonus
A second chance bet promotion is a nice way for new customers to try out Unibet with very little risk.
Unibet bonus offers feature player-friendly terms, and new casino players can try the app without having to deposit money.
Unibet provides competitive odds on a wide variety of sports.
Industry-best customer support, including a 24/7 chat option.
Cons for the Current Unibet Promo
Though the terms are friendly, other online sportsbooks offer much larger bonus options.
The app and website feel outdated when compared to DraftKings and FanDuel.
Not many promotions or odds boosts for existing players.
Review of Current Unibet Promo Code Offers
While nothing about Unibet's current second chance promotion will blow anyone away, this is a great example of finding a niche offer to attract new users. In addition to the current sportsbook bonus, new casino players can try out the Unibet casino product without depositing with $10 in free play just for registering. This is currently one of the few no-deposit promotions in the casino industry.
Comparing the current Unibet bonus code offer to those at PointsBet, TwinSpires, and other industry leaders gave this promotion a rating of 4.6 (out of 5).
On the one hand, it is a smaller bonus with slightly less player-friendly terms. On the other hand, the no-deposit free play offer is a nice gesture for casino players.
The other thing new players should consider with Unibet is how player-friendly their odds and juice are. A quick review of our odds checker will show you that Unibet offers the best odds and/or lowest juice more often than not. This means you win more money more frequently by betting with Unibet.
The main downside to betting with Unibet is that their website and app feel dated compared to other brands. While PointsBet Sportsbook, for example, updates its app weekly, the Unibet sports betting app has changed very little since its launch four years ago.
Our Unibet review and rating was last updated on June 7, 2023.
| Review | Unibet SportsBook Offers |
| --- | --- |
| Details | Like many sportsbooks operating in the US, there are pros and cons to using Unibet. Its strengths include a wide variety of betting options, low juice, and a great website. Unibet could improve its overall mobile betting experience and new player promotions. Bettors looking for an alternative to FanDuel, DraftKings, and BetMGM would be hard pressed to find a better option than Unibet but will find better bonus offers elsewhere. |
| Author | Chris Lollis |
| Rating | 4.7 (out of 5) |
21+ to wager. Please Gamble Responsibly. Gambling problem? Call 1-800-GAMBLER. Call 1-800-NEXT-STEP (AZ), 1-800-522-4700 (KS, NV), 1-800-BETS-OFF (IA), 1-800-9-WITH-IT (IN), 1-877-770-STOP (7867) (LA), Call 1-800-327-5050 (MA), Call 1-800-GAMBLER or visit mdgamblinghelp.org (MD), 1-800-270-7117 for confidential help (MI). Call 877-8-HOPENY or text HOPENY (467369) (NY), 1-888-532-3500 (VA).