We have likely all seen the new Kevin Hart DraftKings Reignmakers commercials that air during NFL and CFB programming across the major networks. But what exactly is DraftKings Reignmakers, and how does the NFT Fantasy Football game work? We will have you ready to start building your NFT dynasty by the end of this article.
Fueled by endless ambition and innovation, DraftKings has grown from a garage-based startup to one of the most well-known and popular sports betting and daily fantasy companies.
Initially launched in 2012 by former Vistaprint employees, DraftKings unveiled its first one-on-one baseball game on Opening Day in 2012.
A few months later, investors poured $1.4 million into the startup. DraftKings continued to grow in the years to follow thanks to a combination of effective marketing, timely investment, and riding the wave of the growing popularity of fantasy sports.
Now in partnership with the NFLPA, DraftKings is looking to usher in the next generation of gaming through Reignmakers Football, an NFT-based fantasy game. According to DraftKings, users can acquire athlete NFTs and harness them in a format similar to Daily Fantasy Football (DFS) to score points.
The partnership with the NFLPA was announced back in December 2021, and player tokens became available on the DraftKings marketplace on May 17, 2022. The initial player pack drop included NFTs of stars like Josh Allen, Travis Kelce, Joe Burrow, Lamar Jackson, and Justin Jefferson.
But what are NFTs? Why is this unique technology being featured by DraftKings in its new game? How is DraftKings looking to leverage the worlds of crypto and blockchain for fantasy sports and betting?
Most importantly, what do I need to know to hit the ground running with the Reignmakers game once the NFL season kicks off in early September? Here's an overview of all you need to know about the DraftKings Reignmakers NFT game to be ready to play and compete each week!
Try Reignmakers for Free
Before we get too far into our DraftKings Reignmakers breakdown, we wanted to start off with our current promotion which will allow you to enter week 1 core contests for free! Using the promo code found below, new players receive a full-roster starter pack. This pack includes everything you need to enter week 1 contests. Check our DraftKings promo codes landing page for more details on this offer.
DraftKings Reignmakers Basics: What Exactly Are NFTs?
NFTs are short for Non-Fungible Tokens. Non-fungible means an item is entirely unique and is unable to be replaced. A 1/1 sports trading card is non-fungible because there's nothing like it in the world.
In the world of crypto, NFTs are assets on the blockchain that are totally unique, based on identification codes and metadata. 'Tokenizing' assets and turning them into NFTs continues to grow in popularity as they can be used to represent real-world items for efficient commerce and to reduce fraud.
Blockchain technology is immutable, unable to be hacked, and leaves a permanent transaction record so activity can be traced.
NFTs have grown to be very popular in the collectibles world, especially with artwork, sports cards, and other rarities. In May 2022, sales volume for NBA Top Shots, a digital collection of top NBA moments, surpassed $1 billion.

How Will Does Reignmakers Work?
Advertising a "Build.Play.Win" model, DraftKings touts Reignmakers Football as the "next generation of fantasy football." Players can purchase exclusive NFTs of NFL players and use them in daily fantasy contests.
However, NFTs also come in rarity levels (CORE, RARE, ELITE, LEGENDARY, REIGNMAKER). This has a few implications. Rarity can dictate what type of lineups and contests a card can be used in. For example, some fantasy contests might require players to enter a lineup that has an ELITE QB NFT card.
DraftKings notes there's a 'SuperStar' status player card that can only be used on a one-per-lineup basis, even if a user has multiple SuperStar player NFT cards.
Cards are distributed by position, and players will need to build lineups with a variety of positions, much like traditional fantasy football. Players collect points based on the real-world results of each player in a model similar to Daily Fantasy Football (DFS).
DraftKings has published a comprehensive list of all players featured as NFTs in the Genesis collection, along with pertinent details.
Each NFT also grants holders access to contests, player pack drops, and other benefits. Unsurprisingly, the rarity of each NFT corresponds with the exclusivity of the rewards. In early July, DraftKings revealed that NFT utility would include perks like DraftKings Crowns boosts, weekly DraftKings sportsbook free bets (up to $100), and franchise score boosts.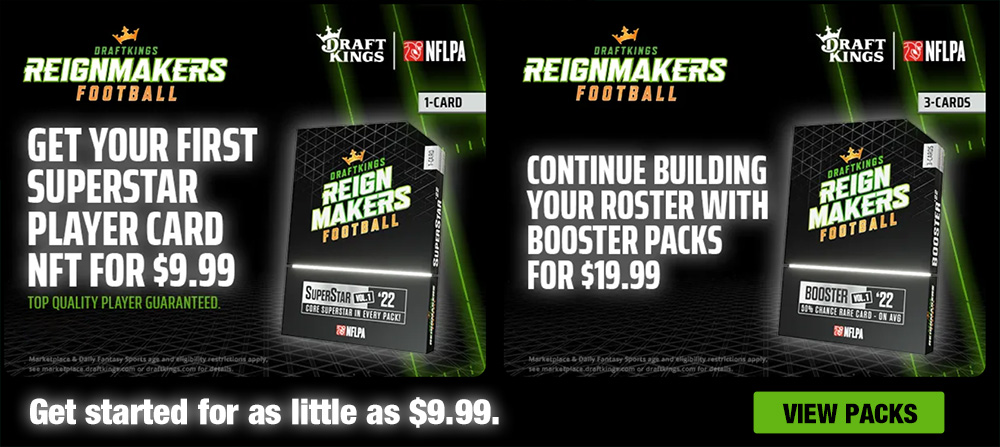 How Can I Acquire Reignmakers Player Card NFTs?
Those looking to play have a few ways to collect player NFTs to get in on the action:
One of the primary ways to collect cards is through pack drops. Users can buy a 'pack' of unrevealed cards to build their lineups, with varying guarantees and content likelihoods. Each Genesis Legendary pack guaranteed buyers three Rare, one Elite, and one Legendary/Reignmaker NFT in each pack.
Pack drops are popular because users can spend small amounts of money and potentially get lucky by acquiring big cards. However, there's always the risk buyers might not be satisfied.
In August, one Twitter user complained they spent $1,500 on a pack and got"some backups who are unlikely to ever be usable in the game."
In mid-August, DraftKings revealed it would charge between $39.99 to $29,999.99 for packs in its next "dramatically improved" NFT drop. The $29,999.99 REeignmaker pack has a limited quantity of 20 and includes eight Elevate cards and "one Reignmaker SuperStar or Brady/Kyler/Burrow Reignmakerin every pack."
Users can also acquire NFT cards via auctions on the DraftKings marketplace website. Auctions allow users to bid and buy specific NFT player cards. A 2022 Genesis Set Holo NFT Reignmaker NFT card of wide receiver Elijah Moore sold for $1730 in early August 2022.
Finally, users can simply hunt on the DraftKings secondary marketplace to purchase NFT cards and/or unopened player card NFT packs. Unsurprisingly, sale prices for both auctions and on the secondary marketplace range based on the position and the player's talent level. An article from DraftKings on August 17 noted auction sales for NFT cards of QBs Josh Allen ($14.4K) and Joe Burrow ($13.3K) suggested cards for high-profile QBs were deemed the most valuable by the market.
The initial buzz within the secondary market, according to DraftKings, largely focused on users responding to key injuries. Sales of the Joe Flacco RARE NFT card reached $45 when news about Jets QB Zach Wilson's injury concerns emerged.
What's The Price To Play Reignmakers Contests?
Week One contests were posted on August 17, which means savvy players have been working hard on buying packs and sleuthing on the secondary marketplace.
All DraftKings Reignmakers contests remain free to enter for NFT card holders. DraftKings plans to dole out more than $1 million in cash prizes every week of the NFL season, along with prize packs of NFT player cards.
A 50-person live final at the end of the NFL season provides an additional opportunity to win money.
Users who register to play will get a free full-roster starter pack of NFT cards from DraftKings so they can start playing right away. However, this starter pack does not include any superstars, and cards are not able to be sold on the marketplace.
As a result, users will need to invest some money in either buying packs or bidding on/buying NFT cards to create the most competitive rosters each week for the best chance to win.
What is The Utility For These NFT Player Cards?
The primary utility for each NFT NFT player card is the ability to use them in lineups to win cash. While there are also options to win other prizes,"the bulk of the cash prizing and other prizing is tied to the current year collection," according to DraftKings President Matt Kalish.
Utility for older cards will primarily come through secondary market sales (assuming the NFT player cards do come to be collectible items). Kalish has signified there would be contests featuring cards from previous years.

How Can I Get Involved And Start Playing?
Those interested in playing DraftKings Reignmakers Football should head to the DraftKings website and sign up to start building their teams. The main set drop is scheduled to occur on September 1.
Players can also join the DraftKings Reignmakers community on Discordand Twitterto keep up with the latest news and updates while interacting with other players. Users who refer a friendwill also collect $20 DK dollars to use towards Reignmakers Football.
What Led DraftKings To Turn To NFT Technology?
DraftKings has rapidly risen to prominence in the sports world over the last few years despite a few challenges along the way. One was the FTC's blockage of a merger between the fantasy sports company and competitor FanDuel. DraftKings began exploring a merger in 2017 to combine expenses and ultimately result in a company with many more registered users.
However, any plans for a merger were put on hold in 2017 after the Federal Trade Commission announced it would file to block an agreement based on antitrust laws. Ultimately, both companies backed off and have not tried to renew the idea.
However, a 2018 Supreme Court ruling represented a watershed moment for DraftKings development. After the Professional and Amateur Sports Protection Act (PASPA) was ruled unconstitutional, states acquired the right to offer sports betting. DraftKings quickly launched sports betting in New Jersey and ascended to become one of the top daily fantasy sports and betting websites.
What does this timeline have to do with NFTs? It suggests DraftKings understands the company remains on an upward trajectory and sees an opportunity to leverage sports as an effective tool for blockchain and Web3 adoption.
In March 2022, DraftKings launched an NFT series in time for the annual March Madness NCAA basketball tournament. The Reignmakers UFC Gamified NFT series also debuted before UFC 726 in July. Reignmakers Football continues DraftKings NFT trend as the first NFT game made in partnership with the NFLPA.