Details for Current TVG Promo Code Offers
TVG is arguably the biggest name in Horse Racing, backed by a betting experience that has redefined the way we bet on horses here in the US. TVG allows bettors to view odds for upcoming races around the world, research horses, jockeys, and trainers, find expert picks, and watch live streams of all races. And with this TVG promo code, the experience is even better!
TVG has the industry's largest pool of bettors and their customer retention is off the charts with players citing their love of the TVG site and TVG mobile app as the primary reason to make TVG their racebook of choice.
In addition to offering one of the more polished betting experiences in the industry, TVG also offers some of the best new player promo code offers available. They are currently offering up to $200 back if your first single-horse win wager loses!
So if you are ready to take the plunge and jump into the world of horse racing, redeem this TVG promo code offer now! Get up to $200 back if your first single-horse win wager loses.
However, act fast because this TVG promo won't last forever.
| | |
| --- | --- |
| Promo Code: | 200TVG |
| Offer Details: | Up to $200 Back on First Single Horse Bet |
| Terms: | New Players Only. Must meet the age requirements for your state. |
| Last Verified: | September 1, 2023 |

TVG Bonus Offer for New Players
TVG is currently the only horse racing mobile betting app that offers up to $200 back on your first single-horse win wager. This is our preferred promotion this September for two reasons.
First, it has a higher cap than the deposit bonus, with significantly more upside. You can use your this promo on a horse with odds greater than +100 to receive a welcome bonus of over $200. This is an insane promo code compared to other online sportsbooks and you don't want to miss out on the sports betting action. Our rule of thumb is to never pass on a welcome bonus or any bonus codes.  That's like leaving money on the table.
Second, the terms for this offer are much more straightforward. If your first bet on a particular horse wins, the race purse is yours to keep, withdraw, or use as wagering credits in the app. If you lose, the bet will be refunded to your account within 24 hours.
While we think this offer still trails the no-deposit DRF Bets promotion, TVG consistently offers some of the best new player incentives in the industry. In this TVG review, we'll highlight some of the best features of their mobile app and why you might want to choose TVG horse racing for all of your betting needs.
Terms and Conditions for TVG Promo Code Offer
As is the case with any promo code offer, the bonus funds players when they sign up using either of the current TVG promotions are subject to terms and conditions.
Here are the most important terms associated with the TVG promo code you should be aware of before registering this September.
You must be located in a state where TVG is licensed to operate horse racing betting. They will verify this when you register and again before placing any bets on the app. TVG currently operates in the following US states: AZ, AR, CA, CO, CT, DE, FL, ID, IL, IN, IA, KY, LA, MD, MA, MI, MN, MT, NH, NJ, NM, NY, ND, OH, OR, PA, RI, SD, VT, VI, WA, WV, WY.
New players also must meet the minimum deposit requirements in order to be eligible for the promotion. TVG currently has a minimum deposit of $10 for the risk-free bet offer. Once you deposit funds to your TVG account, start betting and take advantage of the TVG promo code.
All bonus funds must be used within 30 days of receiving them or they will be automatically withdrawn from your account. It is important to note the date you opened your account and set a reminder to use your deposit bonus within that first month.

Additional Promotions Available at TVG
In addition to the great welcome offer, TVG always has a wide variety of promotions available to both new and existing players. These can be found on the promotions page of the website and app. Here are some of the more popular offers available in the TVG app this September:
Cash Back Special
This is one of our favorite TVG promotions and it is available through the end of 2023. With this offer, you will receive cashback anytime you bet a horse to win and it finishes in second or third. You can get more info directly in the promotions tab of the TVG horse racing app.
This offer is only available for certain races on select tracks but is a great way to get insurance on bets you would already place. The refund caps at $10, meaning if you place a $10 wager on the #2 horse to win and he finishes in third, TVG will refund the $10 wager within 24 hours.
The best part is that you don't even need a TVG promo code to take advantage of this deal. Just follow the race schedule and all of their awesome racing coverage as you never know when they'll have a cash back special.
Pick 4 Insurance
With this promotion, TVG will refund up to $25 of your bet if you pick 3-out-of-4 legs of a pick 4 bet correctly. Obviously, this offer only slightly reduces the sting of narrowly missing out on a pick 4 consecutive races but is a great way to bet risk-free every day.
Like the Cash Back Special offer, the Pick 4 Insurance promotion is only available for certain races each day.
Be sure to check the promotions page on the TVG website or app each morning to track which races on the race schedule qualify for this offer.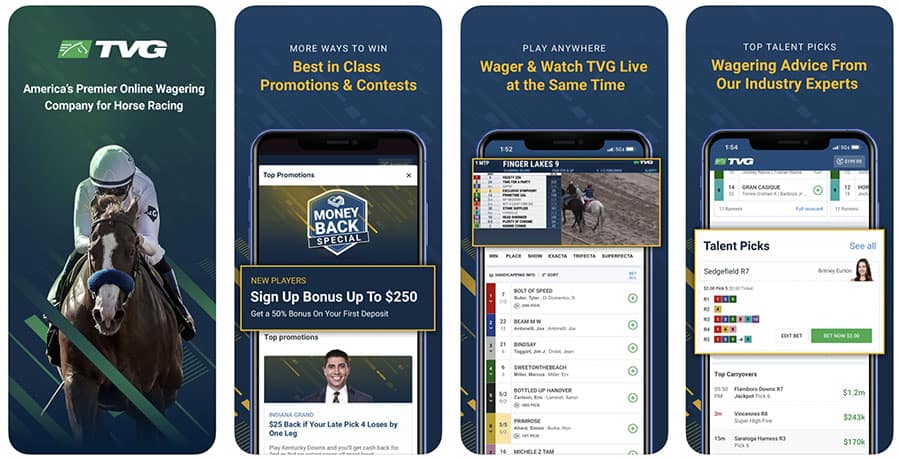 Types of Bets Available at TVG
For readers that have only bet horse racing through a sportsbook, you are in for a treat with TVG. You can find every bet type in the TVG app that you would when visiting an actual horse racing track. This includes both single horse and multi-race betting across every type of race.
For a single horse race wager, you can bet win, place, show, exacta, trifecta, superfecta, Hi 5, quinella, omni, and trio. The TVG mobile app makes it easy to quickly build the type of bet you want, which is extremely important as you approach the start of a race.
With multi-race wagers, you can bet double, pick 3, pick 4, pick 5, pick 6, jackpot, and carryover wagers. Not only does this allow you to bet across multiple races, but across multiple days. Bettors can be even more selective with the horses they back with multi-race wagers.
We strongly encourage you to review the TVG Horse Racing 101 page for a complete breakdown of the bets available and how odds work within the TVG app. Every horse racing app is different, so it is important to familiarize yourself with each before wagering.
How Do TVG Promotions Compare to Competing Apps?
TVG will forever be compared to the top horse racing apps in the industry. This list includes TwinSpires, NYRA, DRF Bets, and Xpressbet. While we recommend taking advantage of each app's promo code offer, if you had to pick one, TVG holds up extremely well.
When comparing the current TVG promo code offer to those of the other top apps in the industry, here are the pros and cons that stand out to us:
Pros for the Current TVG Offer
At $200, the TVG offer has one of the top bonus offers in the industry.

The terms for the offer are much more straight forward than offers from other apps.

The only app in the industry with that will cover your first bet if it loses.

TVG offers arguably the best overall horse racing experience in the industry.

You get the TVG wager rewards program. You can get wager rewards on top of this already amazing sign up bonus.
Cons for the Current TVG Offer
TVG Promo Code FAQ
If you're new to playing the ponies, you may have questions about TVG and their bonus offers. To help with that, we've compiled the following list of the most commonly asked questions. Our hope is that this TVG FAQ section will help you quickly find the information you're looking for regarding all TVG promo codes.
What is the best bonus that TVG currently offers?
As of September 2023, the best TVG promo code (200TVG) includes a 100% risk-free bet worth up to $200. If your first bet loses, TVG will refund the entire stake.
It doesn't matter if you use it on the Kentucky Derby or any other select races, if you use this TVG bonus code and your bet loses, they will honor this refund for all account holders.
Who is eligible for the $200 TVG horse racing promo?
Anyone who is new to TVG, at least 21 years old, and physically located in a state that TVG operates in is eligible to bet on horse racing using the app.
Is TVG legal?
We get asked this question all the time. Is TVG legal? Of course! Now, there are some states that do not allow horse racing betting through legal, regulated sportsbooks.
But TVG is a legally licensed horse race betting site and app in many states.
What states offer TVG?
TVG is perfectly legal in the following states: AZ, AR, CA, CO, CT, DE, FL, ID, IL, IN, IA, KY, LA, MD, MA, MI, MN, MT, NH, NM, NY, ND, OH, OR, PA, RI, SD, VT, VA, WA, WV, and WY.
Are the promo code rules different for horse racing bettors in New Jersey?
Yes, people only have to be 18 years of age or older to bet on horse racing in New Jersey.
TVG has a sister site called 4NJBets that was made specifically for horse racing bettors in The Garden State.
Are there any fine print terms to be aware of with this offer from TVG?
Yes, bettors must place their first wager within 15 days of opening up their new TVG account.
After that amount of time, the bonus will become void. Also, you must use any allotted bonus money within 30 days of receiving it.
That means you need to hurry and get your first single horse win!
How long will this TVG bonus be available?
TVG is running this bonus offer for new customers because of the Breeders' Cup Classic, which is one of the biggest horse races of the year. Odds will be made available for this race on Friday, November 4.
Stay tuned, however, as TVG is always adding new promotions and special offers for bettors in the United States. We will continue to update this page with all of the latest promo codes and bonuses available at TVG.
Who owns TVG?
Flutter, the parent company of FanDuel, purchased TVG for $50 million about 13 years ago. TVG has actually been rebranded as FanDuel TV.
So if you're a fan of FanDuel and free bets, this is the online horse racing app for you!
How do I make deposits to my TVG account?
Deposits can be made through ACH (e-checks), Visa/Mastercard, Green Dot MoneyPak, and PayPal.
TVG also accepts deposits via TVG prepaid card as well. There are different minimums for each of these methods, so refer to the TVG site for exact details.
If you have problems making a deposit, you can contact the TVG support and they'll walk you through the process.
How does TVG handle withdrawals?
TVG offers multiple withdrawal options, including cash being paid back onto the TVG's prepaid card, a check withdrawal request (either standard or overnight), and a wire transfer. The minimum withdrawal at TVG Racing is $10, and the maximum is $10,000 (per transaction). Requests are typically processed within 24 hours. Due to banking costs, TVG will charge a $15 fee for a wire transfer. These fees will be deducted from the funds in your TVG account, if there are no funds available then the request will not be processed.
What is a single horse win wager?
A single horse win wager is when a bettor selects one horse to finish first in a race. If the selected horse finishes first, then the bettor wins the wager.
This is the simplest and most common type of bet on TVG.
When will this sign up bonus expire?
This bonus expires at the end of September, so don't wait too long.  We're sure they'll have another sign up bonus or at least more bonus codes.  However, we don't know if they'll be as good as this one.
Where can I find more information about betting on horses?
If you're new to betting on horses, we recommend reading this beginner's guide that covers the basics of horse racing. You can also find additional information by reading through some of our blog posts and other articles about this sport.
We always recommend doing research and familiarizing yourself with each before making online wagers. Knowledge is power when it comes to horse racing, so make sure to do your due diligence before placing any bets.