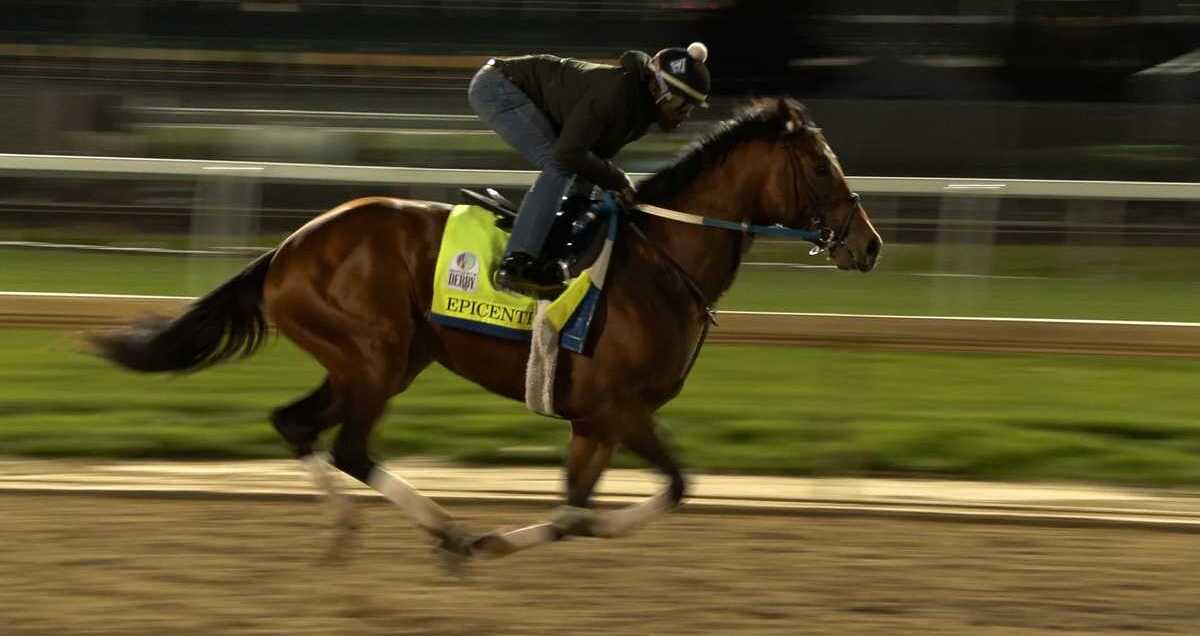 It's never too early to start thinking about horse racing. Does any horse have a legitimate shot at the coveted triple crown this year? The second jewel of the triple crown is The Preakness Stakes, which will take place on May 18, 2024.
Are you new to horse racing or a seasoned veteran of playing the ponies? Finding the perfect horse racing app with a great bonus offer is key to wagering success, regardless of which camp you fit into.
Here is a brief look at each of the best horse racing apps and bonus offers for the 2024 Preakness Stakes. Also, if you need help betting on the big race, check out our 2022 Preakness Stakes Odds and Best Bets.
Must be 18 or older (21 in AL, AZ, IA, IN, KS, NH, ND, WA) and reside in a state where such activity is legal. Void where prohibited. Always Wager Responsibly. If you or a loved one is experiencing problems with gambling, please contact the National Gambling Helpline 1-800-522-4700.
Horse Racing App with the Best Handicapping Info: DRF Bets
Are you new to playing the ponies? If so, we know it can be incredibly difficult to pick winners. Luckily, DRF Bets provides its players with an impressive amount of horse handicapping info.
DRF stands for Daily Racing Form, which has been supplying horse racing bettors with tips, picks, and strategies since the late 1800s (no that's not a misprint!). If you plan on betting on the 2024 Preakness Stakes, you'll love how the DRF app and website help you pick winners. In fact, one of the best features of the DRF Bets bonus offer is that it comes with a Free Formulator to help you find the right horses and the right odds.
On any given day, a horse racing expert will post their best selection for all DRF customers to see. Also, clients can access the Handicapping & PPs portion of the app to find even more in-depth handicapping tips.
Overall Grade: A+
Since Daily Racing Form has such an amazing reputation in the horse racing industry, we have to reward them with an A+ grade. New horse racing bettors will especially appreciate their generous deposit bonus as well as the aforementioned handicapping tips.
The DRF Bets app is also jam-packed with tons of actionable info. It also has a nice layout and always seems to run very smoothly. There's a reason why the most seasoned horse racing bettors in the country keep DRF Bets as the cornerstone of their racebooks.
---
Best Horse Racing App for Live Streaming: TVG
TVG started out in the cable TV industry, so it makes perfect sense that they would offer some fantastic live-streaming options for their devoted horse racing bettors. If for some reason you can't be at home or at your favorite sports bar to watch the 2024 Preakness Stakes, the TVG app will provide you with a high-quality live stream.
This is crucial for horse racing bettors that have busy lives but still want to see how their horses finish. Just how thorough is TVG's live stream coverage? While most horse racing apps only offer one live stream, TVG offers two HD streaming options to their clients.
Avid horse racing bettors are raving about the quality of both TVG's live streams! Of course, watching races over WiFi is best if you can. However, TVG will allow you to toggle between video qualities when you happen to have a weak signal.
Overall Grade: A-
We give TVG an A- grade because of their high-quality live streams, above-average user-friendly app, and their immensely thorough betting guide. The TVG bonus offer for the Preakness, which caps at $200 for new customers, is the only type of bonus like this in the industry.
However, TVG's Preakness offer is $50 less than DRF's. That is the only reason we give TVG an A- grade instead of an A+. Nevertheless, TVG is a must-have app for hardcore horse racing bettors!
---
Best Loyalty Rewards for The 2024 Preakness Stakes: TwinSpires
While all three horse racing apps on our list are solid choices, the app with the best loyalty rewards belongs to TwinSpires. To say TwinSpires is an expert in horse racing would be a gross understatement. TwinSpires is owned by Churchill Downs, where the iconic Kentucky Derby is run annually.
Just what do we like about TwinSpires? Here are just some of the many reasons below:
Fantastic App and Website- Both are easy to navigate, and there is never any kind of loading issues. This means you can quickly and easily bet on the horse or horses you think will win the 2024 Preakness Stakes.
Generous Welcome Bonus- New horse racing bettors can take advantage of the current TwinSpires promo code offer, which caps at $200. Keep in mind though, that you have to have at least $800 worth of wagering activity during your first 30 days to receive the full $200 bonus amount.
Fantastic Loyalty Rewards- TwinSpires knows that horse racing bettors love to be rewarded for their dedicated patronage. That's why they offer VIP rewards for folks who rack up enough TSC points. Some of the rewards include tickets to certain races, special access to VIP areas during races, and other nice perks.
Overall Grade: B+
TwinSpires does so many things well that it's easy for us to give them a B+ grade. Their app is second to none, their bonus structure is solid, and they offer free handicapping tips as well as live streams of races.
TwinSpires has been offering top-notch service to horse racing bettors since 2007. This lets all bettors know that they will be in great hands with TwinSpires. We highly recommend signing up for an account with TwinSpires if you plan on betting on the 2024 Preakness Stakes.
---
Horse Racing App with Best Preakness Bonus Offer: NYRA
As you can see, each of our top 3 horse racing apps has a certain niche. While TVG and TwinSpires offer competitive welcome bonuses, neither of them can hold a candle to the current NYRA bonus offer, which gives new bettors a 100% Deposit Bonus that caps at $200.
At first glance, you may think that NYRA's bonus is the same as TwinSpires. However, when you check the terms of each, you'll see why NYRA is a much better offer. It all comes down to wagering requirements, which can be a hot-button issue with most sportsbook bonus offers.
At TwinSpires, clients have to place $800 worth of bets in the first 30 days to receive the full $200 bonus. NYRA only requires bettors to place $400 worth of wagers to receive the full $200 bonus. It doesn't take a rocket scientist to figure out which is the better deal.
Some folks may tell you to go with TVG's bonus offer since it is $50 larger than NYRA's. However, as we discussed above, TVG's offer is only a 50% Deposit Bonus instead of 100%. This means your initial deposit at TVG must be $500 instead of $200 at NYRA. That's a steep price for an extra $50 in bonus funds.
Overall Grade: B+
NYRA is a solid choice for folks who are looking to bet on the 2024 Preakness Stakes. Their bonus program is the best in the business, and they have a lightning-fast app that horse racing bettors will appreciate.
While NYRA's live streaming options aren't quite as good as TVG's, they still provide high-quality HD streams at a ton of different racetracks. While we give NYRA an overall grade of a B+, it's still one of the best choices in the country for horse racing bettors.