The NBA Conference Finals are shaping up to be historically brief after Miami's blowout win at home in Game 3 to match Denver in the West with a 3-0 series lead. According to AP News, there has never been a season where the conference finals in both halves of the league ended in sweeps. The fact that it could happen for the first time in league history, and the teams on the losing end would be the Boston Celtics and LA Lakers, is even more shocking.
The Nuggets are three-point road underdogs in Game 4 tonight after winning by 11 in Los Angeles on Saturday. Denver is shooting 41% from three during this series and has connected on 14+ threes in each game en route to their commanding lead. That ties them with the 2021-22 Dallas Mavericks for most games in a WCF series with 14 or more three-pointers made.
The Lakers are facing elimination after winning back-to-back series in six games. LeBron James talked about taking it one game at a time the rest of the way in his Game 3 post-game presser, and the Lakers will need to defend home court in Game 4 to extend this playoff run.
After going 6-0 on prop plays in the Eastern Conference Finals last week, we shift gears to the West and are focused on Game 4 in LA tonight. Our best bet card is presented next.
Featured Offers for NBA Playoffs

$100 in Free Player Props
Promo Code: EWB
18+. Please gamble responsibly. Gambling problem? Call 1800-GAMBLER.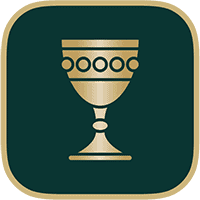 Bet $1,250 on Caesars
Promo Code: BVFULL
21+. Please gamble responsibly. Gambling problem? Call 1800-GAMBLER.
LeBron James OVER 42.5 Pts+Rebs+Asts
According to Statmuse, James has played in 25 career playoff games where his team faced elimination. His average box score in those games consists of 44.7 minutes, 33.5 points, 10.7 rebounds, and 7.5 assists, putting him closer to Nikola Jokic's projected total tonight (50.5) than his own.
James has had historic performances in this setting where his team is on the brink. Game 6 in Boston in 2012, Game 6 against San Antonio in 2013, and Games 5 & 6 against Golden State in 2016 come to mind.
While we can't guarantee a career-altering performance for one of the game's legends, we expect James to at least maintain his career average in this spot and comfortably surpass this total.
Nikola Jokic OVER 10.0 Assists
Jokic's passing prowess has not always translated from the regular season to the postseason dating back a few years. In three playoff runs from 2020-22, the center posted fewer than six assists per game over each of them.
This season is materially different, and for the first time 2018-19, Jokic is averaging more assists per game in the playoffs than he did throughout the season.
It's been lethal for Denver to combine his ability to pass out of double teams to anywhere on the court and have the Nuggets catch fire from downtown in the series.
We expect Jokic to reach 11+ assists again tonight after doing so in six straight games before Game 3.
D'Angelo Russell OVER 1.5 Three-Pointers Made
Russell has gone ice cold in the WCF after scoring 15+ points in four of the six games during the two series leading up to now. He's connected on just four of his last 16 shots and two of his last 11 threes, but we get the sense that tonight will look different in comparison.
Russell made 2+ threes in six of the first nine games he played this postseason and has done so just once in the six games since. We expect him to break out of his slump as LA looks to keep their championship hopes alive.