If you are looking for a great social-sweepstakes online casino, Wow Vegas has a ton of features that we believe set it apart from competing sites. We will provide an in-depth review of each of these features, but here is a quick summary of why we have Wow Vegas as our top-rated social casino for 2023.
Great Slots Selection - With over 450 different slots to choose from, the gaming experience never grows stale at Wow Vegas.
Industry-Leading Rewards - The Star System rewards program at Wow Vegas is by far the best available at a social-sweepstakes casino.
Easy Redemption Program - Coin redemption can be confusing at some Social Casino sites, however, at Wow Vegas it's easy, 1 SC = 1 USD.
Great Welcome Offers - With two promo code offers to choose from, Wow Vegas makes it easy to claim a welcome bonus and get a head start building your bankroll.
24/7 Customer Support - A common trend among every social casino we review is a lack of customer support options. Wow Vegas offers customer support 24 hours per day, 7 days per week.
| | |
| --- | --- |
| Social Casino | Wow Vegas |
| Total Reviews | 379 |
| User Rating | 4.9 |
| Best Feature | Great Slot Options, Rewards, and Bonus Offers |
| Worst Feature | No Mobile App |
EatWatchBet reviewers have thoroughly tested each of the top social casinos available in 2023, and can confidently say that Wow Vegas is one of the best products on the market. Continue reading this Wow Vegas review for a complete breakdown of the features we tested, as well as the pros and cons you should expect to find as a Wow Vegas player.
Wow Vegas Slots Selection Review
One of the primary complaints our reviewers have for most social casino sites is a lack of game options. With too few slots to choose from, the overall gaming experience can quickly grow stale.
Wow Vegas has over 450 different slot games to choose from. This includes slots with popular features like Megaways and Hold and Win.
Wow Vegas offers slots from a number of developers including Pragmatic Play, Betsoft, 3 Oaks, and Booming Games. For social players that play with companies like Pulsz or McLuck, seeing a variety of options beyond Pragmatic Play should come as a relief.
The library of slots games is extremely well organized at Wow Vegas. The polished user interface allows players to quickly move between popular games, new games, classic slots, and to even sort by feature. As an example, selecting Hold and Spin in the menu will filter out just the 13 games with this bonus feature.
The user experience in the slot lobby is a critical feature to keep in mind, as with over 450 different games, finding the one you are looking for can become a challenge.
---
Star System Rewards Program
The Star System rewards program at Wow Vegas is easily the best rewards program available at a social sweepstakes casino. With straightforward terms, a dedicated tracking page, and points that can be redeemed for SC, the Star System makes it easy to track, earn, and redeem reward points.
The Star System at Wow Vegas is a tiered rewards program. Earn stars as you play and level up between rewards tiers based on the number of stars you accumulate. The tier levels include Rising, Blue, Bronze, Silver, Gold, and Hosted. Each level you reach unlocks new features and even more rewards.
For every 50 SC (free sweepstakes game-play coin), you will earn 1 star. The number of stars you have collected can be tracked in your account dashboard.
With any sweepstakes casino, the name of the game is collecting SC coins. The Star System is one of the many ways Wow Vegas makes it easy to earn free SC.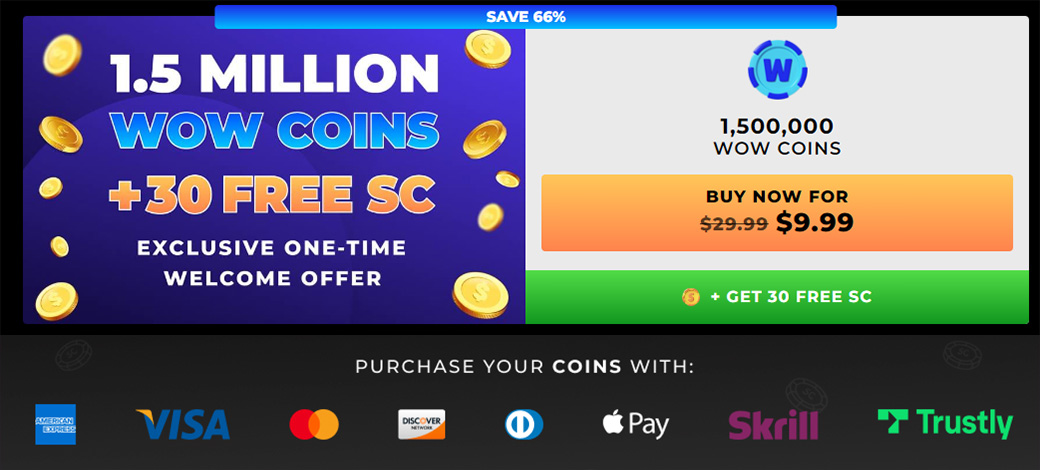 SC Redemption at Wow Vegas
One thing that drives social casino players crazy is a confusing redemption program. With Wow Casino, SC currency has a redemption value of 1 SC: 1 USD. Coins can be redeemed for cash prizes at your request.
There are two ways to play at Wow Vegas and each has its own coin. This system allows you to choose between playing for fun and playing for prizes.
Wow Coins
Every new player that signs up using our featured Wow Vegas welcome bonus offer receives 5,000 free Wow coins. These coins can not be redeemed for prizes, but purchasing Wow Coins is one of the easiest ways to collect free SC coins.
SC Coins
If you are a social casino player who loves the sweepstakes aspect of these sites, SC is for you. Wow Vegas provides 1 free SC on signup and up to 30 free SC with your first Wow Coins purchase. These coins can be redeemed for cash prizes.
There are a number of ways to earn free Wow Vegas SC Coins without having to purchase Wow Coins. These include social media promotions, on-site giveaways, and as a daily log-in reward.
---
Wow Vegas Promotions Review
One of our favorite Wow Vegas features is the generous welcome offers. These include free coins on signup and up to a 200% bonus on your first purchase. There is one new player promotion that stands out to us as of this September:
Get $1.5 Million WOW Coins + 30 SC for $9.99
This offer is essentially a 200% bonus on your first purchase and is a great way to collect bonus Wow Coins and SC Coins for just $9.99. This offer is only available with your first purchase, so we recommend starting with this offer, even if you plan on purchasing more coins in the future.
Unlike Stake.US, which only offers Crypto payments, Wow Vegas allows players to purchase coins using their online banking account, credit or debit card, or by using Skrill. Coins purchased through Wow Vegas are available as soon as your transaction is confirmed.

Wow Vegas Pros and Cons
We have mentioned a wide variety of pros and cons throughout this Wow Vegas review, but let's take a closer look at its absolute best features and biggest flaws. With any social-sweepstakes casino, it is important to understand what features you should seek out as well as the ones you should avoid. Here is an overview of the pros and cons our team highlighted during testing:
Wow Vegas Pros
Great welcome offers that include both Wow Coins and SC Coins.
Massive library of slot games from a number of different developers.
Industry-leading rewards program with different tiers of benefits.
Easy sweepstakes structure with a 1 SC = 1 USD redemption.
Wow Vegas Cons
Mobile gameplay is great, but no native app for Apple or Android is definitely disappointing.
No live chat or phone number. Customer support is only available through a ticket system.
Wow Vegas Review Summary
It is rare to find a site in this space that checks as many boxes as Wow Vegas does. Even the best social casino sites seem to have at least one major flaw, and some have several.
While several of the social casinos we have reviewed offer a native mobile app for iOS and Android (Wow Vegas does not), we still think Wow is the best sweepstakes casino for 2023.
This is in large part due to the fact that Wow Vegas is best-in-class for several important features that every social casino player is looking for. This includes the best rewards program, best SC redemption program, great customer support, and the easiest registration process available at a social casino operator.
Ready to test Wow Vegas yourself? Don't forget to take advantage of our exclusive bonus offer to receive your free coins when you sign up!