One of the latest additions to the Social Casino industry is the new sweepstakes app called McLuck. The platform has various casino games, including slots and other classics. The games are designed with stunning graphics and entertaining features, making the experience both immersive and rewarding.
McLuck offers free play, purchase bonuses, loyalty rewards, and more. Players can take advantage of these great offers, helping them maximize their winning potential in each game.
Although it's one of the less-established online casinos, is this Social Casino site worth checking out?
We've dug into all the details for an unbiased McLuck Casino review.
What is McLuck, and How is it Different from Other Online Casinos?
McLuck Social Casino is one of the newest, most innovative online casinos. Unlike traditional online casinos, McLuck offers a more social approach to gaming with its built-in chat system and a large selection of original games. Players can connect and compete in tournaments, share their gaming achievements, interact with each other via the live chat feature, and explore a variety of fun bonus features.
If you've ever played games at other Social Casinos, such as Pulsz or Chumba, you'll find McLuck quite similar. The main difference is that McLuck has unique games and a wide selection of classic favorites.
Creating a McLuck Account
When you go to the McLuck website or download their app, you'll play slot games for real cash prizes within minutes. They've made it easy to start; you only have to create an account. All you need is your email address, name, birthdate, and state you're from, and you'll be ready to start playing.
Notice we never mentioned adding a credit card. It's because you don't need one! McLuck is a free-to-play site, and you can redeem your Sweepstakes Coins without ever adding a credit card.
Once your account is activated, you can explore the game selection or browse the bonus offers. Several offers, such as free spins on featured games, a welcome bonus, and even reload bonuses, will give you more credits for every purchase you make.

Any Spin Can Win With New McJackpot Feature
One of our favorite parts of playing on McLuck is the McJackpot feature. McJackpot is totally unique to McLuck and elevates the thrill of every spin.
To get started you will need to opt into McJackpot using SC or by playing with GC. Once you are eligible for the jackpot any spin could pay out one of four special prizes.
McJackpot pays out a Grand, Major, Minor, and Mini prize, any of which could hit at any moment or any spin. Even a SC 0.20 spin could trigger a SC Grand Progressive with a SC 100,000+ prize!

Score Even More Jackpots with Jackpot Play
If the new McJackpot feature wasn't enough of a reason to play on McLuck, Jackpot Play takes the thrill to another level. With Programatic Play's Jackpot Play, McLuck players are given the opportunity to win a Minor, Major, Mega, or Grand progressive jackpot on any spin.
When a jackpot is triggered through Jackpot Play, the player is taken to a bonus game where they must select 3 gems to reveal their winning prize.
With Jackpot Play and McJackpot, players get the chance to participate in two jackpots on every spin across every game!
More Online Casino Games than You Can Imagine
What sets McLuck apart from other online casinos is its selection of games. It boasts a massive collection of classic casino games like slots, blackjack, roulette, and video poker and features several original titles you won't find anywhere else.
These unique games include everything from puzzle-based challenges to role-playing adventures. Mostly, if you can imagine it, they have it. The one downside to the McLuck library of games is that no games show up if you choose the "most popular" category. This is a glitch in their system. So you'll have to find games by going directly to the categories such as "Classic," "Megaways," and "Cascading."
So for our McLuck review, we decided to give a few of these titles a shot. After all, that's the only way to truly appreciate everything this casino offers.

Royal Joker: Hold and Win
As you enter the McLuck lobby, you'll find hundreds of games at your fingertips. So we chose the first "hold and win" style game we saw, Royal Joker.
We were surprised at how entertaining the game was as we played it. It has a fun theme, bright colors, and many bonus features to keep us engaged. While similar games may be offered at other online casinos, McLuck's version felt special with its unique graphics and animation.
You're missing out if you've never played a "hold and win" slot game on any Social Casino platform. The basic premise is that you'll spin the reels and then hold onto any symbols you think may be valuable. Once your spins are completed, the held symbols will be added to your winnings.
Royal Joker was a great introduction to this type of game, and had no problems cashing out our winnings when we were ready.
Crown of Fire
Since we didn't want to burn through our coins too fast, we decided to play casino-style games with a lower minimum spin amount. That's when we found Crown of Fire, a five-reel slot game with an RTP of 95%. It has a minimum spin of 70 Gold Coins but relatively high volatility.
As we played this one, we couldn't help but be impressed by the crisp graphics and smooth animations. This game is great for casual players looking to have fun without spending too much money. The bonus rounds, in particular, are quite generous and gave us plenty of chances to hit the jackpot.
After spinning the reels on Crown of Fire for a few hours, we realized it's one of our favorite McLuck casino games.
Rock Vegas
If you've never played Rock Vegas by Pragmatic Play, you're in for a treat. This is one of the most immersive slots we've ever encountered, and it has great bonus rounds that you can win thousands of Gold Coins.
However, before you get too excited about this game, it's worth noting that it needs to be unlocked. Not just anyone can play it. We first had to buy a Gold Coin package to unlock Rock Vegas. Good thing we always buy Gold Coin packages with our reviews, but we figured you'd want to know that.
So as we started playing this game, we had a blast. Rock Vegas's sheer number of bonus features is what stands out. Each spin allows you to trigger wilds, free spins, and even progressive jackpots, which can be lucrative.

McLuck Casino Bonuses Offers
Regarding promotions available at sweepstakes casino sites, we're always quick to judge bonuses. After all, a bonus is often the deciding factor when choosing an online casino.
The good news is that the McLuck bonus offers are some of the most generous promotions in the industry. Their welcome bonus offers new players a 150% Gold Coin bonus on their first purchase which can be used for any game on their site. Sure, you can purchase Gold Coins, but who doesn't like free coins? Make sure you max it out so you can take full advantage of this bonus.
Your Gold Coins balance might be getting a little low at some point. Maybe you've had a bad run of luck, or you're just running out. Not to worry, McLuck has you covered with its reload bonuses. They're always offering special discounts to up your Gold Coin balance. Often they might give you free Gold Coins for purchasing one of their GC packages.
Social Media Competition Promotions
Another way to snag up some free Gold Coins is by entering their competitions on social media.
When you follow McLuck's Facebook, Instagram, or Twitter, you'll see that they post regular competitions for players to enter. These can range from simple trivia questions to more complex challenges that require creativity and skill.
The best part? You get rewarded for your participation! All you have to do is submit a valid entry, and you can win free Gold Coins or even bonus prizes such as cash and gift cards.
McLuck Refer-a-Friend Promotion
Most online casinos offer a referral program, but McLuck takes it one step further. Not only do you get rewarded with free Gold Coins whenever someone signs up using your link, but they also give you bonus points for every friend you refer. These points can be used to purchase even more memberships or Gold Coin packages.
For example, when you refer a friend using your personalized link, you can get 200,000 Gold Coins and 100 Sweepstakes Coins. That's a lot of free money for just referring someone to the site.
Of course, there are a few terms associated with their referral program. You get the first 50,000 Gold Coins and 25 Sweepstakes Coins once your friend purchases over $100, but then you get the rest (150,000 Gold Coins + 75 Sweepstakes Coins) when they make purchases totaling over $1,400. This makes sense as it encourages long-term loyalty and rewards bigger spenders.
McLuck Does Not Have an Android App - Yet
You've got your bag of Gold Coins and perhaps even some Sweepstakes Coins and you're ready to play games on the go. But does McLuck have a mobile app?
They do for Apple users, but, unfortunately not for Android. That's the downside of being one of the newest sweepstake casinos. The good news is that they are currently working to develop a mobile version of their casino which should be available shortly.
The majority of the top social casino operators on the market, such as Pulsz and Stake, offer a native app for both Android and Apple. We have been able to confirm that a McLuck Android app is in the works. Until then, you can still enjoy the entire library of McLuck games on your phone or tablet using your browser.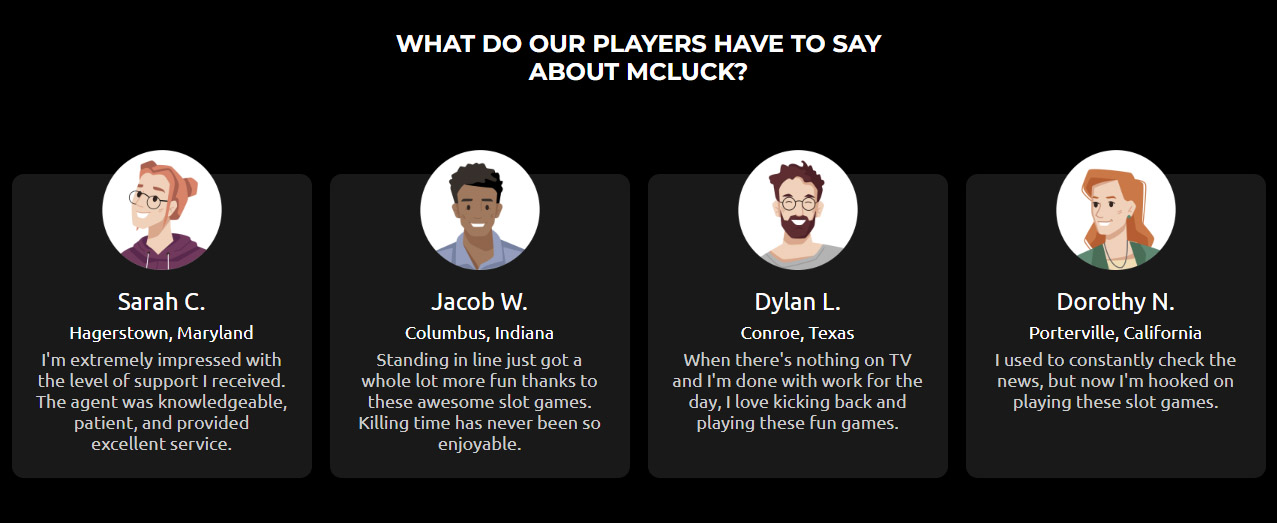 What are Current Players Saying About McLuck Social Casino?
Whenever we review real money gambling sites, we like to look and see what the players say about it. Of course, we play real money casino games ourselves, but getting a few more opinions is always important. So naturally, even for a Social Casino we would like to see what others are saying.
Unfortunately, it's tough to tell what others are saying without apps in the app stores. So we went to Reddit to see what people were saying there.
Overall, customer reactions to McLuck, the McLuck app, and the McLuck library of games have been overwhelmingly positive. From the free games to the bonuses, players seem to enjoy themselves at this casino. Plus, they mentioned that customer service is always helpful whenever you need assistance.
We did run across some negative comments, but they were primarily people having issues with their Gold Coins balance or bonus codes. Overall, it looks like McLuck is off to a great start.
McLuck Casino Customer Support
Just like other Social Casinos, McLuck's customer support is lacking when compared to real-money casinos. While we found that their FAQs are pretty helpful and appear to be comprehensive, there are still times when you might need to contact customer service.
You can reach them via email, but unfortunately, that's it. There is no phone number which can be a bit of a bummer if you need urgent help. However, if you purchase a GC package, you can access their 24/7 live chat support. So it's worth noting that they care for their purchasing customers.
That being said, their customer service team is pretty fast with responding to emails, so this shouldn't be too much of a hindrance.
Try their social media channels if you're looking for another way to contact the McLuck support team. They're reasonably active and usually respond to customer queries within a few hours.
Overall, McLuck needs some improvement when it comes to support. Whereas real money casinos tend to have phone numbers and live chat support for all players, McLuck offers only support options. We hope they improve upon this in the future.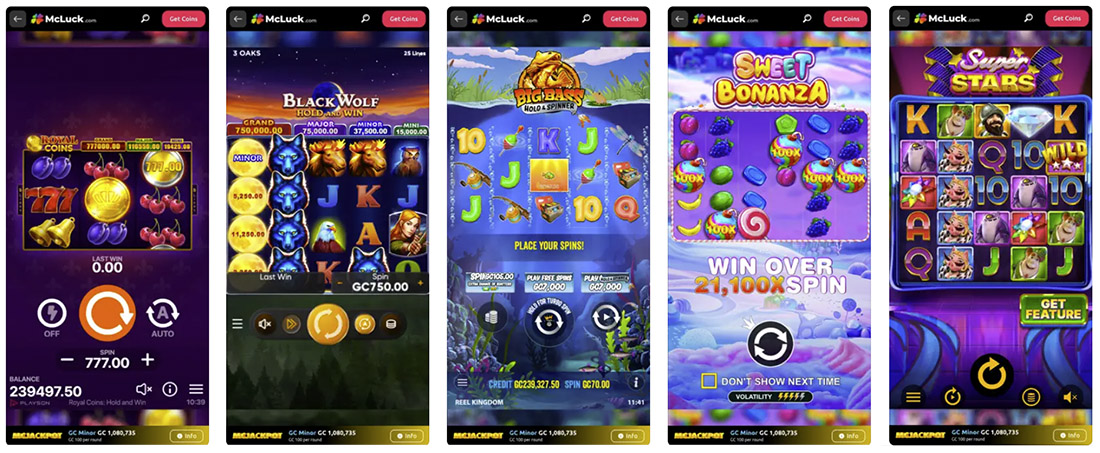 McLuck Social Casino FAQs
We're constantly getting questions about McLuck Casino and the bonuses they offer. Below, we've tried to answer some of the most frequently asked questions.
Is McLuck Casino legit?
Yes, McLuck is a legit promotional sweepstakes casino that operates within US laws and regulations. Although it might come off as shady, it's perfectly legal to play promotional sweepstakes games for cash prizes on their site.
In what states is McLuck Casino legal?
You can play McLuck in 44 of the 50 states. The states you can play McLuck Casino include Alaska, Arizona, Arkansas, California, Colorado, Connecticut, Delaware, Florida, Hawaii, Illinois, Indiana, Iowa, Kansas, Louisiana, Maine, Maryland, Massachusetts, Michigan, Minnesota, Mississippi, Missouri, Montana, Nebraska, New Hampshire, New Jersey, New Mexico, New York, North Carolina, North Dakota, Ohio, Oklahoma, Oregon, Pennsylvania, Rhode Island, South Carolina, South Dakota, Tennessee, Texas, Utah, Vermont, Virginia, West Virginia, Wisconsin, and Wyoming. You'll notice that the list does not include Alabama, Georgia, Idaho, Kentucky, Nevada, and Washington.
How is McLuck different than real money casinos?
Unlike real money casinos, McLuck does not accept deposits. Instead, they allow you to win Sweepstakes Coins and Gold Coins that can be used to play games and redeem cash prizes. You can purchase Gold Coin packages and participate in their referral programs to boost your Gold Coins and acquire bonus Sweepstakes Coins.
Does McLuck offer bonuses?
Of course! That is one of the great things about McLuck. They offer a variety of bonuses and rewards, such as free Gold Coins, bonus Sweepstakes Coins, referral programs, and more. All you have to do is sign up with them and start playing. The rewards will come your way as you play more games and participate in their promotions. McLuck's latest bonus is 150% bonus on your first Gold Coins purchase.
Is there a way to get McLuck real money bonuses?
You can't get real money bonuses, but you can get Sweepstakes Coins redeemed for cash prizes. You can purchase Gold Coin packages and participate in their referral programs to get Sweepstakes Coins. And if you're lucky enough to win a promotional sweepstakes game, you'll instantly get the corresponding number of Sweepstakes Coins credited to your account. Remember, however, that you must roll over the Sweepstakes Coins at least once before redeeming them for cash.
Can I win real money playing at McLuck Casino?
You sure can! Of course, there are some restrictions in place. You can't win real money playing for free, and you have to use the Sweepstakes Coins you won by playing games to enter into promotional sweepstakes, where you can win cash prizes. Also, read all the rules and regulations before playing any game or entering any promotional sweepstakes contest.
Does McLuck have an Android or iOS app?
Unfortunately, they do not. They are working on a mobile version of their casino which should be available shortly. Until then, you can still enjoy the full library of McLuck games on your phone or tablet using your browser.
What is the minimum purchase to play on this site?
You can play McLuck for free, however, if you make a purchase, the smallest Gold Coin package they offer is 4,000 GC for $1.99. This also includes live chat access and their exclusive Gold Coins games.
What is the difference between Gold Coins and Sweepstakes Coins?
The main difference between Gold Coins and Sweepstakes Coins is that Gold Coins are only used to play games, while Sweepstakes Coins can be redeemed for cash prizes. Additionally, you have to roll over the Sweepstakes Coins at least once before being able to redeem them.
Also, when you purchase a Gold Coin package, you get bonus Sweepstakes Coins, so it's like getting two coins for the price of one.
How do I get free Sweepstakes Coins at McLuck?
There are two ways to get free Sweepstakes Coins. The first is by participating in their referral program, where you can earn a bonus for each person who signs up with your link.
The second way is by playing McLuck's exclusive Gold Coin games, which also give you the chance to win Sweepstakes Coins. And if you're lucky enough, you might even land a jackpot.