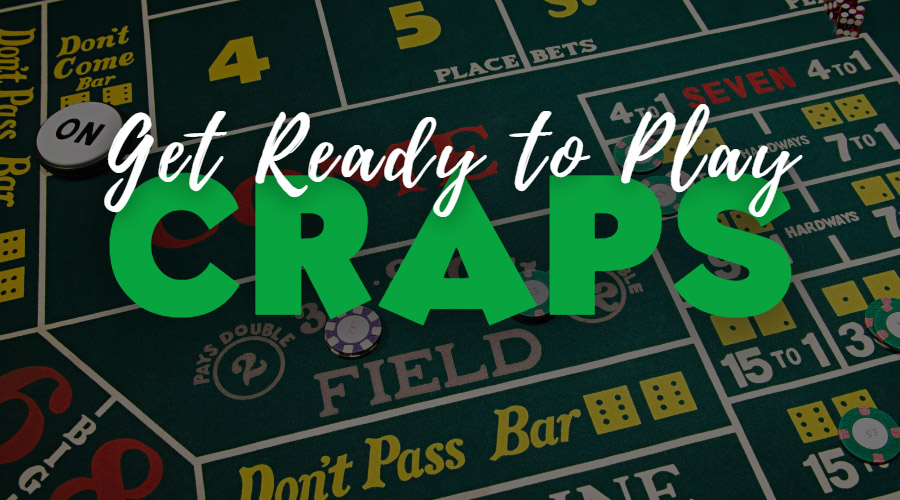 Undoubtedly, craps is one of the most popular and exciting games in any land-based casino. There is nothing like the feeling of throwing dice while people around the table cheer you on.
One of the most impressive things that online casino operators have accomplished over the past few years is bringing the excitement of craps to their sites. While you will find real money craps at just about any casino site, the three featured below offer the most free money when you sign up today:
21+ to wager. Please Gamble Responsibly. Gambling problem? Call 1-800-GAMBLER. Call 1-800-NEXT-STEP (AZ), 1-800-522-4700 (KS, NV), 1-800-BETS-OFF (IA), 1-800-9-WITH-IT (IN), 1-877-770-STOP (7867) (LA), Call 1-800-327-5050 (MA), Call 1-800-GAMBLER or visit mdgamblinghelp.org (MD), 1-800-270-7117 for confidential help (MI). Call 877-8-HOPENY or text HOPENY (467369) (NY), 1-888-532-3500 (VA).
If you think playing craps online will be any different, think again. It is one of the most popular casino games online, and with good reason. The number of online craps players climbs with each passing year. If you like making money playing craps, you may also like baccarat as well.
Can You Play Craps Online for Money?
Absolutely! Due to a busy schedule or an inconvenient location, getting to a casino in person is not necessarily easy. Besides, plenty of people don't like to be out among other people, whether for social or health reasons.
Because of that, they are finding a quality option through which to play craps online. Craps can come off as a bit daunting to new players but learning while playing online can allow anyone to feel comfortable at the virtual table.
Any online casino worth it's salt will have some craps offering. This means that you are just a few clicks away from learning how to play one of the most popular casino games in the world and becoming a pro at it yourself.
How to Play Craps
If you've never played craps before, the game may seem confusing at first. But rest assured, once you get the hang of it, you'll be able to start making money in no time.
When you join a craps game, you'll notice a large table and two dice. The game starts when the shooter (the person who rolls the dice) throws them onto the table. Players need to place bets on what they think will be the outcome of the roll.
The most common bet is called 'Pass Line' or 'Come Bet.' This is where you bet that either the shooter will roll a 7 or 11 on the first throw, or you'll win if they roll any other number. If this happens, your money is doubled.
Other popular bets include 'Don't Pass Line,' where you are betting against the shooter and hoping they won't roll a seven or an eleven. You can also bet on different numbers being rolled, and if the shooter rolls that number, then you'll win big.
Once you understand how to place bets, online craps are a game of chance and luck. There are no strategies to guarantee success, but with practice and experience, your chances of winning will increase.
Tips for Playing Craps Online
When starting out, there are a few tips we recommend you keep in mind before you play at a real casino.
Try the Best Online Casinos
Choose a reputable online casino with a good selection of craps games. Reputable casinos such as DraftKings, FanDuel, BetMGM, and Caesars all have a vast selection of games and many times have great promos like a deposit bonus.
Start with Free Craps Games
Before you start throwing down craps bets, make sure you start with free online craps. This will allow you to practice and get comfortable with the game before wagering real money. While you're playing a free craps game, work on your craps strategy as well. See what you like and don't like. Some players like playing the pass bet, while others may prefer to stick with the don't pass bet.
You can play craps online for free at just about any of the reputable online casinos. After you play free for a while, then move up and play craps for real money.
Understand the Basic Bets and Odds
Be aware of all the different bets available and their odds so that you can make the best betting decision. There are several types of bets available in a game of craps, and each bet comes with its own set of odds. Whether it's a pass-line bet or on the come-out roll, ensure you know what you are getting yourself into before risking your money.
Take Advantage of Bonuses and Promotions
Many online casinos offer incentives for playing craps, such as bonuses and promotions. These can benefit players who want to maximize their earnings and get the most out of every game they play. Be sure to read up on the casino's bonus and promotions page to make sure you take full advantage of all the offers being made.
Set a Budget
This will help you manage your money better and ensure that any losses don't become too significant. Online craps games are exciting, and when you're playing at the craps table, you can easily get caught up in the moment and bet more than you can afford to. Having a set budget ensures this doesn't happen, and it also allows you to quit while you're ahead if you have a winning streak.
Choosing the Right Casino for Craps
Because there are so many options to choose from, it can feel impossible to find a decent craps casino. But there are a few criteria that you should be following to help you make your pick. Here are three things in particular that you should be paying attention to:
Safety and Security
Without a doubt, security is the most important thing to consider when it comes to finding an online casino. To determine the credibility of the casino in question, check out their licensing information. It should be somewhere near the bottom of their homepage, and each site should state what jurisdiction they are operating within.
You want to ensure that you keep your information and money safe when playing online. Another good safety indicator is whether it has SSL encryption, particularly with an eCORGA seal.
Reviews
There is no better way to find out how good an online casino is than from the players who have played there. Every reputable casino site has a litany of reviews, preferably from a third-party website.
Find out what those who have already played have to say. When you go with a third-party website, you know that you are getting candid responses, not those the casino manipulated. This is a great way to see how players enjoyed their experience, what they would change, and more.
One place we also like to look for reviews and to find the best online craps casinos is in the app stores. You can check out the reviews for DraftKings Casino, BetMGM, and more and see what other users are saying about these gambling sites. Of course, this doesn't work for land-based casinos, but for those wanting to play this popular casino dice game online, it's a good starting point.
Bonuses
No matter what kind of game you are looking to play, the available bonuses are one of the most critical factors in finding the right casino. Every casino game offers some bonus offer, particularly to new players.
Whether it be things like free gameplay, bonus bets, deposit match, or something else entirely, new players can gain an advantage towards the start.
There should also be rewards or VIP perks for players who consistently play with that casino. Be sure to research these programs for craps sites thoroughly before signing up for any app. Casinos like Golden Nugget offer massive rewards to their players.
The Best Online Casinos for Playing Craps Online
We put together a list of the best online casinos for playing craps so you don't have to search. All of these casinos are safe and secure and offer stellar customer service and bonuses. These online casinos also have various other casino table games and online slots so if you get bored with casino craps, there are plenty of other options.
FanDuel
Known for its DFS and sports betting offerings, FanDuel Casino has quickly become one of the favorite online casinos for those who want to try their luck at craps. For new players, they offer a $2000 Play It Again welcome bonus. That's a pretty sweet deal just for playing online craps.
Caesars
Another big name in the casino industry, Caesars has a robust selection of craps games for players to choose from. They offer both virtual and live craps tables, so there's something for everyone here. Plus, they have a generous loyalty program and tons of great rewards for loyal players.
BetMGM
We're also big fans of BetMGM for playing craps. This is a relatively new casino, but they have quickly become one of the best options for those looking to play. They offer dozens of different variants on the standard game, as well as a generous welcome bonus and regular promotions. BetMGM is a great place to start playing craps if you've never played before.

Why Play Craps Online?
Since we know how exciting craps can be in-person, one of the most frequent questions is why to play online. But there are more than a few advantages to experiencing craps online from the comfort of your home.
For starters, you never have to worry about finding a table. While playing in person might be a problem, online craps will always have a spot for you. Moreover, there is no pressure from other players watching. You can play by yourself from your own home.
There are also mobile-friendly options available. Not everyone has hours to spend at home, so playing on the go becomes their go-to. Being able to play via smartphone or tablet means being able to play no matter where you are.
That's not even mentioning the various bonuses offered to new players. Adding to your bankroll has never been easier than it is with some of the new player promotions available.
Craps FAQs
If you're new to the game then there's a good chance you have a lot of questions. We did when we first started. So we put together this quick FAQ to help you out.
What is the best online casino for playing craps?
All of the casinos we suggested above are great choices, but BetMGM is our top pick. They offer a wide selection of games and generous promotions, making them the perfect place to start your craps journey. Their downloadable app is absolutely seamless.
Can I play craps for free online?
Yes! All of the casinos we suggested above offer free craps games. That's a great way to practice and hone your skills before you start playing for real money.
Can I play online craps with real money?
Yes, absolutely! All of the casinos mentioned above let you play with real money. We recommend you use the bonuses the online casinos offer so you can win real money and develop a winning strategy without risking your own funds.
How do I win at craps?
The best way to win at craps is by having a good strategy. Focus on hedging your bets and setting limits so that you don't lose too much money when the game doesn't go your way. Learning the ins and outs of the game is also important - read up on odds and probabilities and stick to the bets that have the best payoff. There are even some betting strategies you can use, such as the Martingale or the Iron Cross.
Is it better to play craps games online or in a casino?
That depends on what you're looking for. Playing online lets you enjoy the game from the comfort of your own home, with no pressure from other players. On the other hand, playing in a real-life casino can be an exciting experience. Everyone around the table gets excited and cheers the shooter on. Ultimately, it comes down to personal preference.
Do you play the same way online as you do in a casino?
For the most part, yes. The rules of craps remain the same whether you're playing online or in person. However, there are some slight differences due to random number generators used in online casinos.
What bet has the lowest house edge?
The best bet when playing craps is the "Pass Line" bet. It has a house edge of 1.41%, which is much lower than other bets in the game. The next best option is the "Don't Pass" bet, which has a house edge of 1.36%.
What states are craps legal online?
There are only four states in the US where online craps are legal: New Jersey, Pennsylvania, West Virginia, and Michigan. Players from any of these states can legally play online craps for real money. You don't necessarily have to live there or be a resident, but you have to be located there to play online physically. However, you can play free craps from anywhere.
Getting Started with Online Craps is Easy
Perhaps the best part about playing craps online is how easy it is. All you have to do is find the site you want to play with and register an account. Getting registered usually takes a few minutes before you are verified and ready to go.
The next step is making your first deposit (if playing for real money). When that is done, you are ready to play!
Wagers can be made quickly, and if you succeed, you can cash out. It is a quick, easy way to play craps.
21+ to wager. Please Gamble Responsibly. Gambling problem? Call 1-800-GAMBLER. Call 1-800-NEXT-STEP (AZ), 1-800-522-4700 (KS, NV), 1-800-BETS-OFF (IA), 1-800-9-WITH-IT (IN), 1-877-770-STOP (7867) (LA), Call 1-800-327-5050 (MA), Call 1-800-GAMBLER or visit mdgamblinghelp.org (MD), 1-800-270-7117 for confidential help (MI). Call 877-8-HOPENY or text HOPENY (467369) (NY), 1-888-532-3500 (VA).