Fubo Sportsbook Launches in Iowa with $1,000 Risk-Free Offer
Fubo sportsbook has made its official launch in the United States and, at least for now, it's available exclusively to residents of Iowa and Arizona. It should be noted, however, that the Fubo Sportsbook team has already stated they look to quickly expand to other states in the coming months.
Fubo sportsbook is the first of its kind offering in that the sportsbook is totally integrated with the FuboTV streaming app. This combination of live sports streaming combined with live sports betting, all in the same app is truly revolutionary.
This combination looks to offer unprecedented interactivity for sports bettors as they watch their favorite sports while placing bets, all on one screen. According to The Verge, FuboTV had over 1 million subscribers as of early Q4 2021 and, given FuboTV is a sports-first streaming service, this existing customer base should give them a massive advantage as they expand into new states.
Details for Current Fubo Sportsbook Promo Codes and Offers
Like most mobile sportsbooks, Fubo Sportsbook will offer special promotions when they launch in each state. These offers will generally require a promo code to be entered at signup. Make sure to check back here for the latest promo codes as soon as they become available in your state.
Right now, if you live in Iowa, they are offering a $1,000 risk-free wager promo and a free month of FuboTV for all new sign-ups. You also get a month free of Fubo TV which is their streaming service. You can claim this offer by entering the promo code EWB123 when signing up.
| | |
| --- | --- |
| Promo Code: | EWB123 |
| Bonus Offer: | $1,000 Risk-Free Bet |
| Offer Dates: | Offer Valid January 1st through February 28th |
| Terms: | New IA and AZ players only. Must be 21+. |
In the future, as they expand to more states you can expect Fubo to offer the additional promo codes that are common in the industry, such as:
Free bet offers
Bet match offers
Deposit match offers
Odds boost offers

Fubo Sportsbook Promo Code Offer FAQs
Expect the usual caveats on these promotional offers that are common with other sportsbooks when signing up. These include being a legal resident in the state the sportsbook is operating in, as well as timed limitations and expirations.
Make sure to bookmark this page to find the terms for current Fubo sportsbook deals and promotions when they launch in your state.
Which States Is The Fubo Sportsbook Available In?
Right now the Fubo sportsbook is available to residents of Iowa and Arizona. They have officially announced plans to also launch in Pennsylvania, New Jersey, and Indiana. Fubo sportsbook has already started the process in these states, so it shouldn't be long before they are available to those residents and more. Fubo joins MaximBet and SI Sportsbook as new operators that underwent a single-state launch over the past few months.
What Sports Are On The Fubo Sportsbook App?
The current list of available sports and leagues to bet on is pretty good for a sportsbook that is just starting out. They have most of everything you would expect and even some you wouldn't. So if you get a free wager with one of the Fubo promo codes, why not try a bet on something new. Here is a handful of sports you will find on the Fubo sports betting app:
Football
Baseball
Basketball
Hockey
Soccer
Auto Racing
Horse Racing
Tennis
...and more
What is the minimum age required to bet on Fubo Sportsbook?
The minimum age required to bet on with Fubo Sportsbook is determined by the state you live in. For the state of Iowa, this means you must be at least 21 years of age to legally bet on sports.
Is betting on the Fubo Sportsbook legal?
Yes, Fubo Sportsbook is a licensed sports betting operator in Iowa and Arizona. This means that betting is restricted to only bettors physically located within either IA or AZ state lines.
How does the $1,000 risk-free bet work?
The current risk-free bet offer from Fubo Sportsbook is relatively straightforward and easy to use. Your risk-free bet applies only to your first wager and has a hard cap at $1,000 or the total amount of your initial deposit, whichever is the lesser amount. With this offer, if your first bet with Fubo fails to cash, they will refund the money directly back into your account as site credit. The offer and terms are extremely similar to the current risk-free bet offer from FanDuel.
Fubo Sportsbook Live Betting Overview
This is where things get really interesting with the Fubo Sportsbook. They will be using what they call Live Sync to sync the mobile wagering app with their live TV feed. For live betting, this may offer different odds and opportunities than watching the game via another service that is sometimes delayed several seconds or more.
So with Fubo and Live Sync, there are more options for live betting as well as having access to the real-time feed of a game without any broadcast delay. This may be a groundbreaking move in the world of mobile sports betting as real-time live betting has been growing rapidly since introduced. So the market is open for exciting new technology like the Fubo Live Sync feature.
Fubo Sportsbook Deposit and Payment Options
Upon launch in Iowa and then in other states, the Fubo sportsbook will offer plenty of deposit and payment options for those signing up to give it a try. Right now, all payments will be handled by the trusted company, PaySafe. The options will include:
Credit Card Deposit
Debit Card Deposit
ACH Transfer
They will also allow access to Skrill so you can make a deposit from your Skrill wallet in order to transfer money. This is handy for those familiar and comfortable with the digital currency wallet.
Payouts will be handled by Paysafe as well when you win on the Fubo sportsbook. Payouts are offered via a few different methods, including:
ACH Transfer to your bank account
Transfer to a Skrill wallet
Transfer to a pre-paid Skrill Visa card
So there is an option for everybody when it comes to depositing and withdrawing money from the Fubo Sportsbook. Early reports from players have this process operating seamlessly with extremely quick payouts.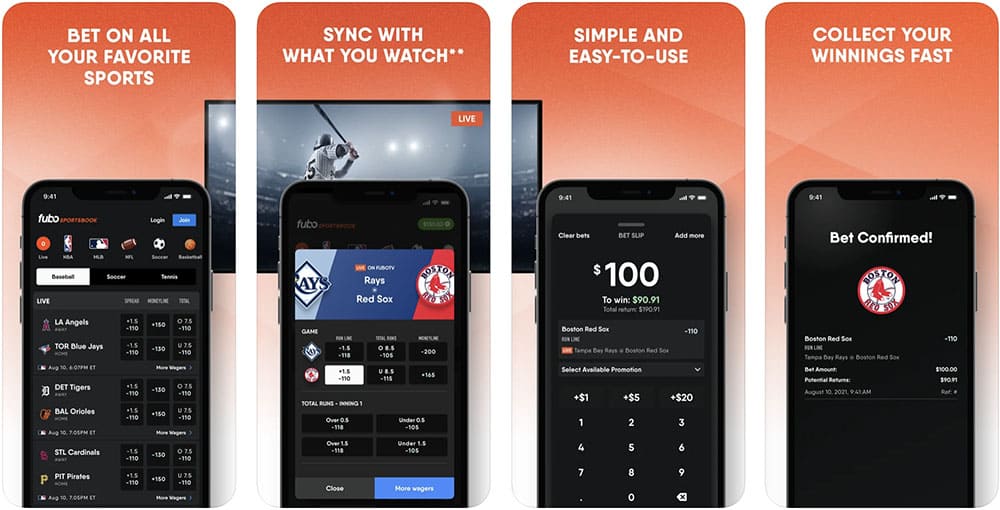 Fubo Sportsbook Overall Review and Rating
The Fubo Sportsbook is different from other mobile betting apps in that it combines with the streaming sports service known as Fubo TV. This unique combination really sets up a special all-in-one platform where sports bettors can watch games, place bets, and follow real-time odds and stats all in one place and all on one screen.
It could very well be a game-changer in the industry and a sign of things to come as sports betting continues to adopt new technologies to ramp up the intensity and excitement.
The performance of the Fubo Sports Betting app has also been incredibly smooth and without issue in our testing. This shouldn't come as a surprise considering the parent company's expertise with the live sports streaming app, FuboTV. The two services work flawlessly here and it really does feel like a futuristic setup when you start seamlessly jumping between wagering and watching all on the same screen.
We are very excited to see where this type of sportsbook technology goes in the future and what new style of betting it opens up moving forward and they advance the technology.
For now, it's only for residents in Iowa and Arizona, but as it rolls out to other states, we'll make sure to keep an eye on how the Fubo Sportsbook evolves and we'll also let you know when the latest promo codes become available in each new state.
Overall, the Fubo Sportsbook is one to put on your list. It offers great performance and betting options, along with a totally new style of technology that brings even more excitement to wagering and sportsbooks.
| Review | Fubo SportsBook |
| --- | --- |
| Details | Fubo Sportsbook is one of the more exciting names to enter the market over the past year. Their sports streaming service gives them a unique advantage over other mobile sports betting operators in Iowa and Arizona. Early player feedback on the app has been overwhelmingly positive and we found it to be one of the better overall mobile betting experiences we have tested. The current $1,000 risk-free bet is on par with leading competitors such as FanDuel and comes with a free month of their streaming service, FuboTV. |
| Author | Chris Lollis |
| Rating | 4.8 (out of 5) |