Details for Current MaximBet Sportsbook Promo Code
While still less than a month old, MaximBet sportsbook has included some promotions that are competitive with other sportsbooks and solid ways to increase your cash flow. For new Colorado players, MaximBet offers a fairly typical 100% deposit bonus, up to $1,000.
As for offers available to existing players, among other things, MaximBet offers insurance for parlays, odd boosts for popular games or events, general betting insurance, and a handful of additional unique offers.
As of writing, some of the promotions, exclusive to MaximBet and don't require a promo code, that are available to existing players are as follows:
4 Day Weekend - Place an in-play bet on NFL or NCAAF on Thursday and get 50% of your wager back in free bet credits of up to $50.

The Long Ball - Place a $20+ bet on the winner in select MLB games and get $10 in free betting credits for every home run your team hits if your bet loses.

Heads You Win - Place a $20+ bet on the winner in select soccer games and get a 100% refund of your bet up to $100 if your bet loses and any goal in the game is a headed goal.
The promotions cover a wide variety of sports betting and there is always some sort of insurance for you to capitalize on and keep your betting balance in the green.
Other Types of Bonus Offers Available From MaximBet
MaximBet changes its bonus offer several times during the calendar year to attract new customers. The current deposit match bonus of $1,000 is an outstanding offer but let's take a look at some of the other types of bonus offers that MaximBet tosses out from time to time.
We'll be up front with you. The Maximbet promo code is a great offer, but there are other great sports betting promotions throughout the sports betting industry.
MaximBet Risk Free Bet Offers
A Risk-Free Bet is where a sportsbook will cover your loss if your bet happens to lose. Most sportsbooks in the industry will give their new customers a free bet if their first wager loses. Others will give their clients site credit if their first bet loses.
Risk-Free Bets are very helpful but be sure to read the terms and conditions. The free bets you're given to cover your loss usually expire after a certain number of days. MaximBet is currently offering a $500 Risk-Free Bet for people in Colorado.
MaximBet Free Bet and Bet-Get Offers
Bet-Get offers have risen in popularity in recent years! The nice thing about these types of bonuses is that they don't require large deposit amounts. For example, the current DraftKings Bet-Get offer lets new customers Bet $5 to Win $150 if their team wins.
MaximBet doesn't have any Bet-Get offers at this time but that could change as they enter into new markets. Stay tuned!
Odds Boosts at MaximBet
MaximBet likes to show love its existing customers by offering some lucrative odds boosts each day. For example, let's say the Denver Broncos are +120 underdogs on the moneyline. MaximBet will boost their odds to +140 so that Denver fans can score a bigger payday by betting on them.
Depending on how busy the sports calendar is that day, MaximBet will have anywhere from two to ten odds boosts for sports bettors to enjoy.

Terms for Current MaximBet New User Deposit Match Offer
When it comes to the sportsbook itself, MaximBet is doing plenty to attract new users to their fresh sportsbook. The first thing they've done is establish a deposit match bonus that is competitive with all other leading sportsbooks: a 100% deposit match of up to $1,000. There is no code necessary. However, the method to claim all the bonus money is a little bit funky.
Your first deposit receives a 100% match of up to $500 in free betting credits. Make a second deposit within 8-14 days of the first deposit and you will receive a 100% deposit match of up to $250 in free betting credits. Make a third deposit within 15-21 days of the first deposit and receive a 100% match of up to $125 in free betting credits. Make a fourth deposit within 22-28 days of your first deposit and receive the same match specifications as the third deposit.
It all adds up to $1,000 in deposit match bonus, but it may require some extensive playing or planning to capitalize on the full offer as you can only receive 100% of the next deposit's bonus if you have already bet through your previous deposit entirely.
Additionally, as is the case with every sportsbook bonus, the bonus funds received will not be able to be withdrawn immediately. The funds can only be withdrawn after betting through your full deposit and bonus amount. So, if your initial deposit is $400, you will have to bet through all $400 to be able to receive the bonus of $400, and then will have to bet through that $400 to be able to withdraw it.
While this deposit match promotion has a few hoops to jump through, it is on par with other premier sportsbooks and a great way to grow your balance. Be sure to review MaximBet's terms and conditions before opening your account.
Terms for other MaximBet Promotions
These terms and conditions are exclusive to this MaximBet promo code. Any other promotions and any other MaximBet sportsbook promo code will have their own set of terms and conditions that go along with them.
| | |
| --- | --- |
| Promo Code: | EWB |
| Bonus Offer: | 100% Deposit Bonus, Up to $1,000 |
| Offer Dates: | Valid September 1st - September 31st |
| Terms: | New CO players only. Must be 21+. |
What is MaximBet SportsBook?
MaximBet Sportsbook is one of the newest arrivals on the scene and they're involved in all of the major sports leagues. Stemming from a strategic partnership with the Carousel Group, MaximBet will combine Maxim's solidified lifestyle brand with Carousel's online betting experience to build a new face in the gambling industry. MaximBet is essentially replacing Carousel's previous sportsbook offering which was SportsBetting.com.
The Carousel Group, established in 2017, has prioritized creating a sportsbook that facilitates long-lasting relationships with its customers, promoting both responsible and enjoyable gaming experiences. Maxim's loyal community of "modern men" balances out this partnership and should help Carousel reach a deeper client base. Their extensive rewards program is doing just that, building a relationship with its users so that every wager placed is recognized and rewarded.
The MaximBet sportsbook is currently only available in Colorado but has expressed serious interest in quick expansion to follow suit with the growing legalization of sports betting in states all throughout the US. Carousel entered the US gaming market in late 2020 and has already secured market access deals in New Jersey, Indiana, Iowa, and Colorado, and are awaiting final approval to launch in Arizona.
MaximBet sportsbook joins SI Sportsbook as a rebranded sportsbook looking to make a splash in the Colorado market. Based on early feedback, users seem to love the app and MaximBet site, which echoes our first impressions.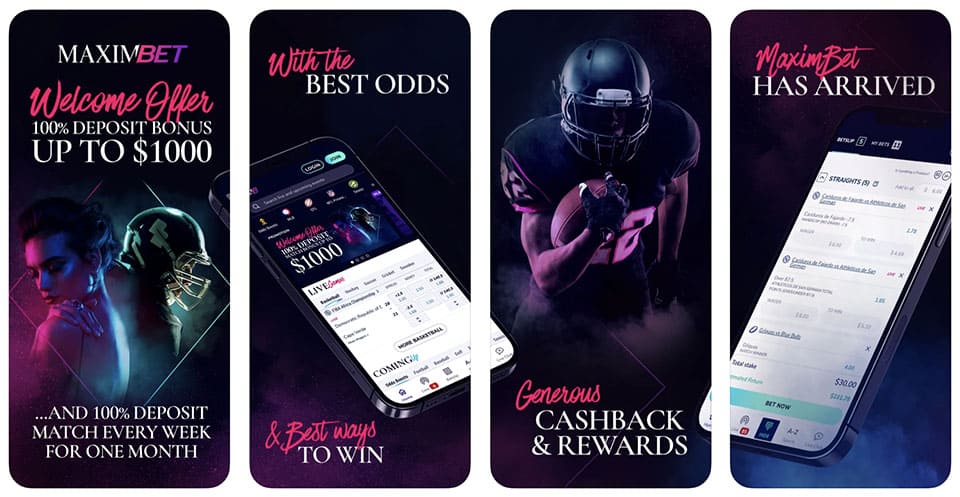 MaximBet Account Features
MaximBet offers bettors odds from every major professional and collegiate sports league and has live betting available for most major betting events. With MaximBet, users can wager on the following pro sports and college games:
Football

Baseball

Basketball

Soccer

Hockey

MMA

Cycling

Tennis

Golf

Boxing

Rugby Union/League

Table Tennis

Cricket

Snooker

Motor Sports
When it comes to the wagers themselves, MaximBet is competitive and offers just about all the bet types one could possibly want: moneylines, parlays, round robins, live betting, props, futures, spread bets, and point totals.
Cashier services are where MaximBet currently drops the ball slightly and does not offer as many choices as some of the more established sportsbooks. As of now, with the expectation that more banking options are on the way, users can use Mazooma ACH, Skrill, or Credit/Debit card (Visa and Mastercard) to deposit and withdraw funds. Per usual, each withdrawal method will have different timelines, some taking up to a few days.
MaximBet SportsBook FAQs
While we have seen relatively new sportsbooks, like Tipico, expand into new markets, MaximBet is the most recent sportsbook to launch in the US. With this in mind, players want to know more about the company, the house rules, the MaximBet promo code, and how the app works prior to making an initial deposit.
Is MaximBet sportsbook legal?
Absolutely! Of course, there are some requirements for users to place bets on games, but MaximBet is legit.
They follow all laws and regulations in the State of Colorado where they're currently operating. We'll cover more about which states they operate in later in this FAQ.
How old do you have to be to use MaximBet?
This depends on the state. Currently, in Colorado, users who want to bet at the MaximBet online sportsbook will have to be 21 years or older. If MaximBet goes live in any state where the minimum betting age is 18 years or older, then users will have to be 18+ to make an account. Bettors will need to provide their full legal name, date of birth, home and email address, phone number, and SSN to verify their identity.
So if you want to take advantage of the MaximBet sportsbook promo code, you'll have to make sure you're at least 21 years of age.
Who is Eligible to Use the MaximBet SportsBook?
Anybody who meets the age requirement and is located within a state where the MaximBet sportsbook is legal can play. For now, that means 21+ and Colorado. You do not need to be a resident to bet. You only have to be located within the state's boundaries for legal sports wagering.
The MaximBet mobile app uses precise geolocating services that pinpoints your exact location and ensures that you are within the permitted area. If you're out of the State of Colorado and trying to take advantage of the MaximBet bonus code, you'll be out of luck.
When will MaximBet be available in other US states?
Legal sports betting is on the rise in the US, so there is plenty of room for MaximBet to expand into. They have not indicated any exact dates or plans, but will most likely look to build their sportsbook in other states after solidifying their stance in Colorado.
Imagine what it would be like to catch a Colorado Rockies game and bet on it from the MaximBet sportsbook app from your seat. Throw in a MaximBet welcome bonus and you have yourself one heck of a game!
What other markets is MaximBet planning on entering?
MaximBet recently reached agreement deals to enter New Jersey, Arizona, Indiana, and Iowa. There is currently no timetable for these launches but it could be as soon as March of 2023.
As a growing mobile betting platform, they aspire to expand into various betting markets where players can conduct legal betting. We anticipate they'll bring their online casino and their awesome welcome bonus to other betting markets real soon.
Does MaximBet have an app?
Yes, while the MaximBet desktop site is available through the browser of your choice, you can also find their sports betting app on iOS, with an Android app on the way soon.
One of the best parts about using the MaximBet mobile app is that you can enter in the MaximBet promo code from anywhere. So when you're wanting to take advantage of some of the best MaximBet promotions, you can do it on the go!
Does MaximBet offer free bets?
They sure do! The best part of their free bets is that you don't even need a MaximBet promo code to take advantage of their free bets.
Some online sportsbooks require that you enter in a promo code or bonus code to get bet credits, but not the MaximBet online sportsbook!
What are bet credits?
Bet credits are what players receive when they make an initial deposit and use a MaximBet bonus code or a MaximBet promo. You don't necessarily get the cold hard cash in your hand, but you have the bet credits in your MaximBet sportsbook account to place bets on your favorite professional sports teams.
Current MaximBet Online Sportsbook Rating
It is always tough to assign a rating to a new online sportsbook and the MaximBet sportsbook is no exception. We have very little user feedback to incorporate into this rating.
That being said, what we do know is that the MaximBet app is extremely well executed. They leaned heavily on SportsBetting.com's intuitive design, and have built a sports betting product that is really user-friendly.
In terms of the current welcome bonus and promo code, we have found that users prefer odds-boost offers to the current MaximBet deposit bonus promotion. While the company does deserve kudos for rolling out one of the industry's top deposit bonus offers and the occasional free bet, we would have preferred to see an offer similar to the current PointsBet promotion with includes two risk free bets worth up to $2,000.
| Review | MaximBet SportsBook |
| --- | --- |
| Details | MaximBet clearly built its website and app to make a splash in the rapidly-growing US sports betting market, and we think it will ultimately be a success. We love the variety of betting options, sports, live betting, and just how easy the sportsbook is to use. While the current bonus offer caps at a generous $1,000, an additional odds-boost promotion would have been much more successful at attracting new Colorado bettors to the app. |
| Author | Chris Lollis |
| Rating | 4.2 (out of 5) |