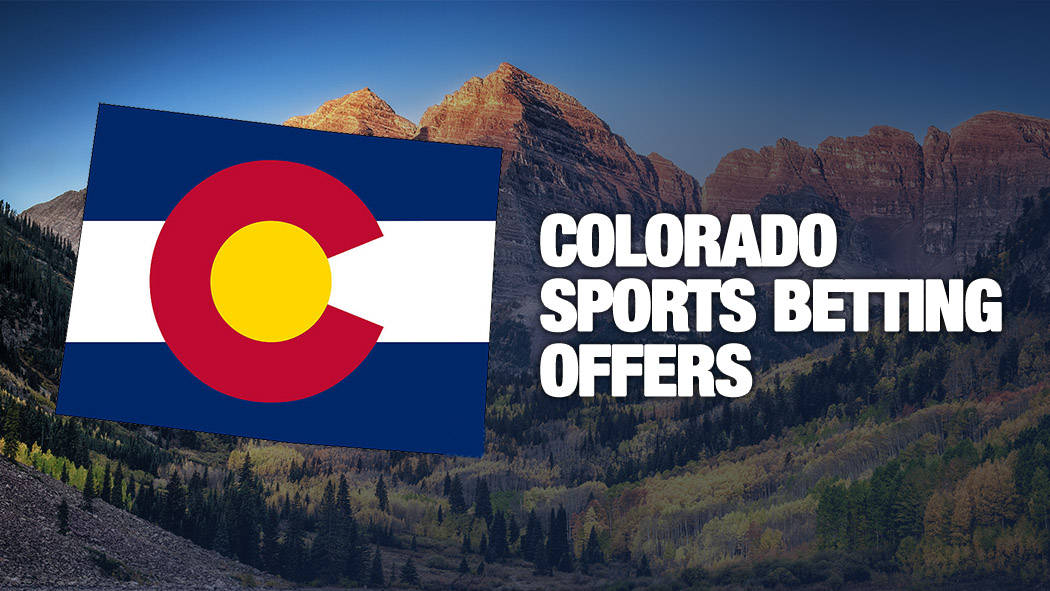 Colorado legalized sports betting in May of 2020 and already has the largest pool of mobile sportsbooks for bettors to choose from in the US. If you are looking for a new sportsbook or want to take advantage of bonus offers that are essentially bonus bets, we have you covered. Find our current rankings of every sports betting bonus available in The Centennial State this September in the table below.
Colorado bettors must be 21+ and present to place wagers in the state. Gambling problem? Call or text 1-800-522-4700. Chat is available at ncpgambling.org/chat.
Types of Promotions and Bonuses at Colorado Sportsbooks
Fortunately for sports bettors, there's no shortage of bonuses and promotions at Colorado sportsbooks. Here is a list of the most popular types of bonuses currently available:
Welcome Bonus Offers - Most sportsbooks will offer a sign-up bonus for new players in Colorado, usually anywhere from $25 to $500 depending on the amount you deposit. These are designed to give new customers a head start and some extra cash to bet with. These are overarching bonuses that might include deposit match bonuses, bonus bets, and others. If a sportsbook doesn't offer a welcome bonus, we move on to the next.
Deposit Match Bonus Offers - One of the most popular bonuses is the deposit match bonus. This type of bonus provides a percentage match on your first deposit and usually maxes out at $500 or more. The amount will depend on the sportsbook, so check it out before you make a deposit.
Bonus Bets - Many sportsbooks also offer bonus bets as part of their welcome packages for new players. These are free bets that you can use on different sports or events, and the size of the bonus depends on the bookmaker. For example, some sportsbooks like Bet365 will offer $200 in bonus bets when you make a single $1 bet.
Reload Bonus Offers - Reload bonuses offer a percentage match when making deposits after your initial one. The size will vary from sportsbook to sportsbook, but most offer anywhere from 10% to 30%. These are just like deposit match bonuses, but they are there to reward existing customers.
Refer-a-Friend Bonuses - Referral bonuses reward players for referring new users to the sportsbook. Most sites will offer anywhere from $50 to $100 in bonus bets or a percentage match on future deposits if you refer a friend who also makes an initial deposit. If you've got friends, be sure to refer them and share the bonus code.
There are countless other types of bonuses you might find, but these are the most common. We recommend researching the different Colorado sportsbooks to find out what bonuses and promotions they are offering. With so much competition, you can be sure that there is something for everyone. To help you out, we've done most of the research for you. Keep on reading to see what Colorado sportsbooks are offering these days.
Details for Our Current Colorado Sportsbook Bonus Offer Rankings
If you have sports betting experience, we probably don't need to tell you how important a welcome offer is, but for those of you who are new to betting, this is the best opportunity for you to get Bonus cash from a sportsbook.
Certainly, there are opportunities to receive a reload bonus or the occasional 2nd chance bet, but those offers will never include anything near a $250 Bonus with any $50 bet. As a sports bettor, this is the one time that you have leverage over the sportsbook. They want you to sign-up, try their app, and become a long-term customer.
With that in mind, and considering the fact that there are more than a dozen mobile sportsbook operators in Colorado, how can you be certain you are choosing the right offer? Here are a few tips:
Don't limit yourself to one sportsbook. While it is fine to have a go-to sportsbook, it is better to have multiple options. This not only allows you to take advantage of multiple welcome offers but also allows you to shop your bets to find the best odds and lowest juice.
Be sure to read the fine print. While we have identified eight sportsbooks with straightforward bonus offers here, that is not always the case. Pay attention to rollover rates, betting requirements, and eligibility rules.
Find an offer with a low cost of entry. You never want your first wager to be the majority of your bankroll, and offers that include a 2nd chance bet or a bet match often require you to bet more to receive a bigger bonus.
Only sign up with sportsbooks that offer polished, reliable apps that you can see yourself using. You are going to rely on a sportsbook to make it easy to find and place a bet seconds before kickoff. Make sure the technology behind your sportsbook is capable of this.
The Latest Promotions and Offers from Sportsbooks in Colorado
Promotions and deals are constantly changing, so it pays to stay informed about the latest bonus opportunities from Colorado sportsbooks. With that, we've put together an updated list of the most recent offers from sportsbooks in the state.

Bet365 Online Sportsbook
One of our favorite sportsbooks, unfortunately, they're not in too many states (but they are in Colorado!), is Bet365. They have an amazing welcome bonus for new sports bettors. If you Bet $1, you can get $200 in bonus bets. That's nuts! Of course, you have to sign up and make a deposit to start betting, but you don't even need a bonus code for this. Not too many sportsbooks can make that claim.
DraftKings Online Sportsbook
Another one of our favorites, DraftKings, is one of the biggest sportsbooks in the US. For their welcome offer, they have $200 in bonus bets when new customers bet $5 and win. Think of it like an odds boost. You still have to bet, but it's a big bonus for when you do.
FanDuel Online Sportsbook
Better known for their role in DFS, FanDuel has become a serious player in the world of online sports betting. They have an incredible welcome offer for new sports bettors in Colorado. They have what they like to call their Bet $5 Get $200 offer. No sweat? That's a great way to get started betting on sports in Colorado. Also, you'll get $100 off NFL Sunday Ticket!
Caesars Online Sportsbook
Everyone knows Caesars, and they offer a great bonus for new customers in Colorado. When you sign up, make your first deposit, and make your first bet, you can get your stake back as a free bet if it loses. Caesars is so confident you're going to love their online sportsbook that they're willing to give you a Bet $50 Get $250 deal! That's extremely generous! However, be sure to use promo code "BVGET" when you sign up to get this offer.

BetMGM Online Sportsbook
BetMGM is one of the biggest and most popular online sportsbooks in the US. And they have an amazing welcome offer for new customers in Colorado. When you sign up and make your first bet, they'll cover it up to $1000. So, if you make a bet and it doesn't win, they'll match your bet with bonus credits. Definitely max out this offer; you won't regret it.
PointsBet Online Sportsbook
You've probably heard about PointsBet in the news - the sportsbook recently acquired by Fanatics. This is going to be great for the industry, but in the meantime, be sure to capitalize on the $250 in bet credits they'll give you in second-chance bets - just for signing up! Don't forget to use our promo code BVIEW1 when signing up, and don't wait. We don't know how long this bonus will last.
BetRivers Online SPortsbook
We love BetRivers, but we love their welcome bonus even more. They're offering $500 in second-chance bets when you sign up and make your first deposit. That's a great way to start betting on sports in Colorado! What's even better? They have the lowest rollover requirement of any online sportsbook in the state. All you have to do is make a deposit and bet your bonus at least once, and you're good to go. No promo code is required.
Details for the Top Offers Available in Colorado this September
While Colorado sports bettors have plenty of bonus offers to choose from, there are two that really stand out to us. The current promotions at Bet365 and PointsBet check all of the boxes we are looking for in a bonus offer. Here is what you need to know about each promotion:
Bet $1 to Get $200 Bonus at Bet365
Bet365 is one of the latest sportsbook operators to launch in Colorado, but the sportsbook itself is far from new. Bet365 is the largest sports betting website and app in the world and is widely considered to be the industry leader in Europe.
For Colorado bettors looking for a great promotion at a sportsbook they trust, Bet365 is the best option. Here are the steps to get $200 in bonus bets with your first $1 wager:
Sign-up using our current Bet365 promo code.
Make a minimum deposit of $10 and place any wager of $1+.
Receive $200 in bonus bets whether your initial wager wins or not!
Always make sure that you check the current bonus offers in Colorado. Many sportsbooks offer seasonal specials, so stay up to date with what is available and find the one that works best for you.
Max out the promotions. If you sign up with a sportsbook and they offer a deposit match, be sure to take advantage of the full offer. If you don't max out the deposit bonus, you are leaving money on the table.
Bet on sports you know. We always recommend to bet on the sports you know. It's important to be familiar with the teams, the odds, the lines and so much more before placing any bets. For example, if you're not a fan of the NHL and don't know much about the teams, odds, or lines – don't bet on it. If you follow the NBA closely and have a good understanding of the teams, odds, and lines – go for it.
With a $10 minimum deposit and a $1 minimum wager, this offer is a great way to build a bankroll with a new sportsbook without having to make a massive deposit. This offer is only guaranteed to run through September , so be sure to sign up today and lock in your bonus bets!
Receive Up to $250 in Second Chance Bets at PointsBet
If you think getting a 40-to-1 payout from DraftKings would be good, then you should love the latest offer from PointsBet. New players that sign up using our PointsBet promo code will receive up to $250 in Second Chance Bets.
This promotion pays out in (2) Second Chance bets and is restricted to new Colorado players only. Here are the steps you need to follow to lock in this unbelievable bonus offer at PointsBet:
Visit PointsBet and sign-up using the promo code BVIEW1.
Make your initial deposit and then proceed to place your 1st Second Chance Bet on any standard line or total. If your bet loses, PointsBet will give you bonus bets up to $250 in value.
Colorado Bonus Offers FAQ
Colorado just celebrated its 3-year anniversary of having legal sports betting. Even with that being said, new players are entering the industry all of the time and have questions about bonus offers in Colorado. Our goal with this FAQ section is to provide players in Colorado with the info they need.
How do I find the best bonus offers in Colorado?
With so many sportsbooks to choose from in Colorado, finding the best bonus offer for your bankroll can be a daunting task. Luckily, our team will do all of the hard work for you. Since we provide updates regularly with all of the latest bonus offers within the state, bookmark our Best Colorado Sportsbooks page and check it from time to time.
What are the best bonus offers available in Colorado at the moment?
For the month of September , sports bettors in Colorado can find the best bonuses at FanDuel and Bet365. Both of these will grow your wagering bankroll right from the start! If you sign up with both books, you'll have a huge edge!
When are the best offers available?
The best time to sign up for a new sportsbook is right before the start of the NFL season. That is when sportsbooks offer their biggest bonuses! Keep an eye out for new bonus offers around the start of the season in Colorado.
How do Bonus bets work?
Sportsbooks often reward new players with Bonus Bets to entice them to set up an account. Bonus Bets are pretty straightforward. For example, DraftKings is giving new players $200 in Bonus Bets when they place their first $5 bet! Just make sure that you use the Bonus Bets before they expire.
Do sportsbook bonuses expire?
Yes, some do! Be sure to read over the terms of your bonus offer. Any sportsbook that offers Bonus Bets usually stipulates that you must use them in 7 to 14 days.
How often do you update your offer rankings?
Our staff works diligently by staying in constant communication with all of the sportsbook managers in Colorado. We update our rankings as new offers emerge.
Why is it important to use a promo code?
Most sportsbooks require that you enter a promo code when signing up for an account. This helps the book track where your bet originated from and also confirms that you are eligible for the bonus offer. Make sure that you take advantage of any special offers by using our exclusive codes.
Can I use more than one bonus offer?
Yes, you can. Just make sure to use the correct promo code for each offer in order to get the most out of your new sportsbook accounts. Many Colorado sportsbooks provide great bonuses for new players, so don't miss out on these offers by not using a promo code. Keep in mind, however, that you can only use one promo per sportsbook.
Can more than one person use the same promo code?
Of course! The promo codes we list on our page are valid for all players in Colorado. Each code can be used as many times as you'd like, so feel free to share them with family and friends. Just remember that each individual is only eligible for the bonus offer once.
Colorado bettors must be 21+ and present to place wagers in the state. Gambling problem? Call or text 1-800-522-4700. Chat is available at ncpgambling.org/chat.