With WynnBet now live in Arizona, the sportsbook is currently available in seven US states including Arizona, Colorado, Indiana, Michigan, New Jersey, Tennessee, and Virginia. The bonus offer featured at the top of this page is available in all seven markets they currently operate.
In addition to the 7 states WynnBet Sportsbook currently operates in, they are nearing launch dates in both New York and Louisiana. We will update this page with the bonus offers for each state when that information comes available. As is the case with most new markets, WynnBet is likely to offer a better bonus to bettors in these states.
In addition to the $1,000 risk-free sportsbook offer, new players can receive a $1,000 bonus on their casino product using the offer found below. This promotion is also live in every state the online casino and the corresponding app are currently available, which includes New Jersey and Michigan.
Use the table below to find the current offer for the WynnBet SportsBook and Casino apps, the terms attached to each offer, the expiration date, and what states each offer is valid for. We update these details daily to ensure our users thoroughly understand the terms for each promotion.
| | |
| --- | --- |
| SportsBook Offer | 100% Deposit Bonus, Up to $1,000 |
| SportsBook Offer Expiration | Offer ends 2/28/2022 |
| SportsBook Offer Terms | New players only, 2x rollover required. |
| SportsBook States | CO, IN, MI, NJ, TN, VA, AZ |
| Casino Offer | 100% Deposit Bonus, Up to $1,000 |
| Casino Offer Expiration | Offer ends 1/31/2022 |
| Casino Offer Terms | New players only, 5x rollover required. |
| Casino States | New Jersey and Michigan |
There are qualifying terms and conditions for all of the WynnBet promo code offers listed above. This includes a minimum age requirement (21+), verifying you are located in a state that WynnBet operates, and, lastly, the offers are only available to new players. Review the current terms and conditions before opening your account.
Wynn is a well-established brand that has been offering its sports betting, horse racing, and casino games services in Nevada since 2005. The brand was among the first casino brands to release a mobile app, once sports betting became legal in the state. Wynn's app and services are generally rated high by their user base.
WynnBET's App Availability
Wynn's sports betting service, WynnBET is the updated version of the Wynn Resort's online sports betting experience. The regulated service is available in seven states besides Nevada: New Jersey (through state partner Caesars AC), Colorado (through Full House Records), Michigan (through Kewadin Casino), Virginia (through NASCAR), Indiana (through Full House Records), Tennessee, and Arizona. All seven states outside of Nevada allow a $1,000 Risk-Free Bet for their new customers.
Wynn Resorts obtained the rights to EU-based BetBull's sportsbook framework. BetBull is a mobile-only betting platform operating since 2015. This partnership between the two firms is driving Wynn's mobile-only expansion in new US states that are opening up their markets.
Besides Betbull, US-based Scientific Games is also involved in the development of the WynnBET app. SI handles the design processes and the implementation of the different casino apps.
WynnBET SportsBook: Rules to Know
As with every major US sportsbook, WynnBet has its own house rules that players need to be aware of prior to opening an account and placing their first wager. The most important rules for each state they operate in are covered below.
Different US states have different rules and markets they offer or prohibit placing wagers on. In New Jersey, betting on NJ-based college teams and NCAA games played in New Jersey is prohibited by NJ state law. Bettors using the app in other states can bet on college teams and NCAA games without any restrictions.
WynnBET Colorado, WynnBET Tennessee, and WynnBET Virginia does not allow betting on different prop bets for collegiate athletic events.
The WynnBET app is currently unavailable in Nevada due to a new version being under development. The new version of the WynnBET-branded app is developed by WSI US.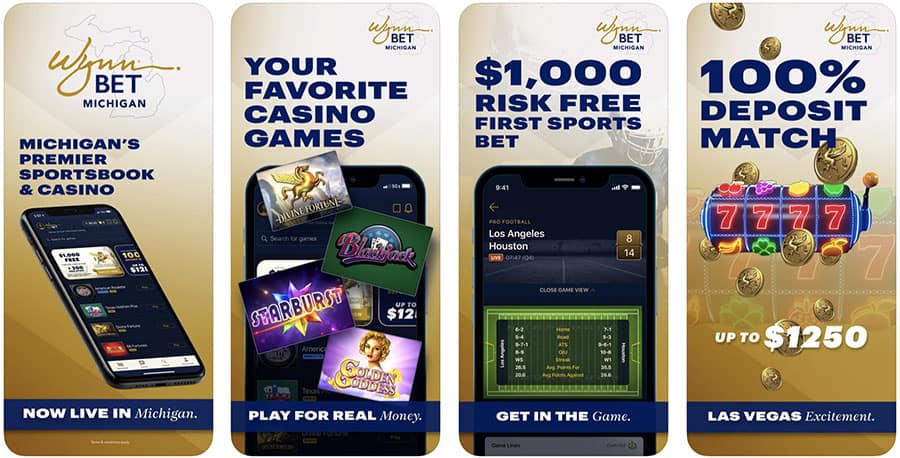 Overview of the WynnBET Sportsbook
It is important to note, that at this point, the WynnBET app is a mobile-only sports betting experience, without a desktop version available. You will need to download the app that is available to Android and iOS devices as well.
Once you downloaded WynnBET you will have access to the following bet categories: totals, point spreads, money lines, parlays, futures (outrights), live betting, round-robin, and more.
The list of available sports & leagues is the following: NFL, NCAA football, NBA, NCAA basketball, baseball, MMA, ice hockey, soccer, tennis & golf. For larger markets, like NBA games, the app also offers alternate lines, totals on quarters and halves, and different player props.
Point spreads offer –110 lines, meaning you have to place a wager of $110 to win $100. These odds and payouts are typical for most sportsbooks. WynnBET users playing from states where casino games are legal (currently Michigan and New Jersey) to have access to different table games, including live dealer games as well.
Currently, there is no loyalty program available, however, users in Nevada are required to sign up for the Wynn Red Card rewards program which will provide them various benefits. Deposit and withdrawal options include PayPal, ACH/eCheck, online banking, Play+ Card, check, and withdrawal at casino cage (depending on the user's state).
Who Qualifies for the $1,000 Risk-Free Bet Offer
After signing up for your WynnBET account you are just a few steps away from making a $1,000 risk-free first bet. The most important terms and conditions you need to know of is that they require a minimum deposit of $20 and that deposit has to be made within 10 days of account creation.
The free bet can be placed on sports only and insured bets and boosted parlays are not allowed. There is no promo code required, just select your state on Wynn's registration screen: https://www.wynnbet.com/lp/.
Any deposits between $20 and $1,000 qualify, the size of your free bet will depend on the size of your initial deposit. For example, if you deposit $50, you will be able to make a $50 free bet. If you decide to go with a $1,000 deposit, you will qualify for the full $1,000 risk-free bet.
Rules for the $1,000 risk-free bet
Your risk-free first wager has to be placed on a market with odds no lower than -150. Anything lower than -150, for example, -180 is ineligible for a risk-free bet. You also need to place your wager with a market with odds no higher than +10000. If your free bet ends up being a loss, the amount you wagered is refunded to your sportsbook account in form of a free bet.
However, if your free bet wins you will not get the stake of this free bet back in addition to your winnings. For example, if your $1,000 risk-free bet loses and then you used your $1,000 free bet on a market with odds of +100, you will receive $1,000 cash to your account if it is a winner, not $1000 like you would if you would place your wager with your cash.
As you can see, there is a little risk involved in this risk-free bet, but you will still have two shots to cash a wager instead of one, which makes this promotion extremely enticing. Good luck placing your first bet!
We created this review and rating system to provide new sportsbook users with a clear understanding of just how good every sportsbook promo code offer on our site actually is. The 4.3 (out of 5) rating for the WynnBet offer puts them 11th out of 13 qualifying US sportsbooks.
The $1,000 risk-free bet offer is double what competitors Unibet and BetRivers are offering this January. That being said, Wynn Bet offers a larger casino bonus than both brands.
Where Wynn Bet excels is in providing clear terms and conditions for their offer, and one of the better online casino promotions in the industry.
| Review | Current WynnBet SportsBook and Casino Promotions |
| --- | --- |
| Details | WynnBet's current $1,000 risk-free bet offer is tied for the largest deposit bonus available in the US this January. However, users love the player-friendly terms attached to this offer and the $1,000 bonus for the casino app is a major positive. We also find a mixed bag of results when looking at other factors. The app is nowhere near as advanced as FanDuel and DraftKings, but the odds and juice are considerably better. Overall, there is work to be done here, but WynnBet is certainly an app to keep an eye on. |
| Author | Chris Lollis |
| Rating | 4.3 (out of 5) |