The Texas Lottery offers a thrilling chance to win exciting prizes running into millions of dollars. With its draw games, scratch tickets, state and interstate lotteries, and huge jackpots, it's easy to see the appeal of the Texas Lottery to many Texans. 
It is no news that the Lone Star State is one of the most restrictive places for gambling in the US. The official Texas Lottery, however, remains one of the few ways residents of the state can legally participate in gambling. And now, you even get to play the Texas Lottery.
In this article, we will discuss everything you need to know about playing the Texas lottery, such as the types of games to play and how to obtain your lottery ticket. But first, it is necessary to provide some background on the Texas Lottery.
History of the Texas Lottery
The Official Texas Lottery has remained the state's primary legal gambling option since the constitutional amendment in 1991, which allowed for the establishment of the state lottery. Lottery tickets were sold for the first time in the state in 1992, with 102.4 million tickets sold during the first week – a world record at the time.
Noteworthy, the Texas State Lottery is controlled and governed by the Texas Lottery Commission, which was created in 1993 by a bill approved by Gov. Ann Richards.
How to Play Texas Lottery Online
Previously, to buy lottery tickets, you would have to visit a licensed retailer in the state physically. However, through the years, a number of online options to purchase Texas lottery tickets have emerged.
While the Texas lottery has an official website and app, you cannot currently buy lottery tickets through either. These platforms are nevertheless useful as they provide several convenient features. For instance, the Texas lottery app allows you to confirm if your tickets won any draws by scanning such tickets.
You can also find some valuable information on the official website and app, such as the closest licensed retailers to your location, dates of the Texas Lottery drawings, current jackpot values, as well as the current catalog of scratch-off tickets.
What's more? With the Texas Lottery app, you get to take advantage of the promotional second chance drawings, which allow registered users to enter non-winning tickets, essentially giving you another opportunity to win prizes with the same tickets.
However, as mentioned earlier, you cannot purchase a lottery ticket directly through the Texas Lottery app or website. To gain access to this feature, you'll need to explore third-party options such as Jackpot.com, Jackpocket, and theLotter Texas. Here's how to use each:
The Easiest Way to Play Lottery Online in Texas: Jackpot.com
Jackpot.com provides a mobile app on Android and iOS, which lottery players can leverage to purchase Texas lottery tickets online, all from the comfort of their homes. The platform essentially operates as a courier service, collecting physical lottery tickets on behalf of lottery players and securely storing them until the lottery draw.
To use Jackpot.com, players must create an account and verify their identity through a state- or federal government-issued ID or other documents like utility bills. After creating an account, the player can then select their preferred number combination, and the corresponding ticket will be purchased.
Notably, winning tickets can be claimed in two ways:
Where the prizes are worth $599 or less, the amount won will be directly deposited into the player's account.
Where prizes are worth $600 or more, the amount won must be claimed directly from the Texas Lottery.
Importantly, Jackpot.com offers some features to help you play responsibly. For instance, you can set up deposit limits. Similarly, players can voluntarily initiate temporary pauses on their accounts. The platform also provides the contact information of the National Council on Problem Gambling.
For a limited time, all new Texas players that use our Jackpot promo code will receive a free $2 ticket with any deposit.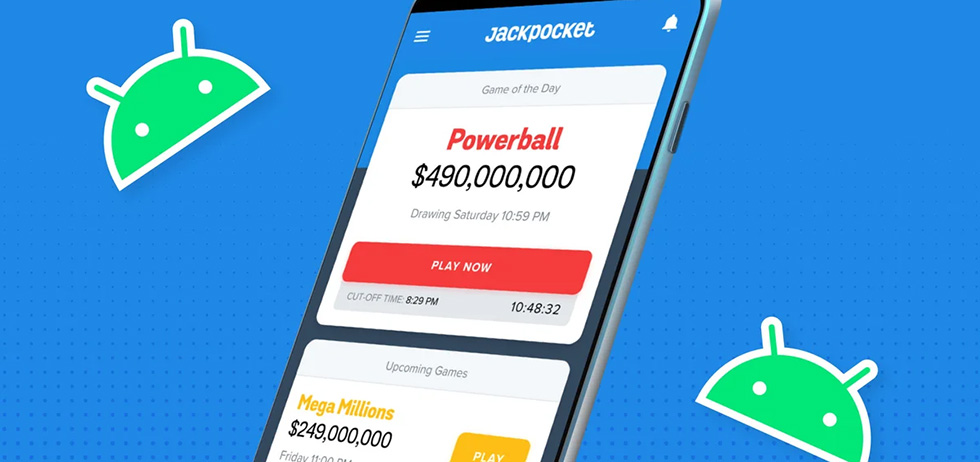 Jackpocket.com: Licensed Online Texas Lottery Reseller
Jackpocket is another mobile application that acts as a courier service to help lottery players purchase their lottery tickets online. The platform lets you purchase tickets for several Texas Lottery games, such as Cash Five, Daily 3, Mega Million, Powerball, and Treasure Hunt.
To use Jackpocket, you must first register by providing the necessary information. Subsequently, you can select a lottery game and choose your lucky numbers. If you are unsure of what numbers to pick, you can use the platform's Quick Pick option which will randomly choose numbers for you. In addition to purchasing tickets, Jackpocket also allows you to join a lottery pool in certain games. Joining a lottery pool increases your odds of winning a prize, although this comes with the downside of reduced potential winnings.
Jackpocket accepts a variety of deposit methods, including Apple Pay, debit card (Visa, Mastercard and Discover), bank account, and PayPal. Finally, winning tickets can be claimed in two ways on Jackpocket. Prizes worth $599 and under are deposited directly to the connected bank account, while prizes of $600 and above must be claimed directly from the Texas Lottery. Jackpocket also provides a range of features to help you play responsibly.
theLotter Texas
You can also purchase Texas lottery tickets through theLotter in Texas. As with the other options, you'll have to register your account, after which you can select any of the popular Texas Lotteries and choose your preferred or lucky numbers. You can also have the platform randomly select numbers for you.
Once you've filled out all the necessary details, the platform will purchase official Texas Lottery tickets on your behalf, and you will get a scan of your ticket before the next draw. You will also be notified of any lottery winnings.

What Games Can You Play in the Texas Lottery?
The official Texas lottery offers a variety of games. Its lottery draw games can be broadly categorized into multi-state draws and local draw games.
Multi-State Draws
There are two games in that fall into the multi-state draw category: Powerball and Mega Millions. Both of these popular games are available in Texas.
Powerball
In 2010, the Texas Lottery Commission got the necessary approvals to bring Powerball to the official Texas Lottery. To play the Powerball lottery, players select five numbers from 1 to 69 and one Powerball number from 1 to 26, thus bringing the selection to a total of six numbers.
When a player is able to match all the numbers, they win the grand jackpot. Players may also win non-grand jackpot prizes where they are able to correctly guess some of the numbers but not all. These non-grand jackpot winnings can be multiplied by two, three, four, five or ten times when the Power Play add-on feature is used. Power play lottery winnings are, however, capped at $2 million.
Importantly, while the non-grand jackpot prizes are usually fixed, the grand prize is not always a guaranteed amount. This is because the Powerball grand prize is pari-mutuel, which means the real amount is based on the total sales of the Powerball game. Furthermore, there are two payment options for the grand prize. The grand prize jackpot winners can either opt for the annuity option, in which case the prize money will be paid over 30 years or the lump sum payout option, in which case the winner receives the present cash value of the jackpot prize at once.
Mega Millions
The Texas Mega Millions lottery is functionally similar to Powerball. Players pick five numbers from 1 to 70 as well as one mega ball number from 1 to 25. A lottery ticket for Mega Millions costs $2, although, with an extra $1, players can add the megaplier option, which can multiply potential winnings by two, three, four, or five times. The megaplier does not, however, apply to the Mega Millions grand prize.
As with the Powerball lottery, the Mega Millions grand prize is pari-mutuel. This means the actual amount is based on the total sales of tickets made, and the prize is divided equally among the grand prize winners (where there are multiple winners). Similarly, the grand prize winner can receive the money either in installments over a 30-year period or as a lump sum.
Texas State Draw Games
There are many local games that you can also play in the Texas lottery. Here are some of the most popular ones:
Lotto Texas: Lotto Texas is a game that requires players to select six numbers from 1 to 54. Players can also use the Quick Pick feature to generate random numbers. Furthermore, there is an option to include an add-on $1 feature known as Extra!, which can increase non-grand jackpot prizes by up to $10,000.
Texas Two Step: In Two Step, players must select four numbers from 1 to 35 and one Bonus Ball number. Matching all the numbers correctly guarantees a minimum jackpot of $200,000.
Pick 3: As the name implies, this game requires you to pick three numbers between 0 and 9. There are a number of options for playing selected numbers. There is Exact, where you will have to match the drawn numbers in the exact order. You can also play Any Order, in which case you simply have to match the drawn numbers in whatever order.
With Exact/Any Order, you can pay both of the previous options for an extra fee. The last option is Combo which allows you to play all possible combinations on one ticket. Notably, you can also add the Fireball feature, which allows you to replace any of the drawn numbers with a Fireball number and create Fireball winning combinations.
Cash Five: In Cash Five, players select five numbers from 1 to 35 on each ticket. If you correctly guess all five numbers, you get to win the top prize of $25,000.
All or Nothing: In this game, being able to match a set of 12 numbers from 1 to 24 will win you the top prize of $250,000.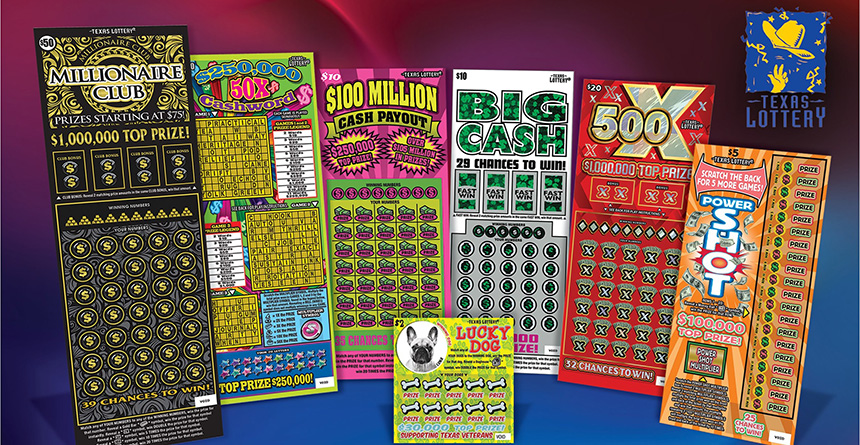 Texas Scratch Tickets
Up to 69 scratch ticket games are offered by the Texas State Lottery. This catalog includes favorite scratch ticket games such as $750 Million Winner's Circle, $1,000,000 Extreme Cash, and Loteria Spectacular.
FAQS for Texas Online Lottery
Find answers to the Texas lottery questions we receive most often. Looking for something not covered here? Feel free to contact us for additional help.
How do I check drawing results?
Results of drawings are published on the official Texas Lottery website, You can also obtain results from any Texas Lottery retailer.
How long is a winning lottery ticket valid?
A winning lottery ticket for a draw game is valid for 180 days after the drawing date, while a winning scratch ticket is valid for 180 days after the close date of the game.
Where do the proceeds of the Texas lottery go?
About 66% of the proceeds is spent on paying out prizes, and 5.2% is spent on retailer compensation. The lottery then sets aside 24.8% for the Foundation School fund, while 0.3% is used for the Fund for Veterans' Assistance and other state programs. The lottery administration uses 3.4%.
Must be 18 years or older to purchase a ticket. Gambling Problem? Call 1-800-Gambler