How to Play the Ohio Lottery Online
Did you know that the Ohio Lottery offers convenient options for online play? Gone are the days of standing in line at the corner store, clutching crumpled tickets and praying for a stroke of luck. With the tap of a button, the Ohio Lottery opens up a world of possibilities at your fingertips.
We'll tell you everything you need to know about playing the Ohio Lottery online and how you can get started today. Ready to win big?
Can You Play the Lottery Online in Ohio?
The Ohio Lottery has you covered whether you're into draw games, progressive jackpots, scratch-offs, or keno. And here's the best part—by playing the lottery, you're also contributing to educational programs in the state. It's a win-win!
While there are no legal online lotteries available in Ohio just yet, you can still get in on the action using the Ohio Lottery app. With the app, you can purchase tickets for select draw-style games and even customize your welcome screen to show your favorite games and results. It's like having the lottery in your pocket!
But here's the catch: to complete your online lottery purchase, you must make a quick trip to a retail store. Simply prepare your play slips using the app and head to a physical location to seal the deal. Scanning your physical tickets to check if you're a winner can still be achieved through the app.
So, while we're waiting for online lottery options to expand in Ohio, let's make the most of the Ohio Lottery app and get those tickets ready for some thrilling gameplay. The next big win could be just around the corner!
Benefits of Playing Lottery Online in Ohio
Not convinced as to why you should go digital? Here's what you get when you play online through the Ohio Lottery app:
Convenience
With just a few taps, you can participate in your favorite lottery games anytime, anywhere. On top of that, you can personalize the welcome screen of the app to feature your preferred games and easily access the latest results. The app allows you to prepare play slips for purchasing physical tickets for draw games, streamlining the process for your convenience. You can even use the app to scan physical tickets and instantly find out if you're a lucky winner.
Payment Options
When playing the Ohio Lottery online, you have a variety of payment options to choose from. Whether you prefer using your credit or debit card, PayPal, or even bank transfers, the online platform provides flexibility to accommodate your preferred method of payment. This ensures a seamless and secure purchasing experience, allowing you to easily buy tickets for your desired lottery games.
Access to More Games
The Ohio Lottery app offers more than just draw-style games. In addition to participating in exciting draw games, you can explore a wide range of other options, including scratch-off games, keno, and more. This expanded selection gives you a diverse array of games to enjoy, providing even more opportunities to win.
Economic Impact
By participating in the Ohio Lottery, you contribute to the state's educational programs. The profits generated from lottery sales are directed toward supporting educational initiatives in Ohio. This means that every time you play, you are making a positive impact on the state's educational system, helping to provide resources and opportunities for students and schools across Ohio.
Seamless Experience
The app offers a user-friendly and feature-rich platform that allows you to engage in various lottery games, manage your account, and stay up to date with the latest news and developments. Downloading the app opens up a world of lottery excitement and the chance to win big, all at your fingertips.
Ready to see the app in action? Next, we'll explain how to use it.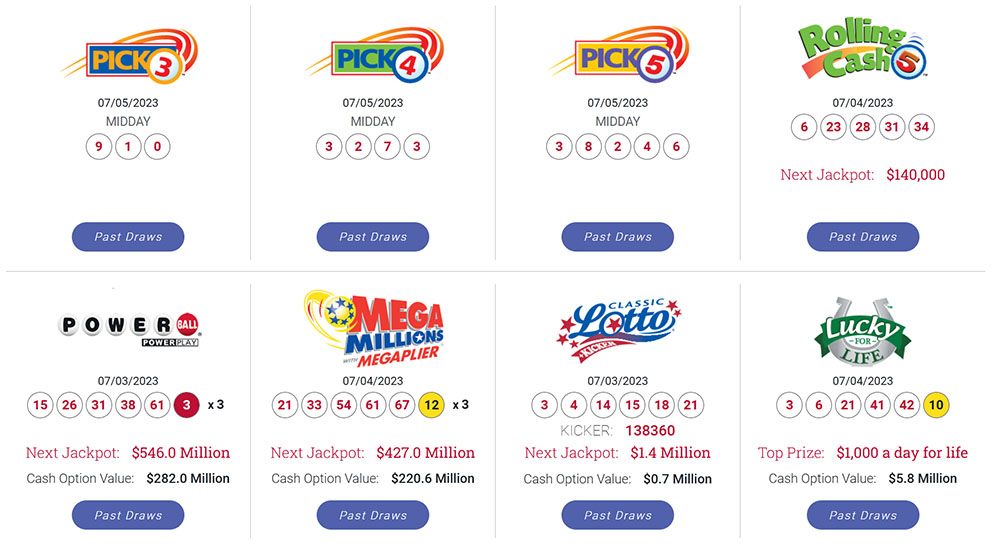 How to Access the Ohio Lottery App
As we mentioned, you can play the Ohio Lottery right from the palm of your hand with the app. To get started, simply download the Ohio Lottery app on your mobile device.
It's available for both iOS and Android, so everyone can join in on the fun. Once you have the app installed, get ready for convenient and seamless gameplay.
Touch ID Functionality
Here's a cool feature of the latest version of the Ohio Lottery app: Touch ID functionality.
If your mobile device supports Touch ID, you're in luck. No more manual credential entry! Simply enable Touch ID by tapping the button below the password field on the MyLotto Rewards login screen. Enter your login credentials, and voila! You'll be able to log in with just a touch of your finger.
Buying Tickets
Once you've downloaded the app, the ticket-buying process is a breeze. Simply swipe left or right through the carousel to explore and choose from a wide variety of exciting games. 
Whether you want to pick your own lucky numbers or let the app do the choosing for you, it's all just a tap away. Customize the number of draws, make any edits you need, and when you're satisfied, tap "Done." 
Tap "Show Barcode," and you'll have a virtual ticket right on your device. Just show it to your friendly Ohio Lottery retailer, and you're good to go!
Finding a Nearby Retailer
Not sure where the nearest official Ohio Lottery retailer is? No problem. 
Click on the locations icon in the bottom right corner of the app's navigational bar, enter your ZIP Code, and the app will display a handy map with all the retail locations near you. 
Upon initial login, the app will ask for permission to use your device's location. If you give it the green light, you'll have the most accurate and up-to-date information right at your fingertips.

What Are the Most Popular Ohio Lotto Games to Play Online?
The Ohio Lottery app has a little something for everyone.
The instant games are perfect for those who crave… well, instant gratification. With just a few taps on your screen, you can reveal hidden symbols, match numbers, or uncover thrilling prize amounts. It's like scratching a physical ticket but with the added convenience of doing it all from your phone.
The Ohio Lottery app also offers draw games that will have you on the edge of your seat, eagerly awaiting the draw results. For example, Classic Lotto is a beloved favorite among many Ohio Lottery enthusiasts. It's a game where you pick six numbers from a pool, and if your chosen numbers match the ones drawn, you're in for a chance to win some serious moolah.
Rolling Cash 5 is another thrilling draw game that offers a shot at instant riches. With Rolling Cash 5, you select five numbers, and if they match the ones drawn, you could be rolling in some serious cash. It's a game that keeps the anticipation building as the draw date approaches.
If you're someone who loves the challenge of predicting numbers, then the Pick 3, Pick 4, and Pick 5 games are made for you. In these games, you choose three, four, or five numbers respectively, and if they match the drawn numbers in the exact order, you're in for a fantastic payday.
No matter which game you choose, you're in for a thrill when you play on the Ohio Lottery app.
Ready to Win Big in Ohio?
Remember, fortune favors the bold. Whether you're a seasoned player or a novice seeking a taste of the extraordinary, the benefits of playing online are endless. Download the Ohio Lottery app and start playing today!
Play Responsibly. For help, call the Ohio Problem Gambling Helpline 1-800-589-9966.