Current Online Betting Status: Halted with no projected start date until at least 2023
Sports betting and sportsbooks has appeared imminent in the state of Florida throughout Governor Ron Desantis's tenure. Legal sports betting took another step forward in the Sunshine State in late-April of last year when DeSantis negotiated a gaming compact with the Seminole Tribe. The deal still needs to move through Florida legislature before legal sports betting officially arrives in Florida.
The deal is far from perfect but is a major step forward for Florida sports bettors eager for the arrival of legal sportsbooks in their state. Under the agreement, the state would see two online skins enter the market. The first would go to Hard Rock, which is operated by the Seminole Tribe in Florida. Who would win the second skin is not yet known, but it seems likely one of the larger US online sportsbooks would be the heavy favorite.
Wouldn't it be cool for Florida sportsbooks to become a reality?  Many residents sure think so!
While the deal announced between Ron Desantis and the Seminole Tribe casino is a step in the right direction, state and federal legislators still have work to do to bring legal sports betting to Florida. The current deal needs approval from state legislators, and regulations including licensing fees and tax rates must be established.
That being said, many experts agreed the largest hurdle facing sportsbooks like FanDuel, DraftKings, and PointsBet entering the market was the Seminole Tribe's stranglehold on the state. With this deal in place, there is at least a path forward for sportsbooks in the States.
Potential Avenues for Sports Betting in Florida
In addition to moving online sports betting forward in Florida, the recent wave of legislation in the state has paved the way for retail sports betting as well. This includes both the state's 82 tribal casinos and several of the state's professional sports stadiums. This could include 8 stadium casinos in Jacksonville, Orlando, Tampa, St. Petersburg, and Miami.
While Florida does not face a state budget deficit like New York, there is still incentive to tap into the estimated $6 billion in tax revenue legal sports betting would bring the state. In fact, the agreement guarantees the state $2.5 billion in tax revenue over the first five years of the deal. The majority of that money would likely go to the state's public schools. Florida currently ranks 45th in the nation in average teacher salary.
Unfortunately, U.S. District Court Judge Dabney L. Friedrich has put a halt on any type of mobile sports betting in Florida because she thinks it will violate The Indian Regulatory Gaming Act. Because of this and the fact that the U.S. Court of Appeals will not hear the case anytime soon, Floridians will have to wait until at least 2023 to see if mobile sports betting will make it to their home state.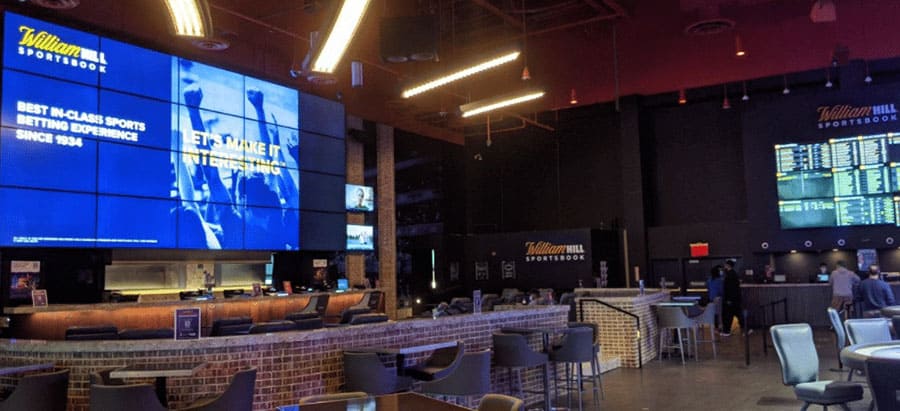 What SportsBooks Will Be Available in Florida?
The only sportsbook that is guaranteed a space in the Florida sports betting market at the moment is Hard Rock. The Hard Rock sportsbook is currently only operating in New Jersey, where it has the sixth-largest market share.
If this is in fact the bill that Florida moves forward with, the question remains, what sportsbooks are able to receive a skin from the Seminole Tribe. We will have to wait and see how this all plays out, but there are three clear favorites that enter the market. Industry leaders FanDuel and DraftKings have the capital to make the deal worthwhile for the Seminole tribe, and William Hill already has a partnership in place with Casino Miami.
Clearly this will be a massive win for whichever sportsbook enters the Florida market first. With nearly 22 million residents, Florida represents the third-largest market in the United States behind California and Texas.
The path to legal sports betting in Florida is a complicated one. Clearly, the biggest questions for Florida bettors are when will we be able to bet legally and what sportsbooks will be eligible to obtain a license and operate in the state.
That being said, Florida has one of the largest populations in the country and a large number of both professional and college sports teams. This should result in one of the largest influxes of new sports bettors that the industry has ever seen.
The FAQs below are aimed to prepare these new bettors for the arrival of legal sports betting in their state.
Is sports betting legal in Florida?
Sports betting is not yet legal in Florida. While recent legislation opened a clear path to legal betting in the state, the compact is under review and must be approved by the US Department of the Interior. The compact also received
new opposition from Miami Beach Mayor Dan Gelber
in early June.
When will legal sports betting come to Florida?
It is important to note that Florida has already legalized sports betting. However, due to the state's constitution, which protects tribal casinos, the legislation must be reviewed and approved at a federal level. Once that happens, the Florida Divisions of Gaming Enforcement will establish licensing fees and set a revenue tax rate. At that point, a start date will be established.
Could online sportsbooks be live in FL by the start of the 2023 NFL season?
It's a long shot but still possible. The U.S. Court of Appeals will hear the case sometime in 2023, so Florida sports bettors will have to remain patient.
What sportsbooks will be the first to operate in Florida?
Technically, each major sportsbook that already operates in the US could enter the Florida market immediately. However, they would need to reach an agreement with the Seminole Hard Rock Casino. Given the tribe already has an agreement in place with Caesars in Miami, this seems likely to happen. Expect the cost to be high, but given the potential handle in Florida, sportsbooks like FanDuel and DraftKings will be happy to pay the price.
What sports will be legal to bet on in Florida?
All rules and regulations that apply to sportsbooks and sports bettors have yet to be established in Florida. Given DeSantis's aggressive behavior throughout this process, we think they have these rules ready. However, approval has to come from the Fed prior to the public hearing anything.
Will mobile and online betting be legal in Florida?
Yes, under the current legislation, online and in-app wagering will be legal as soon as sports betting goes live in Florida.
What is the minimum age to bet on sports in Florida?
While the legal sports betting age has yet to be made public in Florida, we can assume it will be 21. Every state that has legalized sports betting since 2019 has set the legal betting age to 21. The minimum age to gamble in a casino in Florida is already 21, while the lottery and horse racing each have a minimum age of 18.
Yes, daily fantasy sports are currently legal in Florida. This means you can join DFS sites like FanDuel, DraftKings, and others.
What happens if you get caught sports betting in Florida?
Sports betting and other forms of illegal gambling are considered second-degree misdemeanors. If found guilty, the penalty may include up to 60 days in jail, probation, and a fine of up to $500.
Will sportsbooks offer bonuses when they open in Florida?
While we can't predict what sportsbooks will do, we believe they will offer bonuses and other promotions to attract new customers. That's what they do in every state, so we expect the same thing when sports betting goes live in Florida. The online sportsbooks will also probably offer pre-registration bonuses.
How will the tax rate in Florida compare to other states?
The tax rate on sports betting revenue has yet to be announced in Florida. However, taxes will likely be quite high due to the tribal compact agreement with the Seminole Hard Rock Casino. Most states have a tax rate between 8-10%, so if we were to guess we would think it would be anywhere from 15 to 20%.
Where can I bet on sports in Florida?
The only places to bet on sports in Florida are Seminole sportsbooks. These casino and sportsbooks include Miccosukee Resort and Gaming Center in Miami, Seminole Casino Brighton in Okeechobee, Seminole Casino Immokalee in Immokalee, Seminole Casino Coconut Creek in Coconut Creek, Seminole Hard Rock Hotel and Casino in Hollywood, Seminole Hard Rock Hotel and Casino in Tampa, and Seminole Classic Casino in Hollywood.