Current Fliff Promo Code Offers
Fliff has an exciting new welcome offer for the start of the 2023 NFL season. New players can get a 100% match on their first purchase, worth up to 600,000 coins or $100 in Fliff cash.
This welcome bonus is the easiest way to build a bankroll at our top-rated social sportsbook for 2023! Find the promo code, offer details, and important terms in the table below.
| | |
| --- | --- |
| Social Sportsbook | Fliff |
| Promo Code | WINCOINS |
| Current Promotion | 100% First Purchase Match |
| Offer Terms | Get up to 600,000 coins and 100 in Fliff Cash |
| How to Redeem | Follow our links and make your first Fliff Purchase. |
| Last Verified | September 8, 2023 |
What is Fliff Social Sportsbook?
With so many options available for sports betting today, from traditional sportsbook options to more modern online casinos, Fliff has managed to distinguish itself as the top free-to-play social sportsbook online.
For both seasoned players and newcomers alike, Fliff social sportsbook offers a thrilling and user-friendly betting experience and an incredible incentive system to top it all off. With the help of a Fliff promo code, players can instantly access free Fliff coins and a Fliff cash bonus, greatly enhancing their opportunities to win big.
This article explores the Fliff social sportsbook, uncovering the many reasons behind its soaring popularity and presenting you with the top promo codes to help you supercharge your game and get bonus Fliff cash and Fliff coins—even giving you an exclusive Fliff promo code to help you win big!
Whether you're in it for the excitement of betting or the joy of winning, Fliff Sweepstakes ensures an unmatched online social sportsbook where the thrill of the game meets the thrill of gambling.
How Does Social Sports Betting on Fliff?
Sports betting has long been perceived as a primarily transactional experience, with individuals placing bets in relative isolation, focusing mainly on the potential monetary outcomes. However, Fliff has revolutionized this notion, integrating the inherent social aspect of sports fandom into the very core of sports betting.
Fliff sportsbook isn't just about wagering; it's about sharing the thrill of predicting sporting events with a community—this new model reconceptualizes sports betting as a free-to-play game that's deeply social at its core. Fliff users can follow friends and other Fliff enthusiasts, either supporting or challenging their game picks, making every bet an engaging and thrilling social affair.
A great website and app is not all Fliff offers, daily login bonuses and an extensive loyalty rewards system to ensure that users remain engaged and feel valued. Your successes and betting acumen aren't just reflected in potential winnings, they're celebrated through leaderboards and badges, offering you a platform to showcase your achievements and establish bragging rights. Never forget; the essence of Fliff is captured in its mantra: "Sweat the game, not the losses."
Tips for Finding the Best Fliff Promo Code Offer
When you take the plunge and sign up for a Fliff account, you can get an impressive welcome bonus of free Fliff coins and Fliff cash. These tokens of appreciation set the stage for a rewarding journey ahead. However, to get the most bang for your buck, it's crucial to be armed with the most current exclusive Fliff bonus code.
Using the latest Fliff bonus code during your sign-up process can significantly boost your starting funds to bet with. Imagine beginning your Fliff journey with up to 600,000 Fliff Coins and a generous $100 in free Fliff Cash, all thanks to taking advantage of the best Fliff welcome bonus available.
Having the right Fliff promo code at your fingertips can help you kickstart your experience on a high note and best position yourself for the numerous predictions, bets, and social interactions ahead.
Terms and Conditions of the Fliff Promo Code
Taking advantage of an exclusive Fliff promo code is a smart way to begin your sportsbook journey with Fliff. However, to ensure clarity and to adhere to Fliff legal standards, it's essential to familiarize yourself with the associated terms and conditions. This promotional offer is specifically tailored for newcomers to the Fliff platform. Participants are required to be at least 18 years old, reflecting Fliff's commitment to responsible gaming.
To be eligible for the Fliff sign-up bonus, a new member needs to make an initial purchase of at least $4.99. Upon receiving the Fliff Cash bonus, a 1x playthrough requirement stipulates that the bonus amount must be wagered once before becoming eligible for withdrawal. When it comes to withdrawing your Fliff Cash, a minimum balance of $50 in Fliff cash is necessary.
Registering to Play on Fliff Sportsbook
Starting gaming on Fliff begins with a straightforward process that centers around the Fliff sportsbook app, and the first step to securing your Fliff account is downloading the Fliff sportsbook mobile app.
Head over to the appropriate page for either Android or iOS to swiftly complete the Fliff mobile app iOS or Android download from the Google Play Store or Apple App store, respectively.
Once the Fliff betting app is installed on your device, the registration process is designed to be seamless and user-friendly. Throughout the app, Fliff sports betting features a prominent 'Sign-Up' prompt on each page, ensuring you never miss the gateway to the thrilling world of social sports betting.
The registration options are versatile, accommodating various user preferences—you can choose to register through your Apple, Google, or Twitter accounts, or you can simply use your email address. It's important to note that you'll be prompted to enter a Fliff bonus code during this sign-up phase. Securing your Fliff social sportsbook account with this code ensures you get a head start on accumulating those coveted Fliff coins and Fliff cash!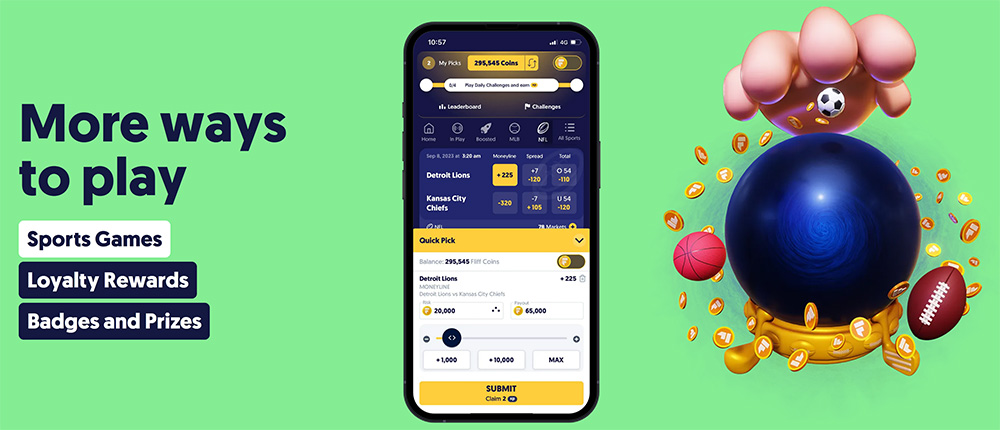 Steps to Purchase Fliff Coins and Fliff Cash
Fliff social sportsbook offers a dynamic blend of gameplay and community interaction, and the currencies that fuel this interaction are Fliff Coins and Fliff Cash. Both play unique roles in the user experience, and understanding how to effectively acquire each can best optimize your overall Fliff adventure.
How to Purchase Fliff Coins
Fliff Coins are the cornerstone of the fun and excitement of Fliff sportsbook! These coins offer players the chance to win more Fliff coins, earn valuable XP, ascend the leaderboards, secure achievement badges, carve out a notable status within the Fliff sportsbook community, and shine on the Fliff leaderboards.
While these coins can be claimed every two hours, ensuring a continuous stream of engagement, there's also the option of making a Fliff coin purchase through the platform's cashier for those looking to amplify their game.
It's important, however, to remember that Fliff Coins are solely for in-game use—they cannot be transferred outside the platform or redeemed for real cash prizes. So, while purchasing Fliff coins is easy, you should remember this when playing.
How to Purchase Fliff Cash
Fliff Cash allows players to engage deeper within the platform, offering the potential to win cash prizes. To enhance the gameplay experience and increase opportunities to secure these real cash prizes, one can purchase Fliff Cash.
This process often comes with added advantages, such as the Fliff welcome bonus of 600,000 Fliff coins and $100 in free Fliff cash. These bonus offers can elevate your Fliff cash balance, providing players with more leverage for their betting endeavors.
What Sports are Available on the Fliff App?
The Fliff sportsbook is not just another player in the online betting arena; it's a comprehensive platform offering a diverse array of sports for enthusiasts. On the Fliff mobile app there's a vast variety of sports available, curated to cater to a wide range of tastes and preferences.
From the fervor of MLB betting to the nail-biting tension of NFL betting, the platform ensures American sports fans are well-catered for. Additionally, there's the icy thrill of NHL betting, the court-side excitement of NBA and WNBA betting, and the captivating world of over a dozen soccer leagues including the MLS and every major international league.
For those who crave action from the international scene, the Fliff social sportsbook app extends its reach to international baseball leagues and a pulsating lineup of thrilling MMA and boxing events. Tennis enthusiasts can revel in the offerings from four distinct tennis circuits, while esports aficionados are not left behind with competitions spanning various games and online leagues.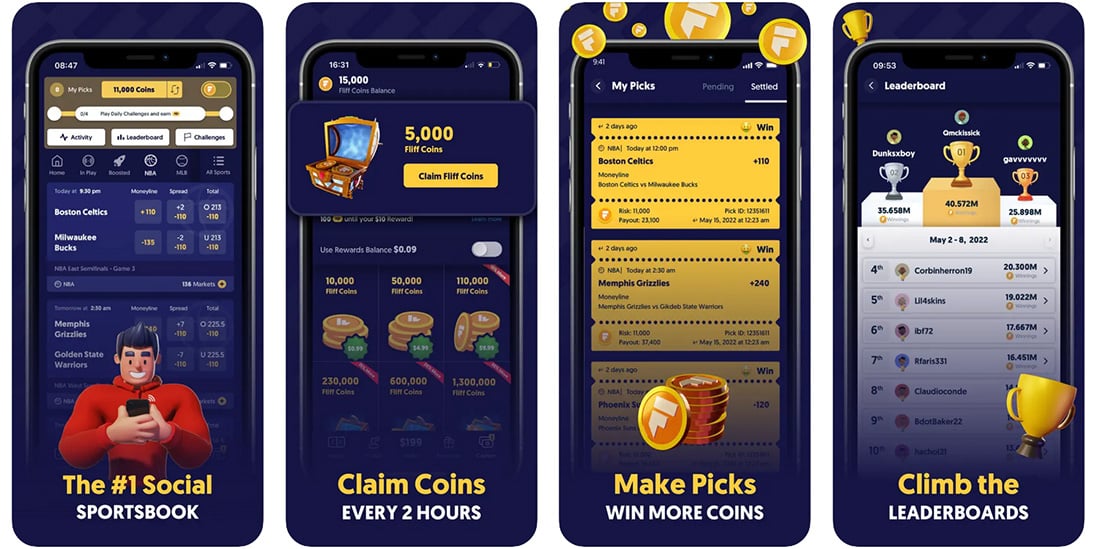 Fliff Promo Code: Pros and Cons
When comparing the current Fliff welcome bonus to those available from competing social sportsbooks, this is clearly the best offer on the market. However, the offer still has some drawbacks that new players should be aware of prior to registering. Compare the pros and cons for the current Fliff promo code offer below.
Pros for Fliff Welcome Bonus Offer
600,000 Fliff coin bonus is the top free coin promotion in the industry.
100 Fliff Cash offer is equivalent to $100 in real money.
Low first-purchase requirement ($4.99+).
Fliff sweepstakes are available in 43 out of 50 states.
Cons for Fliff Welcome Bonus Offer
The one-time Fliff Cash bonus significantly trails real money sportsbook offers.
Customer support is limited to emails and a ticket system.
If you are looking for a fun, safe alternative to real-money sports betting, we highly recommend giving Fliff a chance. Be sure to register using our promo code (WINCOINS) to lock in your free coins!
Must be 18 or older to play based on your location. Please play and enjoy computer games responsibly and in a safe manner. Numerous measures are available to allow you to engage in our games in a fun and responsible way.