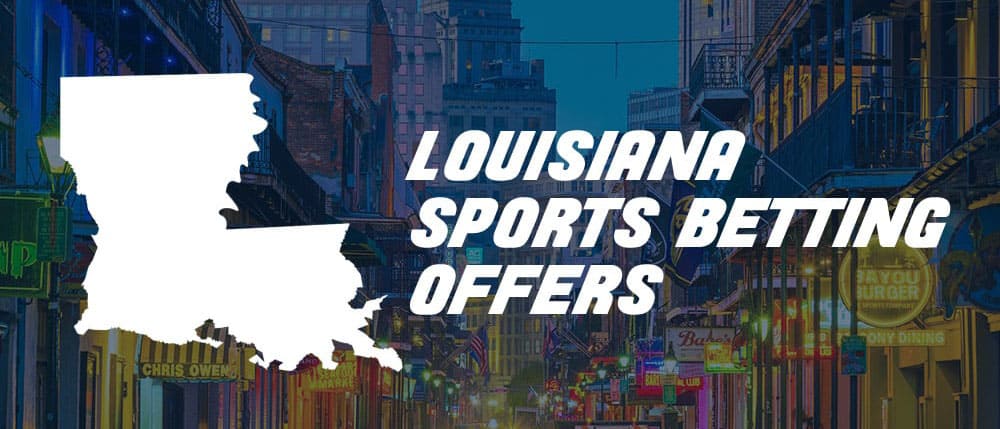 Tracking Every Louisiana Sportsbook Pre-Registration Bonus Offer
With an anticipated December start date for legal sports betting, approved sportsbooks are already announcing pre-registration bonus offers in the Pelican State. With a total of 21 licenses up for grabs, Louisiana bettors should have no shortage of sports betting apps to choose from. Track the latest bonus offers from every Louisiana sportsbook right here!.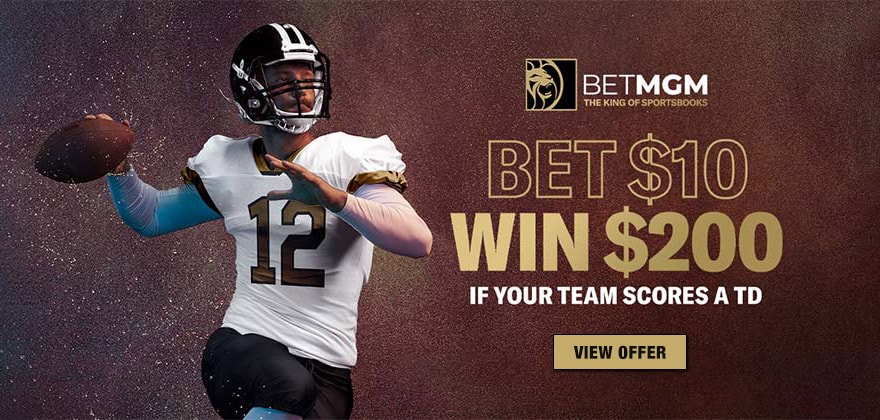 Details for Current BetMGM Louisiana Bonus Offer
BetMGM is offering Louisiana bettors the chance to receive $200 in free bets by registering before the state's official mobile betting start date. There is no deposit required with this offer and your free bets will be available in your account as soon as the state authorizes BetMGM to go live.
Be sure to follow these four steps to lock in your $200 BetMGM bonus:
Sign up at BetMGM Sportsbook using our exclusive link. The link will automatically bring you to the registration page for this offer.
Verify your identity and that you are in Louisiana.
Receive your $200 in free bets as soon as mobile betting goes live!
Caesars Becomes First Louisiana Sportsbook to Launch
Caesars, one of the premier names in the sports betting industry, continues to expand its presence in the great state of Louisiana. According to multiple reports, Caesars Sportsbook expects to go live with digital wagering within the next few days in the Pelican State. You can almost hear the loud shouts of jubilation from New Orleans Saints and LSU Tigers fans!
This news comes just roughly three months after Caesars Entertainment paid $138 million for the naming rights to the iconic Superdome, the home of the New Orleans Saints, through 2041. Caesars also became one of the first sportsbooks to sign a deal with a Power 5 football program back in September when they struck a deal with the LSU Tigers.
Both of these deals put Caesars ahead of the pack in the state of Louisiana. From Tom Reeg, CEO of Caesars Entertainment:
"All of us at Caesars are proud to be part of New Orleans' vibrant culture. We understand that the Caesars Superdome is more than an iconic venue, it's the symbol of a resilient and innovative community."
Caesars is already allowing Louisiana bettors to preregister on the new Caesars Sportsbook app and will give all new players $100 free just for getting signed up.
How Does the $100 Pre-Registration Offer from Caesars Work?
For you high-rollers out there, the current $5,000 risk-free bet offer from Caesars is the largest total welcome package available in the US sports betting industry.
How we recommend using this offer is relatively straightforward. Find a favorite you love this week, let's say you think the Rams are going to easily beat the Texans. Rather than bet the 10.5 point spread, use your risk-free bet on the moneyline. If you put $5,000 on the Rams moneyline and they win, this offer pays out as a $1,300 deposit bonus!
To receive your $5,000 risk-free wager, simply use the promo code CZR2 when you register at Caesars.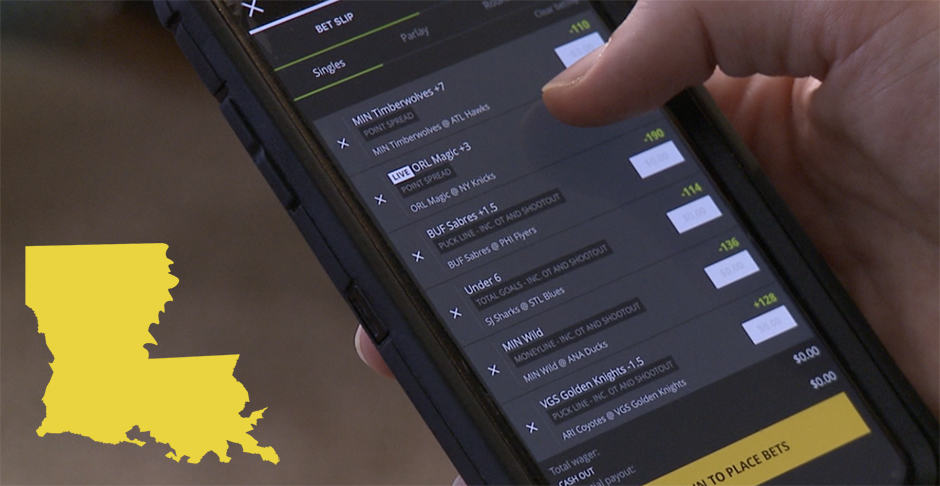 Top Louisiana Sportsbook Offers by Sport
Occasionally, sportsbooks may limit what sports their offers apply to. In this case, if you are a fan of a certain sport, one sportsbook's offer may be better for you. To help with this, we have identified the top bonus offer available in Louisiana for each sport.
TwinSpires Sportsbook - Top NFL Bonus Offer
If you are a fan of the New Orleans Saints and are looking for the Louisiana sportsbook with the best available NFL offer this December, TwinSpires is our pick. New players that sign up using the promo code BV250 are eligible to receive $250 in free bets with any $10 NFL wager. While they are running a number of promotions, this is the top TwinSpires offer available at the moment.
FanDuel Sportsbook - Top NBA Bonus Offer
While there are plenty of sportsbooks competing for the top NFL offer, FanDuel ran away from the competition with their current NBA promotion. New Louisiana players that register and place any $2 NBA wager will receive a $150 bonus. Even better, this is a cash bonus, not free bets or site credit. The only thing to note with this offer is that it applies to spread bets only, so hold off on those Zion Williamson props and bet on the Pelicans.
BetMGM Sportsbook - Top MLB and NHL Bonus Offer
The great thing about the offer from BetMGM is that it isn't restricted by sport. This means that whether you want to bet on playoff baseball or early-season hockey, they have you covered. Given Louisiana does not have a team in the NHL or MLB, most sportsbooks overlooked these sports in the state, which gives BetMGM a nice edge here.
Tips for Using a Louisiana Sportsbook Bonus Code Offer
Given the number of licenses available, the relatively low cost of entry, and the size of the market, Louisiana sports bettors should have no shortage of sportsbooks to choose from. Along with that comes a wide variety of bonus offers, each with its own payout structure and terms.
It's important to understand how each promotion works because the terms attached to some sports betting bonus offers can have a rollover requirement as high as 25x attached to it. Here are some tips to help you select the right offer when you register this December:
Read the terms attached to the offer prior to using the bonus code and opening your account. Do not find yourself surprised when your bonus funds are pending or not immediately available.
Choose the right bonus for the deposit you want to make. If you only intend to deposit $10 into your account, then an offer like the PointsBet 'Bet $1 to Get $100 Free' is probably the best offer for you. If you intend to deposit $1,000 or more, then the Caesars' $5,000 risk-free bet is likely the offer for you.
Follow the steps required to receive your bonus carefully. For instance, if the promotion applies only to your first wager, which must be placed on an NFL game, placing an NBA wager with your first bet will void the offer.
Don't hesitate to reach out to customer support. Louisiana sportsbooks are required to support their players and will help you ensure that your find the right promotion and receive your bonus funds.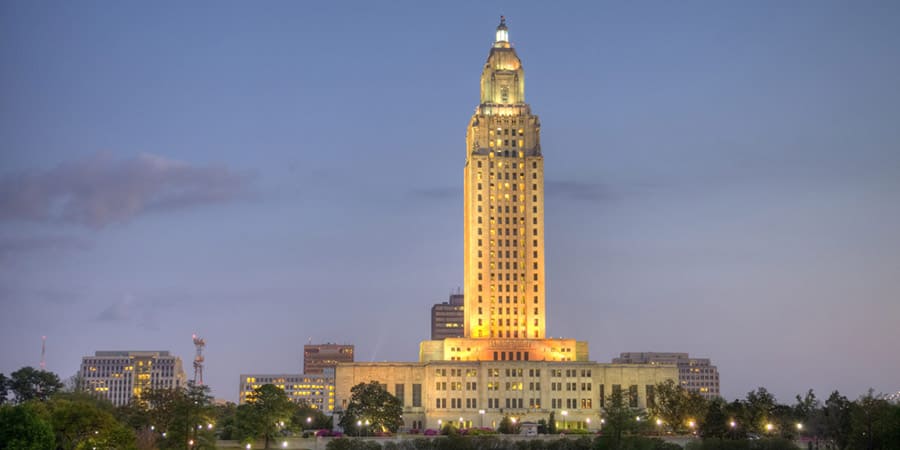 How Sports Betting Became Legal in Louisiana
With such a plethora of highly popular sports teams, it's no surprise that sports betting finally became legalized in Louisiana. Most of the state was in favor of offering sports betting, as 55 of 64 parishes voted for it back in November of 2020.
Governor John Bel Edwards further advanced the process in June of 2021 when he signed legislation that provided some guidance on tax rates for sports betting. Since then, the Louisiana Gaming Control Board has been hard at work in approving emergency rules while the license applications are continuing to be reviewed by the Louisiana state police.
The current law allows for the state to have as many as 40 digital platforms that are linked with the 20 existing casinos and horse racetracks. This is outstanding news for sports fans who live in Louisiana since they'll have plenty of sports betting options.
Louisiana sports bettors will have their choice of brick-and-mortar casinos, online sportsbook apps, or wagering kiosks. Louisiana already has 1,000 kiosks stationed throughout the state at various restaurants, sports bars, and convenience stores. The kiosks will be a nice, convenient option for Louisiana sports bettors that few other states offer.
When Will Online Sports Betting Officially Start in Louisiana?
In-person sports betting has already begun in Louisiana with Saints legend Joe Horn placing the state's first legal bet on October 6th. As for online and mobile wagering, the state has licenses in place and is ready to go live at any moment.
The current expectation is to see a launch on mobile betting sometime in early December, just in time for the second half of the NFL and college football seasons. Louisiana bettors are expected to have access to the industry's biggest sportsbook operators from day one, which should make for a competitive market and some attractive welcome offers.
What does a soft launch mean?
If you're a sports bettor living in Louisiana and are hearing news of sportsbooks like Caesars announcing a soft launch, you may be wondering what exactly a soft launch is. A soft launch simply means that only a certain number of folks will be allowed to wager on sports initially.
This allows the company to make necessary adjustments while working through any bugs or unforeseen issues. Sportsbooks that offer a soft launch will also work directly with state regulators to be sure the official launch of online betting in LA is a smooth one.
Also, during most soft launches, wagering hours are extremely limited. The good news though, is that soft launch periods usually don't last very long. The soft launch in Connecticut took place during the NFL Week 6 slate of games and the entire state was live by the time the week 7 slate kicked off.