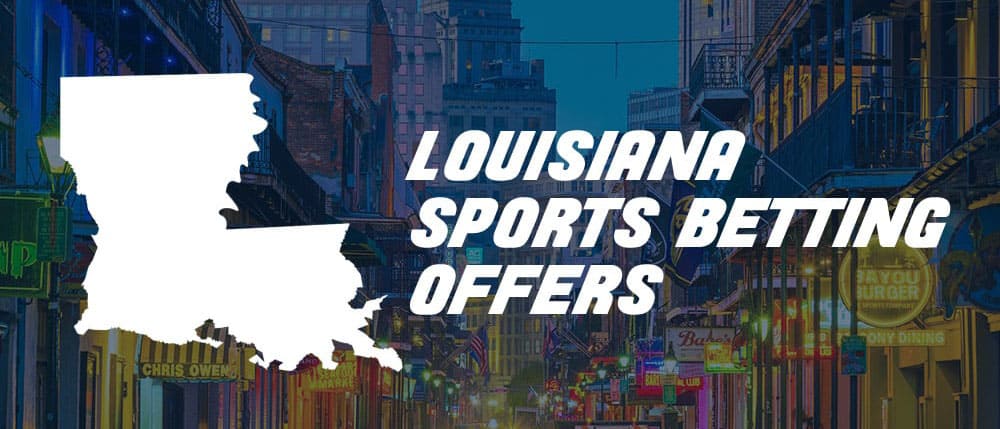 Mobile sports betting is now available in Louisiana, and some of the best sportsbooks in the market are already operating in the state. Each of these sportsbooks has unique bonus offers available to players, and finding the right offer is key to building your bankroll. Track the best offers from every Louisiana sportsbook right here and be the first to know when a new sportsbook goes live in the Bayou State!
Louisiana bettors must be 21+ and present to place wagers in the state. If you or a loved one is experiencing problems with gambling, call 1-877-770-STOP(7867) or visit the National Council on Problem Gambling www.ncpgambling.org
Types of Promotions and Bonus Offers in LA
If there's one thing we know about sportsbooks, it's that they love to offer promotions and bonuses to their customers. From bonus bets and deposit matches to bonus spins on certain games, each sportsbook offers something different.
We know it can be confusing to figure out which offer is right for you, so we've broken down the most common offers below.
Welcome Bonus. This promotion is exactly what it sounds like, a bonus offered to new customers when they first sign up. These bonuses usually come in the form of a deposit match or bonus bet, with maximum amounts varying from sportsbook to sportsbook. These are the most common type of bonus offered by sportsbooks.
Referral Bonus. Sportsbooks tend to reward customers for referring friends and family. Usually, the referrer will receive a bonus for every person that signs up with their referral link, and the referred customer may also receive a bonus as well.
Deposit Match Bonus. Usually, a type of welcome bonus, a deposit match bonus, is when the sportsbook matches a customer's first deposit up to a certain amount. The maximum will vary by the sportsbook, and some may even offer multiple deposit bonuses over time.
No-Deposit Bonus. What's better than a deposit match bonus? A no-deposit bonus! Sportsbooks will sometimes offer these to new customers, allowing them to receive a bonus without needing to make a deposit. These are fairly rare, but they can be incredibly valuable.
Bonus Bets. Bonus bets are similar to no-deposit bonuses, but they usually come with some strings attached. Bonus bets allow customers to make a wager on a certain game or event, and if it doesn't pan out the way they wanted,
Odds Boosts. One of our favorite promotions, odds boosts, is when sportsbooks increase the odds on certain events. These offers can be incredibly lucrative if you can time them right. These are typically offered on a game-by-game basis.
Every sportsbook bonus offer is different, and it's important to understand the terms and conditions before you sign up. It's also important to remember that not all bonuses are worth taking - check the wagering requirements, maximums, and other details before committing. Keep track of new offers right here and get the best Louisiana sports betting bonus offers. We wouldn't steer you wrong.
Details for Every Bonus Offer Available in Louisiana Today
With seven mobile sportsbooks already live in Louisiana and plenty of retail locations open for business as well, new bonus offers are constantly hitting the market. You can find details for the top offers from each LA sportsbook on this page throughout the coming months. We will update this list daily to reflect the best available offer from every operator.

BetMGM Louisiana Bonus Offer: $1,000 First Bet Offer
BetMGM signed an agreement with Boyd Gaming early on in the Louisiana sports betting legislation process, which allowed them access to the market from day 1. Their sports betting app is one of the best on the market.
They offer a massive selection of sports, contests, and the lowest juice in the industry. This not only means you can always find the bet you want but that you will win more when you make that bet with BetMGM.
In addition to offering a great betting experience, BetMGM offers some of the best new player welcome offers available in Louisiana. Of the available promotions, we think BetMGM's $1,000 First Bet offer is one of the best offers for new users. With this promotion, you have a great chance to double your bankroll right from the jump.
Here are the steps required to receive your bonus when you register at BetMGM today:
Visit the BetMGM Louisiana landing page and register your new account.
Use our exclusive promo code "EWBET1" when you sign up.
Make an initial deposit of at least $10.
Place your wager, and if it loses, BetMGM will award you with Bonus Bets.
The only caveat to this offer is that your bonus bets must be used within 7 days of receiving them. Keep that in mind if you sign up with BetMGM.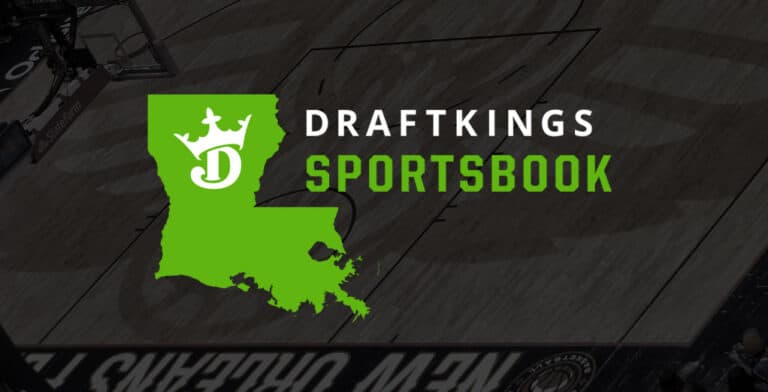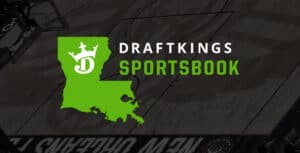 DraftKings Louisiana Bonus Offer: Bet $5, Get $200 in Bonus Bets
DraftKings brings a ton of experience and innovation to the Louisiana sports betting market. The sportsbook went live on opening day in Louisiana and is one of the top-rated mobile sportsbooks available in the state.
If there is one thing DraftKings has built its reputation on as both a sportsbook and DFS operator, it is great promotions. Their reputation has held strong in Louisiana, where they currently offer our best offer with their Bet $5, Get $200 Bonus for new players.
With this promotion, every new user gets $200 in bonus bets after making their first $5 wager. What a great way to build your bankroll right out of the gate!
Register for this offer and receive your deposit bonus by following the four steps listed below:
Visit the DraftKings website or app and sign up.
Complete the registration process and make an initial deposit of at least $5.
DraftKings will give you $200 in bonus bets after you make your first $5 wager.
Caesars Louisiana Bonus Offer: Bet $50, Get $250
Caesars has been as active as any sportsbook operator in Louisiana over the past few years. They announced naming rights to the Superdome around the time they released their new sportsbook app. They followed that up with a partnership with the Mannings in an advertising campaign in the state.
The top Caesars bonus offer for Louisiana includes a Bet $50, Get $250 deal. This is currently the top 2nd chance offer available in LA, with simple terms and the highest total available bonus.
Follow these steps to lock in your bonus when you register today:
Visit the Caesars Louisiana landing page and click the 'sign up now' button located under the offer.
Register your new account by using the promo code BVGET. You will need to verify your identity and location as part of this process.
Place a $50 wager and you'll get (5) $50 Bonus Bets from Caesars!

FanDuel Louisiana Bonus Offer: Bet $5, Get $200
FanDuel is currently the leading sportsbook operator in the US, with the largest market share and largest total handle. They have offered mobile sports betting in Louisiana since day 1.
The details of this offer are similar to the majority of the first bet offers available at the top sportsbooks in the U.S. this September . Each new player gets a Bet $5, Get $200 deal and $100 off NFL Sunday Ticket.
This is a generous offer, and it's close to the DraftKings promo in Louisiana. There is virtually no difference between the two offers, and we recommend signing up for both of them.
Be sure to follow these three steps in order to lock in this bonus offer and start betting on FanDuel:
Visit the FanDuel Louisiana offer page and register using the links at the top of the landing page.
Verify that you are a new player and that you are located in Louisiana. Then fund your account through any major credit or debit card, your checking account, or PayPal.
Your offer applies to your first wager.
If your wager wins or loses, FanDuel will load your account with Bonus Bets.

BetRivers Louisiana Bonus Offer: 2nd Chance Bet Up to $500
While BetRivers does not quite have the brand power of the other four sportsbooks that went live in Louisiana on launch day, they do offer one of the most polished sports betting apps in the industry. BetRivers offers mobile sports betting in 12 states outside of Louisiana, including a recent launch in New York.
Louisiana sports bettors will find every sport, every game, and bet on the BetRivers app. This includes live betting, same-game parlays, and a large selection of player props. The app is nowhere near as flashy as what FanDuel and DraftKings offer, but offers 100% uptime and slightly reduced juice.
New LA bettors that register using the promo code SPORTS will receive a Second Chance Bet that caps at $500. This bonus has an industry-best 1x play-through attached to it, which means that the funds are yours to keep after wagering them just once. This has been the top BetRivers promo code offer throughout the NFL season.
Steps to Get the Best Bonus Offer in Louisiana
If you're in the Pelican State and new to sports gambling, you want to find the best sportsbook bonus offers that you can. This will help you grow your bankroll right from the jump and give you a greater chance of success. Check our Best Louisiana Sportsbook page on a regular basis because our staff constantly updates it with the best bonus offers within the state of Louisiana.
Our top bonus offer for the month of September is the FanDuel Bet $5, Get $200 in Bonus Bets. We have this ranked slightly ahead of both DraftKings and Caesars.
Tips for Making the Most of your Bonus
Getting a massive bonus from one of the biggest sportsbooks in the world is great, but it's not enough to just collect said bonus and walk away. You need a plan of action to ensure that you get the most out of your offer.
Here are our best tips for making the most of any sportsbook bonus:
Read the Terms and Conditions
While this can be boring, understanding the terms and conditions of your bonus offer is essential. This will help you understand what's expected of you, like wagering requirements, maximum bet sizes, as well as time limits. For example, BetMGM's bonus. They usually offer a sweet second chance bet but you have to use it within the first seven days or it will expire.
Make Smart Bets
Nobody likes to lose a bet, but you want to make sure that you are placing bets with a good probability of winning. Making exceedingly risky bets will not only put your bonus at risk but also your bankroll. Stick with what you know, and stay within the limits of your experience level. If you're not an avid basketball fan, then don't bet on basketball games just to throw some money down. If you're a regular when it comes to the NFL and College Football, stick with those bets.
Don't Chase Losses
The same logic applies here: Don't go chasing losses just to use up your bonus funds. You will quickly burn out your account balance if you do this and be in a worse position than when you started. Take breaks when necessary, and remember that sports betting is all about the long term.
Pay Attention to the Odds
Sportsbooks offer different odds on various sports, and it pays off to be aware of this. If there are two books offering drastically different lines for a particular game, you can maximize your value by betting on one or both books. This is known as line shopping and will pay big dividends.
Set Realistic Goals
Setting realistic goals with your bonus funds can help make sure that you get the most out of your bonus. It's important to remember sports betting is a marathon, not a sprint. Don't expect to double your bankroll in just one week; focus on steady, consistent growth.
Always Max Out Your Bonus
When a sportsbook offers a 100% deposit match, you should always take full advantage of it. If a sportsbook offers $500 in bonus funds, be sure to deposit the maximum amount allowed so that you get the full amount of your bonus. This maximizes your return and gives you more chances to win. If you don't deposit the max you're essentially leaving money on the table.
Louisiana Bonus Offers FAQ
Since Louisiana has only had legal sports betting for around eight months, plenty of Louisiana sports bettors have questions about the various bonus offers that are available within the state. We created this FAQ portion to help bettors in the Bayou State get answers in a quick manner.
Which Louisiana sportsbook has the best offer terms?
Though there are more lucrative offers out there as far as an overall dollar amount, BetRivers has the best offer terms by a longshot! BetRivers has an industry-low rollover requirement of only 1x. That is 20x lower than some other sportsbooks!
What is a rollover?
A rollover is how many times a sportsbook requires you to "play through" your bonus funds before you can actually withdraw them. Let's use BetRivers as an example, which caps their second chance bet at $500 with a 1x rollover. This means that you only have to place $250 worth of bets before requesting a withdrawal.
When are the best offers available?
The best bonus offers in the sportsbook industry come out right before the start of the NFL season. We usually anticipate new offers around the first part of September , which coincides with the start of the NFL regular season games.
What Louisiana sportsbooks offer odds boosts?
Thanks to their meteoric rise in popularity amongst casual bettors, all sportsbooks in Louisiana no longer offer odds boosts on a daily basis. This can put some extra money in your pocket!
How do second chance bets work?
Second chance bets are becoming more and more popular amongst sportsbooks and sports bettors alike. For example, BetRivers is offering new bettors a second chance bet (up to $500) when they sign up for a new account. Place your first wager, and if it doesn't win, Caesars will reimburse your account to cover the loss.
How often do you update your offer rankings?
We update our bonus offer rankings as we get new ones in from the sportsbooks. This happens anywhere from monthly to weekly, depending on how often the offers change. You can rest assured that we put lots of time into ranking the sportsbook bonuses in Louisiana.
What type of offers are the best?
We're big fans of bonus funds that come with low rollover requirements. These types of offers allow you to get the most out of your bonus cash, as well as add some extra value to your wagers. We highly recommend BetRivers for this type of offer, which has a 1x rollover requirement on their welcome bonus.
Do I have to be a Louisiana resident to take advantage of these offers?
No, you don't have to be a Louisiana resident, however, you must be located in the state when placing bets. You also must be 21 or older to legally wager on sports.
Browse Offers in Other States
How do the sportsbook promotions available in Louisiana stack up to those across the country? Browse the best bonus offers for every state with legal sports betting below. We keep each of these pages updated daily to ensure bettors can always find the latest and greatest promotions available in their state.
Louisiana bettors must be 21+ and present to place wagers in the state. If you or a loved one is experiencing problems with gambling, call 1-877-770-STOP(7867) or visit the National Council on Problem Gambling www.ncpgambling.org