Details for the Current Yahoo Fantasy Promo Code
While major DFS competitors FanDuel and DraftKings are well known to be considerably more aggressive with their marketing and promo codes, Yahoo Fantasy has consistently offered this same promo code bonus for over two years now. Clearly, larger deposit bonuses would be great, but the upside to the current Yahoo promo code offer is that there is no fine print. And we think we can all agree that we wait the fine print on promo codes.
For instance, if you were to make a $1,000 first deposit on DraftKings, they would give you $200 in deposit bonus funds. The caveat to receiving the money, however, is that you will need to enter at least $2,000 worth of contests before you can even try to withdraw anything you win with your bonus funds.
That's not the case with Yahoo DFS promo codes.
With our current Yahoo Fantasy promo code offer, there are zero rollover requirements. Simply make a minimum deposit of $10 and receive $10 in Yahoo Sports Rewards Points. These points can be used to enter any contest you like, and whatever you win is yours to keep.
Whether you want to use the coupon code on Yahoo Fantasy football offering or any other number of games to win cash prizes, the choice is yours. All you have to do is deposit funds and you're already a winner!
Note: There are no separate Yahoo Fantasy football coupons, as this coupon code works for all Yahoo Fantasy sports. Of course you can call it a Yahoo Fantasy football coupon if you'd like when you share it with your friends, but the truth is that it'll work anywhere on Yahoo's daily fantasy games.
There are no other coupon codes or discount codes that even come close to this. They almost all have rollover requirements of some sort - and rightfully so. After all, when they hand you money they want you to stay around for a while.
In addition to the straightforward terms attached to their deposit bonus, Yahoo has loads of other rules in place to protect its players. These include strict entry limits, a focus on single-entry contests, and self-exclusion options for players concerned about having a gambling problem. If you or someone you know struggles with gambling call 1-800-GAMBLER or visit 1800gambler.net today for immediate help.
How many coupons can you use at once?
Yahoo Fantasy allows just one coupon code to be used at a time. So whether you have multiple coupon codes or discount codes, it doesn't matter. Only one discount code will work.
So you might as well use this one, right?
Are there other online coupons for Yahoo Fantasy?
Not that we're aware of, but we're sure there are. We work with online sportsbooks to bring you exclusive benefits and this coupon code is one of them.
Even if there are other discount codes or coupon codes elsewhere online, we doubt they'll be this great.
Details for Current DFS Offer
The current Yahoo DFS discount code offer was last updated on September 2, 2023. The terms attached to this offer can be found below, be sure you read all of the details carefully before opening a new Yahoo Fantasy account.
| | |
| --- | --- |
| Promo Code | TAILGATE |
| Promotion | $10 Deposit Bonus as YSRP |
| Terms | New Yahoo players with a minimum deposit of $10 |
| Last Verified | September 2, 2023 |
Details for Yahoo SportsBook Bonus Code Offer
The Yahoo Fantasy SportsBook (powered by BetMGM) has one of our highest-rated sportsbook promotions for the 2023 MLB season. New players that register using our exclusive bonus code offer will receive $200 free on their first $20 bet! The offer expires at the end of September so register today to lock in your bonus.
| | |
| --- | --- |
| Promo Code | None - Offer Link Required |
| Promotion | Place a $20 bet, get $200 in free bets. |
| Promo Dates | Offer valid through the end of the September. |
| Terms | Offer for new BetMGM sportsbook players at least 21 years old. |

Guide to Using our Yahoo DFS Promo Code
Using a Yahoo DFS promo code is different from any other daily fantasy sports website, simply because you need to log into your Yahoo account before you can use the promo code and make your initial deposit. The reason for this is Yahoo operates under the assumption that the majority of fantasy players have a Yahoo account and most have likely played season-long fantasy on Yahoo at some point in the past.
Obviously, if you don't have an account you will need to create one. Once you are signed in to your Yahoo account, simply head to the Yahoo Daily Fantasy lobby. Here you will find a button that reads 'Add Funds' alternatively, you can click on My Account in the fantasy submenu and the site will redirect you to the cashier.
Yahoo uses PayPal for all of its deposits and withdrawals. Simply enter the amount you wish to deposit, keeping in mind there is a minimum of a $10 deposit required to use our promo code, and then complete the transaction through PayPal. PayPal makes it easy to send and receive your funds, and the PayPal cash card even cuts out the extra step of transferring money to your bank account.
To use your YSRP deposit bonus, simply select a contest to enter, build your lineup, and then click 'enter with YSRP'. You can enter $1 in contests for every 1,000 in YSRP you have, so keep track of your points balance as you use your bonus funds.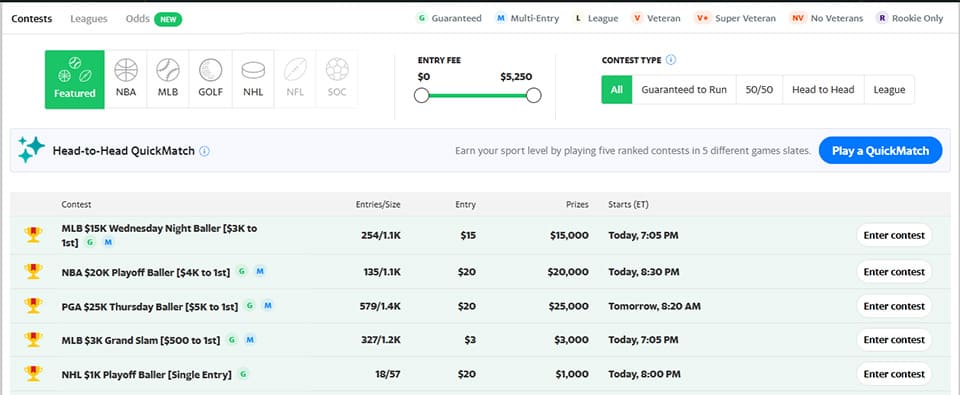 Types of Fantasy Sports Available at Yahoo Fantasy
Yahoo is one of the OGs of the Daily Fantasy Sports industry. Because of that, they offer a ton of different DFS games for sports fans to indulge in. Here's a quick list of the sports that Yahoo Fantasy offers:
In any of these sports, there are contests for every type of budget. This is refreshing to see! Some contests are even FREE! Other contests have reasonable entry fees from $1 to $20.
Are the free contests any good? You better believe it! We've seen prize pools of up to $50,000!
Yahoo Fantasy FAQs
Playing daily fantasy sports on Yahoo is going to feel very similar to many of our readers and subscribers. The site has an overall feel very similar to FanDuel, and the scoring format is almost identical to FanDuel's half-point-per-reception scoring format.
We think most of our readers will get the hang of playing DFS on Yahoo fairly quickly. If not, below are answers to some of the most popular questions we get regarding Yahoo Daily Fantasy.
Is Yahoo a good option for DFS?
Yes, Yahoo is a great choice for DFS. They may not be as flashy as FanDuel or DraftKings, but Yahoo provides a solid experience for all of their DFS players!
Yahoo does a great job of protecting new players and offering contests that exclude experienced players. This makes it one of the safest places to play, outside of an exchange market such as SimBull.
What is the YSRP I receive for using the Yahoo promo code?
YSRP is Yahoo Sports Rewards Points. These can be used to enter paid contests both on the DFS platform and on the Yahoo Best Ball platform. The current conversion rate for the rewards points you receive from our promo code is $1 per 1,000 rewards points. Our promo code will credit you with 10,000 rewards points.
What sports does Yahoo offer?
Yahoo currently offers NFL, NBA, MLB, NHL, PGA, and Soccer contests. Unfortunately, there are currently no plans to add college football and basketball to the Yahoo platform.
What states is Yahoo DFS currently available in?
Yahoo currently operates in 40 out of the 50 US states. They currently do not operate in Arizona, Alabama, Hawaii, Idaho, Iowa, Louisiana, Missouri, Montana, Nevada, and Washington. Florida was the latest state added to the Yahoo DFS platform, coming available in late 2019.
How do I find the Yahoo sportsbook?
Yahoo Sports recently announced a partnership with BetMGM to bring sports betting to their substantial pool of season-long and daily fantasy sports players. To celebrate the partnership, BetMGM is offering free weekly $10,000 contests on the Yahoo DFS app. Check out Yahoo's answers to frequently asked questions regarding their sportsbook.
Does Yahoo ever change their promo code offer?
Yahoo Fantasy has not once changed its promo code offer in the three years we have been working with them. A typical new promotion from Yahoo is a rake-free contest. In fact, they ran back-to-back rake-free million-dollar contests at the end of the 2018 season, and then again at the start of the 2019 season.
Is BetMGM legit?
Yes, the BetMGM sportsbook (Yahoo's sportsbook partner) is a registered and regulated US sportsbook. This means your funds are always safe and always available to withdraw. Bet with confidence by only using the legal US sportsbooks we recommend here on EatWatchBet!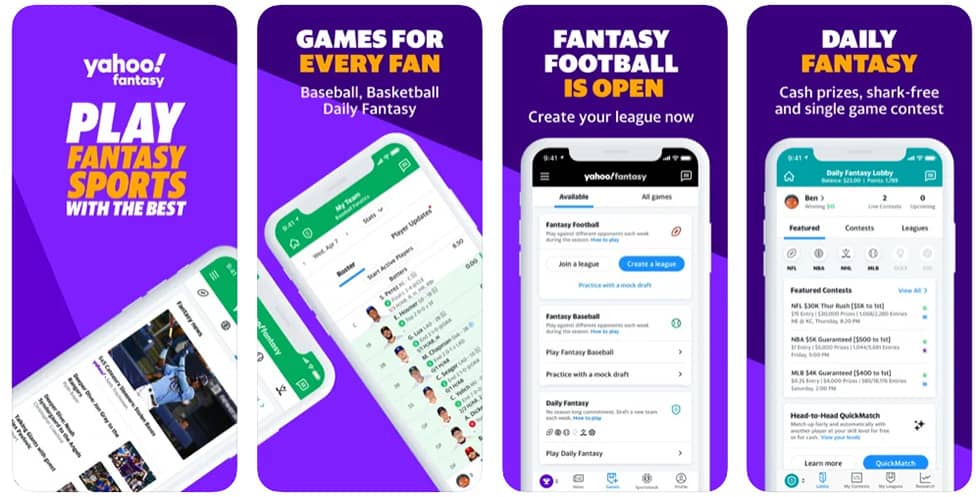 Yahoo Fantasy Review and Current Promo Rating
Our rating for the current Yahoo Fantasy promo code offer is 4.2 out of 5. What exactly does this mean? Our rating is an apples-to-apples comparison between Yahoo's current deposit bonus offer and the deposit bonus offers found at their top competitors.
As we mentioned earlier in this article, both FanDuel and DraftKings are considerably more aggressive and generous with their promo code offers. However, there is a considerable amount of fine print attached to any deposit bonus you receive from either site.
This is where Yahoo Fantasy excels. Players get instant access to their bonus funds, can enter contests with them that day, win, and immediately withdraw their winnings. This is why we rated Yahoo's current promo code offer as a middle-of-the-road offer in the current daily fantasy sports market.
That is not to say that these terms are not subject to change. As always, we recommend you check out their current terms of service to review any rules that may apply to your account and any bonus funds applied to your account.
| Review | Yahoo Daily Fantasy |
| --- | --- |
| Details | Marketed as a product for the everyday player, Yahoo DFS plays a necessary role in the DFS industry. They offer lower rake, stricter entry limits, and pay out more players per contest than both FanDuel and DraftKings. That conservative approach spills over into their promotions, and the $10 in free entries is one of the worst promo code offers in DFS. That being said, it is undeniably easier to win on Yahoo and the app has a great overall feel and is easy to use. |
| Author | Chris Lollis |
| Rating | 4.4 (out of 5) |
Must be 18+ (19+ in AL and NE, 21+ in AZ, IA, LA, and MA) and present in a state where Fantasy operates. Terms apply. Please Gamble Responsibly. Concerned with your play? Call 1-800-GAMBLER or visit www.ncpgambling.org; AZ: 1-800-NEXT-STEP (1-800-639-8783) or text NEXT-STEP to 53342; NY: Call the 24/7 HOPEline at 1-877-8-HOPENY or Text HOPENY (467369), TN: Call/text TN REDLINE at 1-800-889-9789.