In our last couple of articles, we covered some sleeper picks to keep in mind for your fantasy football team this year. Now that we have discussed sleepers at the quarterback and running back positions, it's time to find some good options at wide receiver. One of the biggest keys to having a shot at winning your fantasy league is selecting quality receivers in the later rounds of your draft.
Need help finding some receivers for your fantasy team? You've come to the right place. Here are five undervalued receivers to think about selecting when your draft day rolls around.

Underdog Fantasy: Season-Long Real Money Leagues
Can't wait for the 2021 fantasy season to get here? Real money, season-long fantasy leagues are filling right now at Underdog Fantasy. Use promo code EWB to receive $25 in free credits when you register today!
Draft Now
| WR | Team | Rank | ADP |
| --- | --- | --- | --- |
| Tee Higgins | Bengals | 26 | 59 |
| Nico Collins | Texans | 88 | 203 |
| Rondale Moore | Cardinals | 62 | 144 |
| Michael Pittman, Jr. | Colts | 47 | 105 |
| Henry Ruggs III | Raiders | 57 | 130 |
Additional Sleeper Picks
5. Tee Higgins
Cincinatti Bengals | WR Rank: 26 | ADP: 59
Higgins was a nice bargain for fantasy owners last year in his rookie campaign. He ended 2020 with 67 catches and over 900 receiving yards as well as six touchdowns. Just imagine how well Higgins would have done if Bengals QB Joe Burrow hadn't suffered a season-ending knee injury after 10 games.
The former Clemson Tiger has the perfect size for a playmaking wideout at 6-4 and 215 pounds. Burrow loved throwing the jump ball to Higgins last year and we expect that to happen even more frequently in 2021. Even after a productive rookie season, many folks are still overlooking Higgins.
Lots of people are scared to draft Higgins because the Bengals drafted Burrow's old LSU teammate Ja'Marr Chase with the fifth overall pick in the draft. However, this could actually help Higgins fantasy stock instead of hurting it. We know it sounds crazy, but stay with us.
Bringing Chase onboard means that defenses will not be able to even think about double-teaming Higgins. Chase may end up drawing most of the attention, which could open up more opportunities for Higgins down the field. Higgins has the ability to be a Pro Bowl caliber receiver and it just may happen in 2021.
4. Nico Collins
Houston Texans | WR Rank: 88 | ADP: 203
Collins may have fallen to the third round in the draft, but this kid definitely has a first-round type of talent. The former Michigan Wolverine opted out of the 2020 college football season and that may have hurt his draft stock a bit. However, Collins should be on every fantasy owner's radar as a top sleeper pick in the late rounds.
Collins is a dream prospect at wideout because of his huge size (6-4 215 pounds) and blazing speed (4.4 40-yard time). The Texans QB situation remains up in the air because of the uncertainty of Deshaun Watson's status. That shouldn't make fantasy owners reluctant to draft Collins though.
As we have said before, we love drafting quarterbacks and wide receivers from terrible teams. Terrible teams trail most of the time, and this means that they are going to throw the ball more. Collins should rack up a ton of fantasy points in garbage time all year long.
If Collins is available late in your draft, you would be wise to add him to your squad. Heck, veteran Texans receiver Brandin Cooks is already bragging about Collins's natural ability after getting a look at him during OTA's. Cooks should be the perfect mentor to help Collins learn the NFL ropes.
3. Rondale Moore
Arizona Cardinals | WR Rank: 62 | ADP: 144
Big Ten college football fans will never forget when Moore exploded onto the scene as a freshman in helping Purdue upset Ohio State. Poor ole Urban Meyer may still have nightmares of Moore slicing up his defense in that game from 2018. With a 4.3 40-yard dash time, Moore was one of the fastest wideouts in the 2021 draft.
Cardinals head coach Kliff Kingsbury wanted to get QB Kyler Murray some more weapons. He accomplished just that by nabbing Moore in the second round. Moore is on the smaller side at only 5-9 but should be a great fit in the slot for the Cards offense.
Moore could be a great sleeper pick for your fantasy team in 2021. Kingsbury should find some creative ways to get him the ball by calling plenty of receiver screen passes. Also, expect Moore to carry the ball on some reverses out of the backfield. This kid is flat-out dynamite with the football in his hands because he can take it to the house at any time.
2. Michael Pittman
Indianapolis Colts | WR Rank: 47 | ADP: 105
Pittman did not have a great rookie season last year so that makes this the perfect time to buy him at a bargain price. The former USC Trojan standout did catch 40 passes for 503 yards in 2020 but only found the end zone once. Keep in mind though that Pittman only started eight games last season.
With T.Y. Hilton stepping into retirement, Pittman has an excellent shot at garnering a starting job in 2021. If Carson Wentz can resurrect his career as the Colts' new QB, Pittman could have a breakout season and surprise a lot of people. The 23-year old has the size (6-4, 223 pounds) to be a matchup nightmare for opposing defenses.
1. Henry Ruggs
Las Vegas Raiders | WR Rank: 57 | ADP: 130
Many folks are already labeling Ruggs as a big-time bust after a disappointing rookie season last year. The former Alabama star was the first receiver taken in the 2020 draft (12th pick overall), but his stat line was lackluster (only 26 catches, 452 yards, and only 2 touchdowns). Though the Tyreek Hill comparisons were a bit premature, it is a little early to be calling Ruggs a complete bust.
Kind of like our strategy with Pittman now is the perfect opportunity to buy low on Ruggs. The Raiders' best wide receiver from last year (Nelson Agholor) is now gone, so the door is wide open for Ruggs to shine. Talent is not the issue with Ruggs as he is one of the fastest receivers in the league.
Head coach Jon Gruden has just got to find more ways to get the ball in his hands. Though your fantasy buddies may laugh at you, grabbing Ruggs in the later rounds could pay off handsomely in 2021.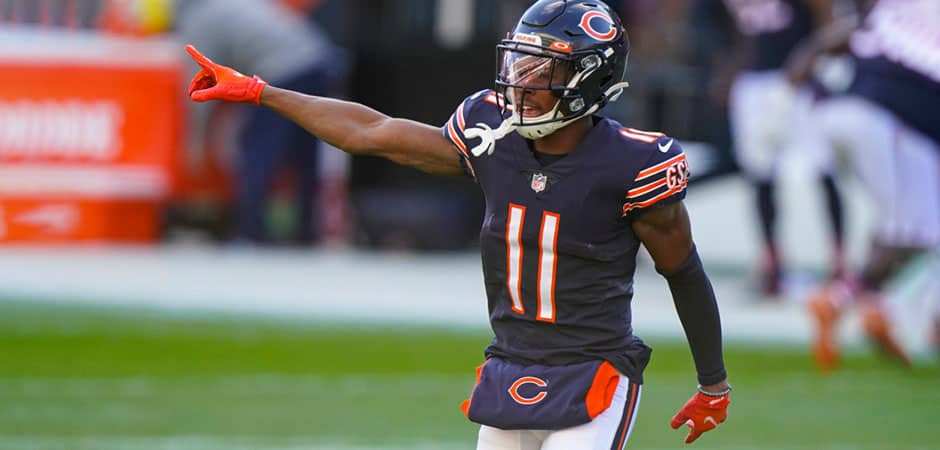 Deep Sleeper: Darnell Mooney
Chicago Bears | WR Rank: 49 | ADP: 111
Mooney is our top deep sleeper pick at wide receiver for 2021. All Chicago Bears wideouts from last year are underrated right now because of the poor QB play of Mitch Trubisky and Nick Foles. However, the Bears solved that putrid problem by drafting former Ohio State superstar QB Justin Fields with the 11th overall pick this year.
Getting a signal-caller that can actually hit open receivers will be a welcome sight for all Bears fans. It will also dramatically increase the fantasy value of the Bears wide receivers. Mooney had a decent rookie season (especially considering the poor QB play) by catching 61 passes, racking up 631 yards, and scoring 4 touchdowns.
Mooney may be a little on the small side at 5-10 and 176 pounds, but he isn't afraid to go over the middle or fight for the football. Mooney should be available late in your draft because he isn't well known amongst casual football fans. We expect Mooney to have a sneaky good year, both for the Bears and for his fantasy owners.
Like our deep sleeper RB pick, Damien Harris, Mooney's ADP should not change much throughout his offseason. His upside is not as attractive as some of the other 'sleeper' type players drafted in the 10th round or later. This is because Chicago has so many viable pass-catching options: Allen Robinson, Anthony Miller, Marquise Goodwin, Tarik Cohen, and Cole Kmet.
That being said, none of those players have the upside of Mooney given his combination of big-play ability and ever-growing role in the red zone. If the Bears get better QB play in 2021, getting Mooney this late could be one of the biggest steals of your league's fantasy draft.
Browse Latest Articles