Details for Current VA Lottery Promo Code Offers
Eligibile VA residents that have not yet registered on the Virginia lottery website have more incentive than ever to do so this September. Register using the VA lottery promo code found at the top of this page to receive 20 free games of Vegas Cash Drop.
That's one heck of a welcome offer that you won't want to miss. All you have to do is create a new account on the VA lottery site or the VA lottery app and get into the lottery game.
We update our promo codes daily throughout the year to ensure Virginia residents that register at the VA lottery website using our bonus offer always receive the max bonus available.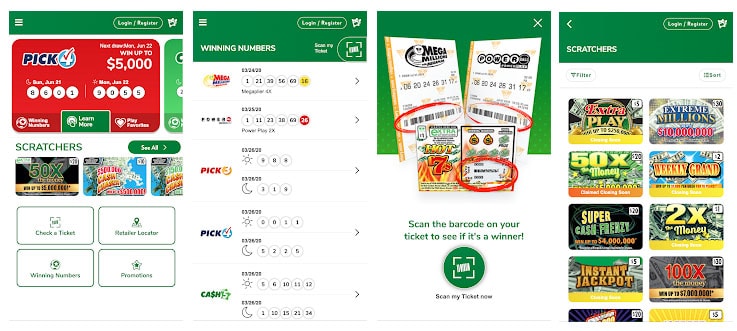 Virginia Lottery: More Ways to Play
The Virginia lottery website is considerably better than what most state lotteries offer online. They offer a massive variety of lotto games that range from $0.05 to $20 per instant game with top prizes reaching as high as $100,000. That's on top of their national draw games which start off with an estimated jackpot between $20 and $40 million.
Whether you are interested in playing instant games, online scratchers, online keno, or simply finding last night's winning lotto numbers, the VA Lottery website is your one-stop-shop in Virginia.
If you live in Virginia and are at least 18 years old, this September is a great time to get started using the VA lottery website and app. Register today using our exclusive promo code and receive 20 free games.
Details for the Current Free Promo Game Offer
New users that register using our featured offer receive 20 free Vegas Cash Drop games. This is an instant game that pays out a top prize of $50,000. Anything you win with these free games is yours to keep. This represents a great way to earn some free cash that can be used to enter even more games on the VA Lottery website.
This information was updated on September 1, 2023, and will be checked daily against new offers to confirm this is the best available promotion. We will always update the featured offer and this breakdown of what free games/tickets you receive for using our promo code.
In addition to our current promo code offer, the VA Lottery will often offer deposit bonuses and even bonus draw offers to new players. Most of the time the VA Lottery bonus is fairly generous. In fact, the current PA Lottery promo code offer includes a 100% deposit bonus, up to $500. With a competing state lottery offering such an attractive promotion, the VA Lottery may be pressured to incentivize their state's players in a similar manner.
Games Available on the VA Lottery Website
In addition to the free game, there is a seemingly endless list of games available on the Virginia lottery website and app. These include instant games that resemble a slot machine type game, draw games such as Keno, PowerBall, and Mega Millions, and online scratchers that play similarly to scratch-off tickets.
You can purchase tickets to all Virginia and national lotteries through the website and app. The Virginia lottery adds new games that are online-exclusive on a seemingly weekly basis. Meaning there is almost always something new for VA residents to play.
Often times when a new game is released, VA Lottery will update the promo code offer to give new players a chance to play the game for free. Don't worry, we'll find Virginia Lottery coupons and post them here.
Looking for even more action this September? Check out the best available Virginia sports betting bonus offers from every legal VA sportsbook!

Virginia Lottery FAQs
As with all of our reviews, whether for coupon codes, sportsbooks, or even online lottery, we get a lot of questions from our readers. We have compiled a list of the most common VA Lottery questions we receive—
Is online gaming legal in Virginia?
Yes, Virginia has legalized online lottery and sports betting. With that, lottery players have a few options when it comes to hitting the jackpot. We recommend taking advantage of Daily Fantasy Sports sites such as DraftKings as well. They have a decent welcome bonus for your first deposit when you use our discount code.
How old do I have to be to play the Virginia lottery?
You must be at least 18 years old to purchase tickets for draw games and instant scratch-off tickets on the VA Lottery website.
Do I have to be located in Virginia to play online?
Yes, you must be physically located within the state of Virginia in order to register and play on the VA Lottery website.
If you think you're going to use one of our awesome Virginia Lottery promo codes in another state, you'll have to rethink your strategy. Virginia Lottery's app will detect where you're physically located at and not let you register or play if you're not in the state.
What is the current VA Lottery promo code offer?
Currently, new users that register using our featured offer receive 20 free Vegas Cash Drop games. This is an instant game that pays out a top prize of $50,000. Anything you win with these free games is yours to keep.
Are there any other bonus offers from the VA Lottery?
In addition to our current Virginia lottery promo code offer, the VA Lottery will often offer deposit bonuses, an occasional VA lottery welcome bonus, and even bonus draw offers to new players. Be sure to check back frequently for any updated offers.
Can I purchase Virginia lottery tickets online?
Yes, you can purchase tickets for all Virginia and national lotteries through the website and app. In fact, you can do a lot through the VA lottery app. You can manage your account, use a Virginia Lottery coupon code, play games, claim prizes, and play the VA lottery online. The VA Lottery mobile app makes it easy to do all of these things.
Can you buy lottery tickets with a debit card in Virginia?
Ticket sales can only be made with cash or debit card. Obviously you can't buy tickets with cash through mobile devices, so that leaves you with your debit card.
How do I create an account through the Virginia lottery site?
To create an account through the Virginia Lottery site, follow these steps—
Go to the Virginia Lottery homepage at valottery.com.
Click on "Register" in the top right corner of the page.
Fill out the registration form with your personal information, including your name, address, and date of birth.
Create a username and password for your account.
Choose your security questions and provide answers for them.
Agree to the terms and conditions by checking the box at the bottom of the page.
Click on "Submit" to complete your registration.
What is a draw game?
A lottery draw game is a type of lottery where players purchase tickets and select a set of numbers in hopes of matching them to the winning numbers drawn at random. In this type of game, there is typically a pool of numbers to choose from and players must select a certain number of them, usually between five and six.
Once all the tickets are sold, the lottery officials draw a set of winning numbers using a machine or other random selection process. If any player's chosen numbers match the winning ones, they win a prize based on how many numbers they matched correctly. The prize amount can vary depending on various factors such as the number of winners and ticket sales. Lottery draw games are popular around the world due to their simplicity and potential for large payouts.
What are your lucky numbers?
Ah, that is a secret. You'll have to decide that one for yourself. But if you need some help, you can always check out the Virginia lottery predictions page to get some insight on what numbers may be worth playing.
3 Tips for Winning the Lottery
While there's no guaranteed shot at winning the lottery, we've put together a few ideas to get you started. And, as always, remember to gamble responsibly.
Buy as many tickets as possible to increase your chances of winning.
One of the simplest ways to increase your chances of winning the lottery is to buy more tickets. The more tickets you have, the greater your odds of hitting the jackpot. However, keep in mind that buying too many tickets can quickly become costly, so it's important to set a budget and stick to it. You can always use VA lottery deposit promo on the VA lottery site to purchase lottery tickets and minimize your risk.
Use a mix of both lucky numbers and randomly generated numbers for your ticket.
When choosing numbers for your lottery ticket (whether Mega Millions, PowerBall or some other draw), consider using a combination of both lucky numbers (such as birthdays or anniversaries) and randomly generated numbers. This strategy can help you strike a balance between relying on superstition and leaving things up to chance. Some people also use numerology or astrology to choose their numbers, but remember that there's no guarantee these methods will work. It's all chance.
Consider joining a lottery pool with friends or family members to increase the number of tickets you can afford to buy.
Joining a lottery pool with friends or family members can be an effective way to boost your odds of winning without breaking the bank. In a lottery pool, each member contributes money towards purchasing multiple tickets, which means everyone has a higher chance of winning than if they played individually. Just be sure to establish clear rules for how any winnings will be divided among pool members before you start playing together. We typically buy a few dozen lottery games around the office and everyone chips in. Sometimes it's Mega Millions, other times its a PowerBall number or two.  Just depends on what we feel like at the time.  Sure, the potential prize for each is much less, but we're okay with a few million each.
Ready to get into the Virginia Lottery online action?
Enough with the questions and explanations, we bet you're ready to use your Virginia Lottery coupons and get playing!
Head over to the VA Lottery website, sign up with our virginia lottery promo code offer, and start enjoying some of the best online lottery games in Virginia. You don't want to miss out on the free money or the chance to win a grand prize.
Remember, while it is a lot of fun playing VA lottery games, using Virginia Lottery discount codes, and seeing if you have the winning numbers, always gamble responsibly and play within your means.
18+ to play. Gambling problem? Contact the Virginia Problem Gambling Helpline: 888-532-3500.