It is officially NFL Best Ball season at Underdog Fantasy, and they are celebrating with a $10 million Best Ball Mania II contest that pays out $2 million to the winner and $1 million to the runner-up. This is the largest fantasy contest in history and is certainly more interesting than mock drafting against bots.
We know what you are thinking, isn't it too early to draft a Best Ball team? Not at all. New players can get up to four free entries, and the $1 million winner from last season's Best Ball Mania tournament drafted his team in June! Here is a look at the million-dollar team he drafted: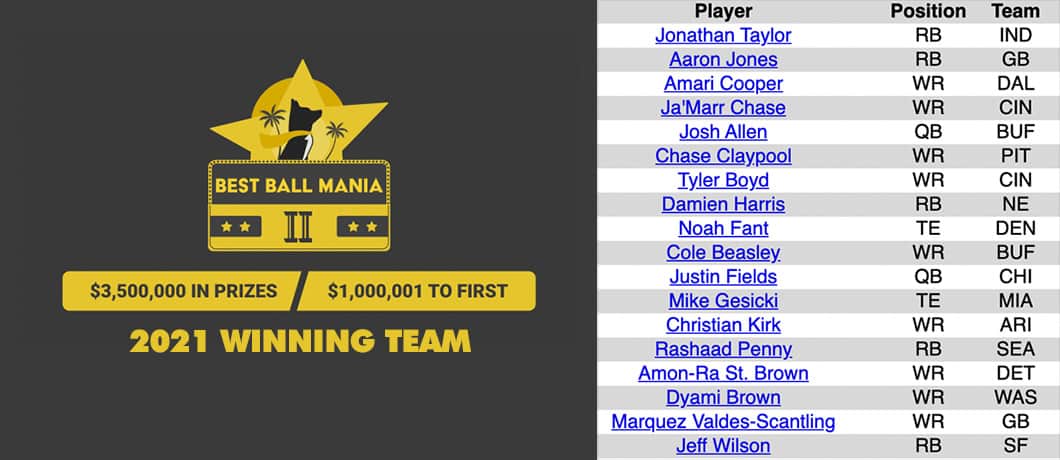 Underdog Best Ball Mania III Strategy
While best ball is the closest thing to season-long fantasy that the DFS world has to offer, a lack of waiver wires and postgame roster setting clearly changes the way you should approach best ball drafts. Here are a handful of tips to help you draft a winning roster for this year's Underdog Best Ball Mania contest.
Roster Construction is Crucial, Have a Plan
There are dozens of strategies you can tap into when drafting your season-long fantasy team, but without the ability to play waivers, you have to come into your best ball draft with a rock-solid draft plan. Do your own research and put together your own plan, but here are our thoughts for each position:
QB Draft Plan: Target 2 top 15 players and avoid drafting a third. This typically means taking two QBs in your first 10 picks. This can be a tough concept for season long owners, as many prefer to wait until round 8 or later to draft their QB1. However, we need to get 20+ points out of our QB each week, but can't afford the roster slot a third QB would take up. Had last season's winner drafted a third QB over Amon-Ra St. Brown or Rashaad Penny in rounds 12 or 13 he would not have won.
RB Draft Plan: The number of running backs you draft should be determined by where you draft them. Our recommendation is to stick to your board at the top of the draft. If there is a run on WRs in rounds 1-3, take two solid RBs and you should only need to draft 4. Forget about the zero-RB strategy, it is a proven loser in best ball formats. We need to have 2 running backs in our first 5 picks, and 4-5 by the end of the draft.
WR Draft Plan: We try to draft at least 7 wide receivers, but 8 seems like the magic number here. You are starting 3 every week, and more often than not, a fourth will end up in your slot. This means we need to value the position at the top of the draft. Aim for 4 WRs in your first 7 picks, and gamble on big-upside guys late in the draft.
TE Draft Plan: We have always been fans of waiting as long as possible on your tight end and then grabbing two in the middle of the draft, but if you have followed that trend over recent years you have likely gotten burned by the lack of depth at this position. There is quality and upside at the top of the 2022 tight end class, so move guys like Kelce, Andrew, and Pitts up your board and grab them if the value is there. However, don't feel obligated to reach on a player like Dallas Goedert if there is a run on tight ends. Simply wait for the run to end, load up everywhere else, then grab two quality players in rounds 8-12. Last year's winner won with Noah Fant (round 8) and Mike Gesicki (round 12).
Chase High-Ceiling Players
Boom-or-bust players have a tendency of killing our season-long fantasy teams because they are in our lineups every week, torturing us with their volatility. In best ball leagues, we get the benefits of those high-ceiling games without having to start them in down weeks.
Clearly, wide receivers are typically looked at as boom-or-bust plays, but this applies to running backs as well. Looking at last year's winner, Rashaad Penny played on a team with a highly productive run game, but he was only going to be fantasy-relevant if Chris Carson went down with an injury. That happened, and Penny went for 20+ in 4 of the final 5 games of the 2021 NFL season.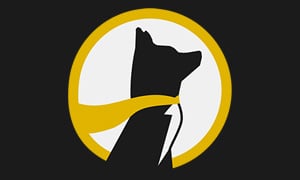 Get Up to 4 Free Best Ball Mania Entries
With promo code EWB.
2022 Underdog Best Ball Mania III Player Rankings
It is important to update your default rankings before entering any Underdog Best Ball drafts. This will guarantee you are aware of when you should be selecting your sleepers and avoid any issues of missing out on players you like, simply because they are buried on the default rankings.
Find our Underdog Best Ball Mania III player rankings below. We update these rankings at least two times per week this time of the year. You can also elect to download them as a spreadsheet at the bottom of the rankings table.
Underdog Best Ball Mania III FAQs
It is important to understand exactly how the Best Ball Mania tournament works at Underdog, and we address the most important topics in the FAQ section found below.
What is the entry fee?
Best Ball Mania III has a $25 entry fee.
What is the payout structure?
Best Ball Mania III is the biggest fantasy football contest ever. There are $10 million in total prizes available with the winner taking home $2 million and the second place finisher winning $1 million. The top 75,200 finishers win at least $35.
What are the entry limits?
There can be a max of 451,200 total entries. The top 75,200 entries will advance through the first round, which ends after week 14 of the NFL season. Each owner can enter the contest a maximum of 150 times.
What is the Underdog Best Ball roster format?
You will draft a total of 18 players. From that group, you will start 1 QB, 2 RB, 3 WR, 1 TE, and one Flex each week.
Do I need to set my lineup?
No, once you draft your team, you are done with managing your roster. Underdog will automatically set your best possible lineup for each week after the games have been completed.
How does scoring work?
Underdog Best Ball scoring always ustilizes a .5 PPR scoring format. This means you will receive a half-point per reception. All other scoring is standard, with intereceptions worth -1 point and fumbles worth -2 points. Review the full Underdog NFL scoring rules prior to drafting.
How do Underdog Best Ball drafts work?
Most players elect to do Underdog's fast drafts, which can be completed in under 30 minutes. However, slow drafts are also available, with each owner receiving 8 hours per pick. Drafts are snake drafts with the last pick of each round receiving the first pick in the next round. Draft order is selected randomly at the start of the draft.
How do I use the free entry received with my Underdog promo code?
If you sign up using the Underdog promo code EWB you will receive a 100% deposit bonus. This means you will receive $25 free with a $25 deposit, or 1 free Best Ball Mania entry. This offer caps at $100, or 4 free Best Ball Mania entries.