While the Super Bowl may be the biggest sporting event of the year, March Madness has historically been a bigger betting event. In fact, in New Jersey the betting handle for March Madness was nearly double to handle for the Super Bowl in 2019.
If you are new to legal sports betting in the US, or simply want to give a new sportsbook a try, these new player offers for March Madness are going to help you build a bankroll without even having to place a bet! Each of these March Madness bonus offers is updated daily. Our top-rated offers for the 2021 NCAA Tournament include free bets, risk-free bets, payout boosts, and deposit bonuses.
All bonus offers below have been updated for the Final Four and expire after this weekend, so register today!
Book
Offer
Link
[rating stars="5.0"]
Bet $20, Get $150 if a Point is Scored
Use Promo Code: BARMM
Get Offer
[rating stars="4.9"]
Up to $1,000 Risk-Free Bet
100% Refund on First Tourney Bet
Get Offer
[rating stars="4.7"]
Bet $10, Get $160 in Free Bets
Bet $10 on Any Game, Get a $10 Free Bet on 16 Games
Get Offer
[rating stars="4.5"]
Risk Free Bet up to $500
Use Promo Code: WILLHILLRF
Get Offer
[rating stars="4.4"]
$40 Free Bets and $500 Deposit Bonus
Four $10 Bets - No Deposit Req.
Get Offer
[rating stars="4.3"]
Bet $20, Get $88
Use Promo Code: GET88
Get Offer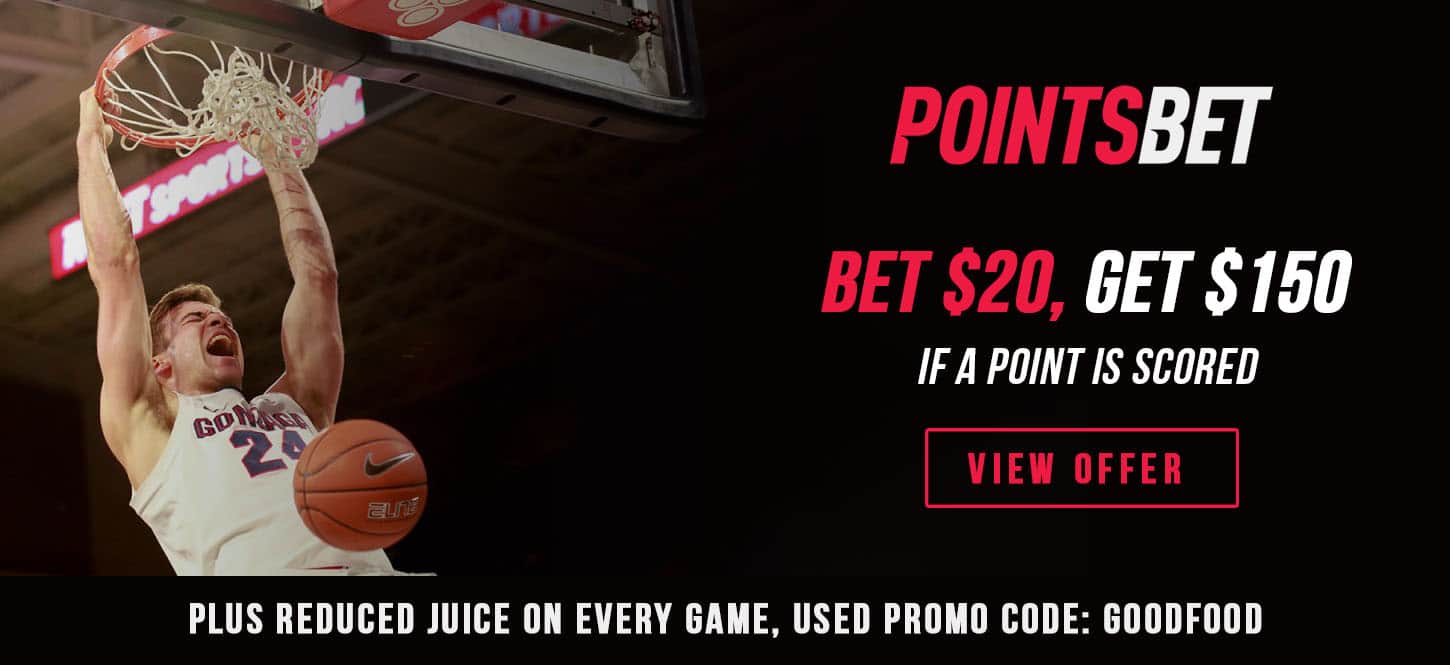 Our Favorite March Madness Sportsbook Offers
As we mentioned earlier, March Madness is typically responsible for a massive handle for US sportsbooks. This equates to a huge opportunity for sportsbooks to attract new players. Most bettors are hungry for action following a post-NFL break while looking forward to the typically quiet spring/summer months.
From a new bettor's perspective, this means these sportsbooks are going to roll out attractive new player offers to get you betting on their site. Two of our favorite offers heading into March Madness come from William Hill and PointsBet.
Several factors were considered when rating each March Madness promotion including quality of offer, offer terms, and quality of March Madness betting experience. Our preferred bonus offers come from sportsbooks that not only are offering the best promotions in the industry, but are offering the best variety of March Madness odds, juice, and live betting options.
All things considered, our two preferred promotions for March are the offers from PointsBet and FanDuel:
PointsBet: Bet $20 on any tourney game, win $150 if a point is scored.
PointsBet's March Madness offer is the closest thing you will find to free cash in the sportsbook industry. Simply place any $20 throughout the tournament, and win $150 (plus the payout for the wager if it cashes) if either team scores a point. This means your first $20 bet on PointsBet will pay out at least +750 odds!
Make an initial wager of at least $20 on any NCAA Tournament game.
Receive a $150 bonus on whatever the wager pays out.
FanDuel: Get a 100% refund if your first March Madness bet does not cash.
Your first bet is guaranteed to cash on FanDuel! Simply place any wager throughout the tournament and receive a full refund if it does not cash. Here are the details:
Deposit and make an initial bet of up to $1,000.
Receive a 100% refund if the first wager does not cash.

Current Odds for 2021 NCAA Men's National Championship
Gonzaga and Baylor are the clear betting favorites to come out of March Madness as of mid-February, but as is always the case with the NCAA tournament, that means very little. With another few weeks of regular-season games left, conference tournaments, and the effect a positive COVID test can have on any team over the next month, anything can happen over the next two months.
While we all love a Cinderella story, we wouldn't bet on one. A one seed has won 15 of the last 21 tournaments, and only one team seeded lower than a 3-seed has won the tournament over that stretch (UCONN - 2014). Furthermore, only 3 of the 42 teams to play in the championship game have been a 6 seed or lower.
Using that data, we can really narrow down the field to about 20 teams with a legitimate shot at the title this season.
Here is a look at the odds for the current top 25 teams according to FanDuel. These odds are updated following the release of the 2020 NCAA bracket. Surprisingly, the odds for many of these teams, including those of several top-4 seeds, decreased dramatically following the bracket being released.
| Team | Odds |
| --- | --- |
| Gonzaga | +200 |
| Baylor | +500 |
| Illinois | +600 |
| Michigan | +750 |
| Iowa | +1600 |
| Houston | +1800 |
| Alabama | +2100 |
| Ohio State | +2100 |
| Florida State | +2700 |
| Oklahoma State | +3000 |
| Virginia | +3000 |
| West Virginia | +3000 |
| Connecticut | +3200 |
| Texas | +3500 |
| Arkansas | +4200 |
| Creighton | +4200 |
| Kansas | +4200 |
| Purdue | +4200 |
| Wisconsin | +4200 |
| Loyola Chicago | +4800 |
| San Diego State | +4800 |
| Tennessee | +4800 |
| Texas Tech | +4800 |
| Colorado | +5500 |
| North Carolina | +5500 |
| Villanova | +5500 |
Best Favorite Bet - Michigan (+750)
Our power rankings have had Gonzaga one, Michigan two, and Illinois three for the majority of the season. While Michigan has stumbled in the past week, they offer huge value at +750. Alabama is our highest rated two-seed, but Florida State is our lowest-rated four seed. If Michigan's first real test comes in the Elite 8, there is a decent chance Isaiah Livers is back and you are getting a full-strength Michigan squad that lost only twice with him despite playing one of the toughest schedules in the country.
Best Underdog Bet - Loyola Chicago
Loyola were criminally underseeded here, which is particularly unfair given their Final Four run was just two seasons ago. This Loyola Chicago team is considerably better than the team that made the run in 2018. They finished 24-4 in the Mountain Valley Conference, and are currently 9th overall in total efficiency and 1st in the country in defensive efficiency according to the current Pomeroy rankings. They are untested (only top 25 game was an 11 point loss to Wisconsin), but did beat Drake by 27 in February. At +4800, they easily have the longest odds worth a look in this year's tournament.
EatWatchBet Bracket
Looking for tips for filling out your bracket? Below is our college basketball expert's bracket. No huge surprises here with all four one seeds making the final four, but here are some things to consider here. First, Gonzaga, Michigan, Illinois, and Baylor have been the best four teams in the country from the start of the 2020 season until now.
Second, if Baylor, who we see as the weakest of the #1 seeds were to lose, it would be to a team that can take advantage of their lack of size. They will not face a team that can do so until facing Kofi Cockburn in the final four.
Illinois looked beatable in the Big 10 tournament, but we see Houston as the weakest #2 seed. On the other side of that, Oklahoma State is the strongest #4 seed. If the Illini get past the Cowboys in the sweet 16, they should coast through the Elite 8.
Michigan also lost in the Big 10 Tournament, but they were without Isaiah Livers. While he may not return during the NCAA Tournament, you could expect them to need to get used to playing without their senior captain. Both Brandon Johns Jr and Chaundee Brown are capable of filling that void, but it was not a huge surprise to see the guys around them needing time to adjust playing without Livers.
Gonzaga is clearly the class of the field this year. The top of the roster (Kispert, Timme, Suggs, Ayayi) is as talented as any in the country. They defend extremely well on the perimeter, but Timme and Watson will struggle against Garza, and eventually, Dickerson should the tournament play out as expected.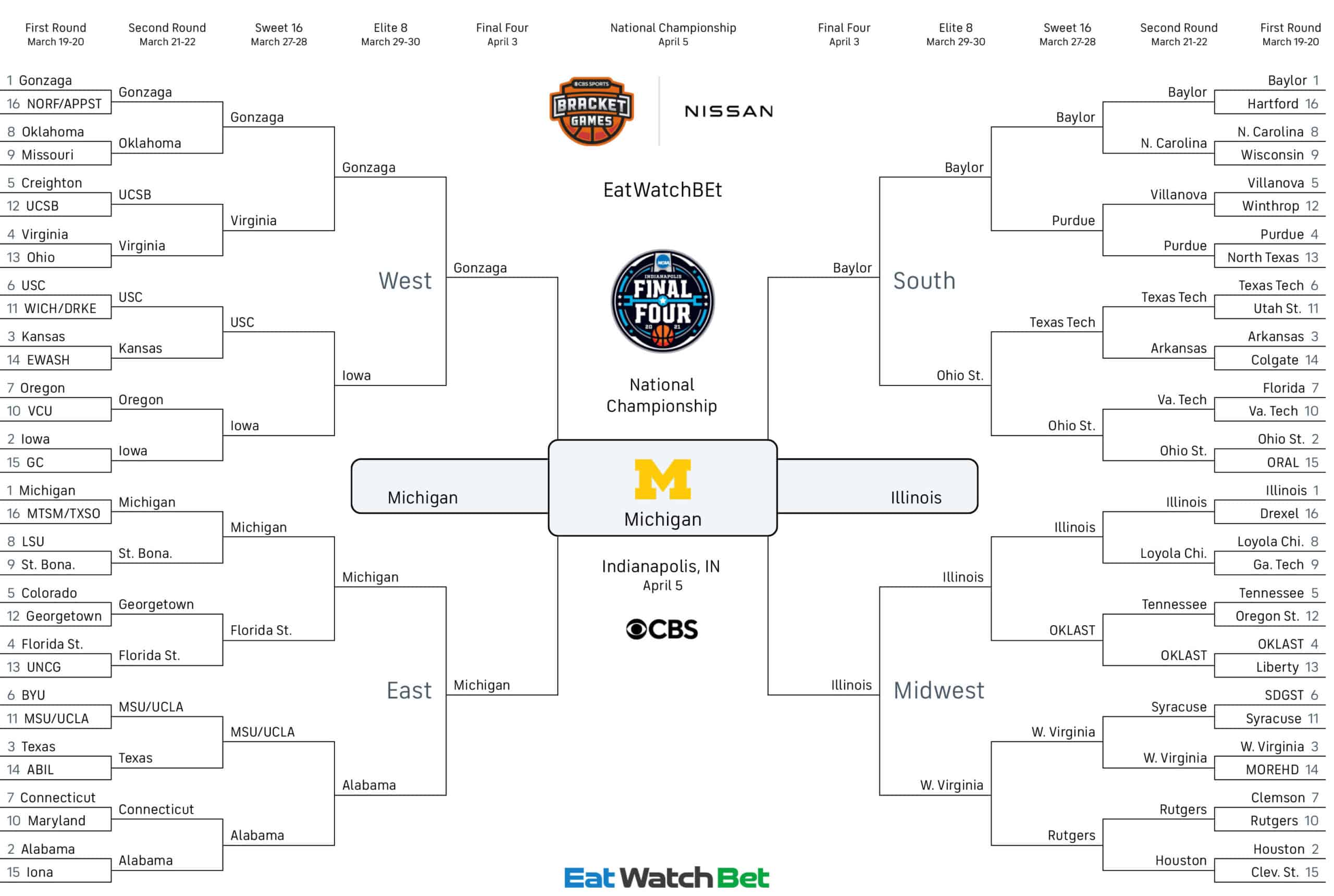 Browse Latest Articles