If you're a sports fan who lives anywhere in the US, you have to check out SimBull. SimBull is the new stock market for hardcore sports fans. It's an awesome concept because it allows all sports fans to feel like they have an ownership share of their favorite team.
With SimBull, the goal isn't to find the best teams, rather, to find the teams that are the most undervalued. The best strategy is to do an in-depth assessment of each team and figure out which ones are a great bargain at their current prices. Before jumping into our favorite NFL investments, check out our SimBull overview for a complete breakdown of how the market works.
Here are three NFL teams that we recommend investing in today on SimBull.
Value Team for 2021: SimSaints $38.38)
If you're looking for an NFL team that should outperform their SimBull price, buy a few shares of the New Orleans Saints. At under $40 per share, this looks like an absolute steal. Keep in mind that this Saints team went 12-4 last season.
Sure, future Hall of Fame QB Drew Brees is no longer under center as he's off enjoying retirement on some secluded island (probably lol). However, this leaves us with a fantastic opportunity to buy the Saints at a low price. Much like stock investors often overreact, this price on SimBull indicates an overreaction to Brees' retirement.
People may think that the sky is falling without Brees, but Jameis Winston and Taysom Hill could be a deadly 1-2 punch at QB for many years to come for the Saints. If there os any head coach that can get the most out of a QB, it is Sean Payton. The guy is a legitimate QB whisperer.
Buying some shares of the Saints should result in several win payouts (dividends) this season. Keep in mind that on SimBull you get .50 per share for each NFL win. That may not sound like a lot, but it adds up quickly over a full season.
TwinSpires sportsbook currently has the Saints season win total set at 9.5 with some heavy juice on the over. This tells us that 10+ wins is very likely, which would pay a $5 dividend to Saints investors. Give us several shares of the SimSaints at the cheap price of $38.38.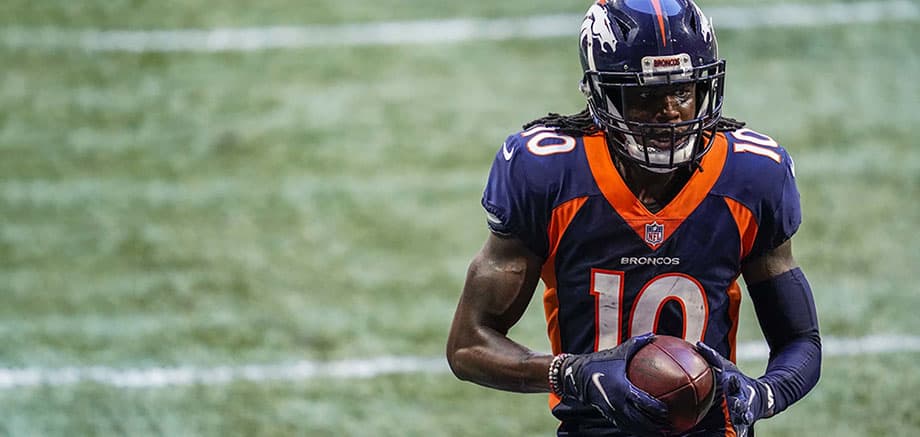 Great Investment for the Next 2-3 Years: SimBroncos $41.64
For a solid long-term investment, we're buying some shares of the Denver Broncos. This is another great opportunity to buy a team at their lowest point. The Broncos are coming off a disappointing 5-11 season in 2020.
Not only that, Denver is in possibly the toughest division in the NFL, the AFC West. Both the Kansas City Chiefs and the Los Angeles Chargers appear to be on the upswing. That's probably why we're getting such a nice price on the Broncos.
Denver has a ton of upside. Tons of teams claim to be 'only a QB away' from a breakthrough season. The Broncos actually are one of those teams.
John Elway knows that Drew Lock is not the QB of the future. That's why he brought in Teddy Bridgewater from Carolina. The 28-year old showed that he can still play some solid football. It'll be interesting to see how Bridgewater does this season.
Is Bridgewater the long-term solution for the Broncos at QB? No one knows but we'll take a stab at how it will play out. We think that Bridgewater will have a decent season but the Broncos will still miss the playoffs.
Denver would then be set up perfectly to draft a hotshot QB with their first-round pick in 2022. Sam Howell out of North Carolina or Kedon Slovis out of USC could be the answer to all of Denver's problems. Both Howell and Slovis have big-time arms and uncanny leadership abilities.
All of this would bode well for our long-term investment in the Broncos. This team's defense has the potential to be good pretty soon, especially since they drafted cornerback Patrick Surtain from Alabama.
Denver's offense also has some nice pieces in place. The receiver trio of Jerry Jeudy, Courtland Sutton, and Diontae Spencer all have blazing speed and the ability to stretch defenses. Running backs Melvin Gordon and Javonte Williams will give this offense some nice balance. The Broncos are an attractive option if you're a buy-and-hold type of sports investor.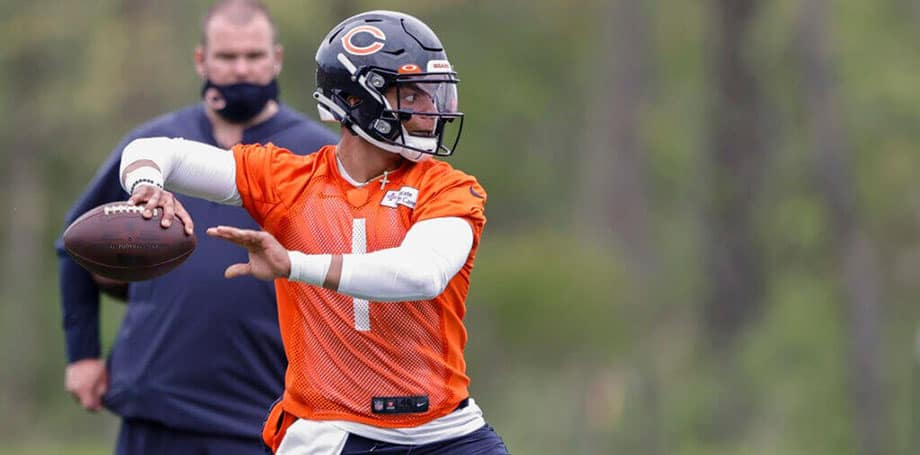 Best Long-Term Investment: SimBears $42.00
We love the Chicago Bears at this very reasonable price as our best long-term investment. Sure, the Green Bay Packers are the team to beat in the NFC North this season. However, keep in mind that we are looking for long-term value.
Mitch Trubisky did some nice things at times for the Bears but the poor guy always seemed to turn the ball over at the worst possible times. Trubisky is gone and in steps Justin Fields, the first-round draft choice out of Ohio State. Fields has ideal NFL size (6-2, 228 pounds) and can torch defenses with his arm or his legs.
Like any rookie QB, we expect Fields to take his lumps in 2021. However, don't be surprised if Fields has this Bears team performing at a much higher level in 2022 or 2023. The Bears have been 'a QB away' from greatness for a long time and Fields could be just what the doctor ordered.
The Bears running game should be productive for many years to come with guys like David Montgomery and Damien Williams taking some pressure off of the QB position. Chicago's offensive line should also improve, especially with second-round pick Teven Jenkins coming into the fold.
Chicago's defense should be loaded with depth for many years to come. Leaders like Khalil Mack and Roquan Smith can pressure the QB or drop back into coverage. Eddie Jackson anchors a decent secondary.
All the pieces are in place for the Bears to surprise some people over the next few years. We recommend investing in the Bears now on SimBull. Assuming Fields is for real and Rodgers is on his way out of the conference, Chicago could own the NFC North for the next 10 years.
Browse Latest Articles