Tight End is arguably the toughest position to draft in fantasy football. Most fantasy football owners feel as if they are in a type of catch 22. While most folks would love to draft a big-time playmaker like Travis Kelce, George Kittle, or Kyle Pitts (possibly), it is difficult for many people to rationalize taking a tight end in the first round.
So, with that being said, what is a top-notch fantasy owner supposed to do? The answer is simple but not easy. Find five sleeper options at tight end and hope that one of them is still on the board during the later rounds of your draft. Here are five tight ends who could end up being nice sleeper picks in 2021.

Underdog Fantasy: Season-Long Best Ball Fantasy
Can't wait for the 2021 fantasy season to get here? Put these sleeper tight end picks into action in real money best ball drafts on Underdog today! Use promo code EWB to receive $25 in free credits when you register today!
Draft Now
Additional Sleeper Picks
5. Anthony Firkser
Tennessee Titans | TE Rank: 15 | ADP: 139
Firkser had been stuck in the shadows of Jonnu Smith for three straight seasons. However, Smith signed a blockbuster four-year deal with the New England Patriots back in March for a cool 50 million bucks. This opens up the starting tight end job for Firkser in Tennessee.
Titans QB Ryan Tannehill loves throwing to tight ends, as evidenced by Smith's success over the past few seasons. Firkser, a Harvard graduate, had his most productive season yet with the Titans last year. The 6-2, 246 pounder caught 39 passes, had 387 receiving yards, and caught a touchdown during his 2020 campaign.
An encouraging sign for Firkser is that Tannehill targeted him 53 times last season. That was more than double his targets in 2019. With Smith now gone, expect Firkser to get an even more prominent role in the Titans passing game.
We love Firkser as a sleeper pick even more now since the Titans just acquired future Hall of Famer Julio Jones from the Atlanta Falcons. Opposing defenses will have their hands full with Jones and A.J. Brown. This should result in lots of opportunities to slip Firkser the ball underneath for some easy yardage.
4. Blake Jarwin
Dallas Cowboys | TE Rank: 19 | ADP: 158
A big key to finding good sleeper picks in fantasy football is finding talented players that are coming off an injury. Jarwin fits that bill here. He was finally the clear starter heading into last season after future Hall of Fame inductee Jason Witten left the Cowboys.
Unfortunately, Jarwin suffered a nasty ACL tear in the opening game of the season against the Los Angeles Rams and was out for the rest of the year. All reports say that Jarwin is fully healthy and hungry to have a career year in 2021. Hopefully, Dallas QB Dak Prescott will also be at full strength to get Jarwin the ball this year.
Jarwin has the size and talent to be a top-tier tight end in the NFL. The 6-5, 260 pound Oklahoma State alum put up back-to-back seasons with three touchdown catches even when playing in a limited capacity behind Witten. With Amari Cooper and CeeDee Lamb stretching the defenses, expect the middle of the field to be open often for Jarwin to do some major damage in 2021.
3. Tyler Higbee
Los Angeles Rams | TE Rank: 8 | ADP: 91
Higbee had a decent season in 2020 by catching five touchdown passes. However, his overall production took a bit of a nosedive with far fewer receiving yards (521 vs. 724) and overall catches (44 vs. 69) versus his 2019 stats. So, why do we like Higbee as a sleeper pick for 2021?
Back in March, Sean McVay decided to trade Jared Goff to the Detroit Lions for Matt Stafford. Stafford is an old-school gunslinger that has a cannon for an arm and loves to keep the tight end involved in the offense. With Stafford at the helm, Higbee's fantasy value should see a giant upswing this year.
At 6-6 and 255 pounds, Higbee is almost impossible to defend over the middle of the field. The 28-year old should be one of Stafford's favorite targets in the red zone. If that is the case, expect Higbee to destroy his previous season-high of five touchdown receptions. It would not be surprising to see Higbee find the end zone on eight or more occasions in 2021.
2. Eric Ebron
Pittsburgh Steelers | TE Rank: 26 | ADP: 192
Can you believe that Ebron was targeted 91 times during the 2020 season? Big Ben Roethlisberger loves throwing to this guy when he's under pressure and we don't see that changing this year. Ebron caught 56 balls, scored five touchdowns, and had 558 receiving yards in 2020.
Those numbers may dip a tad in 2021 because the Steelers may look to run the ball more often with their first-round draft choice Najee Harris. Harris is also a master at catching passes out of the backfield so that may hurt Ebron a bit on third downs. Still, Ebron is only 28 years old and is a solid sleeper pick for the middle or late rounds in your fantasy draft.
Ebron may never get back to his 2018 Pro Bowl numbers (750 yards and 13 touchdowns), but our guess is he should still be good for around 500 yards and four touchdowns or so. The Steelers' offense should be fun to watch in 2021.
1. Jared Cook
Los Angeles Chargers | TE Rank: 21 | ADP: 162
Even at 34 years old, Jared Cook is still a baller at tight end. Hunter Henry signed with the New England Patriots so the Chargers decided to bring Cook in on a one-year deal worth 6 million. Saints fans were probably shocked that the club decided to release Cook, as he had a fabulous 2020 season with 504 receiving yards and seven touchdown catches.
Cook could put up similar numbers in 2021 because Chargers QB Justin Herbert appears to be coming into his own as an NFL player. At 6-5 and 254 pounds, Cook will provide a nice safety valve for Herbert in stressful situations. Cook is a 12-year NFL veteran who doesn't show any signs of slowing down anytime soon.
Many fantasy owners will pass on Cook because of his age. That's understandable, but we foresee Cook as being one of those guys that continues to put up solid numbers each year. If Cook is available during one of your later rounds, he would be a nice pickup for your squad in 2021.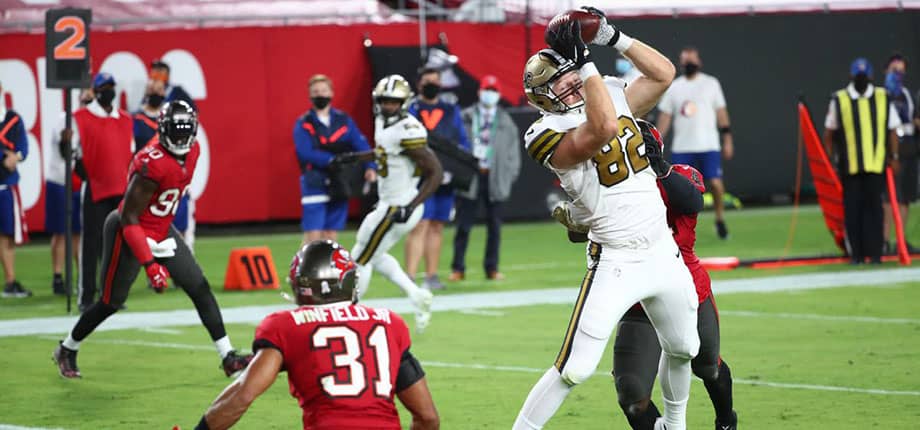 Deep Sleeper: Adam Trautman
Los Angeles Chargers | TE Rank: 15 | ADP: 137
Okay, let's be honest. How many of you have actually heard of Trautman? Exactly, that makes him a perfect deep sleeper pick at tight end this year.
In all seriousness, Trautman has plenty of size (6-5 and 255 pounds) and pass-catching ability to put up some good fantasy numbers. Trautman only started six games last year, but he made the most of his opportunities by catching 15 of the 16 passes thrown his way. The former third-round pick from Dayton ended up with 171 receiving yards and one touchdown catch last season.
Trautman was just a rookie last year, and as many fantasy owners know, rookie tight ends are rarely, if ever, fantasy-relevant. We fully expect Sean Payton to make his role in the offense a little bit bigger in 2021. Payton loves to throw the football so that further enhances Trautman's potential value for fantasy owners.
Also, the Saints' defense will be in rebuilding mode this year. That means the Saints' offense will have to throw the ball a lot to try and come from behind in most of their games. If Jameis Winston ends up winning the starting QB battle over Taysom Hill, that would only make us love Trautman even more as our deep sleeper pick.
Browse Latest Articles