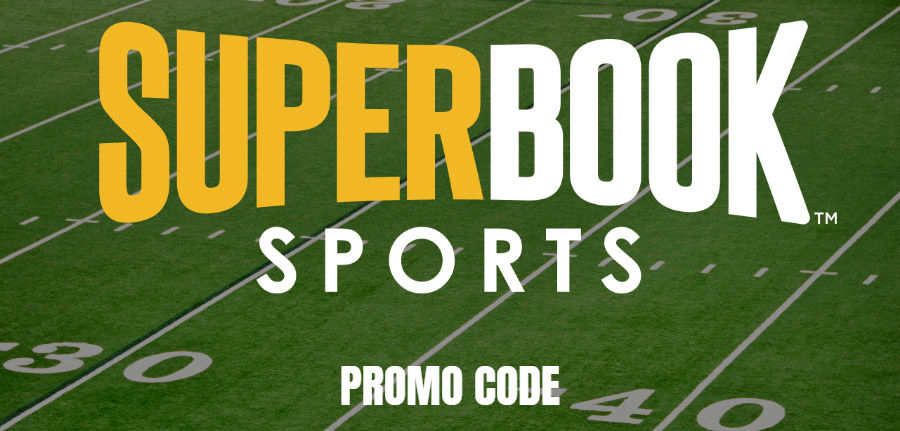 Details for the SuperBook Promo Code
All new SuperBook sports bettors are eligible to receive a bonus of $1,000 on their first bet. What's even better than getting $1,000 on a first bet match? You don't even need a promo code to claim this offer!
All you have to do is download the SuperBook app, create a SuperBook account, and place a bet. That's all there is to this bet match promotion.
We've reviewed hundreds of sportsbooks over the years, and they all offer similar promotions, but SuperBook offers one of the best ones in the sports betting industry.
With a massive $1,000 bonus on your first bet, you can't go wrong.
10% Tuesdays Bonus
Every Tuesday, make your first wager of the day with odds of -200 or less to receive a Bonus Voucher worth 10% of the total amount of your wager, up to $50 max in bonus funds. These bonus funds will be applied to 50% of each subsequent wager until they are all exhausted.
And guess what. Just like the other sports betting promotions they have going on, there is no SuperBook sports promo code required!
SuperBook Streak Bonus
Do you keep going back for more action and fun? Take advantage of this SuperBook promo!
Opt-in to this offer and place a pre-match wager of $50 or more each week on any NCAA basketball or MLB point spread, total or moneyline. You'll then receive a $5 bonus each Wednesday that increases in increments up to $50 max as your streak continues. Keep in mind that half or quarter, proposition, and in-progress (live) wagers are not eligible for this offer.
Also, this is an ongoing SuperBook promo so no promo codes are required.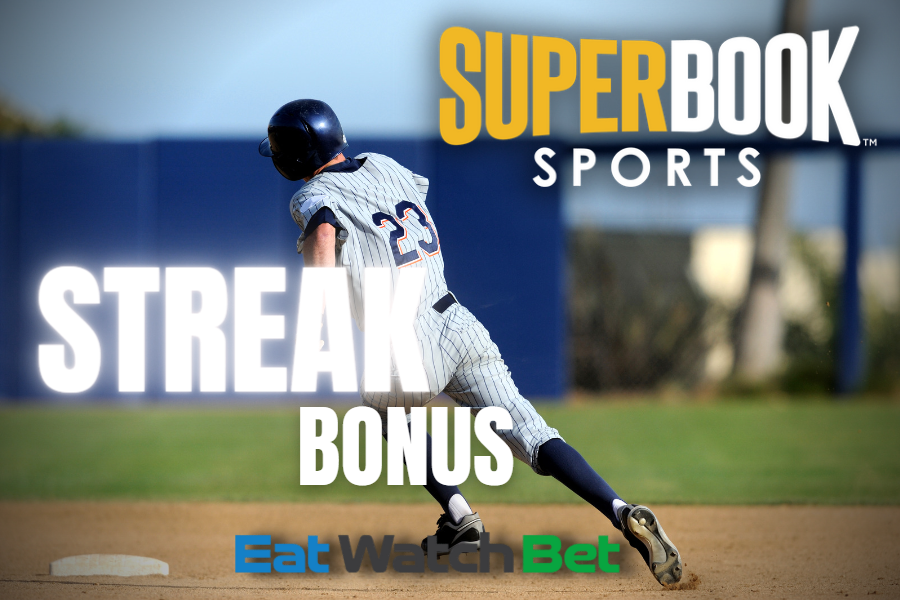 SuperBook Bonus Voucher Terms.
Of course with every promo code, there are terms and conditions that need to be met in order for the promo code to be applied. This is typical of all sportsbooks and sports betting apps, so don't be deterred.
SuperBook Sportsbook bonus vouchers are used to cover 25% of a user's qualified cash wagers until the balance is exhausted.
What that means is with a $500 deposit and a $100 first bet, users will receive $100 in bonus vouchers to be used for other bets in their mobile app.
Then, when placing wagers, SuperBook Sportsbook will take out 25% of the bonus voucher balance to make up the total amount.
So, for example, let's say you want to place $100 on the San Franscico 49ers at -150. $75 of the bet will come from your cash balance from your deposit (or winnings) and $25 will come from your bonus voucher funds.
It seems complicated, but it's pretty simple and straightforward.
The lowest rollover of any sportsbooks.
One of the things we love about the SuperBook promo code is that they have only a 1x rollover.
That means that for every dollar you wager, you only need to meet the one-time rollover requirement before your bonus funds can be withdrawn.
This is great news for sports bettors who want to maximize their returns without having to worry about rolling over their winnings multiple times.
How does the SuperBook Sportsbook terms stack against others?
Like we said, we've reviewed hundreds of sportsbooks and seen it all. For this SuperBook Sportsbook review we compared the terms and conditions against some of the biggest names in the sports betting industry.
What we found was that SuperBook offers one of the most generous bonuses and the lowest rollover requirements available.
It's truly a great deal for any new SuperBook user who wants to take advantage of this offer.
Take DraftKings, for example. They're one of the biggest names in the sports betting world and offer some seriously generous deposit bonuses. While a massive deposit bonus sounds great on the surface, when you have to rollover the winnings 25x to cash in on it, that's not that great of a deal after all.
However, there are other sportbooks that offer a low rollover. For example, Caesars Sportsbook has a 1x rollover requirement just like SuperBook. While this SuperBook promo code offer is amazing, it's not completely unique.
So it's important to look at the entire package and not just the deposit bonus. SuperBook wins in this regard, hands down.
So if you're looking for a great sportsbook with an awesome sign-up offer, SuperBook is definitely worth checking out. Just remember to read all the terms and conditions before taking advantage of their promotional offers.
States SuperBook Sportsbook Operates In.
While sports betting is legal in over 30 states, SuperBook Sportsbook currently only operates in Arizona, Colorado, New Jersey, Tennessee, Ohio, and Iowa.
They abide by all gaming regulations and laws in each state, so you can be sure that your wagers are safe and secure.
However, as the sports betting industry continues to grow and expand into new markets, we expect that SuperBook will continue to grow as well. We'll keep you updated on any new developments as they happen.
Nevada SuperBook
Nevada users can only access SuperBook through the app for iOS or Android, branded as Westgate Sports. Users must register their account in person at the Westgate Las Vegas Resort & Casino.
This is somewhat cumbersome, but trust us, the betting experience is well worth it.
Colorado, Arizona, and Iowa SuperBook
Prop bets on collegiate sports are not allowed in Colorado, Arizona and Iowa, so if you're playing SuperBook in any of those states, they will not be available.
Many other states prohibit proposition bets on college sports, so if SportsBook expands to those states, the same rules will apply.
New Jersey SuperBook
Betting on in-state college sports teams and college games taking place in New Jersey is not allowed according to state law. Since SuperBook abides by the regulations of each state, these bets will not be available in New Jersey.
SuperBook Betting Options.
Like most sportsbooks, SuperBook Sportsbook offers a wide variety of wagering options.
You can place traditional point-spread bets, moneyline bets, parlays, teasers, and more.
They also offer live betting for a more exciting experience as the action unfolds in real-time.
SuperBook offers all types of sports.
Just about every sports fan will find something to wager on at SuperBook whether you are an NFL enthusiast, a college football bettor, or looking for lines on the NBA, MLB, NHL, and more.
Here's a list of the sports that the SuperBook Sportsbook offers—
NFL
NCAAF
NBA
NCAAB
MLB
NHL
CFL
WNBA
Soccer (EPL, UEFA and more)
Golf (PGA Tour, European Tour and more)
Tennis (ATP & WTA Tours)
MMA/UFC
NASCAR
Boxing
otor Sports
Keep in mind that they're always expanding their offerings, so you should check back often for new lines and sports.
Bet types on SuperBook Sportsbook
SuperBook Sportsbook offers everything from live betting to parlays, teasers, and more.
One of our favorite types of betting is live betting. Live betting is a thrilling experience for sports bettors. With the ability to place bets as the action unfolds, it offers an exciting twist on traditional sports betting. Live betting also allows bettors to capitalize on unexpected events as they happen, giving them an edge over those who only make pregame wagers. By keeping up with the ever-changing dynamic of the game, live bettors can increase their chances of winning big and get more out of their sports betting experience.
Another favorite of sports enthusiasts is prop bets, or proposition bets. Proposition bets are a great way to add an element of fun and excitement to sports betting.
Prop bets often involve predicting outcomes that have nothing to do with the result of the game, such as which color Gatorade will be dumped on the coach in a football game or whether a certain NBA player will chew on their mouthguard during the first quarter. Prop bets offer bettors an intriguing alternative to traditional wagering and provide a unique opportunity for potentially higher payouts than standard bets.
Whatever type of bets you prefer, you'll find them at SuperBook Sportsbook. You can even use your bonus voucher on live bets or prop bets (no SuperBook Sportsbook promo code required) right on the SuperBook mobile app.
The SuperBook Sportsbook Odds and Lines.
One thing that really stood out as we did the SuperBook online sportsbook review was their odds and lines.
They were significantly better than what we've seen from other sportsbooks.
The SuperBook Sportsbook lines were more competitive, and their odds gave bettors a much better chance to win.
Take for example the Seattle Seahawks at San Francisco 49ers game. The SuperBook Sportsbook was offering odds of -110 on the 49ers to win, while most other sportsbooks were offering only -105. That's a five point difference that could make all the difference in your wager.
They even offer an odds boost on select games, giving you the chance to get even better odds.
All in all, SuperBook Sportsbook offers great betting options and competitive lines that give bettors a great chance to win big. Plus, with their mobile app and website, it's easy to check the odds and make wagers from anywhere.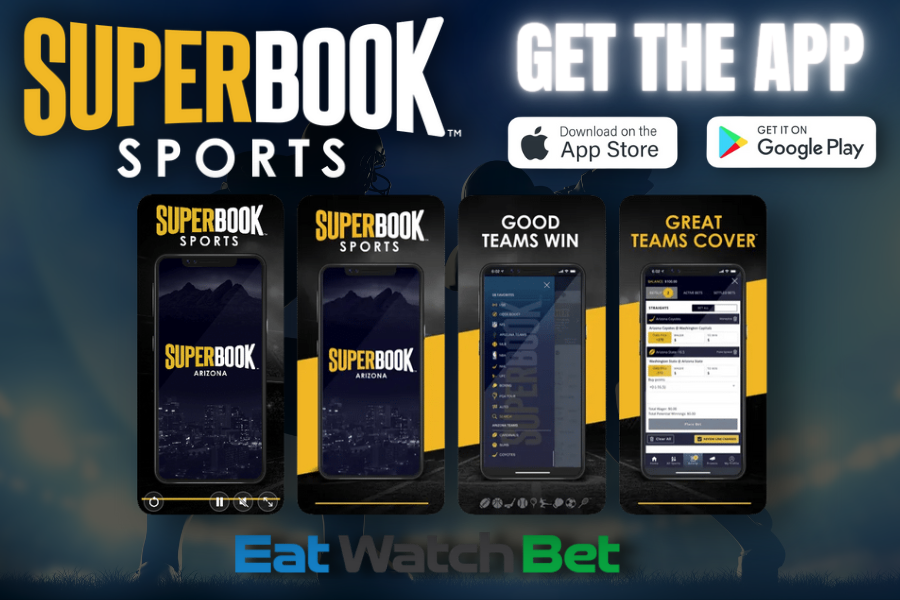 The SuperBook Sportsbook App.
At this point you're ready to make the jump to the SuperBook Sportsbook.
But first, let's talk about their mobile app. It's one of the most efficient and user-friendly sportsbook apps out there right now. With a few clicks you can access all the same lines and betting options available on the desktop website. Plus, it offers live betting so you can stay in on the action even if you're away from your computer.
Availability of the app.
The SuperBook Sportsbook app is available on both iOS and Android devices, so no matter what type of device you use, you can keep up with the action.
While the Apple iOS version of the SuperBook sports mobile app is available on the Apple App Store, the Android version is not available on the Google Play Store. You can still download the SuperBook sports app APK right from their website, though.
This is a minor inconvenience, but one worth bringing up in our SuperBook online sportsbook review.
User interface.
The overall user interface of the SuperBook Sportsbook app is quite straightforward. All the betting options and lines are easy to access, and even a novice bettor can figure out how to make wagers quickly.
The deposit and withdrawal options are also clearly displayed and easy to manage. So when you want to toss $500 on the Tampa Bay Buccaneers, you can do it quickly and easily.
Sometimes we've found a mobile app that was clunky, not very responsive, and slow to load. This is definitely not the case with SuperBook sports app. It runs smoothly, and it's easy to navigate.
User reviews.
We couldn't do a full review of the SuperBook mobile app without seeing what other users had to say about it. After all, user reviews are often the best judge of any product or service.
We looked around and found mostly positive comments about the app. People liked how easy it was to use and the range of betting options available. They also noted that deposits and withdrawals were quick and easy, with no hassles.
On the Apple App Store the SuperBook Arizona mobile app has 3.1 out of 5 stars. That's not too bad considering most reviews are inherently negative. Each state they're in has a different app you'll have to download to take advantage of their generous sign-up bonus and bet on games.
SuperBook Online Sportsbook FAQs.
With each sportsbook review we get a ton of questions and the SuperBook online sportsbook is no exception. We're always willing to help sports bettors and will answer questions as they come in, however, we put together a comprehensive list of questions we get asked all the time.
As more questions come in, we'll continue to update this FAQ.
How do I use SuperBook promo?
To receive a SuperBook promo, you first need to sign up for an account. Once you do that, you can find the available bonuses by clicking on the "Promotions" tab in the app or website. There are usually several promotions available at any given time, so make sure to take advantage of them if you can.
Some of the bonuses differ from state to state, so it's important to check each one separately.
What is a bonus voucher?
When you take advantage of SuperBook promotions where no SuperBook Sportsbook promo code is required, you'll be given a bonus voucher for your initial deposit. This bonus voucher can be looked at like bonus funds that you can use for future bets.
What can I use bonus funds on?
There are different types of bonuses available on SuperBook, and the terms and conditions for each one should be considered in order to determine what you can use them on. Generally, though, bonus funds can be used to bet on any sports market, including live betting.
Does SuperBook have an app?
Of course they do! In fact, they have an app for each state they operate in. So if you play in Arizona, you'll need to download the Arizona app. You can find them on the Apple App Store or by visiting their website to download an APK for Android versions.
Don't forget that the Nevada version is branded as the Westgate SuperBook mobile app, so make sure you look for that one specifically.
Do I need a SuperBook Sportsbook promo code?
Most of the time, no. There are some offers where a bonus code is required, but generally speaking, all you have to do to receive the bonus is sign up for a SuperBook Sportsbook account and make your first deposit.
What states is SuperBook legal in?
For the time being, SuperBook operates in Arizona, Colorado, New Jersey, Tennessee, Ohio, and Iowa. They plan to expand into other states as laws regarding online sports betting change.
How old do you have to be to play on SuperBook?
That is entirely state dependent. For each state they operate in they follow their laws and regulations. However, in each of the six states they operate in the minimum gambling age is 21 years old.
When you open your SuperBook sportsbook account with the SuperBook app, they'll verify your age, so don't try to get around it.
Review of the SuperBook Sportsbook Promo Code
We've got to hand it to SuperBook – they know how to create great promotions. Their signup bonus is generous, and their promos cover all sports markets, so even if you only bet on one sport, you can take advantage of their offers. The fact that you don't need a SuperBook sports promo code for most bonuses is another plus, as it makes the process easier and faster.
Overall, we give SuperBook a thumbs up and recommend trying them out if you're looking for an online sportsbook.
The Superbook app is easy to use, and their bonus offers are worth taking advantage of - especially since you only need a SuperBook account and not a promo code.
Don't forget that they have different apps in each state, so make sure you download the right one before you start getting into online sports betting.