The Rams are the betting favorites for Super Bowl LVI and heavy betting favorites to win the 2022 Super Bowl MVP. Matthew Stafford at +125 is the favorite to win the award, and, in total, 7 of the 11 players with MVP odds better than +10,000 are Rams.
This article will break down our best bet to win the Super Bowl MVP pick, best non-QB MVP bet, and best longshot (+10000 odds) MVP bet. Let's start by reviewing the current betting odds for the top players from the Rams and Bengals:
Current NFL MVP Betting Odds
Live Odds from FanDuel SportsBook
| Rams | Odds |
| --- | --- |
| Matthew Stafford | +125 |
| Cooper Kupp | +550 |
| Aaron Donald | +1500 |
| Odell Beckham Jr. | +2700 |
| Cam Akers | +2700 |
| Von Miller | +4000 |
| Bengals | Odds |
| --- | --- |
| Joe Burrow | +230 |
| Ja'Marr Chase | +2500 |
| Tee Higgins | +6000 |
| Joe Mixon | +4000 |
| Tyler Boyd | +10000 |
| Trey Hendrickson | +10000 |
Current Super Bowl MVP Odds
Before we jump to our MVP best bet, let's take a look at how bettors are betting on the MVP award, according to WynnBet Sportsbook. Surprisingly, the most heavily-bet player from the Super Bowl 56 MVP candidates is Aaron Donald, who has drawn 18% of the total bets and 24% of the total handle. He is followed by Joe Burrow (12% of bets and 22% of handle), Cooper Kupp (11% of bets and 12% of handle), Joe Mixon (2.5% of bets and 11% of handle), and Von Miller (12% of bets and 6% of handle).
The favorite, Matthew Stafford, currently has less than 6% of the total handle. Given his odds currently lie between +100 and +135 across the board, this is not a huge surprise, but we are surprised more bettors aren't hedging the 33% handle that currently sits on Bengals offensive players.
Stafford is the favorite for a reason as it's hard to find a game script where the Rams win the Super Bowl and he doesn't win the MVP. Looking at the past 20 Super Bowl MVP's, 13 were quarterbacks, 4 were wide receivers, and 3 were defensive players:
| Super Bowl | MVP | Position | Team |
| --- | --- | --- | --- |
| XXXVI | Tom Brady | QB | New England |
| XXXVII | Dexter Jackson | CB | Tampa Bay |
| XXXVIII | Tom Brady | QB | New England |
| XXXIX | Deion Branch | WR | New England |
| XL | Hines Ward | WR | Pittsburgh |
| XLI | Peyton Manning | QB | Indianapolis |
| XLII | Eli Manning | QB | New York Giants |
| XLIII | Santonio Holmes | WR | Pittsburgh |
| XLIV | Drew Brees | QB | New Orleans |
| XLV | Aaron Rodgers | QB | Green Bay |
| XLVI | Eli Manning | QB | New York Giants |
| XLVII | Joe Flacco | QB | Baltimore |
| XLVIII | Malcolm Smith | LB | Seattle |
| XLIX | Tom Brady | QB | New England |
| L | Von Miller | LB | Denver |
| LI | Tom Brady | QB | New England |
| LII | Nick Foles | QB | Philadelphia |
| LIII | Julian Edelman | WR | New England |
| LIV | Patrick Mahomes | QB | Kansas City |
| LV | Tom Brady | QB | Tampa Bay |
Why Stafford is the Best Bet, Even at +125 Odds
Stafford has a total MVP handle of less than 5%, but his odds have yet to move across the board, with most books still listing him at +100. Sportsbooks would rather be overexposed to Donald, Burrow, and Kupp than give bettors any reason to put money down on Stafford. This tells us a lot about who they think is winning this award.
The total for Super Bowl 56 sits at 48.5 points, with the Rams having an implied total of 26.25 points. With that in mind, the Rams are expected to score 3-4 touchdowns in this game, and the odds are pretty good that Stafford is a part of all of them.
The Rams RB's have a great matchup here, as Cincinnati is the worst run defense amongst this entire playoff field. We expect Akers to be productive on Sunday, but he and Michel have combined for zero rushing touchdowns in these playoffs compared to Stafford's two.
The only real Rams threat is Cooper Kupp, who could potentially win the award with 125+ yards and 2 touchdowns. The problem with that stat line is that it implies a monster game for Stafford as well.
Looking back at the last three WR's to win the Super Bowl, they had big games despite poor performances from their QB. Edelman's MVP came in a game in which the Patriots scored just 13 points and Brady threw for 0 touchdowns.
Santonio Holmes won in a game where Roethlisberger threw for 256 yards with 1 TD and 1 INT. Hines Ward won the MVP in a game where Roethlisberger threw for just 123 yards, 0 touchdowns and 2 interceptions. His touchdown came off of a pass from Antwaan Randle El. Stafford will outperform all of those stat lines in this game, making it extremely tough for one of his receivers to win MVP.
Stafford is the best bet to win the Super Bowl MVP award. We understand the desire to find someone with longer odds and share some longshot MVP picks below, but you are better off taking the easy win here and chasing the odds elsewhere.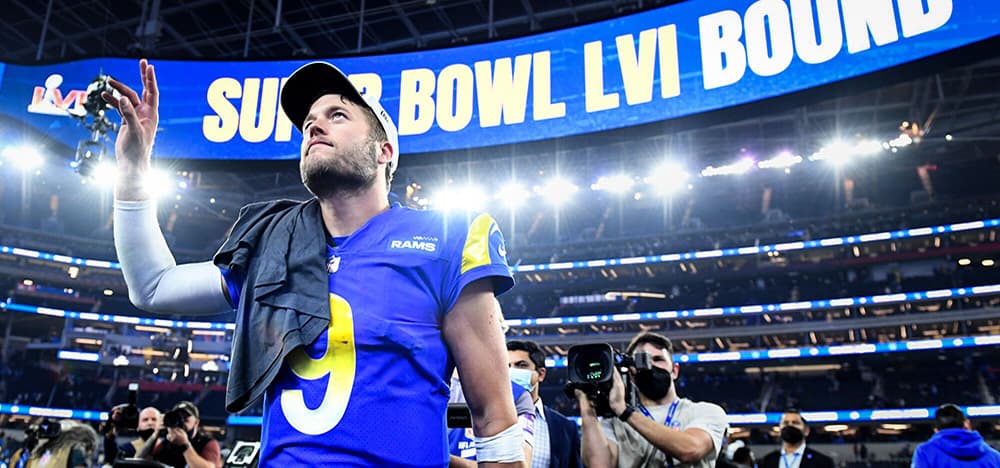 No Defensive Player is Winning this Year's Super Bowl MVP
No defensive player is winning the MVP, and we can say this definitively. While we have had 4 defensive players win Super Bowl MVP over the past 25 years, 0 of those players played on a scoring offense that was even in the top half of the NFL. That is clearly not the case with these two teams who are 6th (Bengals) and 7th (Rams) in the league in scoring this season.
Given the scoring ability of both of these offenses, a defensive player is not winning without filling the box score. Donald and Miller have combined for just 2 multi-sack games this season for the Rams. Neither guy averages over 5 tackles per game, and they have combined for just 5 forced fumbles in 31 combined appearances.
Best Non-QB Super Bowl MVP Bet: Joe Mixon (+4000)
This one hurts as we are shorting Mixon in both our Super Bowl player prop picks and same game parlay picks. The matchup is miserable for Mixon, as his offensive line is giving him 0 help (1.02 yards before contact) and the Rams are giving opposing RBs nothing (1.04 yards before contact).
That being said, Mixon has 20+ targets in all three Bengals playoff games and 17 touchdowns in 19 games this season. Even if he doesn't produce on the ground (which he won't), he can get us there with 1-2 short yardage touchdowns and a big game as a pass catcher.
While Mixon has just 55 receptions in his 19 games, the production tends to come in bunches. He has 9 games with 4+ receptions, two of which came in the playoffs. If the Bengals win, Burrow has a couple of turnovers, and the receivers are even somewhat balanced, Mixon could steal the MVP with 100+ total yards and a score.
The other thing to consider with Mixon is that you are getting him at a discount at this point in the buildup to the 2022 Super Bowl. The public believes (and rightfully so) that if either of these teams has any luck in the run game it will be the Rams. As a result of one-sided action on Mixon, Vegas has had to shift his odds throughout the week, resulting in much more favorable odds for bettors.
Best Longshot MVP Bet for the 2022 Super Bowl: Van Jefferson (+10000)
Whether you are looking for a longshot MVP bet or a sleeper for your DraftKings Showdown lineups, Jefferson is our guy. After averaging nearly 8 targets per game in November, Jefferson's role has diminished with Odell Beckham's increased usage over the past two months.
However, he is still a big-play threat for this offense, and did receive 126 air yards on five targets in the NFC Championship game. The Bengals secondary has been stingy throughout these playoffs, but did give up the third-most passing plays of 20+ yards in the league this season.
Clearly, if we don't like Cooper Kupp's chances of winning, we don't give Jefferson much of a shot here. That being said, Jefferson has the best matchup of the three Rams receivers. The majority of his snaps come on the right side of the offense, which lines him up with Eli Apple. Mike Hilton (slot) and Chidobe Awuzie (LCB) have been ridiculously good throughout the playoffs, so avoiding them is a major plus for Jefferson here.