Register using the promo code GOLD to receive one free month of SimBull Gold this December. What does this include? SimBull Gold is a membership plan that offers investors free trading. Typically, the $1/trade fee is used to fund win payouts on the SimBull market. Invest wisely during this month and every win your team picks up this season is 100% profit!
| | |
| --- | --- |
| Promo Code | GOLD |
| Offer | 1 Free Month of SimBull Gold |
| Last Verified | December 1, 2022 |
| Terms | Check SimBull FAQs for a breakdown of how SimBull Gold works. |
---
Tips for Investing at SimBull This Week
It's an exciting time to be a sports investor! As the sports calendar turns to October, each week is jam-packed with college football and NFL action. Also, don't forget about the MLB pennant races and upcoming playoffs!
Here are some undervalued teams in each sport at the moment. It may be a good time to buy a few shares of each of these teams.
The Philadelphia Eagles look to be one of the top teams in the NFL this season. They're 3-0 and should be able to handle the Jags at home in Week 4. The crazy thing is you can buy shares of the Eagles for only $33.37.
Don't look now but the Kansas Jayhawks look like a real college football team again! They are 4-0 and could pull off another upset over Iowa State in Week 5. Right now, you can buy Kansas at $14.50 per share.
As far as MLB is concerned, the Houston Astros continue to be one of the best teams in the American League. Now may be a great time to buy this team, especially since their shares our only $29.24 at the moment.
What is SimBull?
SimBull is a sports marketplace that allows you to buy shares of teams. It functions just like the stock market where you can aim to "buy low" and "sell high" to maximize your profits. SimBull is perfect for sports fans that want some skin in the game but prefer to be in action for the long term.
SimBull was founded by a group of three friends who each have in-depth experience in sports betting, investing, and finance. Kenneth Giles, SimBull's CEO, came up with the idea after watching the Cincinnati Bengals draft Joe Burrow back in April of 2020. Giles wished there was a way he could bet on the Bengals to be a good team "in a few years".
Through futures wagers the sports gambling marketplace does allow bettors to invest in sports teams for this season. However, there is no way to invest in how a team will perform years down the road. Furthermore, bettors pay a 10% premium on the majority of bets they place.
Giles got together with two finance friends, Dallas Klein and Patton Fitzpatrick, to bring his idea of creating a stock market for sports to life. This allows sports fans to invest in the future of different teams, without having to pay juice to a sportsbook.
How does SimBull work?
SimBull works exactly like the stock market, but instead of looking for undervalued companies, you want to find undervalued teams. Let's say you are a diehard Jaguars fan and believe they will dramatically improve on last year's disappointing 3-14 season. You can log in to your SimBull account and purchase as many shares as you want of the Jaguars for their current price of $30.99 per share.
If Jacksonville has a decent season and makes the playoffs, their price may rise to a hypothetical $77 per share. You can then "cash-out" your profits and receive a nice payout or hold your shares and hope the Jags makes a deep playoff run. You can also make money in the form of win payouts.
What is a Win Payout?
SimBull offers win payouts every time your team wins a game. In our above Jaguars example, you will receive $0.50 per share every time Jacksonville brings home a W. Profit from the Jags just like their shareholders!
Think of win payouts like you would a dividend in the stock market. The cool thing is with SimBull you don't have to wait once a month, quarter, or year to see those dividends like with the stock market. Each time your team plays a game provides you with an opportunity to earn a win payout.
What is the Win Payout Structure for Each Sport?
Since each sports league plays a different amount of regular-season games, the win payout structure varies from sport to sport and league to league. Each football win is worth more because of the lesser amount of games each year.
Football payouts (NFL and College Football) are $0.50 per win.
NBA payouts are $0.10 per win.
MLB payouts are $0.05 per win.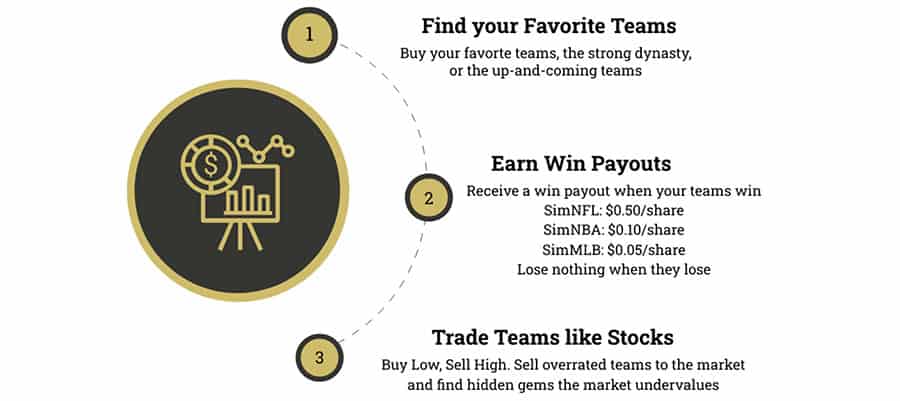 SimBull FAQs
We strongly recommend reading through the FAQs on the SimBull website thoroughly. They cover everything from depositing and withdrawing funds to how initial offerings and additional shares are handled.
Below are some key notes we think our subscribers should be aware of before completing their first trade.
Is SimBull gambling?
No, SimBull is not a sports gambling website. SimBull is technically completely removed from all sports betting and DFS legislation, which means it is legal in even more states than industry-leader Yahoo Fantasy. Players are not wagering on any single sporting event.
SimBull is 100% legal in all 50 states because it's an exchange that allows people to buy and sell shares of an asset. Similar to the way fantasy apps like PrizePicks give fans in non-betting states access to prop betting, SimBull gives sports fans in all 50 states access to futures betting.
How much are the trading fees on SimBull?
The current price per trade on SimBull is only $1. However, SimBull does offer a yearly plan for only $50. This is SimBull Gold, which includes unlimited free trades. New users that register using one of our promo codes can receive a free month of Gold.
If you are going to be trading frequently, go with the yearly plan to save on trading fees. Paying these small amounts in fees is way better than paying an extra 10% to your bookmaker in juice every time a bet loses!
What forms of payment does SimBull take?
SimBull accepts all major credit cards, debit cards, PayPal, and Venmo. SimBull processes all payout requests through PayPal for a processing fee of 3.4%. It is important to keep this fee in mind when trying to determine if you should take profits as cash or reinvest them in the SimBull market.
Our Initial Thoughts, and Early User Reviews
Sports fans that were early into SimBull are raving about this product and we can certainly see why. SimBull is fulfilling a demand that has existed for decades by offering people the opportunity to trade sports teams just like stocks. Though the company is still fairly new, SimBull has already processed over 50,000 win payouts for their users.
The SimBull website has a nice layout and is very easy to navigate. Signing up for a new account takes less than a couple of minutes. The Portfolio page lets you quickly view your account balance, the shares of your current teams, and your win payout amounts.
SimBull has the potential to shake up the sports investing world by providing a service that you cannot find anywhere else. It combines aspects of the stock and crypto markets with professional and collegiate sports.
SimBull offered college football last year for the first time. This could open the door to everything from college basketball and hockey to UFC and golf. Golf would require the ability to invest in individual players which would be an exciting update.
If SimBull could create a large enough market that they could allow fans to invest in players this space could explode. Imagine being able to invest in players just entering the league (think Dynasty rookie draft) and then following those players as they develop and their stocks grow in value.
For now, we are grateful SimBull was able to execute a killer idea that opens a totally new marketplace for sports bettors in all 50 states.