The NFL Week 6 Sunday night game features the Seattle Seahawks traveling to Pittsburgh to take on the Steelers. Outside of the effect the Russell Wilson injury will have on this matchup, which we will get to, these two teams enter week 6 with a ton of similarities.
Both teams are 2-3 overall, 1-4 against the spread, and totals have gone under in 4 of their 5 games. For Pittsburgh, this has to feel like a must-win game. After starting the season 1-3, they defended home field and picked up a big win against Denver in week 4 to move to 2-3. A home win against the Geno Smith-led Seattle Seahawks would get the Steelers back to .500 and potentially out of the NFC North cellar.

Bet $20 on Sunday Night Football, Get $200 from PointsBet
PointsBet is offering all new players an instant $200 bonus with any $20 bet on Sunday Night Football. Here is how the offer works:
1.   Register at PointsBet
2.   Use the promo code BVFBMULTI1
3.   Place any $20 bet
4.   Get $200 in free bets
Live Odds and Best Number Available for Both Spreads and Totals
As of publishing, DraftKings has the best available numbers for both the Seahawks spread (+5.5) and moneyline (+195). Unibet currently has the best numbers available for the Steelers' spread (+4.5) and moneyline (-222). The total is consistent between 42 and 42.5 across the market. Here is a look at the live odds for Sunday Night Football:
Current Odds for Seahawks at Steelers - 10/17/2021
Our Best Spread Bet: Pittsburgh -4.5
Let's start by saying this is by no means a reflection of what we think of Geno Smith. According to PFF, in his 20 dropbacks last week Smith graded out as well as Roethlisberger has all season, and 10 points higher than Big Ben's season grade. Our pick has everything to do with the defensive side of the ball for each of these teams.
After containing Josh Allen and beating the Bills in week 1, Pittsburgh's defense really struggled in its next three games. They have up nearly 400 yards passing to Derek Carr, then allowed Joe Burrow to throw for 3 touchdowns on only 18 attempts, before giving up nearly 400 yards to the Packers in a game where Green Bay had nearly 10 more minutes of possession.
Speaking of time of possession, in Pittsburgh's three losses Najee Harris averaged 2.95 yards per carry. In last week's win, Harris racked up 122 rushing yards on over 5 YPC. Pittsburgh owned time of possession and was able to win as home underdogs.
Despite ranking 31st in the NFL in rushing yards allowed, we actually think the Seattle defense does a better job against Harris this week than Denver did in week 5. Seattle's rush defense numbers are skewed because their five games this season came against the Rams, 49ers, Vikings, Titans, and Colts... a brutal schedule against the run.
The real issue is that, of those teams, only the Rams and Vikings rank in the top half of the league in QB rating, yet the Seahawks have allowed a QB rating of nearly 104 on the season. This secondary is arguably the worst in the NFL right now. Sidney Jones is starting and current grades out as the 114th (out of 115) corner in the NFL, when they go nickel Ugo Amadi is the 110th ranked corner in the league, and Jamal Adams is easily the worst starting safety in the NFL in coverage.
There are just too many issues here for us to take Seattle on the road with Geno Smith making his first start since 2017 and second start since 2014.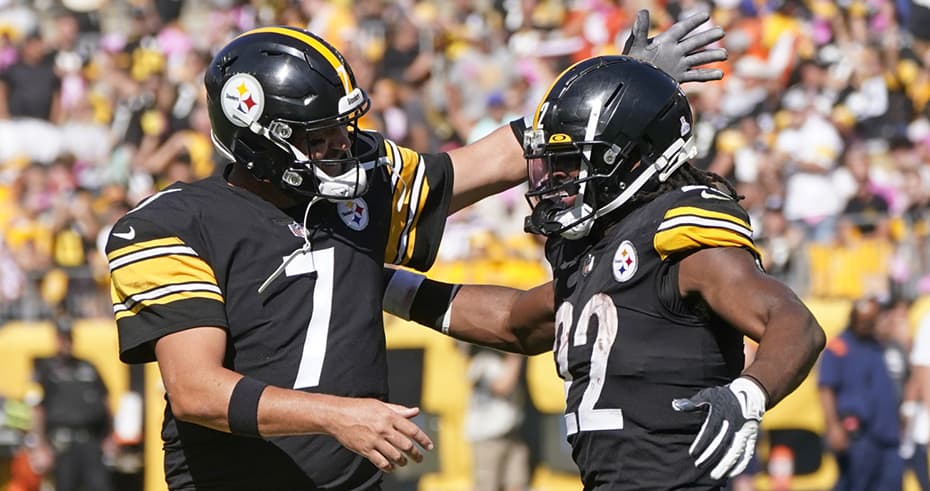 Our Favorite Prop Bets for Seahawks at Steelers on Sunday Night
While we believe Najee Harris' rushing yards prop is likely going to be the most popular bet for this game, we are hesitant given just how battle-tested this Seahawks run defense is. Outside of Johnathan Taylor, every RB Seattle has faced has reached at least 82 yards against them.
That being said, each of those backs was running behind one of the best run-blocking offensive lines in football. Pittsburgh's offensive line is arguably one of, if not the worst run-blocking groups in the league. Their highest-graded offensive lineman is Trai Turner who grades out 50th (out of 70) amongst NFL guards.
So, sorry to those of you looking for confirmation on your Najee wagers, he very well may go over we just aren't sold this Seattle run defense is as bad as the numbers show. Here are our two favorite prop bets for this matchup:
Ben Roethlisberger - Over 1.5 Passing Touchdowns
Just reviewing Roethlisberger's 2021 game log won't sell you on this bet, but if we go back to the 2020 season, he actually had 2 or more passing touchdowns in 13 of 16 games. He has also thrown 2 or more touchdowns in each of his last seven matchups with NFC teams.
With as bad as Ben has been to start this season, and it has been really bad, this has to be a spot where the Steelers try to get him hot. Grab this one early while it's still at -125!
Chase Claypool - Over 67.5 Receiving Yards
The Steelers have to get Claypool more involved close to the line of scrimmage for him to realize his total potential, he is third in the league in YAC Above Expectation and also 15th in Average Total Air Yards. Meaning he is ridiculously good with the ball in his hands but is primarily used as a downfield target. Perhaps with JuJu out his role in the offense will expand.
Regardless of his usage this week, bettors have to love this number coming in so low. Claypool has gone over 67.5 in each of his last three games. Smith-Schuster being out opens up around 7 WR targets per game and should result in an increase in both routes ran and targets for Claypool. Given the number of snaps he takes out of the slot, we expect Claypool to see either Jones or Amadi on 60%+ of his routes which should allow him to fly past this number.
Browse Latest Articles