Can the Niners compete for a Superbowl and prepare to play a raw rookie QB in meaningful snaps in the same year? The San Francisco 49ers will be a team to watch in 2021 as they rebound from an injury-ridden 2020 campaign.
This article looks into futures options on San Francisco and decides if it's time to buy in on the 49ers in 2021.

Bet $20 on Any NFL Game, Get $200 in Free Bets
Register using the PointsBIet promo code BVMULTI1 to receive $200 in free bets after you place any $20 NFL bet. Just follow these four steps:
1. Register at PointsBet
2. Use the promo code BVFBMULTI1
3. Place any $20 NFL bet
4. Get $200 in free bets
49ers Injury Recovery
The 49ers' injury concerns in 2020 were well documented. Joey Bosa, Solomon Thomas, Dee Ford, Jimmy Garopollo, Deebo Samuel, George Kittle, Jaquiski Tartt, and Richard Sherman all missed significant time in 2020. That was a laundry list of names and is still missing a few. To put it plainly, the 49ers were more significantly affected by injury than any other team in 2020.
As good of a coaching staff Kyle Shanahan put together, no combination of coaching or depth could have helped the Niners come close to repeating their 2019 Superbowl appearance.
That being said, despite the substantial injuries, San Francisco finished 11th in DVOA per Football Outsiders. On top of the injuries, the Niners faced one of the toughest schedules in the NFL due to both scheduling and the average record of their opponents.
The good news? The Niners will face one of the easiest schedules in the league in 2021. The win total is currently set for 10.5, which would imply a 4.5 game improvement from the 6-10 2020 team.
While I do think this team has the talent to make a big jump, I don't feel like a play on the win total is the best bang for your buck. In a weaker NFC Conference, it's possible that we could see three teams make it out of the NFC West.
This means that the Niners will likely play 8 highly competitive games against opponents who are vying for position. The potential variance there, plus the hook over the 10 does not make for a very enticing wager on the win total.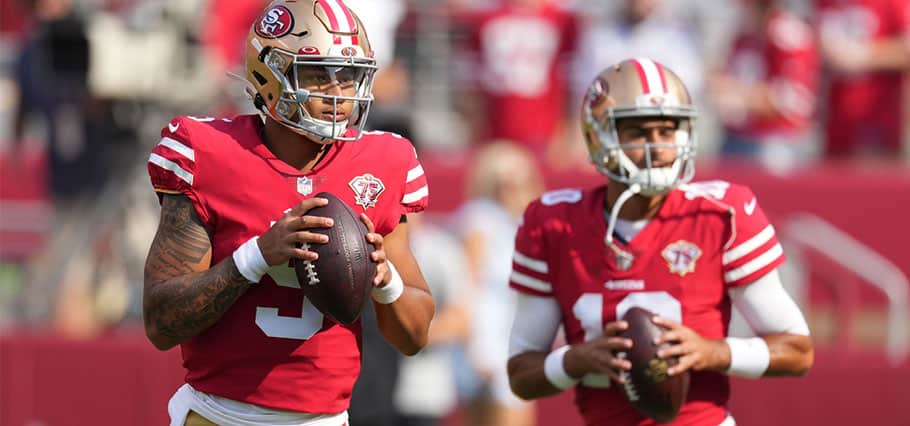 49ers Offseason Team Changes
One of the more obvious changes is the loss of Defensive Coordinator Robert Saleh, as he was hired to be the New York Jets Head Coach. The Niners hired internally to replace him, promoting DeMarco Ryans from LB coach to DC. It's unclear how strong Ryans' play call will be, however, I am encouraged that they hired from within and won't look to shake up their defensive scheme.
The team did lose Solomon Thomas and Richard Sherman, however, they retained much of their elite defense from 2019. Players like DE Joey Bosa, LB Fred Warner, and CB Jason Verrett are top 10 talent at their respective positions and should anchor this defense if they can stay healthy. 2020 1st round pick Javon Kinlaw has replaced DeForest Bucker perfectly from a scheme perspective and his production should continue to improve with experience. The 49ers let Richard Sherman walk, as his most productive years are clearly behind him.
They filled necessary gaps in the secondary by drafting two CB's, which should provide some much-needed depth for this unit. Obviously, no one on this roster can replace their big hitters up front, or their elite linebacking core, however, it feels like they are coming into 2021 with more depth.
On offense, the obvious addition is their QB of the future, Trey Lance. Lance is a controversial prospect, with many questioning his experience at NDSU and if his skills would transfer to the NFL level. There is also the issue of incumbent QB Jimmy Garapollo who performed well enough to lead this team into the Superbowl in 2019.
Head Coach Kyle Shanahan is one of the best offensive minds in the league and designed an aggressive rushing system to allow Garapollo to find success in his San Francisco career. Garapollo does not have the raw talent, mobility, or potential that Lance possesses, but the Niners know exactly what they are getting with him when he's healthy.
As this team will be competing for the division and potentially the Superbowl, it is yet to be seen how much Lance will be utilized in his rookie season. Shanahan has hinted that Lance will see the field in 2021, although he is listed as the QB2 on the Niners depth chart. Without seeing Lance compete against a real NFL defense, it's tough to say which quarterback presents the Niners with the best chance to win.
The Niners did well this offseason in terms of their offensive line, bringing in former Falcons Center Alex Mack, who Shanahan is familiar with. As previously mentioned, they also drafted some necessary depth to bolster their inside line. If they have Mack and LT Trent Williams healthy down the stretch, this could be a top-10 unit.
The hallmark of Shanahan's offense in San Fran has been the running backs. They retained Raheem Mostert and JaMycal Hasty and spent a 3rd round draft pick on Ohio St. RB Trey Sermon. Sermon could end up being the best overall back out of this bunch, but regardless, the Niners have a dynamic backfield with depth.
Wide Receiver is a bit of a concern for the team even though they will get Deebo Samuel back in the lineup. They signed WR Mohammed Sanu but otherwise failed to address a lackluster receiving core led by second-year WR Brandon Aiyuk. A healthy George Kittle could be the best pass-catcher on an otherwise run-heavy team, however, a severe lack of depth and talent in the WR room could prove costly in 2021.
49ers Futures Bet
The 49ers are a team to look out for in 2021 and will compete to win the NFC West. Given the divisional competition, +190 doesn't make much sense at this time. If the Niners start slow and/or make a QB shift, these odds will definitely change. The play? Shop around and bet the 49ers to win the NFC Conference at +600 or better.
Browse Latest Articles