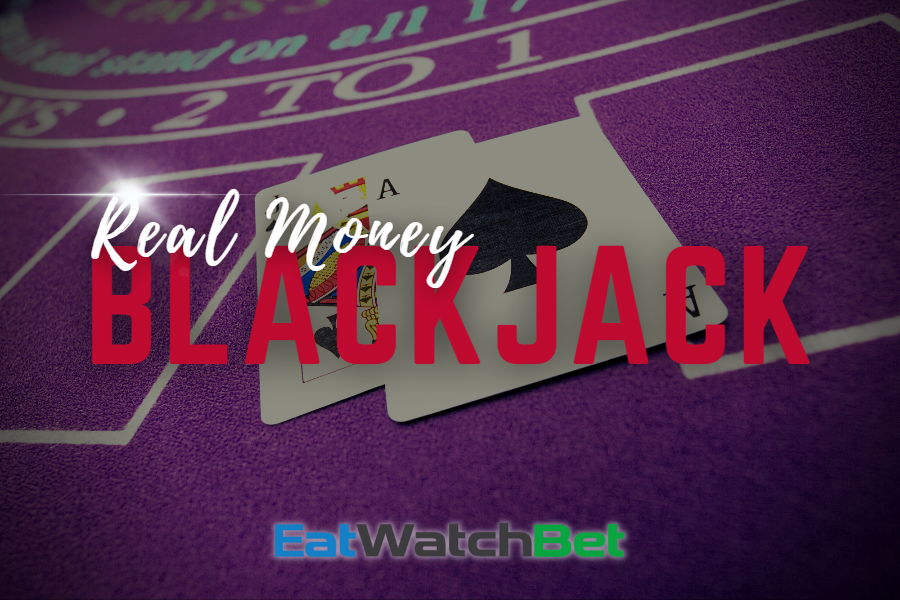 Blackjack is, without a doubt, one of the most popular casino games. The good news is that, for players in qualifying states, enjoying the online version is easier than playing in person. There are some things that new players should know before getting into the world of real-money Blackjack online.
You need to know what to look for in a good online casino, the variety of games, and more. Here is your guide to real money Blackjack online. Also, don't forget to check out our Blackjack Strategy page to learn even more about how to beat the house.
What to Look for in an Online Casino
There are more than a few online casinos that offer real-money Blackjack. But knowing what to look for in an online casino can help you make a sound choice. There are five things, in particular, to consider: security, game availability, bonus offers, mobile options, and payouts.
The most important aspect of choosing an online casino to play real money in Blackjack is security. Players want to know that they are playing a legal game within their state. Not only that, but their account information will be safe whenever they play. If there are questions about legality or safety, run.
Then there are the available games as well as bonus offers. Some of the best real money Blackjack online comes from casinos that have a plethora of options. Whether it be different wager types or themes, there is a Blackjack game for everyone.
As for the bonus offers, they are becoming quite enticing, particularly for new players. Bonus offers are great, but some of them require so many wagers that they become impossible to cash. Considering the bonus as well as the ability to clear said bonus is important when choosing a casino.
In this day and age, it is also imperative that the online casino in question be mobile-friendly. We do just about everything through our smartphones these days, including playing some of the best real money Blackjack online. Most of the top online casinos will have an app to be used via Android or iOS.
Finally, the payouts are important as well. Some make it quite difficult for players to get their funds. However, the best ones have fast, easy payouts that allow you to get your money when you want it.
Variations of Real Money Blackjack Online
If you think that Blackjack is simple and straight to the point, think again when it comes to the different versions. There are different rules, and those rules can have a major impact on the overall edge that the house gets.
The most important of those variations is the number of decks in the shoe.
There are also different dealer rules for hitting or standing, particularly on a soft 17. Each of these can have a major impact on how player-friendly that version of Blackjack may be.
There are also rules when it comes to splitting, doubling down, and surrendering. Each of these can push the house edge down or up by as much as 1.4%.
There are a few house-friendly rules, in particular, that bear avoiding. Any 6:5 payouts, dealers hitting on a soft 17, not allowing for doubling after splitting, no surrender, no re-splitting aces, or only doubling down on certain hands should all be avoided.
With that, here are some of our favorite real money blackjack games we like to play.
Classic Blackjack
Classic Blackjack, also known as traditional blackjack or 21, is the most common and widely recognized version of the game. If you play online blackjack, chances are this is what you're used to playing.
The objective is to have a hand value of 21 or as close to it as possible without going over and having a higher hand value than the dealer. Each player is dealt two cards face up, while the dealer gets one card face up and one card face down. Players can then choose to hit (receive another card), stand (keep their current hand), double down (double their bet and receive one more card), or split (if they have two cards of equal value). A natural blackjack (an Ace and a ten-value card) pays out at 3:2 odds, while all other winning hands pay even money. Classic Blackjack offers an easy-to-learn yet exciting gameplay experience that has made it a staple in both online and brick-and-mortar casinos worldwide. Whether you're playing single-deck blackjack or just looking to play some free blackjack, classic blackjack is a fun starting point.
Spanish 21
Spanish 21 is a variation of Blackjack that uses six or eight Spanish decks, which means that all the '10' cards are removed from the deck. This version is a bit tougher to find in online blackjack casinos, but it's there.
The game is played with rules that make it more advantageous to the player, such as allowing players to double down on any number of cards and offering a bonus payout for certain hands. Additionally, players can surrender their hand at any point in the game and receive half their bet back. These rules make Spanish 21 an exciting and fast-paced game that requires strategic thinking.
Double Exposure Blackjack
This is one of the best games if you like to play blackjack online. At least it's one of our favorites. Maybe it's the advantage, not sure, but there's something about seeing the dealer's cards.
In Double Exposure Blackjack, both dealers' cards are dealt face up, giving players an advantage when deciding how to play their hand. However, there are some rule changes that balance this out: the dealer wins all ties except for a natural blackjack, and players can only win even money on a natural blackjack instead of the usual 3:2 payout. This variation adds an extra level of excitement because players have more information about what they're up against.
Pontoon
Another one of the popular blackjack games is Pontoon. It might not be too popular in the US, but most online casinos around the world have this variant.
Pontoon is a British blackjack variant where both dealers' cards are dealt face down. Players must hit until they have at least 15 points and can buy a card if they have fewer than five cards in their hand. Additionally, getting a five-card hand totaling 21 or less pays out at 2:1 odds instead of even money like traditional blackjack. Players also have the option to "twist," which allows them to exchange one card for another after hitting. These unique rules give Pontoon its own flavor and make it a fun alternative to regular blackjack.
Super Fun 21
If you play real money blackjack, chances are you haven't seen this variant. It's super fun but super hard to find. Some of the bigger blackjack sites like Caesars have this one.
Super Fun 21 is similar to traditional blackjack but with added bonuses for certain hands. A player's natural blackjack always beats the dealer's unless they also have one, and getting six or more cards adding up to 20 or less pays out automatically at even money odds. Additionally, all diamonds payout at 2:1 odds if they're part of a winning hand. These bonuses add an extra layer of excitement to the game while still keeping it familiar enough for seasoned blackjack players.
Blackjack Switch
Blackjack Switch is relatively new to the game. It came out around 2009 but has almost a cult-like following.
Blackjack Switch is a variation of the game where each player is dealt two hands and can switch the top card of each hand with the other. This gives players more control over their hands and allows them to make strategic decisions that wouldn't be possible in traditional blackjack. However, there are some rule changes to balance this out: a dealer 22 is considered a push against any non-busted hand, and natural blackjacks only pay out even money instead of 3:2 odds.
Double Attack Blackjack
Double Attack Blackjack is played with Spanish decks like Spanish 21, but instead of removing all '10' cards, they're kept in the deck. Players have the option to double their bet after seeing the dealer's face-up card, giving them an advantage when they think they have a good chance of winning. Additionally, getting a suited blackjack pays out at 50:1 odds instead of the usual 3:2 payout. These unique rules make Double Attack Blackjack an exciting and fast-paced game.
Perfect Pairs Blackjack
Perfect Pairs Blackjack is similar to traditional blackjack but with an added side bet option on whether your first two cards will be a pair or not. There are three types of pairs you can get: a perfect pair (same suit and rank), a colored pair (same color but different suits), or a mixed pair (different colors and suits). The payout for each type varies depending on the casino you're playing at. This variation adds an extra level of excitement to the game while still keeping it familiar enough for seasoned blackjack players.
Progressive Blackjack
Progressive Blackjack is played like traditional blackjack but with an added side bet option that goes towards a progressive jackpot pool. To win the jackpot, players must get four suited Aces in a row starting from their first card dealt. There are also smaller payouts for other combinations such as three suited Aces or four unsuited Aces. This variant adds an extra layer of excitement to the game by giving players the chance to win big if luck is on their side!
Live Dealer Blackjack
There is another aspect of online real money Blackjack worth considering, and it is the live dealers. Some of these online casinos offer live dealer games, which include Blackjack. These involve real dealers using real cards on real tables, all right in front of cameras that are inside of a real-life casino. The online casinos broadcast each of these games live, allowing players to bet online.
The cool thing is that it is actually a live experience. If you don't want to go into a casino, there is nothing like getting online and enjoying the experience without having to leave your home.
Casinos that Offer Live Dealer Online Blackjack Games
We figured we would throw this out there because live-dealer blackjack is absolutely amazing. Here are a few of our favorite real money blackjack casinos that offer live dealer blackjack.
FanDuel
One of the best blackjack casinos just happens to offer live blackjack as well. FanDuel, better known for its role in DFS popularity, is also a top online casino that offers a great variety of blackjack games. You get to play with real dealers in real-time, making the online gaming experience that much more realistic and enjoyable.
FanDuel also has amazing bonuses almost all the time. They offer a $2000 Play it Again bonus for the first 24 hours, giving you more money to play blackjack and other casino games.
BetMGM
A huge fan favorite and one of the best online casinos for all types of games - including blackjack - is BetMGM. Being a major player in the sports betting industry, BetMGM also offers live dealer blackjack games. It is a great option for anyone looking to take their blackjack game to the next level and have more of an immersive experience with real dealers.
Just like FanDuel, you can typically find excellent welcome bonuses and other promotions on BetMGM. For example, they often offer a sizable deposit bonus and right now they even have a no-deposit bonus of $25. That's pretty rare, so don't pass up that offer.
Caesars
Another great option for live dealer blackjack is Caesars Casino. As one of the most popular casinos in Atlantic City, you'll find plenty of tables available that offer both traditional and live blackjack games. The live dealers are quite good at what they do, making it a great experience for players who want to bet on real money games without having to travel to a casino.
What sets Caesars apart from every other online blackjack casino is their rewards program. With Caesars Rewards you can earn points and rewards every time you play, both online and in person. It's a great way to get more bang for your buck, so if you're looking for an immersive experience with real dealers and plenty of rewards, Caesars Casino is a fantastic choice.
Real Money Blackjack Online Bonuses
One of the major attractions to real money Blackjack online is the bonuses. Most of the online casinos out there will offer some bonus for signing up with their casino. Sometimes they offer to match a certain percentage of your first deposit.
The important thing to remember is that most of the bonuses you receive will come with some clearing requirements. This means that you have to wager those bonus funds a certain amount of time before they are eligible for withdrawal.
Some of the best online Blackjack games will have minimal requirements, some even as low as a 1x requirement. Those are a bit few and far between, with most being anywhere between 10x and 25x before a withdrawal of those funds is possible.
The lower the wagering requirements, the better it is for making the most of those bonus funds. Each casino has its own requirements and bonus offerings with fine print.

Ready to Play Real Money Blackjack Games?
Get up to speed on your basic blackjack strategy and jump into these real money blackjack sites to get the most out of your online gaming experience. Whether you're a veteran that has tried all of the online blackjack sites or you're a novice looking to play online blackjack games to kill some time, there's something for everyone out there.
Playing blackjack online is a great experience and with all of the options out there, you're sure to find a site that suits your taste.