In our last fantasy football article, we dove into some of the best under-the-radar picks for the quarterback position. Though quarterback is arguably the most important position in fantasy football, you also need a running back on your team with a nose for the end zone!
Today, we will address the running back position and discuss five players who we think will add plenty of value to your fantasy squad in 2021. Put these picks into action today and receive $25 in free vouchers for season-long real money fantasy football at Underdog Fantasy.

Underdog Fantasy: Season-Long Best Ball
Stop wasting your time with mock drafts and hone your drafting skills at Underdog Fantasy in real money, season-long fantasy leagues. Use our promo code, EWB, to receive a 100% deposit bonus and free NFL best ball entry.
Draft Now
| RB | Team | Rank | ADP |
| --- | --- | --- | --- |
| Michael Carter | Jets | 33 | 89 |
| Trey Sermon | 49ers | 28 | 74 |
| Giovanni Bernard | Buccaneers | 57 | 200 |
| D'Andre Swift | Lions | 16 | 26 |
| Najee Harris | Steelers | 13 | 18 |
Additional Sleeper Picks
5. Najee Harris
Pittsburgh Steelers | RB Rank: 13 | ADP: 18
WOW! Talk about a perfect marriage! The Steelers drafting a big, tough running back like Najee Harris with the 24th overall pick made a ton of sense. Expect head coach Mike Tomlin to give Harris plenty of carries to help take some pressure off of the aging Ben Roethlisberger.
Harris helped lead Alabama to a National Championship victory in 2020 by finding the end zone an insane 30 times in only 13 games! Harris also brought home the Doak Walker Award as the nation's top running back and was named a 1st Team All-American. Pittsburgh was thrilled that Harris fell into their laps at pick number 24.
At 6-2 and 230 pounds, Harris has the ideal size for a running back, and he has a remarkable ability to catch the ball out of the backfield. Harris knows how to make defenders miss and loves to make guys look silly by hurdling over them when they dive at his legs. Expect Harris to have a huge rookie season for his fantasy owners and possibly even have a chance to win Offensive Rookie of the Year honors.
4. D'Andre Swift
Detroit Lions | RB Rank: 16 | ADP: 26
Swift only started four games during his rookie season in 2020, but the former Georgia Bulldog put up some good stats. The 22-year old ended up finding the end zone 10 times in only 13 games last year! Swift should play an even bigger role in the Lions' offense in 2021, so fantasy players should definitely consider drafting him.
Swift has great breakaway speed and is extremely difficult for defenders to tackle. New Lions QB Jared Goff will be looking to throw lots of screen passes Swift's way. We love drafting running backs who can catch the ball out of the backfield and Swift does that well.
Swift will love running the ball behind new standout lineman Penei Sewell, who the Lions drafted with the seventh overall pick in April. Sewell may be the best offensive line prospect since Orlando Pace, so this should mean plenty of holes for Swift to run through this season.
Detroit may have brought in Jamaal Williams at running back in the offseason, but we expect Swift to still get the majority of the rushing workload. Williams is a solid runner, but Swift definitely has more upside for the Lions' offense.
Running behind one of the most underrated offensive lines in the NFL, with the big-play ability and above-average receiving skills, Swift is one of our favorite sleeper RB's heading into the 2021 fantasy season.
3. Giovanni Bernard
Tampa Bay Bucanners | RB Rank: 57 | ADP: 200
Tom Brady has a knack for getting the best out of every player on the offensive side of the ball. Journeyman running back Giovani Bernard should be thrilled to get a fresh start with the defending Super Bowl champs. Heck, anyone would be thrilled to get away from the Cincinnati Bengals as they've been in rebuilding mode since the Boomer Esiason era!
Bernard put up some adequate numbers during his eight-year tenure with Cincinnati. He has a boatload of natural ability and should fit in perfectly with Tampa Bay's offensive scheme. Bernard can be used effectively as a runner or as a receiver.
The 29-year old scored three rushing touchdowns and also caught three touchdowns in 2020. Under Brady and coach Bruce Arians' tutelage, Bernard could have a real breakout season for fantasy owners in 2021.
Tampa Bay seems to be the ideal destination for Bernard to resurrect his career. We expect him to have a massive role in the Tampa passing game and think he could hold similar value to what James White typically did when Brady was in New England.
2. Trey Sermon
San Francisco 49ers | RB Rank: 28 | ADP: 74
Did anyone see Sermon in the 2020 Big Ten Championship Game? Holy cow, this kid is the real deal! The 6-1, 215 pounder rushed for 331 yards in that game, which is the most in FBS history for a championship game! Sermon scored 29 total touchdowns during his college career with stops at both Ohio State and Oklahoma.
Sermon has good speed and runs with a nice forward lean which helps him pick up extra yards each time he touches the ball. He also has above-average pass-catching ability and never shies away from laying a good block on a pass rusher. What is impressive about Sermon is that he has no glaring weaknesses!
Niners head coach Kyle Shanahan loves to keep his running backs as a focal point in his offense. Sermon has the natural ability to eventually take the starting job from Raheem Mostert. Even if Mostert retains the starting role, Sermon should get plenty of playing time.
Sermon is a great sleeper pick available well into the late rounds of your fantasy draft.
1. Michael Carter
New York Jets | RB Rank: 33 | ADP: 89
Most reports are saying that first-round pick Zach Wilson will start right away at QB for the Jets. This means that New York Jets head coach Robert Saleh will lean heavily on the running game to help take some pressure off of Wilson. This makes us love Michael Carter as a great sleeper pick at running back for your fantasy team.
Carter may be a bit slight in stature at only 5-8 and 200 pounds, but this kid has some serious speed to burn. The Jets coaching staff has already been raving about Carter's vision to find the holes and make cuts at just the right time. Sure, the Jets have some veterans at running back like Tevin Coleman and La'Mical Perine. However, we expect Carter to win the starting job coming out of training camp.
Carter is a threat to take it to the house each time he touches the ball. In fact, he led the entire country in yards per rush (8.0) last season while at North Carolina. Don't be surprised if Carter is one of the biggest surprises in fantasy football in 2021.
If you can grab Carter as your RB sleeper pick in the mid to late rounds of your draft, do it!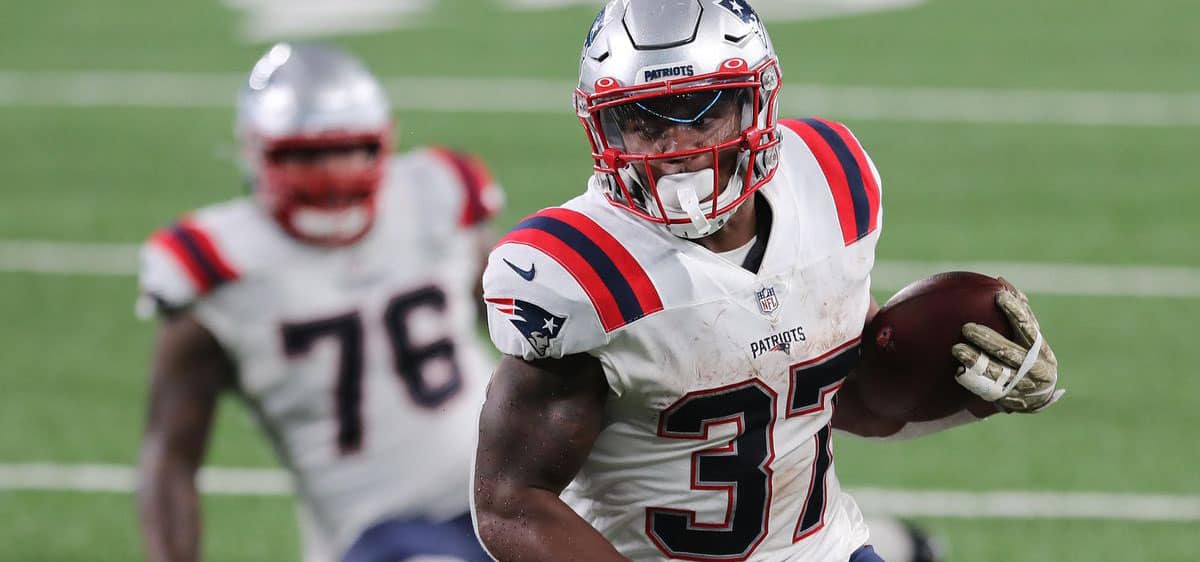 Deep Sleeper: Damien Harris
New England Patriots | RB Rank: 32 | ADP: 87
Remember when Harris was an absolute stud at Alabama and helped them win two national titles in 2015 and 2017? Harris hasn't gotten a real shot in the NFL yet, but he's spent the last two years quietly learning the Patriots' offensive system. The time on the bench may have done Harris some good since Nick Saban ran him pretty hard during his four years in Tuscaloosa.
The 24-year old is well-rested and poised for a breakout season in 2021. The 5-11 213 pounder did show some flashes of greatness in 2020 by averaging 5 yards per carry and scoring a couple of touchdowns. Yes, veteran Pats running backs James White and Sony Michel are still on the roster, but Harris should get more touches in 2021.
With an aging Cam Newton at QB, Bill Belichick is likely to lean on the running game early and often in 2021. One thing in Harris's favor is his ability to catch the ball out of the backfield.
If Newton's arm is on the decline, the Pats will opt to involve the running backs more in the short passing game. Harris can turn those small screens and swing pass into some long touchdowns.
Currently being drafted as a low-end RB3, Harris is one of the few sleeper running backs available after round 7 that could finish the season as an RB1 this season. As an added benefit for fantasy owners looking for RB sleepers, given Harris is no longer considered a high-upside player, he should retain his late-round fantasy value throughout the offseason.
Browse Latest Articles