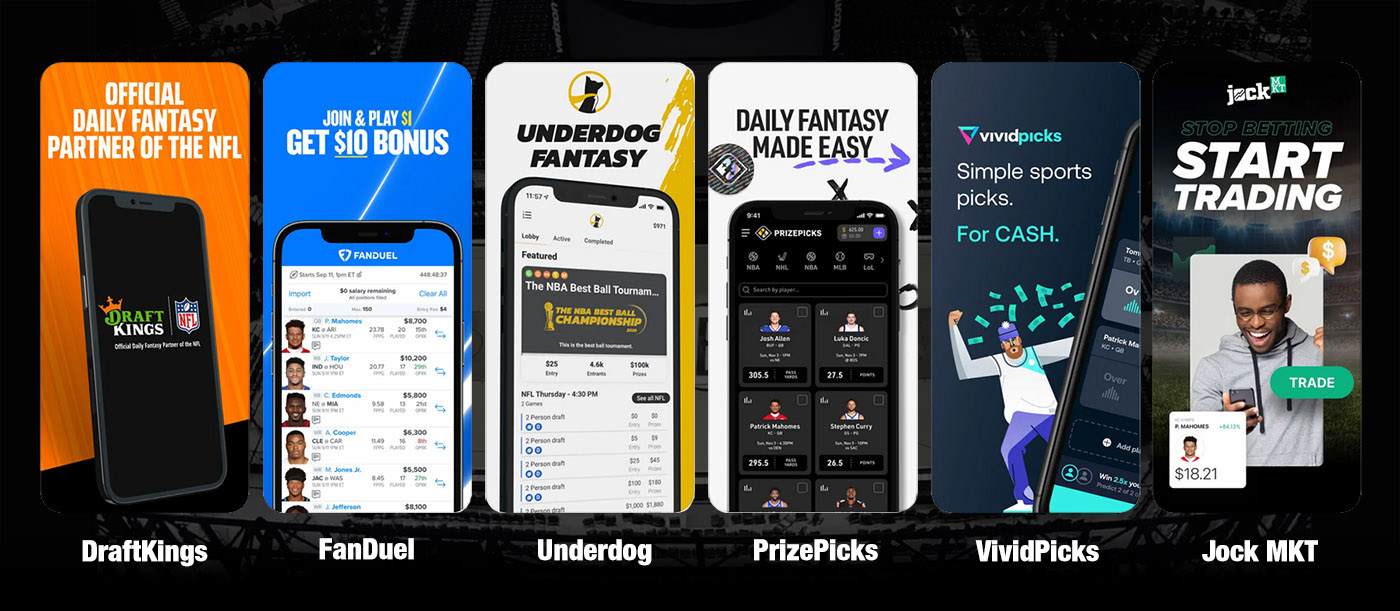 With over 45 million players entering nearly $5 billion in contests every year, Daily Fantasy Sports are more popular than ever as we head into 2023. With such demand, it should come as no surprise that new DFS operators are entering the market at a record pace.
With dozens of options available for both Android and Apple, finding the DFS app with the features and contests you are looking for can seem like an impossible task. Here are our current rankings for the top 10 DFS apps for 2023.
DFS app rankings and offers updated on March 28, 2023.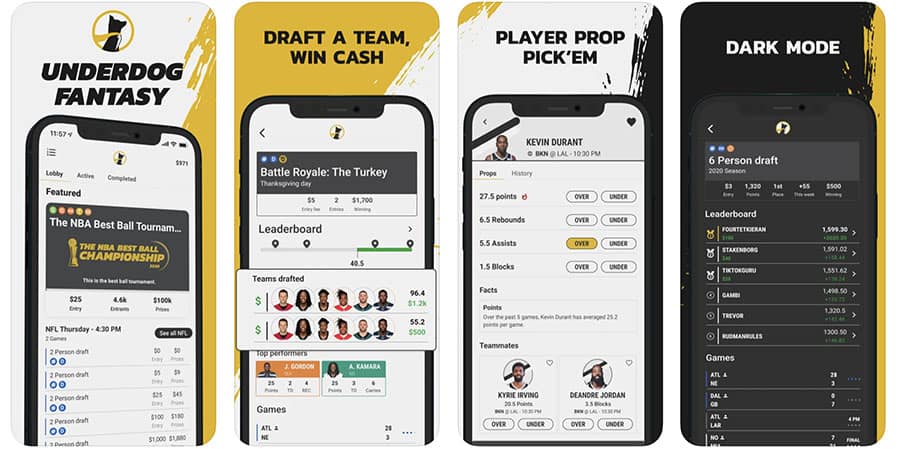 1. Underdog Fantasy
Underdog enters 2023 as our top-rated daily fantasy sports app. They offer an industry-leading selection of game formats, including our #1 rated best ball product and our #1 rated player prop option. Additionally, Underdog offers daily snake drafts for every NFL, NBA, NHL, and MLB slate.
A large player pool guarantees that these drafts will fill quickly, allowing you to find the contest you want, draft your team, and get on with your day. Snake drafts are available with anywhere from 2-12 owners and with entry fees ranging from $1 to $3,000.
The app itself is arguably the best-looking app in the DFS industry, offering a user-friendly layout and the ability to move between light and dark modes. Finding the contest you are looking for is as simple as selecting your sport, contest type, and entry fee. No sorting, filtering, or scrolling is required.
Player prop contests work exactly like a player prop parlay would work at a typical sportsbook. Select over or under for 2-5 players across one of several stats options, and the more you get correct, the more you win.
Reasons We Love the Underdog App
Best overall user experience from a DFS app.
Innovative contests that fill a niche no other app does in the industry.
Every contest is easier to win and has a higher payout than those on competing apps.
Wide variety of options for depositing and withdrawing funds.
Areas the Underdog App Could Improve
While Underdog's current bonus offer is arguably the best in the industry, they have a history of being less aggressive than both Fanduel and DraftKings with new player promotions.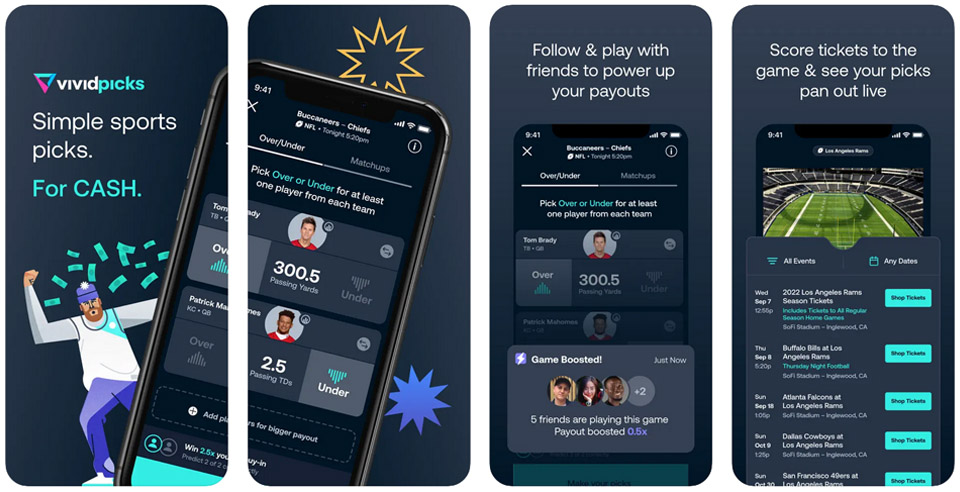 2. Vivid Picks
Formerly known as Betcha, Vivid Picks is a small but mighty player in the Daily Fantasy Sports industry and our fastest-rising app on this list. For us, the way that they executed their over/under contests is the most innovative way a DFS app has approached player props.
With Vivid Picks, you will choose the two players you want to start with from a list of available combinations. Once you place your pick on each of these two players, you are able to add additional players of your choosing. Pick the over/under correct on five players and win 9x your total entry.
While this unique approach certainly separates Vivid Picks from its competition, the social nature of the app might be its most unique feature. Vivid Picks allows you to add friends, track their entries, and even compete against them to see who can make the most correct choices each week. Even better, they will add $100 for every friend you invite to the Vivid Picks app.
The downside of this app is a lack of variety. There are typically only three combinations of players available for each sporting event, and outside of the over/under format, there are no other games currently available in the app. That being said, Vivid Picks is backed by its parent company Vivid Seats which gives the means to invest in and improve the app moving forward. Following the acquisition and rebranding, this app enters the 2023 MLB season with a ton of momentum.
Reasons We Love the Vivid Picks App
Best rewards program from a DFS operator.
Enter contests across sports, win up to 9x your entry with 4 correct answers.
Over 10 sports to choose from, including college sports, esports, and F1 racing.
Exclusive social features: track friends' contests, collect trophies, make the wall of fame.
Areas the Vivid Picks App Could Improve
Bonus is just average
Limited contest options compared to Underdog Fantasy.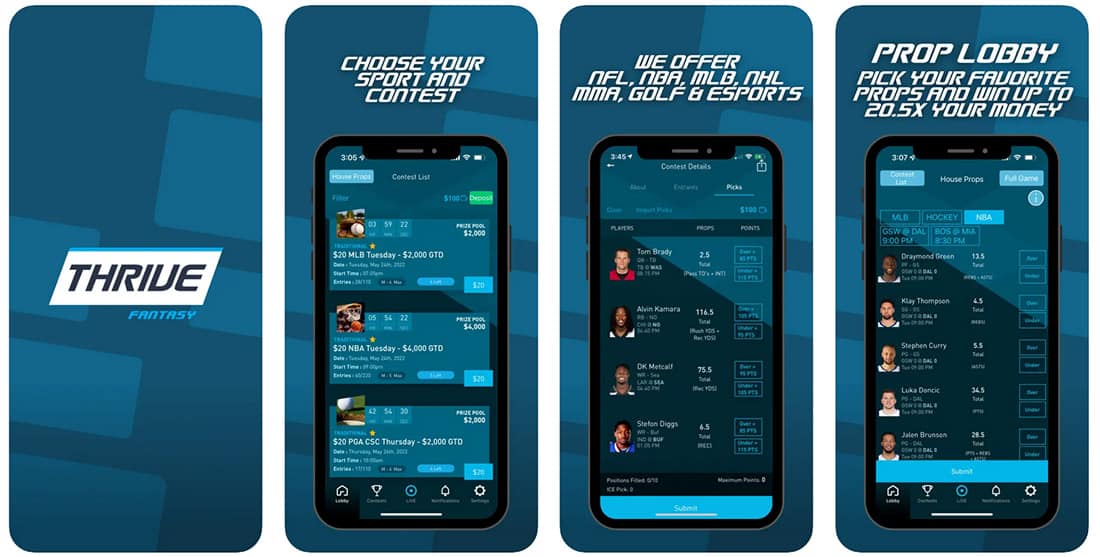 3. Thrive Fantasy
Thrive Fantasy is another prop fantasy product with a solid website and mobile app. Thrive offers 9 different sports and the widest eSport selection available on a DFS app. At the moment, this includes 4 different eSports: CSGO, Dota, LoL, and Valorant.
The app is easy to navigate, looks great, and offers some interesting in-game features. Payouts for prop contests are on-par or better than what you will find at competing apps in this space.
The one feature that sets Thrive apart is its prop contests. With these, you will place several over/under prop bets, and the most accurate user will win the contest. These contests can have top prizes of $10,000 or more and are a fun twist to traditional prop fantasy offerings.
As of March 2023, Thrive is available in 30 U.S. states, but unlike Underdog and PrizePicks, their app is not yet available in Canada. We will have to wait and see what (if any) new markets Thrive is able to add prior to the start of the 2023 NFL season.
Deposits and withdrawals are easy with Thrive, as they accept PayPal, E-check, or Credit Cards. Bonus funds are immediately made available in your account but are subject to a 4x rollover.
Reasons We Love the Thrive Fantasy App
Wide variety of sports, with a large number of prop options.
The best eSports product in the industry.
Solid reviews across the App and Play Store.
Higher payouts than most competing apps.
Areas the Thrive Fantasy App Could Improve
User experience on website and app not as polished as Underdog and Prizepicks.
Location and identity verification feel clunky.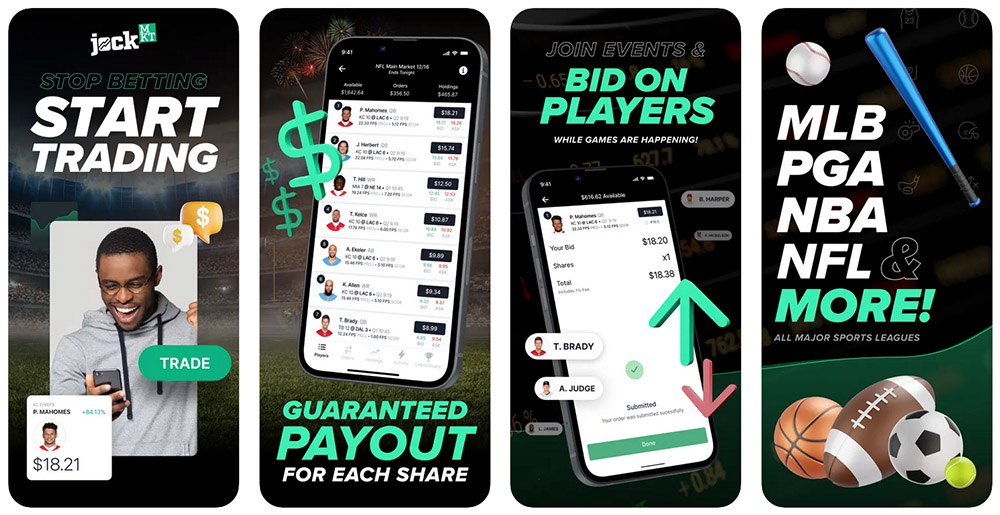 4. Jock MKT
Jock MKT is our number 1 rated fantasy stock app for 2023! Buy low and sell high on any player across any sport using the Jock MKT app. Here's how it works:
Buy your player's stock during the IPO (before games start) or live as the action plays out.
Watch as your player's stock rises and falls over the course of the game.
Win money based on where your player finishes in total fantasy points.
Jock MKT is the only daily fantasy sports app that allows you to play while games are happening! In a world of live betting and micro betting, only Jock MKT can bring you live DFS action.
Think a player is going to have a big second half? Bid on them during halftime and watch as their stock rises. Or, sell high on a player that got off to a hot start.
There are endless ways to play and make money on Jock MKT. Perhaps what we love most is the unique approach to fantasy sports. In an industry that has grown stale with the different iterations of the same product, Jock MKT is a unique approach to daily fantasy sports.
Reasons We Love Jock MKT
Polished app with smooth trading experience.
Industry-leading deposit bonus offers.
Great reviews among current users.
Never lose your entire stake - everyone wins on Jock MKT.
Areas the Jock MKT Could Improve
While you can 'set it and forget it,' the most successful players are those that are extremely active during the IPO and as games are in action. Meaning Jock MKT takes more time and effort than traditional DFS.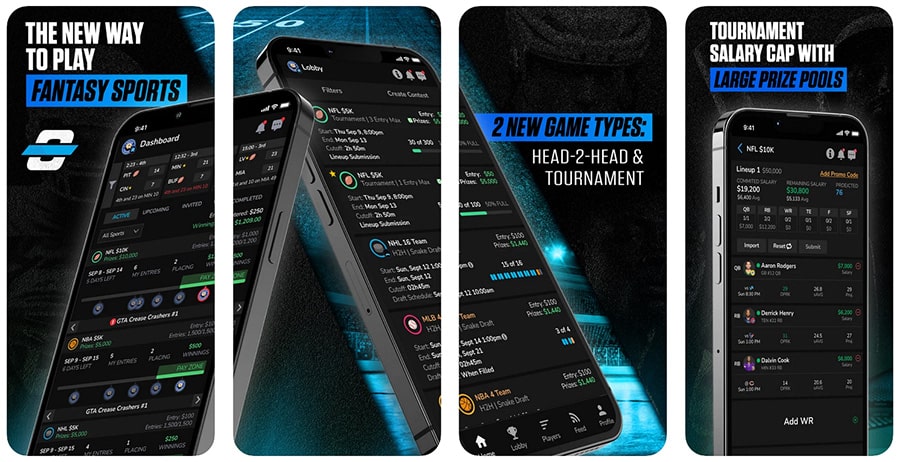 5. OwnersBox
OwnersBox Fantasy Sports markets themselves as home to the Superflex, and features a structure similar to what you will find in best-ball leagues at Underdog. Every contest is a 2-16 team league that will last anywhere from one week (2 teams) to 4 weeks (16 teams). Owners build their team in a live snake draft format (the last pick this round gets the first pick next round).
Obviously, the huge caveat here is that you are drafting a Superflex lineup, putting a premium on quarterbacks. Combine that with the varying length of the tournament, and these leagues are quite challenging. OwnersBox utilizes a relatively straightforward point-per-reception (PPR) scoring system for NFL contests.
While short on the bells and whistles you will find with the top names on this list, the website, iOS app, and Android app all work well. Finding a draft, tracking scores, and withdrawing winnings is easy to do regardless of the device you are using.
The OwnersBox app offers a unique twist to traditional DFS. One that blends the best of both daily and season-long fantasy sports.
Reasons We Love the OwnersBox App
Standard 10% rake across all contests.
One-week and multi-week contests available.
Payments and withdrawals are available through check, credit, or debit.
OwnersBucks system makes it easy to collect and cash in rewards.
$500 deposit bonus offer is one of the largest in the industry.
Areas the OwnersBox App Could Improve
Contests limited to snake drafts.
No college sports are available on OwnersBox.
Only available in 35 states.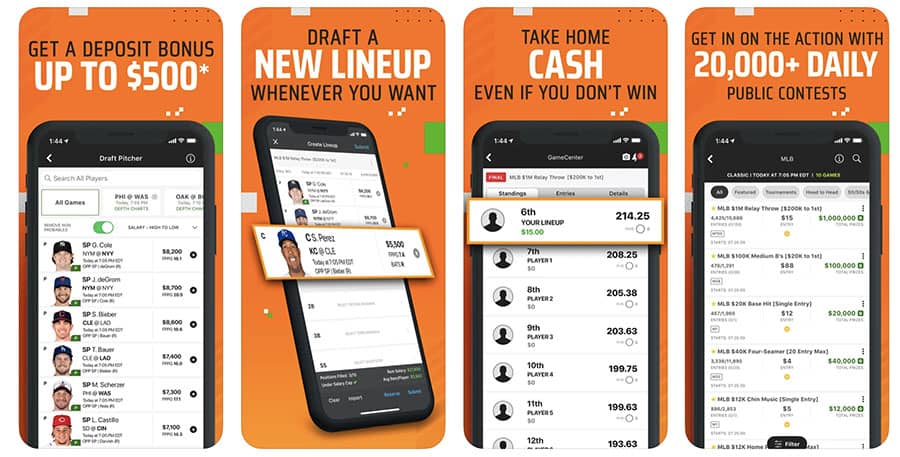 6. DraftKings Daily Fantasy
DraftKings was founded in 2012 and is one of the best-known companies in the DFS industry. Major League Baseball helped put DraftKings on the map by investing in them in 2013 for an undisclosed amount. This was a historical moment because it was the first time a U.S. pro sports league had invested in daily fantasy sports.
DraftKings offers more variety of contests and games than any other DFS app. Their bonus structure is also one of the best in the DFS market today. First-time users can receive up to $500 in free credits on the DraftKings app and a free entry into a contest with a $1 million top prize.
A massive player base allows DraftKings to offer the largest prize pools in the DFS industry. DraftKings runs a Millionaire Maker contest every week of the NFL season, every golf major, and several other major sporting events.
The DraftKings app currently has a 4.9-star rating in the App Store, which puts them on par with Underdog and Lucra as the highest-rated apps in the industry.
Reasons We Love the DraftKings DFS App
Largest contests in the industry, including weekly $1 million top prizes.
Well-designed app with great in-game features.
Wide availability across the US, including sports betting in 14 US markets.
4.9 Rating with over 600,000 total reviews in the App and Play Store.
Areas the DraftKings DFS App Could Improve
Complicated structure to bonus offers.
In terms of fees, both DraftKings and FanDuel charge more rake than any other DFS app on this list.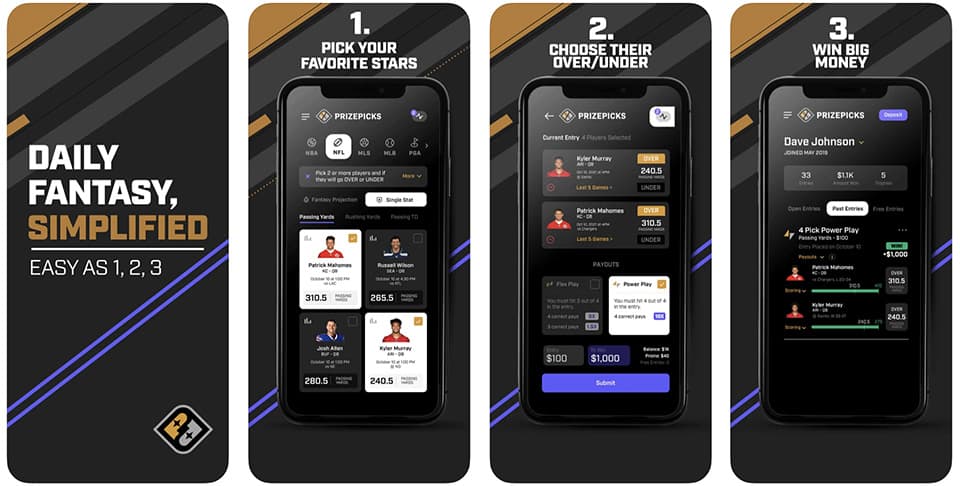 7. PrizePicks
PrizePicks was arguably the fastest-growing app in the daily fantasy sports industry in 2022 and enters 2023 with a ton of momentum. The company added a handful of big-name investors in February, including Tracy McGrady, Matt Ryan, and Gabby Douglas.
The PrizePicks app is extremely well executed and by far the top contender to Underdog in terms of design and overall user experience. Players really seem to enjoy the variety of sports and contests on the app. At the moment, PrizePicks offers more sports than any other DFS product, including eSports and college sports. They are also the only prop-style DFS app that offers contests for the first and second halves of games.
The only box that PrizePicks does not check, and what has them lagging behind our top three rated apps in DFS, is in contest variety. Pick'em format contests are the only thing PrizePicks offers, and while they are great in that space, players looking for a salary cap option or season-long option need to turn to either Underdog, FanDuel, or DraftKings.
Given the sudden influx of new players and investors, we expect PrizePicks to put that money to work in 2023 with an aggressive marketing plan and perhaps a handful of major project updates. Given how well-executed the current app is, PrizePicks could be a real contender by the time the 2023 NFL season gets here.
Reasons We Love the PrizePicks App
Great bonus offers with straightforward terms.
Only props app to offer first-half/second-half contests, tennis, and soccer.
Flex play gives you insurance on 3 or more picks.
24/7 support available through chat in-app and on the website.
Areas the PrizePicks App Could Improve
App is currently available in a limited number of states.
Lack of options outside of prop pick'em contests.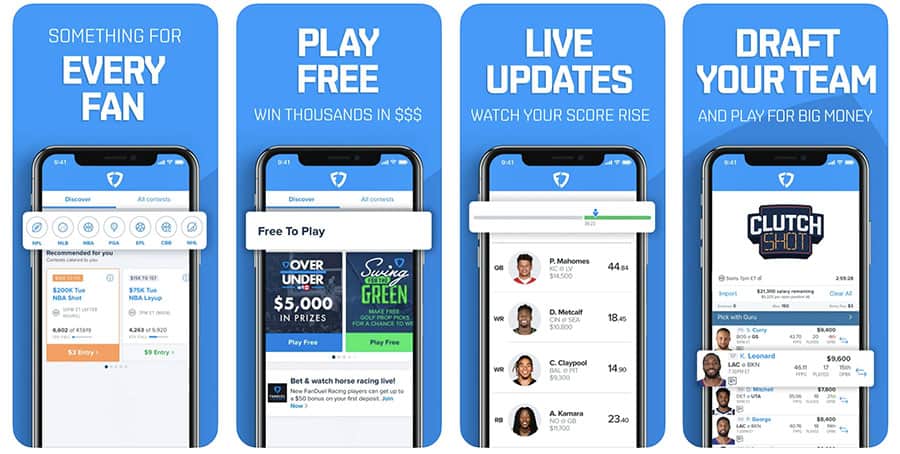 8. FanDuel Daily Fantasy
FanDuel has been around since 2009, and they have stood the test of time as one of the best companies for daily fantasy sports. FanDuel currently has 6 million users and a staff of over 1,500 employees. FanDuel has built one of the most reputable brands in the DFS industry because of its dedication to customer service.
FanDuel boasts a nifty rewards program that includes a generous refer-a-friend bonus. Because of the size of its user base, FanDuel can offer a wide variety of options to suit your DFS needs. There's a quality DFS game for every type of player at FanDuel.
FanDuel's DFS home page is one of the best in the business today because it is so robust. This is convenient for all of FanDuel's members. It's nice to see all of your fantasy sports info on the same page. Like DraftKings, FanDuel offers a weekly million-dollar contest throughout the NFL season. They also offer some of the largest college football and college basketball contests in the industry.
Perhaps our favorite thing FanDuel does is cater to new players. As a new DFS player, you can choose to compete only against other new players in FanDuel's beginner contests. If you are going to play DFS, you can't go wrong with FanDuel.
Reasons We Love the FanDuel App
Wide variety of sports and contest formats to choose from.
Industry-leading customer support and cashier options.
Outside of salary cap contests, FanDuel offers season-long best ball (snake drafts) for most sports.
In addition to DFS, FanDuel is currently the largest sportsbook operator in the US.
Areas the FanDuel App Could Improve
FanDuel's bonus offers available to new daily fantasy players tend to trail the majority of apps in the industry.
While prize pools are better than the majority of operators on this list, they trail significantly behind the top contests at DraftKings.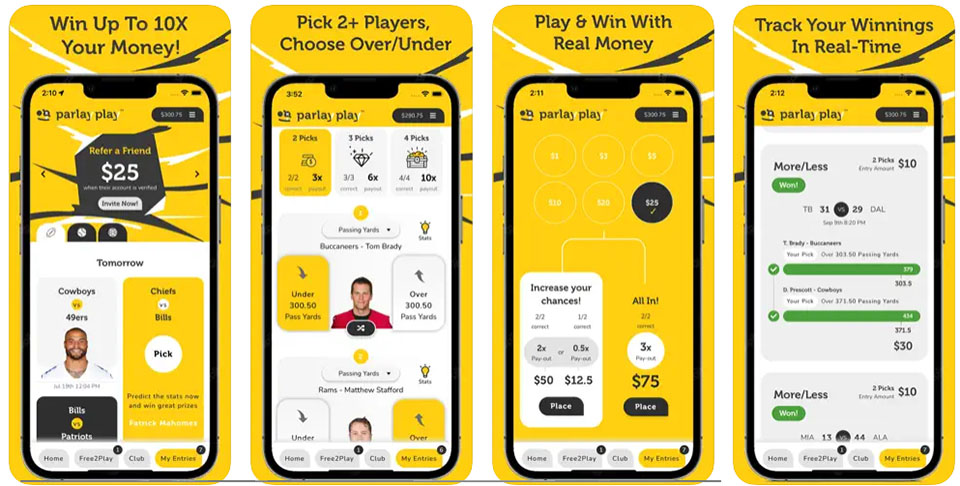 10. ParlayPlay
ParlayPlay's iOS app has been live for less than a year, but with a 4.8 rating on the App Store, it may be one of the best new fantasy apps of 2023. If you are looking for an alternative to PrizePicks, ParlayPlay may be the app for you.
Similar to other prop-based fantasy games, the ParlayPlay format allows you to pick the over/under for 3+ players across a wide variety of stat lines. The more predictions you get correct, the more you win or parlay all of your picks for the max payout.
In addition to the app, ParlayPlay allows users to enter contests from its website, whether on a desktop or mobile phone. With a mobile-first design, the overall user experience is exactly the same on the website and the native iOS app.
New players can sign up using the promo code EWB to receive a $100 deposit bonus and free $10 entry. This offer is valid through the end of March.
Reasons We Love the ParlayPlay DFS App
Easy-to-use app allows for unlimited prop betting options.
Available in 26 U.S. states.
Users only have to be 18 years old to enter prop contests.
Great mobile app for iPhones and iPads.
Areas the ParlayPlay DFS App Could Improve
Limited variety of sports and players.
Props are currently the only contest available.
No Android app.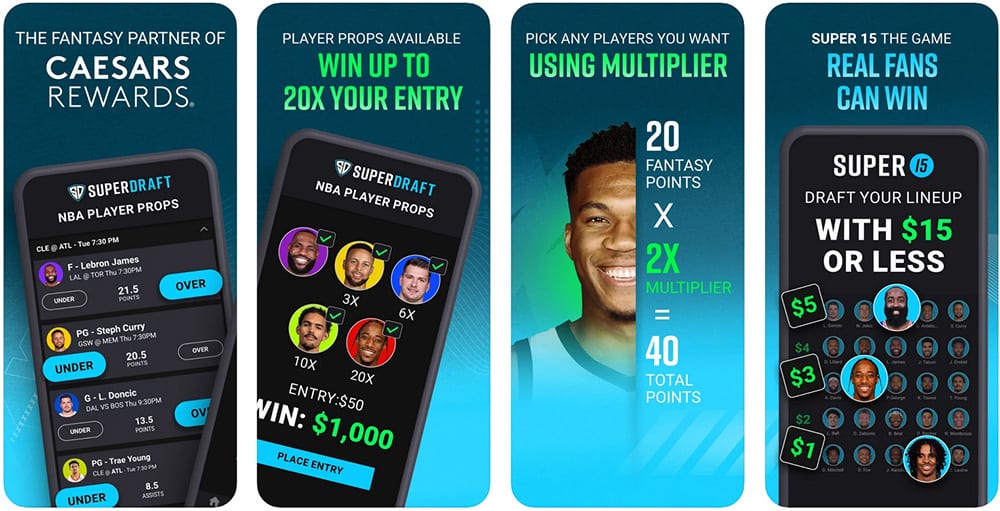 11. SuperDraft
SuperDraft is a DFS app that was created by the folks at Caesars Sportsbook. While SuperDraft offers traditional DFS games with a salary cap, they also offer a plethora of other options for folks that want to go a different route. Some of SuperDraft's DFS contests have different scoring multipliers, which can make the overall experience more exciting.
SuperDraft has been around since 2019, and they've quickly grown into one of the major players in the DFS world. We love that SuperDraft is integrated with the Caesars Rewards Program, one of the best in the country. We also love that SuperDraft offers a variant called Freerolls, which allows new DFS players to compete in tournaments for free.
There are only a couple of concerns with SuperDraft. One, they don't process withdrawals very quickly. Some customers have said that it took 8-12 business days to receive their money. SuperDraft also doesn't accept Paypal or ACH.
Reasons We Love the SuperDraft DFS App
Wide variety of DFS games.
Players can choose a standard salary cap game or a simpler option.
SuperDraft players are enrolled in Caesars Rewards.
4.7 Rating in the Apple App Store.
Areas the SuperDraft DFS App Could Improve
Takes too long to complete withdrawals.
Does not accept PayPal or ACH transfers.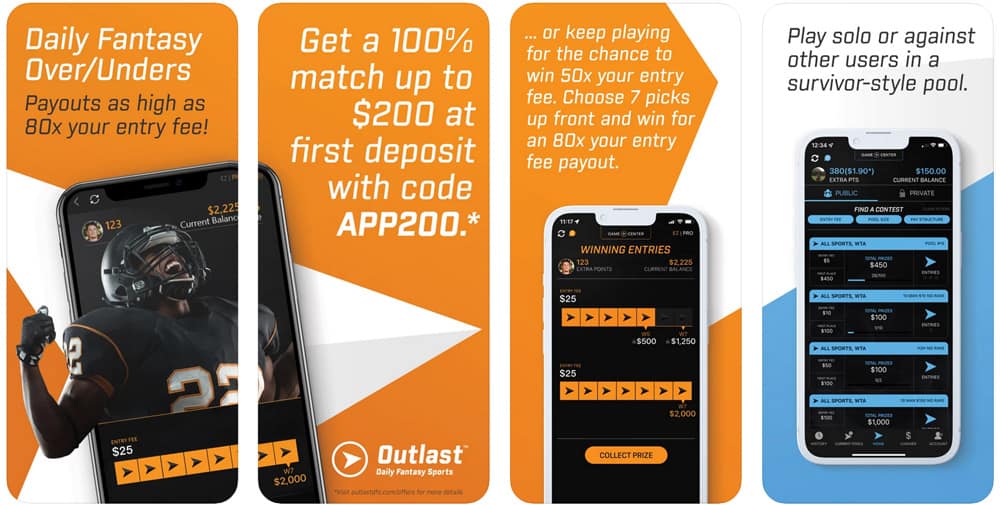 11. Outlast DFS
Outlast DFS was built on the premise that traditional Fantasy Sports are just way too complicated. The average sports fan is too busy with jobs, kids, and life, in general, to be spending time studying up on rosters and salary caps. Outlast cuts out all the fluff and makes everything quick, simple, and easy.
While other traditional DFS apps may offer a gazillion different games, Outlast only offers three. If you prefer to simply play against the house, you can enjoy the Outlast Over/Under game. For example, you can bet on whether or not Chris Paul will have over or under 8.5 assists.
If you are a DFS player who prefers to play against other fans, you'll love Outlast Survivor Pool or Purse. With Outlast Survivor Pool, you can choose from three different payout structures: Winner Take All, 50/50, or Tiered. Purse is an outstanding DFS game for passionate golf fans.
There aren't many downsides to the Outlast DFS app. The only thing that is kind of concerning is that Outlast only accepts three types of deposit methods. While that is a mild inconvenience, they do accept all major credit cards.
Reasons We Love the Outlast DFS App
Can play by yourself or against friends.
Available in 22 states.
Users only have to be 18 years old (19 in Nebraska) instead of 21 like traditional sports betting
Brings simplicity to the DFS industry.
Areas the Outlast DFS App Could Improve
Only 3 deposit options
App could be a little bit faster.
DFS Apps FAQ
If you've never played fantasy sports before, you may be a bit overwhelmed by the amount of information out there. It's a lot to digest. That's the main reason we created this page and this FAQ section. Our goal is to quickly provide you with the information you need before deciding on which DFS apps to play with.
What is the best DFS app out there right now?
That's a tough question because there are so many good ones on the market. For November, our top DFS app is Underdog Fantasy. Underdog offers incredibly generous lines on its player prop parlays, which is something that all DFS players will appreciate.
Which DFS app has the top bonus offer?
We think the most generous bonus comes from OwnersBox. They offer a deposit bonus of up to $500, which is insane! Most of the other DFS apps in the industry top out at a $100 bonus.
Are DFS apps legal in the US?
In most states, Yes, DFS apps are legal. However, there are a few states that prohibit DFS apps, such as Washington, Hawaii, Idaho, Nevada, Montana, and Louisiana. Check the terms and conditions on each respective DFS site before signing up.
Who can play DFS?
Anyone who is 18 years old or older and physically located in a state that allows daily fantasy sports. There are some exceptions, however. States like Alabama and Nebraska raised their age limit to 19 and Massachusetts and Iowa increased theirs to 21.
What sport is the most popular for DFS?
NFL is the king of the DFS world, much like it is in sports betting. However, the NBA has attracted a substantial amount of DFS players over the last couple of years. MLB has a steady following of DFS players as well.
Is it hard to sign up for an account with a DFS app?
Nope! Luckily it's incredibly easy. All you need to enter is some basic info and decide on which depositing method to use. The entire process shouldn't take longer than 5-10 minutes.