Sports betting is being legalized at a rapid pace in the USA. However, fantasy sports remain incredibly popular for folks all over the country. In 2017, over 59 million people played fantasy sports in the USA and Canada.
Now that the Covid-19 pandemic looks to be in the rearview mirror, many people are returning to the office. That means that lots of folks will be playing fantasy football with their coworkers when the NFL starts back up in September. We all know that the key to a solid fantasy football team is drafting a solid quarterback. Here are the five best sleeper QB picks for the 2021 NFL season.

Underdog Fantasy: Season-Long Best Ball
Forget about mock drafts. Hone your drafting skills over at Underdog in real money, season-long fantasy leagues. Use promo code EWB to receive a 100% deposit bonus and free entry into a 12 person league with a $32 prize.
Draft Now
| QB | Team | Rank | ADP |
| --- | --- | --- | --- |
| Joe Burrow | Bengals | 9 | 94 |
| Ryan Tannehill | Dolphins | 16 | 124 |
| Jameis Winston | Saints | 26 | 184 |
| Jalen Hurts | Eagles | 8 | 80 |
| Tua Tagovailoa | Dolphins | 18 | 141 |
Additional Sleeper Picks
5. Tua Tagovailoa
Miami Dolphins | QB Rank: 18 | ADP: 141
Sure, Tagovailoa did not have the dynamic rookie season that Dolphins fans had hoped he would. However, we have to remember that the fifth overall draft pick was coming off of a horrendous hip injury that he suffered while at Alabama. In fact, Tua's trainer recently estimated that the 23-year old was probably only around 60% healthy for the 2020 season.
All reports are that Tua should be fully healthy in 2021. Heck, the Hawaii native still had a decent rookie season by throwing 11 touchdowns and only five picks. He also found the endzone another three times on the ground.
Tagovailoa is the perfect option if you're the type of fantasy player that likes to draft a QB late in your draft. His average performance as a rookie means that he could surprise lots of people in 2021. Let's not forget that Miami drafted Tagovailoa's old Alabama buddy, Jaylen Waddle, to help push the ball down the field. We expect big things from this Dolphins duo this season!
4. Jalen Hurts
Philadelphia Eagles | QB Rank: 8 | ADP: 80
Well, we might as well stick with the former Alabama QB theme. Hurts is raw but has a ton of upside for fantasy owners because of his running ability. The 6-1, 223 pounder should have no problem winning the starting job since the Eagles have finally parted ways with Carson Wentz.
Hurts performed at an adequate level during his four starts last season. The former second-round pick threw six touchdowns along with four interceptions. Hurts also rushed for 354 yards and three scores on the ground.
We expect Hurts to put up some good numbers during his second season in 2021. Like Tagovailoa, Hurts has been reunited with one of his favorite college targets in Heisman Trophy Winner Devonta Smith. Don't be surprised if those two hook up for several deep post pattern touchdowns this season.
3. Jameis Winston
New Orleans Saints | QB Rank: 26 | ADP: 184
The retirement of legendary QB Drew Brees leaves the door wide open for former Heisman Trophy winner Jameis Winston. We cannot wait to see how Winston will perform with an offensive genius like Sean Payton tutoring him. The former Florida State Seminole has loads of NFL experience and now he will get the much-needed guidance to possibly reach his full potential.
Though it seems as if Winston has been in the NFL forever, he is still only 27 years old. He has never been short on talent or pure arm strength, and he even led the league in passing yards in 2019 with 5,109 while with the Bucs. The only thing that may hurt Winston's production in 2021 is if coach Payton decides to play Taysom Hill a higher number of snaps than usual.
Winston should have plenty of weapons to throw to with guys like Michael Thomas stretching the field at wideout and Alvin Kamara catching balls out of the backfield. There are lots of reasons to believe that Winston will have a terrific 2021 season for fantasy owners.
2. Ryan Tannehill
Tennessee Titans | QB Rank: 16 | ADP: 124
Tannehill remains one of the most underrated signal-callers in the NFL. Running back Derrick Henry gets most of the attention and rightfully so as the guy is an absolute beast on the ground. However, Tannehill threw more touchdown passes than he ever has in 2020 with 33.
The former Texas A&M Aggie knows how to take good care of the football so he will not hurt fantasy owners by throwing too many picks. In fact, Tannehill has gone three straight seasons without reaching double digits in interceptions. With most defenses choosing to load up the box to stop King Henry, there is usually plenty of room down the field for Tannehill to throw.
The emergence of Titans big time wideout A.J. Brown makes Tannehill's fantasy value skyrocket. Brown is an absolute nightmare for opposing defenses and is the reliable target that Tannehill has always needed. We would love to draft Tannehill at QB for our fantasy team, especially if the Julio Jones to Tennessee rumors turn out to be true!
1. Joe Burrow
Cincinnati Bengals | QB Rank: 9 | ADP: 94
Burrow was having a fine rookie season with the Bengals before a devastating ACL tear ended his year prematurely. However, all reports say that Burrow's rehab has gone well and that he should be ready for the Bengals opener. The former LSU Tiger threw for 13 scores and only five picks in 2020. He also ran for three touchdowns.
The former Heisman Trophy Winner averaged nearly 270 yards passing per game last season, and we expect that number to improve in 2021. It helps that Burrow will be throwing to a familiar face in first-round draft pick (and his former LSU teammate) Ja'Marr Chase! We expect plenty of fireworks from Burrow and Chase in 2021.
Also, wideouts like Tee Higgins and Tyler Boyd are viable threats down the field for Burrow to throw to. The Bengals are also still in rebuilding mode, which means they will be trailing in lots of their games. This is a fabulous thing for Burrow's fantasy owners because it means that Burrow will be throwing the ball all game long in an attempt to bring his team back.
Sometimes the best fantasy players come from mediocre teams. This is the case with Burrow and the Bengals. We expect Burrow to put up some eye-popping numbers this season.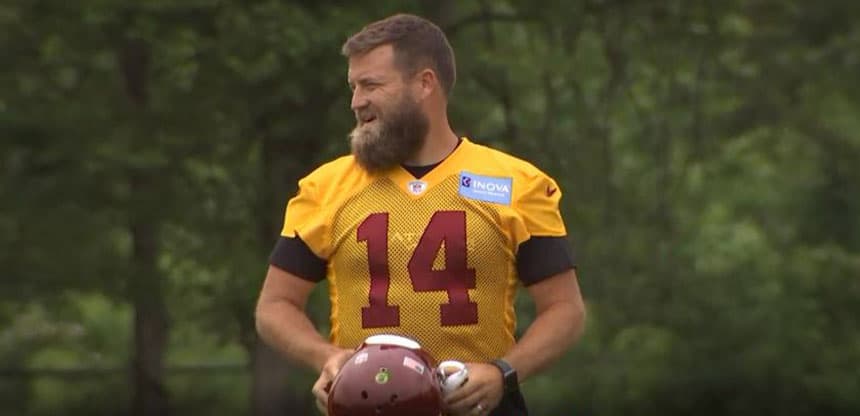 Deep Sleeper: Ryan Fitzpatrick
Washington Football Team | QB Rank: 20 | ADP: 150
We love "Fitzmagic" as our deep sleeper QB pick because the guy just doesn't age! Last year, Fitzpatrick put up decent numbers (2,091 passing yards, 15 total touchdowns) even at the ripe old age of 38! Getting a seasoned 15-year veteran QB late in your draft would be a wise move.
Sure, Washington was anemic on offense last year but mainly because they didn't have a reliable QB on their roster. That all changes with "The Beard" at the helm. Fitzpatrick has some decent wide receivers to throw to in Terry McLaurin, Cam Sims, and Curtis Samuel. Washington also drafted a nifty little wideout from North Carolina named Dyami Brown in the third round.
The main reason for picking Fitzpatrick as our deeper sleeper is that we know he'll be named the starter for Washington. Though Ron Rivera has said it'll be an open QB competition, there's no way guys like Taylor Heinicke, Kyle Allen, or Steven Montez will snatch the starting job away from a wily old veteran like Fitzpatrick.
Fitzpatrick is going undrafted in most fantasy leagues, but could very well end up being a high-end QB2 by the end of the fantasy season. We expect him to not only win the starting job but keep it all year long while putting up some solid fantasy points each week.
Subscribe to EatWatchBet
Get our picks delivered direct to your inbox!
Browse Latest Articles