It's the same old story every bowl season! Sit back and wait to see how many star players opt out of playing their last college football game. Unfortunately, the two big names that made this a big game (Kenny Pickett and Kenneth Walker) have decided to pass on playing this game to get a hard start on their NFL Draft prep.
We can't blame these guys for protecting themselves from a potentially devastating injury. However, it would have been great to watch Pickett and Walker square off. Oh well, enough bellyaching about opt-outs.
The Pitt Panthers (11-2) won their first conference title since 2010 by taking care of business against Wake Forest in the ACC Championship Game. The Michigan State Spartans (10-2) had a great season as well, though they lost stunningly to Purdue back in early November.
Let's take a look at the live odds and then give out our Best Bet for this Peach Bowl matchup. At the time of publishing, DraftKings Sportsbook had the best number available on the Panthers at +2.5 (+100), while BetMGM Sportsbook had the best number available for Michigan State backers at -2.5 (-133).
Live Odds for the Peach Bowl - Pittsburgh vs Michigan State
Shop Odds for All CFB Bowl Games
What to Expect from the Pittsburgh Offense in the Peach Bowl
Nick Patti will start in place of Kenny Pickett for this game. The 6-3 junior only threw 14 passes the entire season so it'll be interesting to see what kind of game plan Pitt comes up with for him. Speaking of game plan, Panthers' offensive coordinator Mark Whipple resigned a few weeks ago to take the OC position at Nebraska.
With both Whipple and Pickett out, it wouldn't surprise us if Pat Narduzzi resorts to some very vanilla play calling. We expect running backs Israel Abanikanda and Vincent Davis to get plenty of carries in this game.
When Patti does drop back to pass, he'll be looking for his best wideout in Jordan Addison. Addison tore up ACC defenses the entire season, as he caught 93 passes for 1,479 yards and 17 TDs. The 6-foot sophomore could have a huge day against the suspect Spartans' secondary.
What to Expect from Michigan State's Defense in the Peach Bowl
Sparty's defense is excellent at stopping the run as they only allow 3.4 yards per rush (13th). Xavier Henderson loves to live in the opponents' backfield, as he leads the team in both tackles (94) and tackles for loss (10). The Panthers had better keep a close eye on Henderson and Jacub Panasiuk, who leads the team with 6 sacks.
The weakness of this Michigan State defense is their secondary, which has struggled all year long in preventing the deep ball. The Spartans rank 72nd in yards per pass allowed and 130th(!!) in passing yards per game allowed. Can an inexperienced QB like Patti take advantage of this lackluster unit?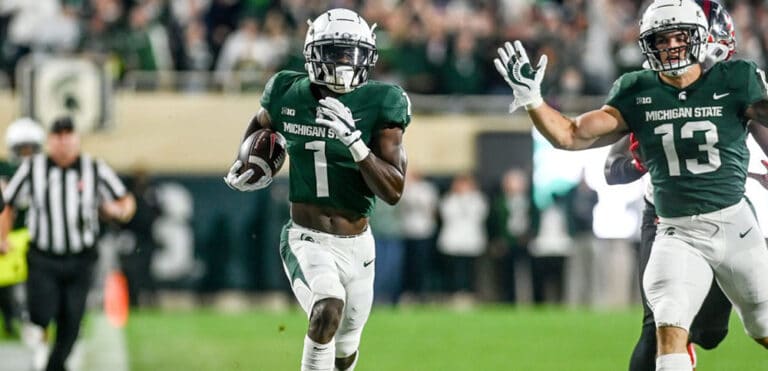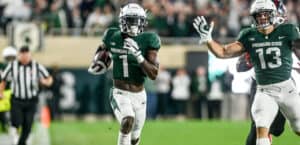 What to Expect from Michigan State's Offense in the Peach Bowl
Walker opting out of this game hurts the Spartans' offense tremendously. Payton Thorne had a terrific season (2,886 passing yards, 24 TDs, 9 INTs) but the majority of his success has been with the play-action pass. Without Walker pounding the rock, Thorne could have a hard time finding open receivers down the field.
Backup RB Jordan Simmons should be the one getting the bulk of the carries for the Spartans in this game. Simmons has a ton of speed and the ability to catch passes out of the backfield. Will Simmons be able to find any holes against a stout Pitt run defense?
Sparty's best receiver is Jayden Reed, who caught 53 passes for 946 yards and 8 TDs this season. Thorne will be looking in Reed's direction against a weak Pitt secondary. Michigan State's second-best receiver is Jalen Nailor, but he is listed as questionable with a hand injury.
What to Expect from Pittsburgh's Defense in the Peach Bowl
Pitt's defense is eerily similar to Michigan State's defense. The Panthers are elite at stopping the run but they struggle against the pass. Pitt only allows 2.7 yards per rush, which ranks 5th in the country.
The Panthers have a couple of stud pass rushers that could make Thorne's life miserable in this game. Habakkuk Baldonado has racked up 9 sacks and 12 tackles for loss. Calijah Kancey has registered 7 sacks and 13 tackles for loss.
Pitt's secondary does a great job of generating turnovers but they seem to always give up chunk plays. This unit ranks 81st in yards per pass allowed and 115th in passing yards per game allowed. John Petrishen and Erick Hallett lead the team with 3 picks apiece.
Our Pick: UNDER 57 Points
We wish we would have jumped on this Under as soon as the Kenny Pickett announcement hit the news wire. Even though this total has dropped by six points, we still think there is enough value to take the Under.
The dropoff from Pickett, who may end up being a first-round draft pick, to Patti is too big to ignore. Whipple not being around to call the plays will also be a huge blow to this Panthers offense. Pitt will try to establish the run but that plays right into the hands of the Spartans' defensive strength.
Kenneth Walker was the heart and soul of this Spartans offense. Walker opting out should hurt Michigan State's offensive production quite a bit. Sparty should be able to exploit a vulnerable Pitt secondary, but keep in mind that the Panthers rank 5th in the nation in sacking the QB.
With two huge offensive players sitting out, we don't see either team reaching the 30s. Our final score prediction is 27-23 so take the Under! Best of luck!