The NFL Wildcard round kicks off this weekend and DraftKings has two Millionaire contests up in its lobby, one for Saturday's games and another for Sunday's. This article will focus on the Saturday slate and our optimal lineup for the first DraftKings Millionaire of the 2022 NFL Playoffs.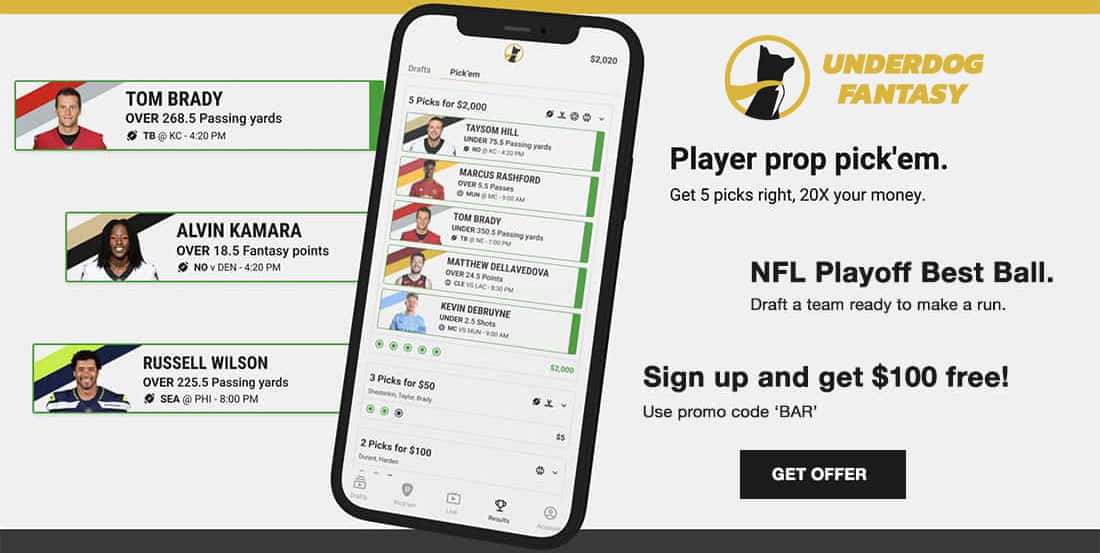 Before we jump into my analysis for each position let's start with my optimal lineup for the Saturday Wildcard slate on DraftKings. If I could only choose one, here is the lineup I would roll with for today's Wildcard action: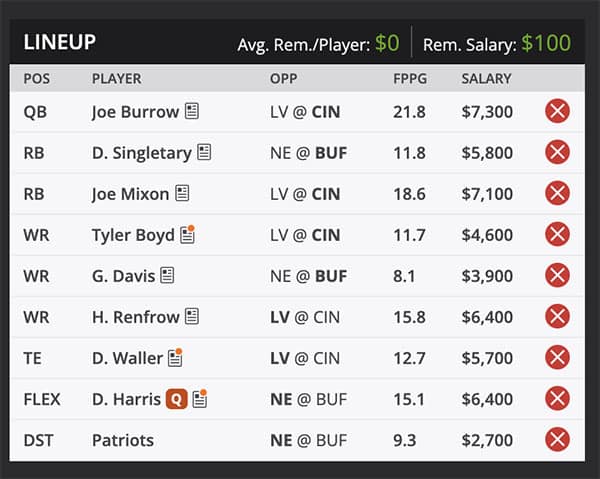 DraftKings Wildcard Saturday Slate Quarterback Picks
Best Value: Derek Carr - $5,800
With a Saturday slate that only includes four starting quarterbacks, I was actually shocked by the potential value in Derek Carr this week. Going up against a Cincinnati that has been prone to get into shootouts, Carr should have plenty of opportunities to score in this one.
The Fresno State product doesn't have a ton of weapons, but his favorite target Darren Waller is back and should provide some mismatch problems for the Bengals.
Top Scorer: Joe Burrow - $7,300
Josh Allen is the top FPPG option on the limited board, but with the weather looking horrific in Buffalo Saturday night, I would ride with the hot hand in Joe Burrow.
Burrow didn't play last week which should allow him to heal up some nagging injuries. Despite those minor injuries, Burrow has been on fire as he's accounted for 37.84 and 41.1 FPTS in his last two starts.
He's also notched over 20 FPTS in four of five games and has a bevy of options to choose from on the outside. The Raiders have been prone to allowing some quarterbacks to go off and with a home playoff game, I wouldn't expect anything less of Burrow in this one.
Easily the top option at the quarterback position this week.
DraftKings Wildcard Saturday Slate Running Back Picks
Best Value: Devin Singletary - $5,800
As mentioned above, but with the weather looking abysmal in Buffalo it's natural to assume Singletary will get a heavier workload than normal.
I'd expect to see Josh Allen's legs used a lot in this game, as well, but with conditions likely worsening as the game goes on we should see Singletary hit the 15+ carry mark.
Singletary has been great as of late, topping 14 FPTS in five-straight games, including at least one touchdown in each.
Buffalo has leaned heavily on the run game as of late, which is a trend that will certainly continue into the playoffs.
Top Scorer: Josh Jacobs - $6,600
This one was a toss-up between two backs in the same game, but I went with Jacobs given his consistency over the last two months of the season.
Jacobs has hit double-digit FPTS every week since Week 11 and doesn't share the backfield with anyone else these days.
His use in the passing game is also something to note, with the back being targeted an average of four times a game in the same time span.
Expect a high-scoring affair that could see a lot of check downs from Derek Carr to eat up yards while playing catch-up.
DraftKings Wildcard Saturday Slate Wide Receiver Picks
Best Value: Tyler Boyd - $4,600
Tyler Boyd is simply a steal this week. The Bengals wideout is a must-play in all lineups to allow some room to spend at other positions.
What Boyd lacks in targets per game he certainly makes up in big pay production. He also has a knack for finding the endzone, scoring in three straight games.
The veteran sat out last week along with his quarterback but is ready to roll in yet another wild card game for the Bengals. Expect Boyd to find some gaps in the defense and hit on at least a couple of big gains.
Other top value plays: Zay Jones ($4,000)
Top Scorer: Ja'Marr Chase - $7,800
With Stefon Diggs set to be playing in either a blizzard or near zero degree temperatures, let's go with Burrow's favorite target as the highest producing wide receiver this week.
Chase played limited snaps last week, but prior to that had topped 22+ FPTS in three of four weeks including a 58.6 FPTS performance in week 17 against the Chiefs.
While he may not hit that record-breaking time of performance again, Chase will certainly be a top target against a Raider secondary coming off a poor performance against Justin Herbert and the Chargers.
Other top choices: Hunter Renfrow ($6,400)
DraftKings Wildcard Saturday Slate Tight End Picks
Best Value: Hunter Henry - $4,500
The weather has been talked about enough in this article, but could actually be a plus for some tight end usage in this game.
Henry is the top receiving target for quarterback Mac Jones, as he's been targeted at least six times in three of four games.
The tight end slate is pretty bare this week, so for $4,500, you could find a gem in Henry if he's able to find pay dirt for the Patriots.
Top Scorer: Darren Waller - $5,700
Waller is back! Well, he was back last week to round out the final week of the regular season in a must-win game for the Raiders and certainly didn't stand out.
That said, Waller is the best weapon the Raiders have and despite only accounting for two receptions and 22 yards, he was targeted nine times.
We can reasonably expect at least that many targets again in the Raiders first-round matchup, which should transfer to more catches and FPTS.
$5,700 seems a bit low for someone with Waller's big game possibility.
DraftKings Wildcard Saturday Slate Defense Pick
Buffalo Bills - $3,200
The Bills' defense has come on strong as of late, hitting double-digit FPTS in back-to-back wins to close out the season.
They will face a rookie quarterback playing in the biggest game of his career and that's always a tasty opportunity for an opposing defense.