It should be an outstanding Wild Card Weekend in the NFL. Football fans and bettors alike will be treated to six games spread across Saturday, Sunday, and Monday.
One of the most intriguing matchups of this Wild Card Round has the New England Patriots traveling to Buffalo to take on the Bills. The Pats got the better of the Bills 14-10 in Week 13, but the Bills got some sweet revenge in Week 16 with a 33-21 victory.
Want some player prop bets to make this game even more entertaining to watch on Saturday night? We don't have a strong opinion on the side, but here are the 5 best player props for this Patriots at Bills matchup.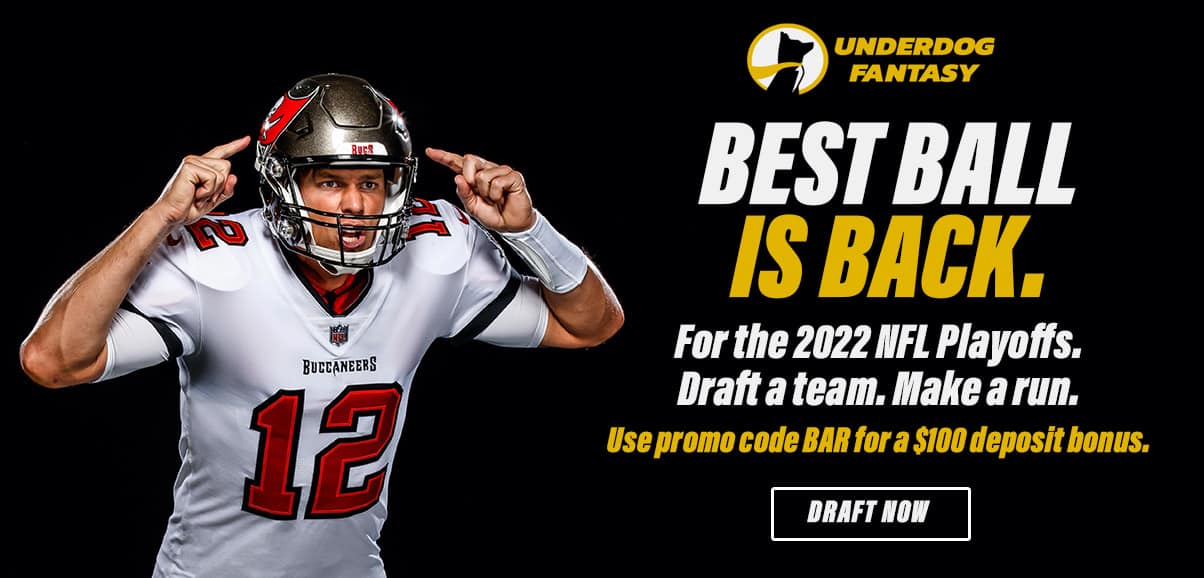 Live Odds for the Patriots at Buffalo - Wildcard Weekend
Mac Jones OVER 209.5 Passing Yards
Gulp! This is a tough one to pull the trigger on, but sometimes the hardest bets are the best ones to make. In our opinion, this line is an overreaction to Mac Jones' two subpar performances against the Bills this season.
However, you can't hold Jones too responsible for the first performance. Bill Belichick only let the former Alabama star throw the football three times in that game because of the 40 miles an hour wind gusts!
Jones' Week 16 performance against the Bills is a bit concerning since he only threw for 145 yards in that game. However, the young rookie has played two solid games since then by throwing for 227 yards against the Jags and 261 yards against the Dolphins. We're expecting a similar yardage output from Jones in this Wild Card game.
We expect the Bills to be in control for most of this game. This means that Pats offensive coordinator Josh McDaniels won't be able to just pound the rock with Damien Harris and Rhomandre Stevenson. It wouldn't surprise us if the Patriots have to throw the ball around 40 times in this game just to keep up on the scoreboard.
If the Pats throw the ball more often like we think they'll have to, Jones should end up with around 240 passing yards. Take the Over!
Devin Singletary UNDER 59.5 Rushing Yards
Why in the world did the books set this number so high? Singletary has a nice skillset and he's had a fairly productive season. However, the former Florida Atlantic standout only ran for 39 yards against the Pats in Week 16 and 36 yards in Week 13.
Singletary has only averaged 51.2 rushing yards per game this season. In five career games against New England, he's only averaged 48.6 rushing yards per contest. When considering those two stats, this current number of 59.5 looks about 10 yards too high.
The Bills only run the ball 40.33% of the time (21st in the NFL), so we don't see Singletary getting a ton of touches in this game. When he does tote the rock, look for this Patriots defense to once again keep him contained. We'll go with the Under!
Jakobi Meyers OVER 40.5 Receiving Yards
Meyers is dealing with a thigh injury and is listed as questionable for this game. Since this is the playoffs (said in Jim Mora voice), we expect Meyers to fight through the pain and play.
The former NC State star has quietly become the Patriots' best receiver and Mac Jones' favorite target. Meyers has hauled in 83 receptions for 866 yards and 2 TDs this season. The Bills are tough against the pass but we expect McDaniels to find a way to get Meyers the football quite a bit in this game.
For the season, Meyers has averaged 50.9 receiving yards per game. We expect him to end up around the 60-yard mark in this game. Take the Over!
Cole Beasley OVER 33.5 Receiving Yards
This number doesn't make a lick of sense. Beasley hasn't done much the last few weeks but Josh Allen is still targeting him quite often. Since this is a playoff game, we expect Allen to look for the wily old veteran a bit more over the middle of the field.
In six career games against the Pats, Beasley has averaged nearly 46 yards per game. The former SMU star has averaged 43.3 receiving yards per game this season. Both of those stats say that there is value in the Over at the current price of 33.5.
Look for Belichick's defense to shift most of their attention to the Bills' #1 wideout, Stefon Diggs. If that happens, Beasley should be able to find lots of open space to operate in this game. We'll go with the Over since this number looks to be about 15 yards too low!
Best Anytime TD Prop: Damien Harris +115
Ahhh YES! We have to include an Anytime TD prop since it's one of our favorite wagers to place! Our numbers say that there's some good value on Damien Harris at this plus money price.
The former Alabama star is a little bit banged up with a hamstring injury, but he's listed as probable to play in this game. Harris has torn up the Bills' defense this year for 214 rushing yards and 4 TDS. That stat alone makes you wonder why Harris is listed at plus money to find the end zone once again.
The Buffalo defense is an elite group against the pass, but they aren't all that great against the run. For the season, the Bills are allowing 1.1 rushing TDs per game, which ranks 26th in the league.
Harris is having a breakout season, as he's already scored 15 TDs. We expect him to get #16 in this game. Jump on the plus money train while you can with this bet! Best of luck with all your Wild Card prop bets this week!
Bonus Game Prop Pick
Looking to get into the team prop action in this one? There are several numbers we like in this AFC East showdown but the one that clearly sticks out as a winner is the game total under 31.5 which is available at +650 at FanDuel.
These two teams have played under 31 in 4 of their last 10 games and, while temperature typically does not affect scoring in the NFL, totals decrease by greater than 11% in playoff games played under 10 degrees.
You simply won't find wagers with a 40% ATS record available at +650 at many sportsbooks. Combine that with the weather concerns and the fact that these teams played a 14-10 game just over a month ago and this is a game prop worth betting.