Current PartyPoker Online Poker Promo Code Offer and Deposit Bonus Details
All new US players who register this September have access to PartyPoker's generous deposit bonus offers.
New users can try out the online poker software using the $25 no-deposit bonus and also receive a 100% deposit match of up to $600 on their first deposit.
What's even better is that there is only a $10 minimum deposit on your first deposit, so you cash game players can jump into the action and buy in right away with very little down!
That's a fairly sizeable first deposit bonus and free money to play online poker. You can't beat this bonus offer! $600 as an actual bonus is like getting a ton of free bets. It's a sweet deal.
New users, upon creating an account and verifying their identity, will receive $25 in free play bonuses across their website to give users an opportunity to try out the more common online poker games and see if PartyPoker is the right place for them.
$10 of the $25 will go to poker cash games, $5 will go to poker tournaments, and $10 goes to casino products available to the main client.
If users decide they want to stay for more and make a minimum deposit of $10 (that's the qualifying deposit to take advantage of the PartyPoker bonus code), PartyPoker will 100% match that initial deposit of up to $600.
So, if you make an initial deposit of $500, there will be $500 available for you from PartyPoker.
But why stop there? Go and maximize the bonus amount with the full $600!
Terms for the PartyPoker bonus code.
The only catch to this bonus offer is that you have to earn it at a $1 for every $2 in rake rate.
However, it's worth noting that online poker sites have their terms and conditions associated with their bonus money, and the PartyPoker bonus code is no different.
The Party Casino can also be used to clear the deposit bonus and does so at a 4x playthrough rate.
Just because the money is "released," though, doesn't mean you immediately get it either. The bonus is released in ten equal parts, so if you deposit $1,000, you'll get $100 back at a time.
Players must also be 21 years of age or older and located within New Jersey to play on PartyPoker's site.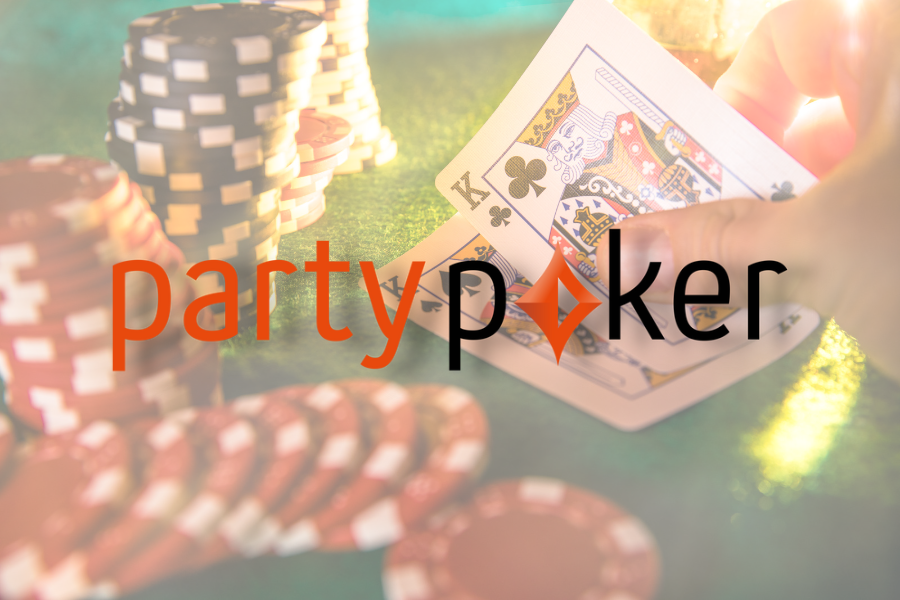 PartyPoker Company Background
Despite being a lesser-known name in the online poker scene, PartyPoker was one of its first arrivals in 2001. In those early years, PartyPoker owned the game. They were the largest site.
In 2006, though, when the Unauthorized Gambling Enforcement Act was created, PartyPoker's control on the scene faded. However, when online poker returned to New Jersey in 2013, PartyPoker was one of the first.
PartyPoker is owned by Entain, previously known as GVC Holdings until their global rebrand in 2020, and is affiliated with names like BetMGM, Bwin, Ladbrokes, Coral, and Foxybingo.
PartyPoker remains one of the largest online poker sites in the US despite having less national recognition than the likes of WSOP or PokerStars.
This makes sense, though, as they have not expanded outside of New Jersey in the past eight years. PartyPoker Pennsylvania could be on the horizon, however, as they have just received approval from regulators.
A launch in Michigan as is possible, too, as BetMGM's presence in Michigan with the MGM Grand Detroit makes PartyPoker's rise likely. Those expansions still remain in the future.
PartyPoker players benefit from an online poker brand with years of experience, exclusive games, and plenty of promotional opportunities.
As of writing, there are currently 17 available promotions for PartyPoker users that do not include the welcome offer.
Types of Poker Games Available at PartyPoker
PartyPoker offers all of the typical games you would find with any US poker operator. Cash games are available for Texas Hold'em (fixed-limit and no-limit) and pot-limit Omaha. The stakes start at $0.02/$0.04.
For those who are craving something a little bit faster, fastforward poker is for them.
Fastforward poker is a PartyPoker exclusive where a pool of players are constantly switching between tables. These games have a "forward fold" where you can fold before your turn and instantly receive a new hand at a new table.
These games can be rare, though, as they don't always have a ton of traffic.
PartyPoker offers tournament options as well that can have as few as 10 participants and as large as thousands.
Single- and multi-table sit n' go tournaments make up the bulk of the offerings, but there are plenty of scheduled tournaments as well.
In fact, the PartyPoker Million with final stages held aboard a cruise ship with actual tables begins with online qualifiers on the PartyPoker client.
The Party Poker tournaments are definitely something you'll want to jump in on if you get the chance.
The PartyPoker client also includes the PartyPoker online casino and is very easy to switch between the two. The casino client has table games from blackjack to baccarat and slot games with progressive jackpots. Live dealer games are also available due to a partnership with Evolution Gaming.

PartyPoker App Features
PartyPoker accounts are as easy to set up as any and require users to provide their full name, email and home address, date of birth, phone number, and the last four digits of their SSN to verify their identity.
Use a bonus code for your bonus money.
While setting up your account is a breeze, don't forget to make sure you use the correct bonus code for your deposit to qualify for any welcome bonuses.
The PartyPoker mobile app makes it incredibly easy to add in your promo code when you register. Once you enter that deposit bonus code, you'll be able to take advantage of the free tournament tickets and avoid tournament fees.
Fortunately, PartyPoker has made it ridiculously easy to get their deposit bonuses, so be sure to jump in on that.
PartyPoker Deposit Methods
There is a $10 minimum for deposits and the options to do so are as follows:
Visa/Mastercard
Skrill
Bank Transfers
PartyPoker Prepaid Card
PayNearMe
Cash at the casino cage
Once you've made a deposit, you can start playing in cash games, tournaments, and other casino games.
PartyPoker Withdrawal Options
Withdrawal options are slightly fewer with Skrill, Bank Transfers, PartyPoker Prepaid Card, and PayNearMe being the only options if you do not want to receive a check by mail.
The website can be accessed through just about every browser and runs smoothly.
Users will have to navigate through some promotional material to find where they're headed, but the main navigation menu makes it easy to move through the different poker offerings and the PartyCasino.
The app is available for both iOS and Android devices and can be found in their respective app stores. Despite beginning as one of the weaker mobile applications, PartyPoker has pushed out significant improvements and is now as enjoyable as any other poker app on the market.
Party Poker FAQs
Given the background of real-money poker in the United States, players tend to be wary of signing up on platforms they are not familiar with. With this in mind, we wanted to address some of the frequently asked questions we receive regarding PartyPoker.
Is PartyPoker legal?
Yes, PartyPoker is a licensed, regulated operator that is available only in US states where poker is legal. They abide by the gaming enforcement agencies in each state they operate in.
So if you're of age (more on that in a minute) and within the boundaries of the states they operate in (more on that as well), then it's perfectly legal to play cash games and take advantage of their poker bonus code.
Does PartyPoker have an app to play online poker?
Yes, the PartyPoker app is available for both Apple and Android users. Powered by 888 Poker, the same technology behind 888's own poker product and BetMGM Poker, the apps are very well executed, easy to use, and feature a near-flawless user experience.
You can do just about anything from the app. From managing your Party Poker account to using a Party Poker bonus code or if you just want to play poker online, their app has you covered.
How old do you have to be to use PartyPoker and play cash games?
You must be 21+ years old to sign up for a Party Poker account and play PartyPoker cash games. Further information will be requested upon sign-up to ensure a user's identity.
Every online poker site has systems in place to verify your identity and age. So if you think you're going to skirt around it and jump into online casino games, you'll have to think again.
Who can play at the Party Poker online poker site?
Anybody in New Jersey and Pennsylvania who meets the age requirement and has not had their account closed due to suspicions of cheating or employment by PartyPoker.
Residency or citizenship does not matter, only that the user is within the state boundaries of New Jersey.
PartyPoker, like other online poker websites, uses geolocating services that determine the exact location of the device in use and ensure that the user is connecting from within a legal area.
When will PartyPoker be available in other US states?
PartyPoker has a license in Nevada and is expected to launch in Michigan soon, but they have indicated that expansion is not a top priority right now, so exact dates are tough to pinpoint. West Virginia has also legalized online poker, but that is most likely on the bottom of the list for PartyPoker because of its market size.
Can I put the PartyPoker app on my computer?
Absolutely! You can download the PartyPoker app straight to your desktop or laptop. After doing so, all you have to do is click the PartyPoker icon to connect to the app.
Just like their mobile app, you can manage your PartyPoker account, take advantage of cash bonuses, play in multi-table tournaments and more. Of all of the poker sites you'll find, their desktop app is one of the best you'll find.
How long do withdrawals take on PartyPoker?
After submitting a withdrawal request, PartyPoker's customer support team will review it within 2 business days. After the request is approved, it'll take an additional 3-7 business days for the money to get into your bank account.
This is a fairly standard procedure with most poker sites. While it may be a turn-off to many recreational players, veterans understand this is just part of the business.
Can existing users get the welcome bonus?
Unfortunately, no. The PartyPoker welcome bonus is for new customers only and cannot be used by existing users. Existing players have access to regular promotions, such as cash bonuses, rakeback, and free tournament tickets.
What if I missed out on the deposit bonus?
If you signed up for a Party Poker account but forgot to use the bonus code, you can always contact their customer support team directly and let them know. They might be able to work something out for you.
Just make sure that whatever bonus or promotion you're trying to get is still active before contacting the support team. If it's expired or discontinued, then you won't be able to take advantage of it.
Are PartyPoker and PokerStars the same?
No, they're two different platforms. While PartyPoker is a great site, it might not be the best choice for everyone. Players who want to play multiple games at once may find PokerStars more suitable since they offer an abundance of multi-table tournaments (MTT).
PartyPoker has plenty of MTTs as well, but nothing like the selection you'll find at PokerStars. Each site has its pros and cons, so it's up to each individual user to decide which best suits their needs.
Who is PartyPoker owned by?
PartyPoker is owned by Entain, a British company formerly known as GVC Holdings. Entain is also the parent company of other online gambling brands like Bwin, Coral, and Ladbrokes.
PartyPoker has been around since 2001 and is one of the oldest poker sites in the world. Over time, they have established a solid reputation for providing quality service and fair gaming.
What is a rake in poker?
You may have heard this term when playing at PartyPoker or any other online poker site. A rake is the commission that a poker room charges for each hand of poker. This fee helps pay for things like hosting tournaments, game integrity, and customer service.
What is a reasonable rake?
For most online poker sites, the rake is usually around 5%. Sites like PartyPoker typically have a 5% rake rate, but they often offer promotions that can reduce this fee.
It's important to keep in mind that the size of the rake doesn't necessarily indicate how "good" or "bad" a poker site is. Rake is simply a cost of poker that players need to take into consideration.
Does PartyPoker have rakeback?
They do! In addition to taking advantage of the free tickets and coupon codes, you can also get up to 40% rakeback. Rakeback is an excellent way for players to get some of the rake generated from their games and it's one of the perks of playing at PartyPoker.
Rakeback can be a great addition to your poker profits, so make sure you take advantage of it when you play in any online poker rooms.
Who pays the rake in poker?
The rake is split between the players at the table. Each player pays a small portion of their winnings to contribute to the rake. This helps offset the cost of running tournaments and other events hosted by PartyPoker. Servers and customer support staff get expensive after a while.
Ready to play Party Poker?
If you're ready to jump in the action that Party Poker provides, then get to it! All you need to do is use the Party Poker bonus code and have fun in the tournaments that the best poker site offers.
No other poker site offers quite as much as Party Poker and you sure won't find a bonus quite as good as the Party Poker bonus code. That's why we've given them 5 out of 5 on their bonus.
Whether you want to get into some tournament play, no-limit hold'em, or even some fixed-limit hold'em poker, they've got something for everyone.
Of all of the PartyPoker bonus codes, we've got to say this is one of the best out there. Sure, other online casinos have some great deposit match bonuses, such as Borgata Poker (they're great as well), but their promo codes don't offer as much as the PartyPoker bonus codes.
So go and use our deposit bonus code and jump into your favorite poker room!
Terms and Conditions Apply. Must be 21+ and in NJ, PA, MI, or NV to play. Gambling Problem? Call 1-800-Gambler in NJ, PA, MI, and 1-800-855-4700 in NV.