With the offenses remaining in these playoffs, bet the over is going to be a common theme with everything you read this week. All eight teams in action this week are in the upper half of the NFL in scoring and we will have 5 of the league's top 7 scoring offenses in action during the Divisional Round.
That being said, the high totals we are seeing across the board (the lowest total this weekend is 47.5) should create some value on the under if you can find the right prop bet. This article will focus on our favorite under prop bet from each of the four Divisional Round matchups this week. Below each pick you can find the best available number, best available juice, and our complete breakdown for each game.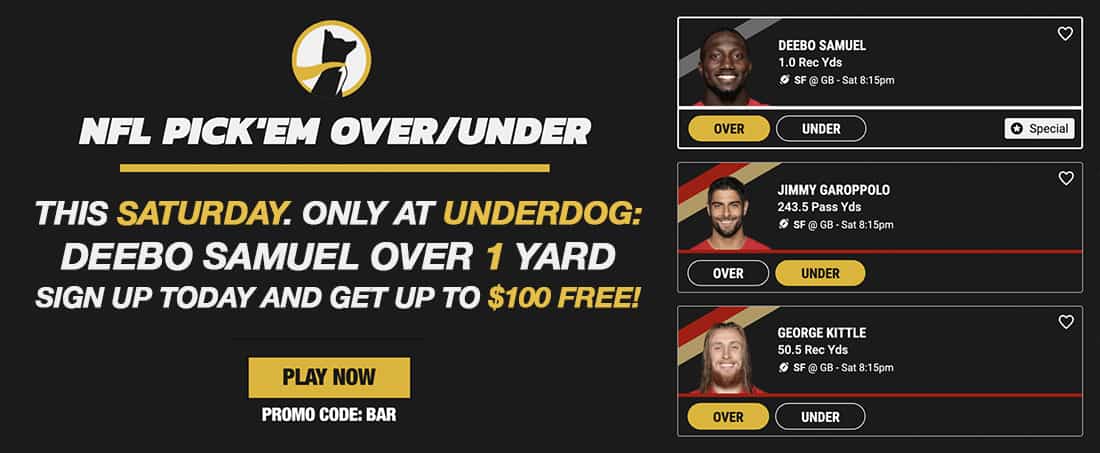 C.J. Uzomah - Under 32.5 Receiving Yards
Best Available Number: -110 at BetMGM
The Tennesse Titans, led by Kevin Byard who is one of the most underrated players in football, have been a brutal matchup for tight ends all season. On the year, they have allowed just a 60% completion percentage to tight ends, and a mere 5.5 yards per attempt. Compare that to the Bengals defense, who has allowed a 72% completion rate and over 8 yards per attempt.
They held Travis Kelce to 65 yards, Geoge Kittle to 21 yards, Hunter Henry to 16 yards, Dawson Knox to 25 yards, and the list goes on... this is a rough matchup for Uzomah. His receiving prop is currently set at 32.5 yards, which is right on what he put up against the Raiders in the Wildcard round. However, keep in mind the Raiders were the NFL's fifth-worst defense vs the TE position this season.
Uzomah has only topped 32.5 yards twice in his last eight games and we don't see him bucking that trend here. Bet the under. Check out our Bengals at Titans props picks and Bengals at Titans best bet.
Tyreek Hill - Under 70.5 Receiving Yards
Best Available Number: -110 at FanDuel
Nobody wants to bet the under on Tyreek Hill. Even playing through a heel injury, no player in the NFL can destroy an under prop bet faster than Cheetah. That being said, if anyone can slow down Hill, it's this Bills defense.
Buffalo had, by far, the league's best pass defense this season. Not only were they first in yards allowed, first in touchdowns allowed, and first in opponent QB rating allowed, but they also gave up only 31 plays of 21+ yards all season. That is nearly half the league average, and nearly 20% fewer than the next best defense.
It is important to remember, however, what Hill did to the Chiefs in the 2020 AFC Championship game where he put up 172 yards on 9 catches. That being said, this is not that Chiefs' offense, and that game could be looked at as an outlier as, outside of that one performance, Hill has failed to ever sniff this receiving yards prop number against Buffalo, averaging just 41 yards per game. Bet the under and hold your breath. Check out our Bills at Chiefs props picks and Bills at Chiefs best bet.

AJ Dillon - Under 40.5 Rushing Yards
Best Available Number: -115 at Caesars
Talk about betting against the trend with this one. Dillon has rushed for more than 40 yards in 9 of his last 10 games and 12 of his last 14 overall. He averaged over 53 yards per game over that stretch, indicating his rushing prop should have been much higher than 40.5 (39.5 at FanDuel and DraftKings). However, that in itself is a strong indicator of how this bet is going to play out.
San Francisco has the best run defense remaining in these NFL Playoffs and has the only DL/OL matchup advantage in the Divisional Round according to PFF. Not only was the 49ers' 4.0 YPC allowed the best amongst remaining teams, but that number dropped to 3.0 YPC over the last month of the NFL season and they just held Zeke and Pollard to 2.8 YPC in the Wildcard round.
So, the question becomes what do the Packers do? We think they see the playoffs as Aaron Rodgers, Devonta Adams, and Aaron Jones time, lean on the passing game and choose not to run into a brick wall repeatedly here. Dillon may even get to his 4.3 YPC season average, but he isn't getting 10 carries this weekend, making this an under bet for us. Check out our 49ers at Packers props picks and 49ers at Packers best bet.
Cam Akers - Under 50.5 Rushing Yards
Best Available Number: -110 at FanDuel
There are two points that stick out to us following the Wildcard round, and I'm sure neither will be lost on Sean McVay. First, outside of one 15 yard carry, Cam Akers averaged 2.5 YPC on 15 carries against a Cardinals defense that gave up 4.6 YPC on the season. Second, the Bucs just held Miles Sanders to 16 yards on 7 carries.
The Bucs defense started 2021 out looking like one of the best run defenses we had ever seen, teams were flat-out refusing to run against them. They hit a mid-season lull, had injury issues with Vita Vea, JPP, and Lavonte David, but are now fully healthy and locked in on a repeat.
These two teams met in week 3 and with Akers and Henderson both out, Sony Michel saw 20 carries in that meeting. While that may seem like the Rams committing to run against the Bucs, 11 of those carries came with LA up by 2+ touchdowns.
We don't see the Rams getting up two touchdowns early here, we don't see Cam Akers getting to 20 carries, and we don't see Cam Akers cashing this rushing yards prop.