With Super Bowl LVI less set to kick off at 6:00 PM Sunday, the pressure is on bettors to get their wagers in place. We have seen plenty of line movements over the course of the last two weeks as a public narrative was formed as to how experts think this one plays out.
It would have been difficult to predict this matchup back in the preseason when Cincinnati was around +8000 to win the Super Bowl, and the Rams were a more modest +1200 to win it all. As is the case most years, both teams got hot at the right time and enter Sunday's matchup playing their best football of the season.
Let's start by taking a look at both teams' strengths and weaknesses in hopes that that will lead us to our Same Game Parlay play. We are going to take the spread and total out of the picture here and focus on players with Super Bowl 56 matchups they can exploit.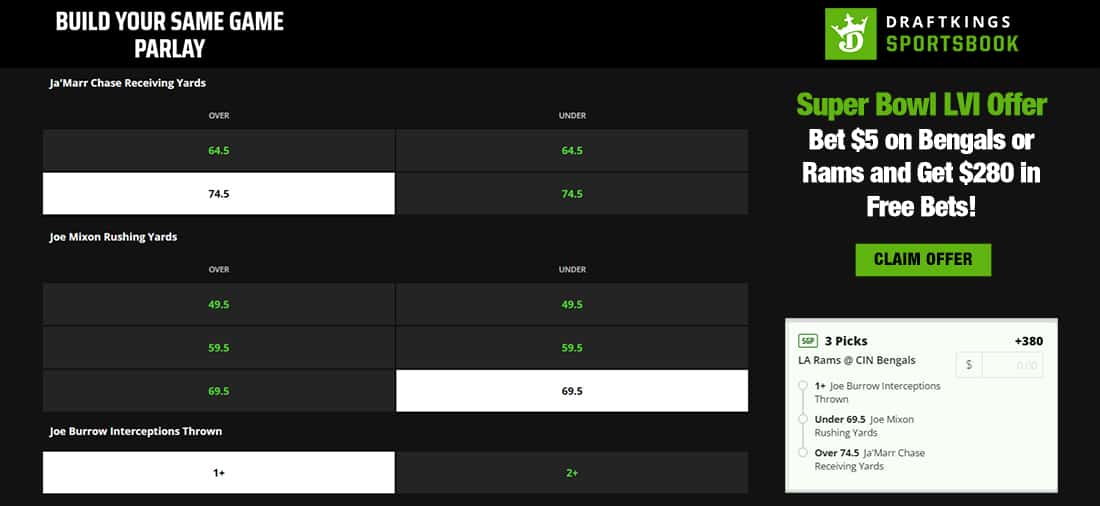 Ja'Marr Chase OVER 74.5 Receiving Yards
The one commonality between these two offenses is that they both like to go through the air and press the ball downfield. Both teams rank inside the top 10 in total passing yards, and it is no shock that they are #1 and #2 in number of completions of 40 or more yards. The Rams lead with 18 to the Bengals 16.
While Cooper Kupp is the biggest downfield threat in any game he is in, Ja'Marr Chase is right there with him. Nothing against Deebo Samuel or Brandon Aiyuk, but if they both can get 72 and 69 yards respectively, I don't see why Chase can't get over his total in this matchup.
Mixon UNDER 69.5 Rushing Yards
Both Super Bowl defenses are stout against the run. The Bengals rank 8th in the NFL in yards allowed, while the Rams finished the season 5th in the league. Mixon did gallop for 88 yards on the ground in the AFC Title game, but that was against Kansas City, which ranked 19th against the run. He will have a much tougher time against this strong Rams defensive front.
It should not be news to any of our readers that the Bengals' offensive line has struggled all season. This not only affects Burrow, who was sacked more than any other NFL QB, but it affects Mixon. The Bengals manage just 1.01 yards before contact in the run game, and to make matters worse, the Rams give up just 1.03 yards before contact.
Mixon has topped this rushing prop just once in his last 8 games, and given how his Super Bowl matchup looks, we see the under as a lock here.
Joe Burrow 1+ Interceptions
The last leg of the parlay is being used for a couple of reasons. First, Burrow has thrown a pick in 2 of 3 games these playoffs. He was clean against Vegas but they are last in the league in opponent interception percentage. The Rams defense gives up yardage and points, but they are also one of the most opportunistic defenses in the league.
Second, I believe this game is going to be a shootout, and with every pass, there is an opportunity for an interception. If the Rams get up on Cincinnati early, while taking away the run, the game flow here could force Burrow into 40+ attempts for the first time in these playoffs. Simply targeting his attempts prop offers a -100 odds difference, so I like the value that the interception leg gives to our same game parlay.
Where to Bet this Same Game Parlay
DraftKings is the only sportsbook that allows you to add alternative prop totals and QB interceptions to your Super Bowl 56 same game parlays, so this exact play is only available in their app.
You could play a variation of this SGP with almost any book, by simply using the provided props and swapping Burrow's interception leg with his attempts. Chase over his receiving yards prop, Mixon under his rushing yards prop, and Burrow over his attempts prop would pay out +375 at PointsBet.
Be sure to check out our favorite prop plays for the 2022 Super Bowl for additional help building your same game parlays.

Best Same Game Parlay for Rams Win
The Rams are our Super Bowl 56 pick and we are willing to double down on that pick with a four-leg same game parlay that should cash if the Rams win. These are four of our favorite bets from this matchup and has a healthy +420 payout. Here is a breakdown for each leg of this Super Bowl 56 SGP pick:
LA Rams First Half Spread -2.5
The Rams have been scary good in the first half of games over their recent run. They trailed at halftime against the 49ers in the NFC Conference Championship but led by 14 against the 49ers in the regular-season finale, 21 against the Cardinals in the Wildcard round, and 17 against the Bucs in the Divisional Round. We expect them to jump on the Bengals early in Super Bowl 56 and lead by a field goal or more at halftime.
Cincinnati Bengals Team Spread Under 22.5
The Bengals offense has only played 4 top-16 scoring defenses this season, going 1-3 while averaging only 17.5 PPG in those games. The Rams defense has allowed less than 18 PPG over their last nine games despite playing a brutal schedule over that stretch. If the Rams are up big early, they will take the air out of the ball and put the following two picks into play.
Cam Akers Over 64.5 Rushing Yards
Akers returned from injury to face the Cardinals, 49ers twice, and a Bucs defense that was brutal against the run when fully healthy. The sledding will get considerably easier in Super Bowl 56 as the Bengals allow a healthy 127.3 rushing yards per game.
Joe Mixon Under 63.5 Rushing Yards
We already gave away this leg in our pick above, but will just reiterate that a Rams lead will clearly hamper Mixon's chances of reaching his rushing prop in this one. Los Angeles comes in allowing the fewest rushing yards per game for any team in these playoffs at just 54 yards per game and 3.1 yards per carry. Burrow's rushing prop is set at 12 yards, which means the Bengals will need to rush for 50%+ more yards than the Rams playoff average (behind one of the worst offensive lines in football) if he and Mixon are to each reach their prop total on Sunday.