Wow! What a wild ending to the NFL regular season! All Pittsburgh Steelers fans may need to be put on blood pressure medication after watching the Chargers and Raiders come within a missed field goal in overtime away from a dreaded tie.
Nevertheless, we turn the page to Wildcard Weekend. This should be loads of fun for football junkies since we get NFL playoff games on Saturday, Sunday, and Monday! Here are three best bets to make for the Wild Card Round of the NFL Playoffs with a look at the live odds for each matchup.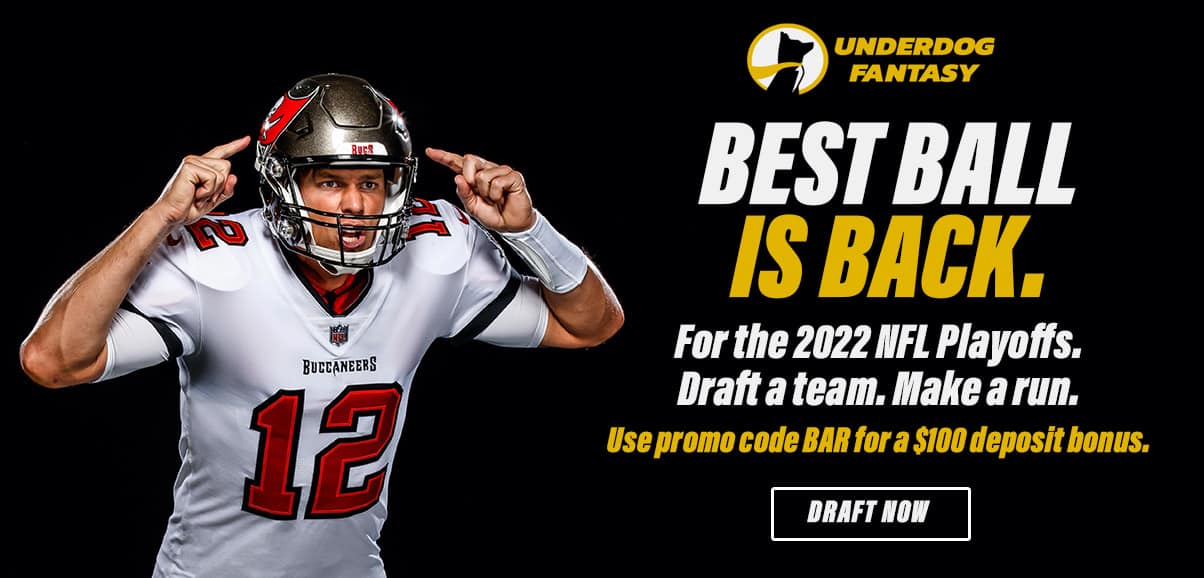 Las Vegas Raiders +6.5
Would love to see a +7 with this one but there's plenty of value in +6.5. Joe Burrow and the Bengals have put together an impressive season, but this line is simply way too high. Our power ratings say that the Raiders should only be +2.5 in this spot.
Paul Brown Stadium will be rocking for a Bengals home playoff game but it's not like the Raiders have been a bad road team this season (5-3 SU, 4-4 ATS). Home field advantage just doesn't mean as much as it did in years past. Sure, it's worth a point or so, but it's nowhere near the +3 that some folks still use.
Here's why we think Cincy is a tad overrated. Check out the strength of schedule differences. The Bengals have played the 26th toughest schedule while the Raiders have played the 11th toughest, according to Sagarin.
The Raiders are the more battle-tested team in this matchup. Las Vegas has dealt with a ton of adversity and off-the-field distractions, but they have persevered despite it. It's been impressive to see this group overcome Jon Gruden's mid-season firing and the terrible situation with Henry Ruggs.
Another reason we love Las Vegas in this game is that they have a much better defense than Cincy. The Raiders rank 9th in yards per play allowed while the Bengals only rank 21st.
The Vegas secondary has done an excellent job of defending the pass this season (6th in yards per pass allowed). Cincy's secondary has struggled in that area all year long (26th in passing yards allowed per game).
What else is there to like about the Raiders? How about their insanely accurate kicker Daniel Carlson? The former Auburn star has made 40 out of his 43 field goal attempts this season! He's also coming off a game-winning kick in overtime against the Chargers.
In the end, we think the Bengals probably win the game. However, this line is way out of whack. Take the points with the Raiders in this one to start your weekend off with a W.
Live Odds for Las Vegas Raiders at Cincinnati Bengals: 1/15/22
Shop Odds from Every Wild Card Game
San Francisco 49ers +3
(Note: You can grab +3.5 at BetMGM)
The Cowboys have had a terrific season but this is a tough matchup for them, even in the friendly confines of Jerry World. The Niners seem to be getting healthy at just the right time, even though Jimmy Garoppolo's thumb has to be extremely sore. It's been impressive to see San Fran overcome so many injuries and still reach the playoffs this season.
Dallas has a great statistical profile, but they beat up on a lot of cupcake teams this year. Aside from a tremendous road win at New England, the Cowboys have simply won the games that they were supposed to win. San Francisco had to navigate the toughest conference in the NFL, the NFC West.
The 49ers offense had their share of struggles this year, but did you know they lead the league in both yards per play and yards per pass? Niner fans may have been begging for Trey Lance at times this season, but Garoppolo has been a steadying presence for this team.
The Niners have been running the football a lot better of late. That's bad news for a Dallas defense that is very average against the run (23rd in yards per rush allowed). We can see running back Elijah Mitchell having a huge game!
The main reason we love the Niners in this game though is their tenacious defense. San Fran ranks 7th in yards per rush allowed and 6th in passing yards allowed per game. This group also ranks 3rd in sack rate thanks to Nick Bosa (15.5 sacks).
There's not a ton of value in this point spread, as our line makes this game SF +2. However, we think several key matchups favor the road team. Give us the Niners plus the points on Sunday afternoon.
Live Odds for San Francisco 49ers at Dallas Cowboys: 1/16/22
Shop Odds from Every Playoff Game
Arizona Cardinals (+4.5)
We'll admit it. This play is partially out of spite against Sean McVay. Did you see him run down to the end zone like an idiot to celebrate with his players? It's kind of funny that the Rams proceeded to blow such a big lead after that!
Anyway, we feel like this line is a tad inflated. Our numbers say Arizona should only be +2.5 in this game. The Cardinals rank 8th in strength of schedule while the Rams rank 18th.
Arizona should be out for a bit of revenge after losing to Los Angeles on Monday Night Football a few weeks ago. Keep in mind though that the Rams blew out the Cardinals in LA back in Week 4 by 17 points! There shouldn't be much home-field advantage to speak of in this game.
Arizona may have lost to Seattle last week but they did get a nice road win at Dallas in Week 17. Kyler Murray seems to be rounding back into form after knocking off the rust from his injury. We think Murray could give the Rams defense problems in this game, especially once he gets outside the pocket.
Matthew Stafford has a cannon for an arm but he still tries to force too many throws. The former Georgia star has thrown 17 picks this season and should have a difficult time against an above-average Cardinals secondary.
It wouldn't surprise us to see the Cards take this one outright! Take the points in this one. Best of luck with all your Wild Card Weekend action!
Live Odds for Arizona Cardinals at Los Angeles Rams: 1/17/22
Shop Odds from Every Playoff Game