It's hard to believe that we are already into Week 3 of the NFL regular season. Our player props continue to crush it, as we are now 11-2 on the young season. We especially hope you played Sunday's four selections (which went 4-0) over at PrizePicks, where a $20 parlay (free with our promo code offer) would have paid you $200!
We know that sports betting is a "What have you done for me lately?" business so we won't be resting on our laurels. Win or lose, we'll always put in the necessary research time on all of our picks. Here are our 5 favorite player prop bets for NFL Week 3.
Featured NFL Player Prop Offers

Get $100 in Free Prop Contests
Use Promo Code: EWB

Bet $100 Worth of Props for Free
Use Promo Code: EWB
Anytime TD Scorer Player Props for NFL Week 3
One of our favorite types of player props, anytime TD scorers are a great way to find plus-money on player props. Here are four players we are betting on to find the end zone in week 3:
Gabriel Davis (+160 at Caesars)
Davis was sidelined last game by an ankle injury. During that game, he saw his teammate, Stefon Diggs light up the scoreboard 3 times. This week, he is back in the lineup and will be looking to get into the endzone himself. The defense of the Dolphins will be keyed on Diggs throughout, giving Davis opportunities to find the endzone.
Nelson Agholor (+290 at FanDuel)
We are playing a bit of a longshot here for the 2nd touchdown prop of the early slate. Agholor has 1 of the 2 touchdowns that Mac Jones has thrown this season. They face the Ravens this week, and that defense just gave up a ton of receiving touchdowns to the Dolphins. We expect the Ravens to lead and the Patriots will be throwing to get back in this one.
Rashaad Penny (+170 at DraftKings)
The Seahawks have yet to score a rushing touchdown this season. Their opponents this week, the Falcons have given one up in each of their games this season. We believe Seattle will be focused on the ground game this week as Geno Smith struggled without a rushing attack. Almost 2 to 1 is too good to pass up here.
Allen Robinson (+165 at DraftKings)
Robinson picked up his 1st touchdown of the season last week against Atlanta. This week, in Arizona, Robinson will ample opportunities to get a score in a game that could end up in a shootout. He almost had a 2nd last week but will make up for that miss this week.
Passing Player Props for NFL Week 3
Our passing props went 3-1 last week and we like our odds to repeat that success with these 4 NFL week 3 passing props:
Tua Tagovailoa Over 0.5 Interceptions (-115 at BetMGM)
This is likely our favorite play of the weekend. The Bills have 5 interceptions on the season which ties them for the most in the league with Pittsburgh and Jacksonville. Tua threw 2 interceptions last week against the Ravens and it easily could have been 3. We expect the Bills to force Tua into some tough positions where he should throw at the very least, 1 interception.
Lamar Jackson Over 1.5 Passing TDs (+120 at Draftkings)
Jackson seems to be on a mission to prove that his passing abilities are just as impressive as his running abilities this season. He has thrown 3 touchdowns in both games this season and on this play, we only need 2 and it is offered at plus money. We simply can not pass up the value here.
Jimmy Garoppolo Under 1.5 Passing TDs (-125 at DraftKings)
The thin air up in Mile High Stadium will cause issues for the entire 49ers team. For this play, we don't expect much more than game management to come from Jimmy G. He put up 1 touchdown last week in his limited role after Trey Lance went down, and now that he is getting the start, the Broncos will be prepped for him.
Kyler Murray Over 0.5 Interceptions (+100 at SI Sportsbook)
Murray has just 1 interception on the young season. That one came to the Raiders last week. The Rams are tied for 4th in the league with 4 interceptions this season. Jalen Ramsey will be looking to add to that total this week and will get some chances if the Cardinals fall behind early once again.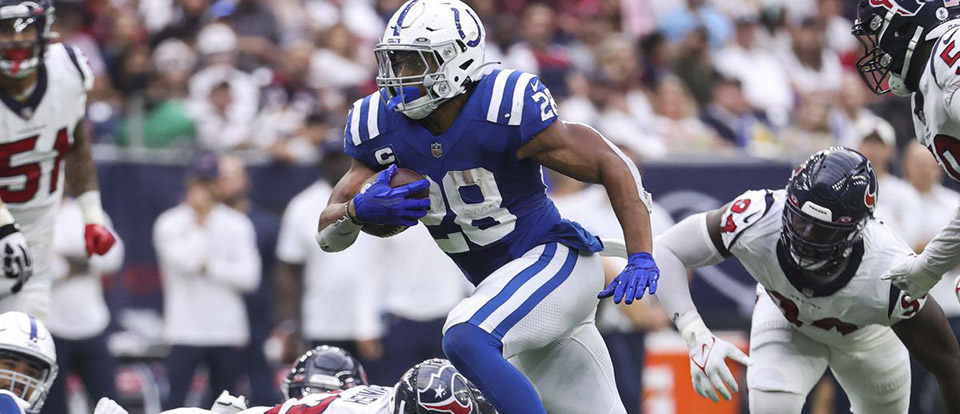 Rushing Player Props for NFL Week 3
Our RB props went 5-2 last week with a Kareem Hunt anytime TD prop and Saquon Barkley receiving prop failing to cash. We look to stay hot with these 4 rushing props for Sunday:
Christian McCaffrey Under 55.5 Rushing Yards
McCaffrey is fun to watch but the poor guy has struggled with nagging injuries for most of his career. The former Stanford star broke through against the Giants for 102 yards last week but we still like the Under in this spot.
There are certain teams that just seem to have a player's number. That is the case with the Saints when it comes to McCaffrey. New Orleans has held McCaffrey to an average of only 37.9 rushing yards through seven career games. In those seven games, he's only gone over this total twice.
The Saints have a tough defensive line that is led by veterans Cameron Jordan and Marcus Davenport. They rank 2nd in defensive EPA against the run, so it could be tough sledding for McCaffrey on Sunday. Take the Under!
Jalen Hurts Over 9.5 Rush Attempts (-145 at BetRivers)
Hurts had 17 carries in Week 1 and 11 carries in Week 2. While this is trending down, we believe he will continue to take advantage of defenses that are forced to worry about a strong receiving core that the Eagles have and leave open rushing lanes for Hurts.
Jonathan Taylor Longest Rush Over 16.5 Yards (-125 at BetMGM)
Taylor has picked up long rushes over this number in both games this year. This week, against Kansas City, he may be limited on attempts if they begin to fall behind early. However, he is always a threat to break one long and we expect him to do just that in this one again.
Darrell Henderson Jr. Over 38.5 Rushing Yards (-115 at Caesars)
Henderson has exceeded this number in both games this season. Even with Cam Akers contributing more and getting more carries than Henderson last week, Henderson was able to average 4.7 yards per carry on his way to 47 yards on the day.
Javonte Williams Under 60.5 Rushing Yards
We love playing this one because Williams has to split carries with veteran RB Melvin Gordon. Through two games, Williams is only averaging 11 carries per game. We just don't think the former UNC Tar Heel will be able to crack 50 rushing yards in this one, much less 60.5.
In case you haven't noticed, the 49ers' defense is flat-out nasty against the run! San Francisco only allows 2.6 yards per carry, which leads the league. They also rank 2nd in rushing yards allowed per game and 4th in defensive EPA per rush.
This is just a bad matchup for Williams and the Broncos' running game. In 19 career games, Williams has gone Under this yardage total in 12 of them. Let's ride that trend!
James Robinson Longest Rush Over 13.5 Yards (-110 at BetMGM)
Robinson has shattered this number in both Week 1 and Week 2. In week 1 against Washington, he ripped off a 22-yarder as his long and last week against the Colts it was 37 yards on one carry for Robinson. We expect the trend to continue on the road in LA this week.
Receiving Player Props for NFL Week 3
We went 8-3 in our non-receiving props last week, but 0-3 with our receiving props. With that in mind, this group of player prop picks got a little extra attention for week 3:
Amon-Ra St. Brown Over 71.5 Receiving Yards
At 53 points, this is the highest total on the board for Week 3, which means that there should be tons of yardage. No wideout in the league is hotter right now than St. Brown, who just torched Washington for 116 receiving yards and two touchdowns. The former USC standout should be able to terrorize this Vikings secondary, which is coming off a short week.
Something really clicked for St. Brown when he caught that game-winning pass to beat Minnesota in December of last year. His routes are crisper and he's playing with a lot more confidence. St. Brown has gone Over this yardage total in 7 out of his last 8 games!
Dallas Goedert Over 4.5 Receptions (+115 at SI Sportsbook)
Goedert grabbed 5 catches last week on 6 targets against the Vikings. He saw a bunch of opportunities to rack up yardage and did just that with 82 yards. This week, against the Commanders, we expect his reception total to still go over but his yardage to take a hit.
Jarvis Landry Under 40.5 Receiving Yards (-120 at PointsBet)
Landry exploded in Week 1 for 7 catches and 114 yards against the Falcons. The majority of that yardage came late in the game when things got tight. Last week, against the Bucs, he only had 4 catches and a very low 25 yards. The Panthers are 2nd in the league in passing yards allowed with just 161.5 per game. Landry is going to be limited in opportunities and his yardage will suffer as it did last week.
Travis Etienne Over 2.5 Receptions (+105 at Caesars)
Etienne has been the guy that coach Doug Pederson has looked to get involved more in the passing game in the flats and out of the backfield. He has 5 receptions on 7 targets this season and in a game that could be pass-heavy on both sides, Etienne could see even more targets this week.
Kyle Pitts Under 46.5 Receiving Yards (+100 at DraftKings)
Pitts has been one of the most under-performing players in the league through the 1st two games of the season. Not just tight ends, or receivers, we are talking overall across the board. Last season he finished with 68 catches and 1026 yards but this season he has just 4 catches for a total of 38 yards. He is bound to break out sooner or later but on the road in Seattle is not the place that will happen. He may match his season total to this point but we believe that is his ceiling this week.
Nico Collins Under 42.5 Receiving Yards
Collins has a nice skillset but the Texans are just a poor offensive team. They have trouble moving the ball through the air, as they rank 30th in EPA per pass. We just don't see Collins doing much in this game, even against an average defense like the Bears.
As far as his career numbers go, those favor the Under by a pretty wide margin. Collins has only averaged 33.1 receiving yards per game through 16 games. He's gone Under this yardage total 11 times over that 16-game span.
With a total as low as 40.5 points, this should be a slow and methodical game. Our projection has Collins finishing with only 31 yards so we'll take a stab with the Under.
Zach Ertz Over 40.5 Receiving Yards
Why is this number so low? Ertz may not be in his prime anymore but he's still only 31 years old and should have lots left in the tank. The former Eagles star was targeted 11 times last week against the Raiders and he finished with 8 receptions and 75 yards.
For his career, Ertz has averaged 51 receiving yards per game, which slightly favors the Over. However, the kicker is that Ertz is 76-60 to the Over in his career vs. this yardage number.
Also, the Rams will probably blitz Kyler Murray quite a bit in this game. This means that Murray will be looking for those quick slant or curl routes over the middle of the field. Ertz should see plenty of action and send this one Over the total!
Best of luck with all your Week 3 props action! Thanks as always for reading!