The Fiesta Bowl will kick off on January 1 at 1:00 PM Eastern Time on ESPN. The matchup is a fascinating one, as the Oklahoma State Cowboys (11-2) will take on the Notre Dame Fighting Irish (11-1). Though these two teams have a rich football tradition, they have never played.
The key question for this game will be the motivation level of Notre Dame. Much to the surprise of a lot of people, head coach Brian Kelly decided to leave the Fighting Irish to become the new head coach of LSU. Can Notre Dame set all of that shock aside and rally around new head coach Marcus Freeman?
This has all the makings of a fantastic football game. As they say in the boxing world, "styles make fights". Let's check out the live odds for this Fiesta Bowl matchup before giving out our Best Bet.
Live Odds for the Fiesta Bowl - Oklahoma State vs Notre Dame
Shop Odds for Every Bowl Game
Oklahoma State Fiesta Bowl Offensive Preview
Mike Gundy normally loves to air the ball out but he's changed his philosophy to a more run-based offense this season. QB Spencer Sanders has quick feet and the ability to move well outside the pocket (6 rushing TDs). However, the 6-1 junior can be erratic with his passes at times, as evidenced by his 12 interceptions this season.
However, Sanders has shown a good bit of improvement over last season, as he has thrown for 2,468 yards and 16 TDs. Sanders' favorite target is Tay Martin, who has caught 70 passes for 942 yards and 7 TDs. It'll be intriguing to see if the Pokes passing game can do any damage against a stout Fighting Irish pass defense.
The Cowboys' best offensive player is running back Jaylen Warren, who has run for 1,134 yards and 11 TDs this season. Warren is rather short at 5-8 but he has a thick lower half that makes him hard to bring down. We expect Gundy to get Warren the ball at least 20 times in this game.
Notre Dame Fiesta Bowl Defensive Preview
Marcus Freeman did a fantastic job in his first year as the Notre Dame defensive coordinator. That's the main reason he ended up getting the head coaching gig. Freeman knows how to put his defenders in the right position and the numbers certainly show it.
Notre Dame ranks 7th in the nation in EPA per play allowed. That's a solid stat considering that the Irish always play a fairly tough schedule. The strength of the defense is the secondary, as they rank 2nd in EPA against the pass.
The only bad news for the Irish defense is that they'll be without their best defensive player, safety Kyle Hamilton. The soon-to-be first-round draft pick is dealing with a knee injury. Even without Hamilton, this secondary still should be able to contain the Oklahoma State receiving corps.
Notre Dame Fiesta Bowl Offensive Preview
It'll be interesting to see what Notre Dame's play-calling looks like with Brian Kelly gone. QB Jack Coan has the dreaded label of being a game manager, but the former Wisconsin Badger put up some decent numbers this season. Coan threw for 2,641 yards and 20 TDs while only throwing 6 INTs.
Coan may have to do the heavy lifting in this game, especially since Notre Dame will be without stud RB Kyren Williams, who is opting out after declaring for the NFL Draft. The Irish running game struggled for most of the season, as they only averaged 4.2 yards per rush (62nd).
With Williams prepping for the draft, look for Coan to get the ball to wideout Kevin Austin Jr. as much as possible. Austin caught 42 passes for 783 yards and 6 TDs this season. Also, don't forget about tight end Michael Mayer, who caught 64 passes for 768 yards and 5 TDs.
Oklahoma State Fiesta Bowl Defensive Preview
It's pretty cool to see a Big 12 team have a dominant defense as that is not the norm in that conference. This Cowboys front seven is a ferocious group that leads the country in QB sack percentage and EPA per rush allowed.
Collin Oliver is a nightmare to block and he ended up with 10.5 sacks and 15 tackles for loss this season. Oliver may be able to get several sacks against a Notre Dame offensive line that allows a sack on almost 8% of snaps (99th).
The Pokes' secondary is no slouch either, as they rank 16th in yards per pass allowed and 8th in EPA per pass allowed. Kolby Harvell-Peel leads the team with 3 picks so Coan will have to be careful when throwing the ball in his direction.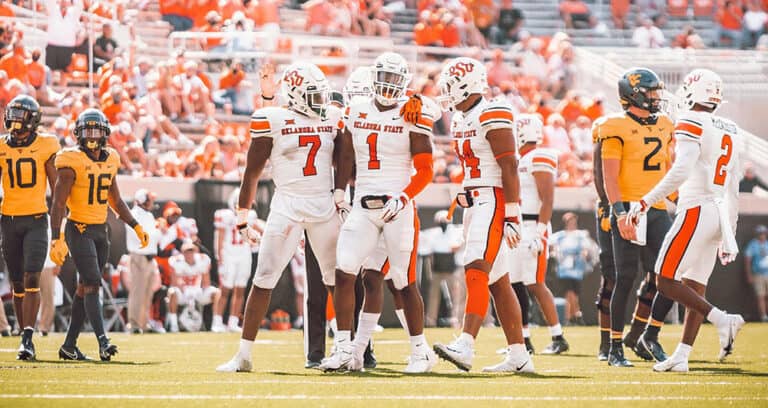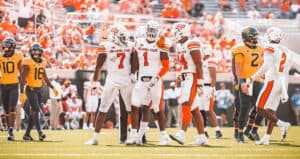 Our Best Bet: UNDER 45.5
We don't normally like to take Unders in college football games with this low of a total. However, the matchups in this game heavily favor each team's defense. Our math formula says this total is lined correctly but we still think there is value in the Under.
Notre Dame's offense struggled at times this season. It may take the Irish a quarter or two to get used to a new play-caller. The Oklahoma State defense could make Coan's life miserable with lots of disguised blitz packages.
On the flip side, we don't see the Pokes' offense doing much damage in this game either. Though they run a fast-paced style, the Cowboys only rank 90th in EPA per play. That should bode well for an Under.
We see a final score of 23-17 so take the Under with confidence. Best of luck with all your bowl betting!