NL MVP Odds for 2023 MLB Season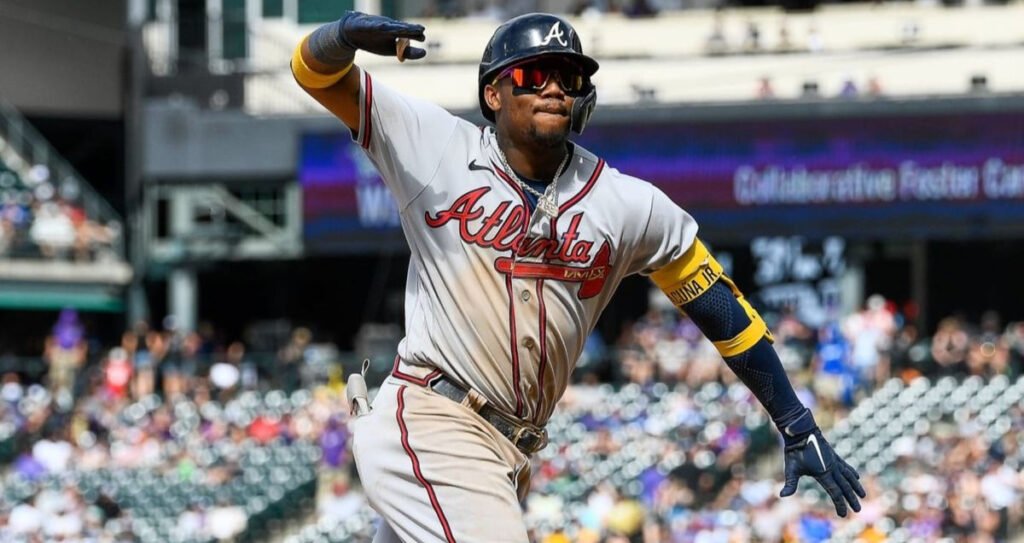 21+ to wager. Please Gamble Responsibly. Call 1-800-NEXT-STEP (AZ), 1-800-522-4700 (KS, NV), 1-800-BETS-OFF (IA), 1-800-270-7117 for confidential help (MI). Gambling problem? Call 1-800-GAMBLER. Call 877-8-HOPENY or text HOPENY (467369) (NY) Call 1-800-327-5050 (MA).
Since Spring Training has started, it's time to shift our focus to the MLB MVP markets. As we mentioned in our MLB World Series odds article, the goal is to jump on numbers that won't be there in a few months.
In this article, we'll take a look at the National League MVP race and make an outright selection. With a Padres team that's loaded with bonafide superstars and a healthy Ronald Acuna in the lineup every day for the Braves, this race could be a dead heat!
First, let's take a look at the odds from our friends over at FanDuel Sportsbook as of July 14.
Current Odds to Win 2023 NL MVP
Latest Odds from FanDuel SportsBook
| Player | Odds |
| --- | --- |
| Ronald Acuña Jr. | -330 |
| Mookie Betts | +600 |
| Freddie Freeman | +1200 |
| Juan Soto | +3000 |
| Corbin Carroll | +3500 |
| Luis Arráez | +4200 |
| Matt Olson | +5000 |
| Paul Goldschmidt | +5000 |
| Fernando Tatis Jr. | +7500 |
| Christian Yelich | +7500 |
| Pete Alonso | +8000 |
| Sean Murphy | +10000 |
| Brandon Nimmo | +15000 |
| Will Smith | +15000 |
| Ketel Marte | +15000 |
| Christian Walker | +20000 |
| Ozzie Albies | +20000 |
| Bryce Harper | +20000 |
What makes an MVP? Firstly, your team generally needs to be a playoff team. In the AL market, we almost need to make an Angels exception because of the track record of Mike Trout and now Shohei Ohtani.
In the National League, it's fairly consistent that the winners of this award have been in the playoffs and have been the best player on their team (more on this below.) This takes away seemingly attractive options in Ketel Marte or Oneil Cruz.
Despite being the best hitters on their respective teams and being capable of putting together incredible offensive seasons, the Diamondbacks and Pirates will be nowhere near competitive enough for these players to win the award.
Players I'm avoiding: Any From the Padres or Cardinals
Back to the earlier point of being the best player on your team, I think the Padres provide a conundrum that bettors cannot put their money behind. Juan Soto (+600), Manny Machado (+1200), and Fernando Tatis Jr. (+1400) could end up being the best three-man combination in baseball, but will all three of them be worth such a short price?
In my opinion, Juan Soto is the most complete hitter in Major League Baseball. Despite being the short shot in this market, I think Soto is susceptible to a voter's bias toward counting stats.
Soto's patient approach at the plate will continually have him at the top of the league in on-base percentage, but he could fall short on batting average or runs batted in.
Tatis is another big question mark, as the oddsmakers are assuming that he won't skip a bit after his PED suspension and shoulder injury. Tatis will miss the first 20 games of the season as he finishes off his 80-game suspension. He'll put his surgically repaired shoulder to the test for the first time in late April, and I don't think it's a given that he jumps back to pre-injury form right away.
The player I like the most out of this bunch is Machado, but given the ability of all three of these players, it's hard to make an argument that one of them will run away with the award, especially when looking at these short prices.
Mid-Range Players to Consider for NL MVP
Also in this short shot range are 2022 Winner Paul Goldschmidt (+1200) and Nolan Arenado (+1800), who finished third in the MVP voting in 2022. The argument against these two is similar to the Padres, despite Goldschmidt taking home the award in 2022.
Are these players going to be able to do enough individually to sway the voters away from one another? Despite coming off his strongest offensive performance, the now 35-year-old Goldschmidt does not project as well as his MVP odds suggest.
Looking over at Fangraphs, both ZIPS and The Bat are projecting steps back for Goldschmidt as they view his previous season as a peak rather than the standard. The 32-year-old Arenado is actually the one that is projected to closely replicate his 2022 performance.
Arenado has certainly proved that he can hit outside of Coors Field, but the elevation at Coors will no longer inflate his home run stats, and it will be hard for the voters to give him the award if he cannot outperform his previous year.
Best Bet for NL MVP: Ronald Acuna +1000 (FanDuel)
The player I do land on in the National League MVP market is Atlanta Braves' Ronald Acuna. The number has come crashing down in recent weeks, but you can still find 10/1 at several sportsbooks. This is an example of a number that should only come down.
Ronald Acuna is one of MLB's biggest stars but has only been able to handle one season fully healthy, 2019. If Acuna is able to completely bounce back two years out of his ACL surgery, this number would have been too long to pass up.
When healthy in 2022, Acuna put up his worst power performance of his career with an ISO of .150 and SLG% at .413. These numbers are way off Acuna's career averages, highlighting Acuna's struggle at the plate. All the reports are positive on Acuna's knee, and he spent some time in his native Venezuela, with the Braves ok with him playing in a Winter league.
2023 Stat Projections for Acuna
Many popular projection systems have Acuna in for a bounce-back season. ZIPS is projecting 32 HR and 87 RBIs with a slash line of .274/.371/.413. I think this is quite conservative in the power department, as Acuna is more than capable of a .500 SLG%.
Acuna will continue to hit at the top of the lineup, providing both walks and steals. I believe a 30/30 season is in store for Acuna, and he's probably the most capable player in the league of reaching the 40/40 plateau.
Unlike some of the other players mentioned in this article, I think Acuna does have the star power and the ability to raise himself above his teammates, who may also contend for the award (Austin Riley/Matt Olson.) While both of them should put up strong seasons and provide great lineup protection for Acuna, I think Acuna's all-around ability can set him apart.
Conservative projections are putting Acuna right in contention for the MVP. A clean bill of health and a rebounded power approach should tank Acuna's odds, and I think anything above 9/1 is a good position to take earlier in the year. Let's look for Acuna to play himself back into the MVP conversation atop this loaded Braves offense.
April 17th Update
The best players in the National League are asserting their dominance just two weeks into the 2023 MLB season. Ronald Acuña Jr. has displayed his ability to get on base (.452 OBP), hit for power (.537 SLG), run the bases (6 SB), and score (10 R), a combination that has vaulted him to the lead of the NL MVP odds (+400) in mid-April.
Preseason leader Juan Soto has continued to struggle while adapting to life as a Padre and has dropped down to third (+1200) below Philadelphia's Trea Turner (+2500), according to FanDuel Sportsbook. Soto is slashing .200/.344/.440 and has hit just nine home runs while approaching 300 at-bats during his 66 games in San Diego.
St. Louis' duo of Nolan Arenado (+2100) and Paul Goldschmidt (+2200) are among the league leaders in hitting, with Arenado knocking in 13 runs in as many games to tie him with LA's Max Muncy for second in the NL.
Pete Alonso (+900) of the Mets leads the National League in home runs with six, averaging a big fly every 9.2 plate appearances. His .696 slugging percentage is third in the NL among players with 50+ at-bats.
Finally, Fernando Tatis Jr. (+1600) will be eligible to return on Thursday, April 18, for his first MLB action since October 2021. We'll keep a close eye on how he adjusts to major league pitching after a long layoff and expectations that have only grown with time.
July 14th Update
Similar to the American League, there is a clearcut favorite to win the NL MVP in 2023: Ronald Acuña Jr. The Braves outfielder became the first player in baseball history to post 20+ home runs, 40+ stolen bases, and 50+ RBI before the All-Star break, and leads the National League in plate appearances, runs, stolen bases, and OPS while not missing a game. Atlanta has the best record in baseball to boot at 60-29.
That first half has led to Acuña's odds being stretched to -330, with a pair of LA Dodgers in pursuit. Mookie Betts (+650) and Freddie Freeman (+1100) are both top three in the NL in offensive WAR, with OPS higher than .950, Betts' leading the league in SLG (.586), and Freeman leading in doubles (31).
Outside of this trio, rookie All-Star Corbin Carroll (+3000), baseball's BA leader Luis Arraez (+3500), and the NL's home run leader Matt Olson (+4000) are giving chase as well.
Carroll is the current favorite to win Rookie of the Year in the National League, though Cincinnati's Elly de la Cruz is beginning to pressure him for that distinction. Arraez has flirted with a .400 batting average throughout the first half of the season and leads the NL in hits, batting average, and on-base percentage.
Finally, Olson hit a combined 20 homers in June and July to post an impressive 29 round-trippers and a 7.3% homer rate through 400 plate appearances.
It's good to be holding a +1000 future on Acuña, and we'll continue to monitor the odds to see if it's worth making an in-season play on top of that.
Past Winners of the NL MVP Award
Want to impress your baseball-loving friends with your expansive knowledge? The following table will help with that goal. Here are all of the NL MVP award winners from 2005 to 2022.
| Year | Player | Team |
| --- | --- | --- |
| 2022 | Paul Goldschmidt | St. Louis Cardinals |
| 2021 | Bryce Harper | Philadelphia Phillies |
| 2020 | Freddie Freeman | Atlanta Braves |
| 2019 | Cody Bellinger | Los Angeles Dodgers |
| 2018 | Christian Yelich | Milwaukee Brewers |
| 2017 | Giancarlo Stanton | Miami Marlins |
| 2016 | Kris Bryant | Chicago Cubs |
| 2015 | Bryce Harper | Washington Nationals |
| 2014 | Clayton Kershaw | Los Angeles Dodgers |
| 2013 | Andrew McCutchen | Pittsburgh Pirates |
| 2012 | Buster Posey | San Francisco Giants |
| 2011 | Ryan Braun | Milwaukee Brewers |
| 2010 | Joey Votto | Cincinnati Reds |
| 2009 | Albert Pujols | St. Louis Cardinals |
| 2008 | Albert Pujols | St. Louis Cardinals |
| 2007 | Jimmy Rollins | Philadelphia Phillies |
| 2006 | Ryan Howard | Philadelphia Phillies |
| 2005 | Albert Pujols | St. Louis Cardinals |
NL MVP Award FAQ
Have further questions about the National League Most Valuable Player award? We've compiled the following FAQ section to give you quick answers to some commonly asked questions.
Do you have a question about the NL MVP or any other MLB-related topic? Reach out to us at [email protected] or on Twitter @EatWatchBet
Has a National League player ever won the MVP award in 3 straight years?
Yes, a National League player has won the MVP award for three straight years before. The player who accomplished this feat was Barry Bonds, who won the National League MVP award in 2001, 2002, and 2003 while playing for the San Francisco Giants. Bonds is widely considered one of the greatest baseball players of all time, and his three consecutive MVP awards are just one of the many achievements that make up his impressive career.
Who won the first-ever National League MVP award?
The first ever National League MVP award was won by the baseball player named "Frank McCormick" in 1940. McCormick was a first baseman who played for the Cincinnati Reds from 1934 to 1946. He had an excellent season in 1940, leading the league in hits and finishing second in both batting average and RBIs, which helped him earn the inaugural National League MVP award. The MVP award has since become one of the most prestigious individual honors in baseball, awarded annually to the best player in each league as voted on by members of the Baseball Writers' Association of America.
What player has won the most National League MVP awards?
The player who has won the most National League MVP awards is Barry Bonds. Bonds won the award a total of 7 times, which is the most in the history of the National League. He won his first MVP award in 1990 with the Pittsburgh Pirates and then went on to win 6 more with the San Francisco Giants, including three in a row from 2001 to 2003. His 7 MVP awards are just one of the many achievements that make up his impressive career.
What position has won the most NL MVP awards?
The position that has won the most National League MVP awards is the outfield position. Outfielders have won the award a total of 70 times since the inception of the award in 1931. This is largely due to the fact that outfielders are typically some of the best hitters on their respective teams and have the ability to make game-changing defensive plays as well. In contrast, pitchers have won the National League MVP award only 11 times, and catchers have won it only 9 times.
What team has brought home the most NL MVP awards?
The St. Louis Cardinals have brought home the most National League MVP awards as a team, with their players winning the award a total of 19 times. The Cardinals have a long and storied history in the National League, having been founded in 1882 and winning 11 World Series championships over the course of their history. Some of the Cardinals' most famous MVP winners include Stan Musial, who won the award three times, and Albert Pujols, who won it three times as well during his tenure with the team. Other notable Cardinals MVP winners include Joe Medwick, Ken Boyer, Bob Gibson, and Willie McGee. Also, don't forget about last year's winner, Cardinals first baseman Paul Goldschmidt.