Player props are quickly becoming one of the most popular ways to bet on the NFL here in the U.S. market, and we have a ton of winners for you from the NFL Week 6 slate. Our team broke down every game in the 1 o'clock and 4 o'clock timeframes to identify our 14 best prop bets for Sunday. If you are an under bettor, be sure to check out Underdog and PrizePicks, as they juice odds way to the over!
Featured Sunday Night Football Offers

$100 Deposit Bonus
Use Promo Code: EWB

$100 in Free Player PRops
Use Promo Code: EWB
Anytime TD Scorer Props
Anytime TD scorer props are a great way to find plus-money prop bets. Here are our four favorite plays from the NFL week 6 slate:
Rhamondre Stevenson
Best Available Odds: +105 at Draftkings
Stevenson has only 1 touchdown on the season so far but this week he is facing the Browns who have allowed 8 touchdowns on the ground which is tied for 3rd worst in the league. Belichek will continue to keep the ball on the ground to alleviate the pressure on the young QB.
Mike Evans
Best Available Odds: +115 at Caesars
Evans is tied for 7th in the league in receiving touchdowns this season. His Bucs are facing the Steelers this week who are tied for 3rd most passing touchdowns allowed this year. Evans has been Brady's favorite target in the redzone over his Bucs career so we think these factors will lead to him getting one this Sunday.
Stefon Diggs
Best Available Odds: -111 at Caesars
The Chiefs are tied for most passing touchdowns allowed this season with 12 on the year. Buffalo is a pass-happy team that loves to air it out. We expect Josh Allen to toss a couple of TDs in what should be a high-scoring affair and Diggs to be the recipient of at least one of those passes.
Clyde Edwards-Helaire
Best Available Odds: +165 at Caesars
We are taking one from each team in this KC/Buff matchup as there should be plenty of scoring to go around. CEH did not factor into the scoring last week for the Chiefs as Kelce scooped up all 4 touchdowns from Mahomes. This week, we expect the tight end to get doubled in the redzone and allow CEH to either rush one in or catch one out of the backfield.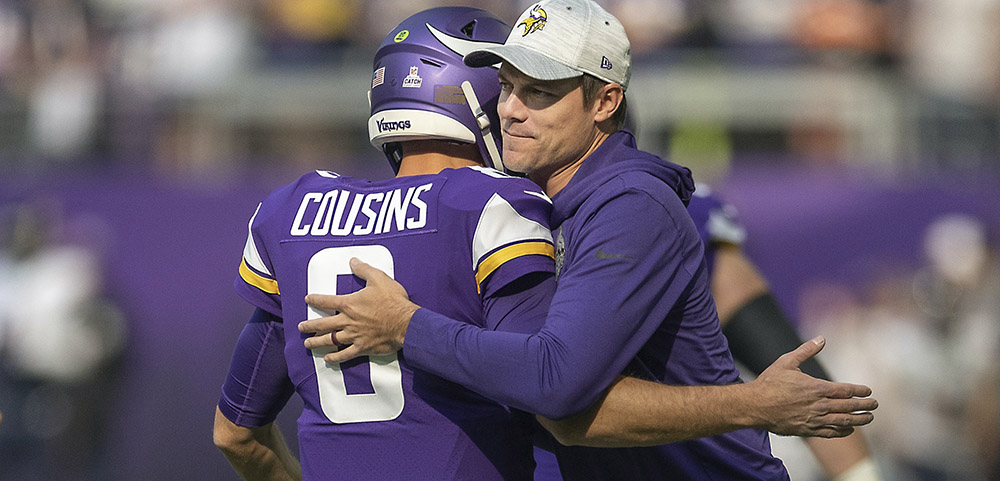 Passing Player Props
Our QB props went 3-1 last week and we have another four for you this week. Let's look to go 4-0 with this set, which includes another over-interception prop, which has been hot all season.
Daniel Jones Over 202.5 Passing Yards
Best Available Odds: -114 at BetRivers
The Ravens have allowed a season-high 1529 passing yards this season. The Giants will likely need to keep pace with the Ravens and this will force Jones to throw the ball a good amount.
Kirk Cousins Over 257.5 Passing Yards
Best Available Odds: -109 at Caesars
Cousins is averaging 265 yards passing per game this season. This week, he is facing the Miami Dolphins who are 4th worst in the league against the pass. We expect Kirk and Justin Jefferson to light up the Dolphins' defense this week.
Matthew Stafford Over 1.5 Passing Touchdowns
Best Available Odds: (-165 Draftkings)
The Panthers have allowed 2 touchdown passes to their opposing quarterbacks over the last 2 games. Stafford was unable to get 2 or more last week against and the 2 previous weeks. We believe he gets 2 or more here against a weak Carolina team that just fired their head coach.
Kyler Murray Over 0.5 Interceptions
Best Available Odds: -155 at BetMGM
We scored on this prop last week and are letting ride again this week. We believe the Cardinals will be hungover after coming so close to defeating the still-undefeated Eagles last week. In that game, Murray did throw a pick and we think in Seattle which is a tough place to play, he will grace us with yet another interception.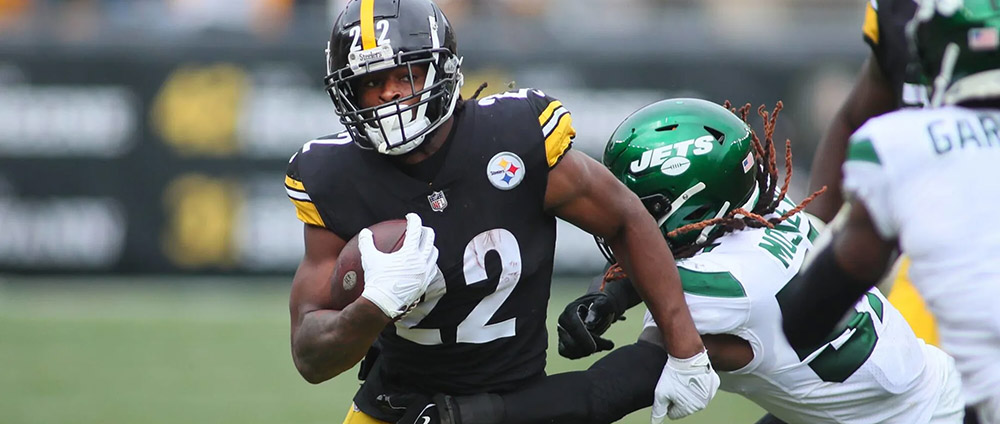 Rushing Player Props
While our overall record was down last week, our rushing props crushed it once again. Let's stay hot with three more winners here in week 6.
Najee Harris Under 43.5 Rushing Yards
Best Available Odds: -103 at Caesars
Najee has been having a terrible season compared to the ranking he was given by many fantasy experts prior to the season. The fact is, the Steelers are awful and are constantly playing from behind which is forcing them to abandon the run early. This week he faces the Bucs who are middle of the road in the league. We expect the Bucs to dominate this game and keep Harris's carries and yardage to a minimum. He is averaging only 44 yards on the year so the chances he goes over his average against a superior team are low.
Tyler Allgeier Under 46.5 Rushing Yards
Best Available Odds: -114 at BetRivers
Tyler is averaging 46 yards per game this season. This week, he gets the 49ers' defense that is 1st in the league against the rush. They are allowing just 71.4 yards per game on the ground and should not have much of an issue shutting down Allgeier.
Kenneth Walker III Over 62.5 Rushing Yards
Best Available Odds: -115 at Draftkings
We believe Pete Carrol is going to pound the rock with Walker this week in hopes of controlling the time of possession and keeping Kyler Murray off the field. The Seahawks seem to be in a place where an upset could be looming and that will start with the ground game.

Receiving Player Props
Week 6 is over week for receiving numbers here at EatWatchBet, and we have three overs we love from the Sunday slate:
George Pickens Over 44.5 Receiving Yards
Best Available Odds: -114 at Unibet
Pickens is averaging 50 yards per game and this was with a majority of his time without Kenny Pickett at QB. In the 2 games that he has played with Pickett behind center, he is averaging 92.5 yards per game. Against the Bucs this Sunday, he should have ample opportunities to reach this number.
George Kittle Over 42.5 Receiving Yards
Best Available Odds: -120 at BetMGM
Kittle has been off to a slow start as he is still coming back from his groin injury that sidelined him the 1st couple weeks this season. However, it looks as though he is finally getting his stride back. He is averaging just 33 yards per game but last week, he put up 47 yards on 5 receptions against Carolina. The Falcons are allowing more yardage through the air than the Panthers and we expect Jimmy G to feed Kittle even more this week.
Christian McCaffery Over 5.5 Receptions
Best Available Odds: +125 at DraftKings
CMC has grabbed 16 catches on 21 targets the past 2 weeks. He faces a Rams team that should provide heavy pressure on the QB forcing him to get the ball out quickly to his dump off target in CMC. Whether it would be Baker or Walker, we expect big numbers again in the passing game for CMC.
Be sure to check out my best bets for week 6 for even more ways to win this week!