Our player props cashed at an 80% clip through the first 3 weeks of the 2022 NFL season, so we were due some regression last week. We finished the week cashing 6 of 14 tickets, but it is worth noting we include several plus-money picks with these each week.
Let's get back on track with our week 5 player prop picks. We have 14 for you again this week including 5 plus-money picks that we expect to cash on Sunday.
NFL Week 5 Anytime TD Props
Often priced at great plus-money odds, anytime TD props are one of our favorite ways to bet player props. Here are four anytime TD props that stand out as offering good value for week 5:
Damien Harris (+105 at Caesars)
Harris has 3 touchdowns on the season scoring in each of his last 3 games. This week he faces the Lions who have allowed a league-high 7 touchdowns on the ground. He gets his 4th straight touchdown this Sunday.
Jahan Dotson (+240 at Fanduel)
Dotson has scored 4 touchdowns in 4 games for the Commanders this season. He seems to be Carson Wentz's favorite target in the RedZone. The Titans have given up 10 touchdowns this season through the air and Washington will be looking to cash in on that ineptitude.
DeVonta Smith (+170 at FanDuel)
DeVonta had a bad game last week in the rain and cold in Philadelphia. It was all over social media about him complaining about the conditions and his play showed his frustration. This week he will be in lovely Arizona where the cold will not be an issue.
Ezekiel Elliot (+175 at Draftkings)
I took Zeke as a flyer in my fantasy league and have started him every week. This week I put him on my bench so there is no doubt he is finding the endzone now.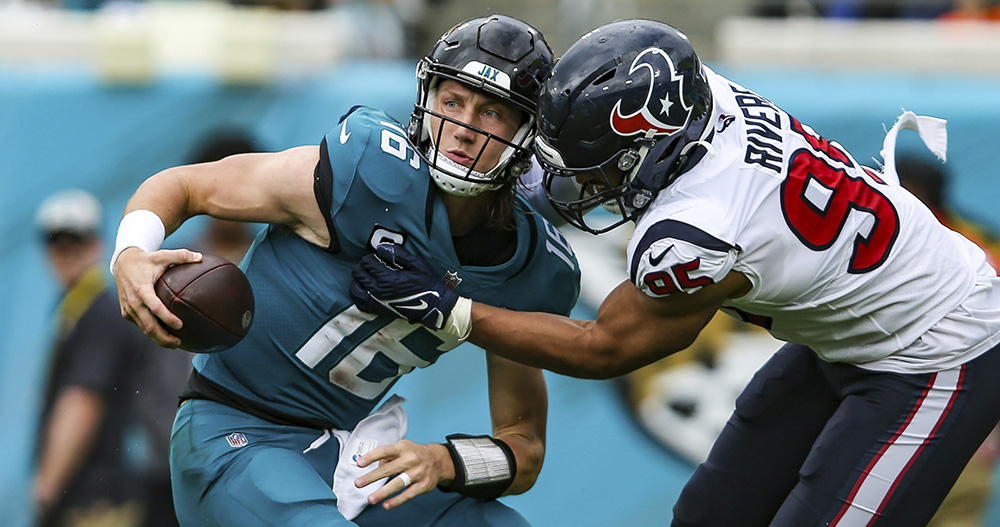 NFL Week 5 Passing Props
Our over-interceptions passing props remain hot this season, and we have two more among our four favorite passing props from the NFL week 5 slate.
Trevor Lawrence Under 1.5 Touchdown Passes (-110 at BetRivers)
Lawrence has thrown 2 or more touchdowns in each of his last 3 games. He faces the Texans this week who have allowed just 4 total touchdowns through the air. We expect the Jags to keep it on the ground in the RedZone giving Lawrence limited attempts.
Marcus Mariota Over 0.5 Interceptions (-118 at Unibet)
Mariota has thrown has 4 interceptions over his last 3 games. He is facing a Tampa defense that has picked off the opposition 6 times already this year. Marcus will give at least one away in this game.
Matthew Stafford Under 1.5 Passing Touchdowns (-103 at BetRivers)
The Cowboys have allowed just 3 touchdowns through the air this season. Stafford has just 1 game where he threw more than 1 touchdown and has not thrown 1 in his last 2 games. We don't believe he will be able to put up more than one here at home.
Kyler Murray Over 0.5 Interceptions (-120 at Draftkings)
The Eagles have 5 picks already this season which is 7th in the NFL. Murray has thrown a pick in 2 of his last 3 games. We believe the Eagles are going to be up early on the Cards and force Murray to make more forced throws late in the game that will lead to an interception or 2.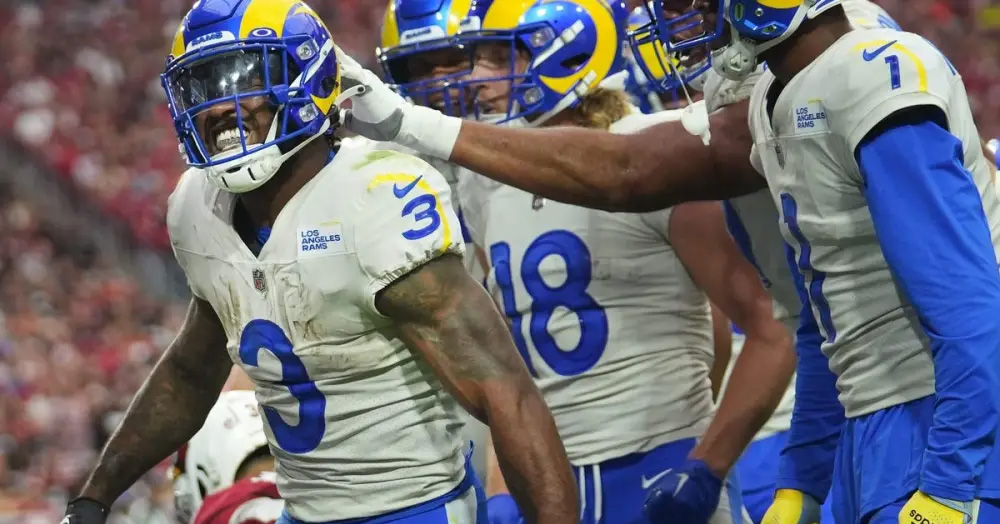 NFL Week 5 Rushing Player Props
Our rushing props went 2-1 last week, with a big game from Derrick Henry ruining what would have been a clean sweep. We have four rushing props for you this week, let's shoot for that sweep.
James Robinson Over 61.5 Rushing Yards (-115 at BetMGM)
The Texans have allowed 172 yards per game on the ground which is 2nd only to the Bears in the NFL. Robinson didn't get many carries last week against the Eagles but has surpassed this total in the previous 3 games.
Najee Harris Under 51.5 Rushing Yards (-110 at Draftkings)
Harris has averaged 50.5 yards per game. He faces a Bills defense that is 3rd in the league against the run. The Steelers will likely need to abandon the run game rather early in this one due to the Bills' ability to put up points in a hurry.
Cam Akers Over 44.5 Rushing Yards (-104 at Caesars)
Cam is coming off a game against the 9ers who are 2nd best in the league against the run. It is no shock that he only mustered 13 yards on the ground against them. He faces the Cowboys this week who are in the bottom 6 of the league in rush defense. Akers should be able to get north of 50 yards here against a Dallas team allowing 110 yards per game on the ground.
Jalen Hurts Longest Run Over 14.5 Yards (-120 at Draftkings)
Hurts went over this number in the 1st two games of the season but has failed to get over the last two. He will have ample chances against Arizona this Sunday and we believe he will get there.
NFL Week 5 Receiving Player Props
Our receiving props were our worst-performing props last week so we gave them some extra love for week 5 and narrowed the entire slate down to two picks.
Tyler Lockett Over 5.5 Receptions (+105 at Caesars)
Lockett has reached 6 or more receptions in 3 straight games. This week against the Saints, he will extend his streak to 4 straight games of 6 or more receptions. Geno Smith has begun to nurture this relationship more and will continue to build with Lockett.
Pat Freiermuth Under 35.5 Receiving Yards (-114 at Caesars)
Freiermuth is Facing the Buffalo Bills who have allowed the least amount of receiving yards this season. The QB situation seems to be fluid so who knows who will be tossing him the rock this week.