Who does it better than EatWatchBet? As hot as our NFL best bets have been (83% YTD), our player props are holding serve hitting at an 81% clip for the season.
Whether you are looking to hammer your sportsbook, a legal DFS props app like Underdog Fantasy, or are building out lineups at FanDuel and DraftKings, these player props are a great place to start your week 4 research.
As always, we've already shopped every prop for you to identify which sportsbook has the best available odds. We have 14 props for you this week, so let's jump right into it with some anytime TD scorer picks.
NFL Week 4 Anytime TD Scorer Props
These seem to be fan-favorites thanks to the plus-money odds, so we will lead off our NFL Week 4 props article with four players whose anytime TD odds offer great value.
Lamar Jackson (+145 at FanDuel)
Buffalo has a good secondary that will cause the Ravens issues inside the RedZone. We expect Jackson to take one on the read option for a rushing touchdown.
Austin Ekeler (-110 at DraftKings)
Ekeler finished last season with 20 total touchdowns. He has yet to find paydirt this season. Here we get him against a Texans team that is allowing almost 20 points per game and are coming off a game where they allowed 2 rushing touchdowns to Kahlil Herbert. We believe Ekeler finally finds the endzone this weekend.
Allen Lazard (+205 at SI Sportsbook)
Romeo Doubs was the beneficiary of a touchdown toss from Aaron Rodgers for the 1st score of the game last week. Lazard was next in line and scored his 2nd touchdown in the same number of games. We are banking on him getting yet another one here against the Pats.
Darren Waller (+210 at DraftKings)
Waller has one touchdown through three games to this point. In his last full season, he finished with 9 touchdowns. The Broncos' secondary will be focused on Davante Adams in the RedZone which should open things up for Waller this week.
---
Passing Player Props for Week 4
Our QB prop picks have been hot this season, particularly when we bet over interception numbers, where we have yet to miss. Two yardage props and two interception props make our best bets for the week 4 slate.
Josh Allen Over 282.5 Passing Yards (-110 at BetMGM)
The Ravens are allowing over 350 yards per game through the air from opponents. The Bills love to throw the ball all over the field. Allen is averaging 338 per game and should get over 283 with relative ease.
Jalen Hurts Over 0.5 Interceptions (-140 at DraftKings)
This prop is a bit juiced but considering the fact that the Jaguars have 6 interceptions on the season and will be ball hawking against a pass-heavy Eagles offense. Hurts finished last season with 9 interceptions and only has thrown 1 so far this year. We expect him to toss one here against the Jags.
Aaron Rodgers Under 229.5 Passing Yards (-110 at BetRivers)
The Pats have been decent against the pass this season. Tua was able to rack up 270 in week 1 against the Pats but Trubisky was held to under 200 and Lamar Jackson to just a tick over 200. Rodgers will be leaning on their strong rushing game here and not have a need to throw much.
Russell Wilson Over 0.5 Interceptions (+110 at BetMGM)
We are expecting the Raiders to put up points in this matchup and will force the Broncos to throw more than expected. The Raiders have picked off 2 passes already. The pass rush of the Raiders will cause Russ to force some throws and will allow the secondary to grab another one here.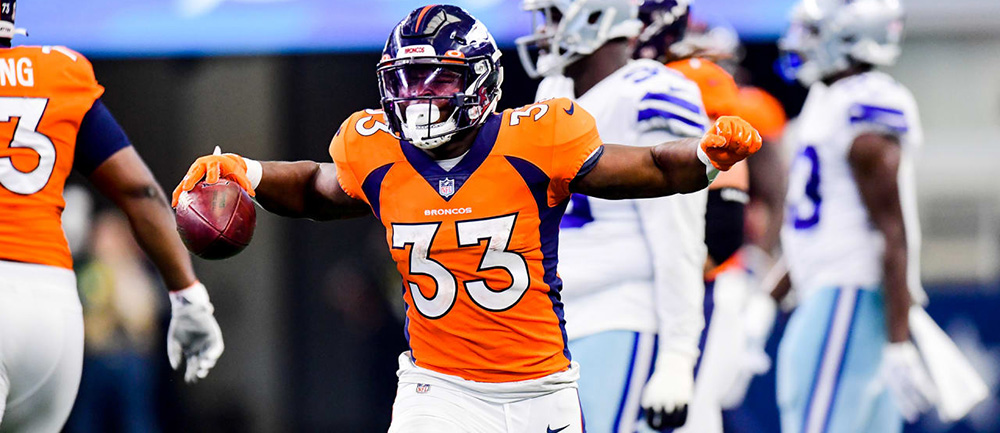 NFL Week 4 Rushing Player Prop Picks
We will look for Austin Ekeler to get back on track and for Derrick Henry to struggle to find running room against a tough Colts defense with our NFL Week 4 RB player prop picks.
James Conner Over 46.5 Rushing Yards (-118 at Caesars)
Conner is facing the Panthers who are allowing over 130 yards per game on the ground. Murray has been under duress in the passing game without his main man Hopkins. We are expecting the Cards to pound the rock in this one and Conner should be able to surpass this number.
Austin Ekeler Over 54.5 Rushing Yards (-110 at DraftKings)
Ekeler is averaging just 27 yards per game on the ground through 3 games. This should be the game where he finally breaks out. The Texans are allowing over 200 yards per game on the ground. We wouldn't be surprised if Ekeler ends up getting closer to double this yardage on the ground.
Derrick Henry Under 75.5 Rushing Yards (-110 at PointsBet)
Henry has surpassed this total in 2 of 3 games this year. However, in both of those games, his prop total was closer to 85. Here, his total is lowered due to the fact that the Colts are allowing just 77 yards per game. The Colts are home here and we believe they will lead early forcing the Titans to turn to the passing game earlier than expected.
---
NFL Week 4 Receiving Player Prop Picks
We broke down the entire week 4 slate to narrow down a list of hundreds of pass catchers to our three best bets for the week 4 slate. Here are our top 3 receiving player props for Sunday:
Devonta Smith Over 4.5 Receptions (+120 at Caesars)
After going without a catch in Week 1, Smith has been the most explosive receiver on the Eagles through the next 2 weeks. He grabbed 7 balls against Minnesota on 7 targets. Last week, he followed that up with 8 catches on 12 targets against Washington. We believe he will see a good number of targets once again and getting 5 or more should be well within reach.
Donovan Peoples-Jones Under 28.5 Receiving Yards (-115 at DraftKings)
Peoples-Jones had 6 catches for 60 yards against Carolina in Week 1 but has only had 10 yards combined in his next 2 games. He faces Atlanta here who does give up a decent amount of yardage to receivers but that will likely benefit Amari Cooper and David Njoku more.
Javonte Williams Over 20.5 Receiving Yards (-114 at FanDuel)
The Broncos are likely going to be playing from behind in this matchup and Williams should be the beneficiary of Russ trying to get the ball out quick when the Raiders' pass rush gets after him. After going for 65 yards through the air in week 1, he has only accumulated 12 total in the last 2. He gets back on track this week.