If you are looking for the best player prop bets for week 2 of the NFL season, we have you covered. We broke down every player prop on the board this week and have 14 picks for you!
All 14 of these picks come from the Sunday slate, and we have another 4 plays from Sunday available with our best bets for week 2. Be sure to subscribe to have our week 3 picks emailed direct to your inbox next Friday!
NFL Week 2 QB Props
Our 4 best player props from the QB numbers available this week check just about every box as we found an over-yardage, under-yardage, over-touchdowns, and over-interceptions play. Here are the 4 best QB player props available for week 2:
Lamar Jackson Over 222.5 Passing Yards
Best Available Odds: -113 at BetRivers
Jackson turned down the Ravens' latest contract offer and is gambling on himself. That said, he needs to continue to show that he is not just a running quarterback. He picked up 213 yards through the air last week against the Jets. Leading 24-3 heading into the 4th quarter left little opportunities for him to throw as the Ravens were satisfied to just run the clock. Here, he faces a Dolphins team that will keep the game competitive throughout. Jackson will have more chances to pick up aerial yardage and we believe 220 yards is extremely possible.
Jameis Winston Over 1.5 Passing TDs
Best Available Odds: +115 at BetMGM
Winston finished last week with 2 touchdown passes against the Falcons. This week, he is facing a defense that's strength is stopping the run. The Bucs will force Winston to be the one that beats them and we believe he will be up to the task. We like the Saints to win this game and Winston to be the reason behind it. While Jarvis Landry and Michael Thomas were utilized last week, we believe Winston will use Alvin Kamara out of the backfield a bit more here against the Bucs.
Trey Lance Under 200.5 Passing Yards
Best Available Odds: -115 at DraftKings
Trey was only able to accumulate 164 yards through the air last week against the Bears in a loss. This week against the Seahawks we believe the 49ers will be leading for a majority of the game and will do so on the ground. We are expecting Trey to do more damage with his legs than his arm in this one.
Marcus Mariota Over 0.5 Interceptions Thrown
Best Available Odds: -103 at BetRivers
Mariota has averaged 1.3 interceptions per game over his 8-year career. Starting in 62 games, he has thrown for 45 interceptions. He was able to go without throwing one last week against the Saints. This week, he is facing the Rams who were able to pick off the great Josh Allen twice last week. We expect Mariota to get back to his way of tossing at least 1 pick per game in this one.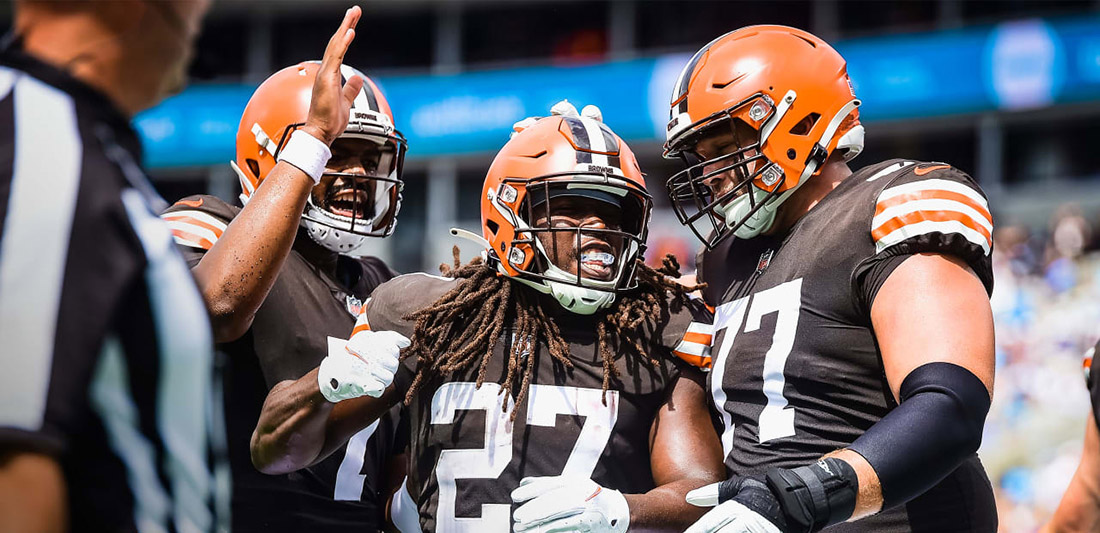 NFL Week 2 RB Props
There is plenty of value to be found in the RB player props on the board for NFL Week 2 including our two favorite anytime TD plays, each of which pays +155 or better odds. Here are our top 7 RB player props for week 2:
Kareem Hunt - Anytime TD Scorer
Best Available Odds: +155 at FanDuel
Kareem Hunt picked up where he left off last season as the touchdown vulture that all Nick Chubb fantasy owners despise. I am one of those Chubb owners and will admit I am extremely salty about the points left on the board because of Hunt. Here we are playing Hunt to score at even money. He gives us the threat of scoring on the ground and through the air.
James Robinson - Anytime TD Scorer
Best Available Odds: +170 at FanDuel
Robinson is already being dubbed the steal of the draft for all fantasy owners. The Colts were able to keep the Texans' rushing attack at bay but this Jaguars team will be a different animal. Robinson found the endzone twice last week, and much like Kareem Hunt, he is a threat to score both on the ground and through the air like they both did last week.
Alvin Kamara - Under 52.5 Rushing Yards
Best Available Odds: -115 at DraftKings
As we stated above on the Winston prop, we believe Kamara will factor into the passing game a bit more this week. However, on the ground, it will be tough sledding. As long as the Bucs prevent him from popping a 30+ yarder, this number should stay low for him.
Nick Chubb Longest Rush Over 18.5 Yards
Best Available Odds: -115 at SI Sportsbook
Only 5 times last season was Nick Chubb held under 18 yards as his longest run in a game. While the Jets kept the Ravens rushers from achieving this number, there is no Raven that compares to Nick Chubb. His longest rush last week was 25 yards and we expect him to get another 20+ yarder once again this week.
Saquon Barkley Longest Reception Over 12.5 Yards
Best Available Odds: -110 at BetMGM
Barkley tallied 40 yards receiving last week with his longest being just 7 yards. This week against the Panthers, he should have an opportunity to break a longer one. The Panthers allowed a 20+ yard reception to Kareem Hunt who has similar pass catching abilities to Barkley. We think he takes a dump down for a ride at some point in this matchup.
Javonte Williams Longest Rush Over 15.5 Yards
Best Available Odds: -125 at BetMGM
The Texans allowed over 160 yards rushing to the Colts last week. Now the Broncos will get to face the battered defensive line of Houston and we believe Javonte Williams will be the big benefactor. Williams had a couple of solid runs but his longest was just 13 last week. As long as he can hold on to the ball, he should get plenty of chances to break a good one over 15 yards.
Josh Jacobs Over 58.5 Rushing Yards
Best Available Odds: -110 at DraftKings
Jacobs scampered for 57 yards last week against the Chargers. In his career, Jacobs has averaged 71.5 yards per game. This week, we get him against a Cardinals who allowed a total of 128 yards on the ground to the Chiefs who were doing much more passing than running. We believe the Raiders will dominate the time of possession and utilize Jacobs throughout the contest.
NFL Week 2 WR Props
There are quite literally thousands of wide receiver player props available for the NFL Week 2 Sunday slate, but we've narrowed the list down to our three favorite plays. Here is a look at our favorite NFL week 2 WR props:
Amari Cooper Under 43.5 Receiving Yards
Best Available Odds: -105 at DraftKings
Cooper failed to get more than 3 receptions last week and finished with just 17 yards. There were 4 other Browns that accumulated more yardage receiving than he did. This week, he is likely to draw the coverage of one of the best rookie cover corners in the league in Sauce Gardner. The Browns will likely stick to their heavy run attack and we believe Cooper will not get many opportunities to break the 40-yard mark.
Davante Adams Over 7.5 Receptions
Best Available Odds: -115 at BetMGM
In his 1st game back with his college quarterback, Davante Adams was targeted an incredible 17 times. He was able to grab 10 of those 17 and will be looking to duplicate those numbers this week against the Cardinals. Patrick Mahomes spread the ball around on his 30 completions against the Cards last week, but Carr seems to be more focused on hitting his main man Adams. We expect an easy 8 receptions for Adams this week.
Brandin Cooks Over 63.5 Yards
Best Available Odds: -115 at DraftKings
Cooks surpassed this number last week against the Colts. He grabbed 7 balls for 82 yards with a 42-yarder as his longest. He is facing a Broncos team that we expect to be leading most of the way and forcing the Texans to throw, throw, throw. OJ Howard was next in receiving yards with just 38 yards. Cooks will be the man again this week for Davis Mills.
Bookmark our player props page for even more week 2 picks. Our team not only picks every weekly slate, but shares picks for every primetime game including TNF, SNF, and MNF.