With a new head coach, new quarterback, and a new set of skill players, GM Joe Douglas appears to have the New York Jets heading in the right direction. After finishing the 2020 season at 2-14, just how improved will they be in 2021?
In this article, we take a look at the Jets' 2021 offseason, provide an outlook for both sides of the ball, and share our lean on the current 6 win total that is currently available at most US sportsbooks.

Place any $20 NFL Bet, Get $200 in Free Bets
Place any $20 NFL bet on PointsBet and get $200 in free bets if your team completes a pass. Here are the steps to get this limited time offer:
1. Register at PointsBet
2. Use the promo code BVFBMULTI1
3. Place any $20 NFL bet
4. Get $200 in free bets
Jets' 2021 Offseason
Let's start with the positives for the New York Jets. The Adam Gase debacle is behind them. They've started a true rebuild and have moved away from giving significant playing times to players like Joe Flacco and Frank Gore.
With the 2nd overall pick in the 2021 NFL Draft, they selected Zach Wilson out of BYU. This might have surprised some early on, with prospects like Trey Lance and Justin Fields rated higher than most. However, it should be noted that the Jets signed HC Robert Salah and chose to draft QB Zach Wilson very early on in the draft process. This is the guy they want to roll the dice with, for better and for worse.
The Jets' other high-impact draft picks were OL Alijah Vera-Tucker, WR Elijah Moore, and RB Michael Carter. The Jets are clearly rebuilding their entire offense and took solid players given their draft capital, including a trade-up for Vera-Tucker.
The Jets were active in free agency, signing EDGE Carl Lawson to a hefty deal, as well as 26 year-old WR Corey Davis. The Jets did let CB Brian Poole walk, their only halfway decent defensive back in 2020. Other than trading away former first-rounder Sam Darnold, there were no other significant subtractions to this roster.
The Jets also let Saleh remake the coaching staff, bringing in Mike LaFluer as OC and Jeff Ulbrich as DC. Both LaFluer and Ulbrich have had experience working under Kyle Shanahan while he served as Head Coach of the Atlanta Falcons.
Saleh will look to implement his defensive scheme that turned the 49ers into a powerhouse defensive unit over the last few seasons. He will rely on LaFluer to recreate some of Shanahan's magic on the offensive side of the ball.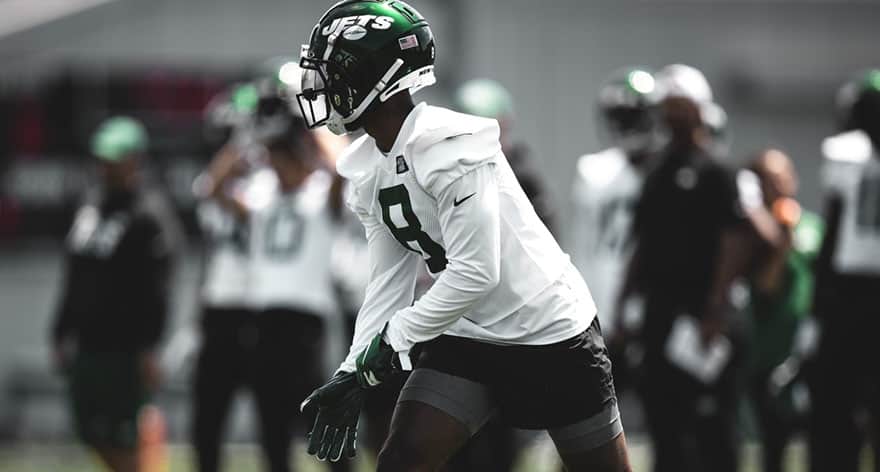 Offense Outlook
How much faith do you have in Zach Wilson? Clearly not as much as Joe Douglas and the New York Jets. Wilson is a great athlete with good speed and excellent arm strength. He certainly fits the build of a modern NFL quarterback, however, he brings many question marks with his game.
The first point Wilson will have to prove is his readiness to perform at the NFL level. At BYU he consistently played subpar competition. Wilson's aggressive style might not go over well in the NFL (a la Drew Lock), as he is susceptible to overcompensating on broken plays and overconfidence in his deep ball accuracy. NFL defenses with strong pass rushes will punish these mistakes during Wilson's rookie year as the young offense looks to find its footing.
Rookie wide receiver Elijah Moore could become the best receiver on this team, which features a nice core of veterans (Jamison Crowder, Corey Davis) and young talent (Moore, Denzel Mims). The running back situation is still suspect even after drafting Michael Carter and signing Tevin Coleman from the 49ers.
The Jets certainly have the prospects to put together a serviceable offense, but it is simply too early to tell if the players will gel and effectively run LaFluer's offense in his first play calling gig. The Jets also have the makings of a solid offensive line, anchored by 2nd-year LT Mekhi Becton.
That being said, I think the offseason additions plus the flashiness of Zach Wilson has caused an overreaction to the potential of the Jets offense. They certainly made the right moves in their rebuild, but it's a little too early to buy in on this offense.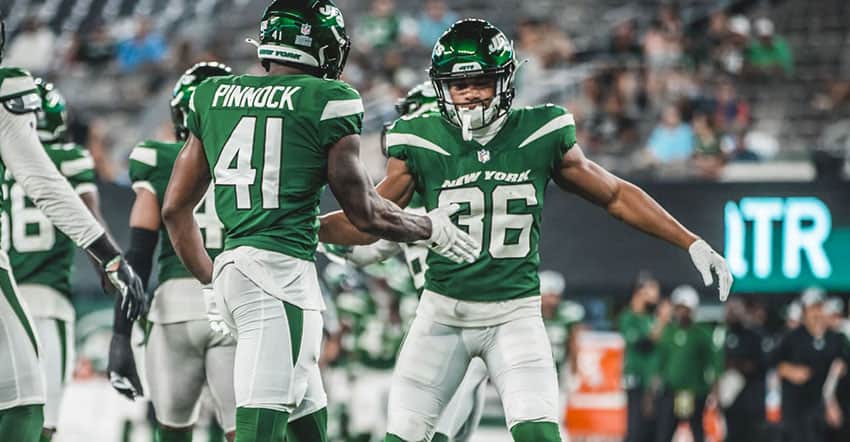 Defense Outlook
The New York Jets rebuild continues on the defensive side of the ball. In 2020, the Jets ranked dead last in Football Outsider's DVOA (defense-adj. value over average) rankings and carry over one of the least talented units from last year.
Former Alabama DE Quinnen WIlliams will look to anchor this unit for years to come as a significant contributor in the pass rush. The Jets also brought in one of the better EDGE rushers on the market in Carl Lawson from the Cincinnati Bengals.
Unfortunately for the Jets, Lawson went down with a torn Achilles and will likely miss the entire year. To make up for this, the Jets went out and acquired former first-rounder Shaq Lawson from Houston. Shaq is a slight downgrade from Carl, but can still be a solid contributor for the team.
Robert Saleh and Jeff Ulbrich will have their work cut out for them, as they implement Saleh's 4-3 system to displace Gregg Williams' hybrid 3-4. Saleh will likely rotate in capable pass rushers in Vinny Curry, Foley Fatuski, and John Franklin-Myers.
Also, the Jets big 2019 free agent signing, CJ Mosley is set to play his first full season after injury in 2019 and sitting out the 2020 season. Mosley is more talented than anyone the Jets have played at middle linebacker in years, but his production is certainly a question mark after such a long layoff.
The front-seven for the Jets can certainly be competent, however, it would be foolish to think they have the talent or the depth to perform as well as Saleh's 49ers unit between 2017-2020. The pass-rush will likely be solid, but the Jets lack a Fred Warner type of linebacker who is able to perform well in coverage, an immediate problem in Saleh's Tampa 2 coverage.
Even if the pass-rush is decent to good, the Jets will have a serious problem over the top. Safety Marcus Maye grades out as an above-average defender but the Jets will likely be awful in coverage this year.
Their only positive impact DB Brian Poole signed with the Saints after the Jets let him go. The Jets did not spend any top draft capital at the cornerback position but also declined to bring in any veterans to start or provide depth. This cornerback core projects to be one of the least-experienced and least-talented in the league.
Jets' Win Total Bet
I have to admit, I feel like the New York Jets are moving in the right direction as a franchise for the first time in a decade, despite my hesitations around QB Zach Wilson. However, this feels much more like a 2-3 year time period for competitiveness than a one-year turnaround.
The Jets are only projected to be favorites in 4 of their 17 games this season. That number could easily change depending on the performance of QB's like Trevor Lawrence (JAX), Jalen Hurts (PHI), and Joe Burrow (Bengals).
It's difficult to find 5 wins in this schedule, let alone 6. I would recommend UNDER 6.5 wins for the Jets between -110 and -135. With those numbers all but gone from the market, I would still recommend UNDER 6 wins at +100 or better.
Browse Latest Articles