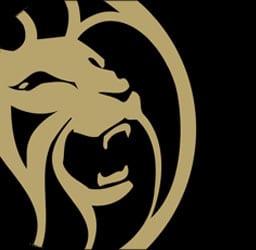 Bet $20 on Any NBA Game, Win $100 No Matter What!
Only at BetMGM
Friday night's 10 game NBA slate includes 15 teams that are still in the playoff picture. Of the 20 teams in action tonight, only Dallas, Charlotte, and the Lakers are on the second leg of back-to-backs.
We laid a big number (-13) with the 76ers on Wednesday night and considered going back to that well again tonight against a banged-up Pelicans team. New Orleans will play without Steven Adams and Brandon Ingram tonight, and the 76ers have been blowing out everyone lately winning their last six games by an average margin of just under 20 points.
Speaking of teams playing through injury, the Lakers will face Portland without James and with a banged-up Anthony Davis who was forced to leave last night's game with back spasms. The teams are currently tied for the 6-seed in the West, and at the moment Portland is a 6.5 point favorite tonight. The Lakers are 2-4 with James out and Davis active this season, and actually have a better winning percentage with both stars out (7-10).
Before we jump into our pick for the night, we wanted to remind our readers to take advantage of our free odds checker to shop every line on tonight's slate before making a wager. Whether you are looking for lower juice or a better number, you can find it for the state you are betting in on our odds checker.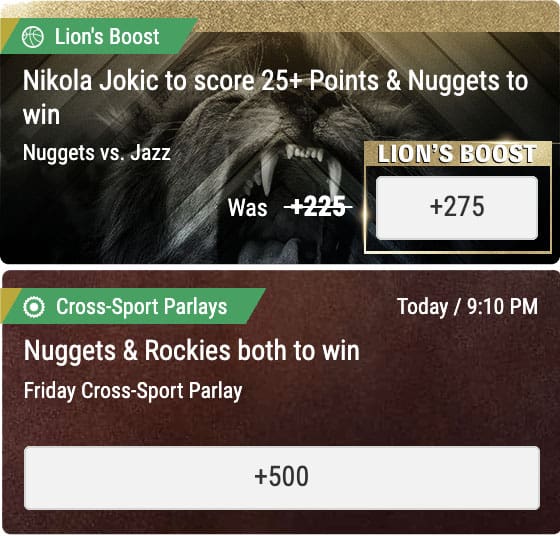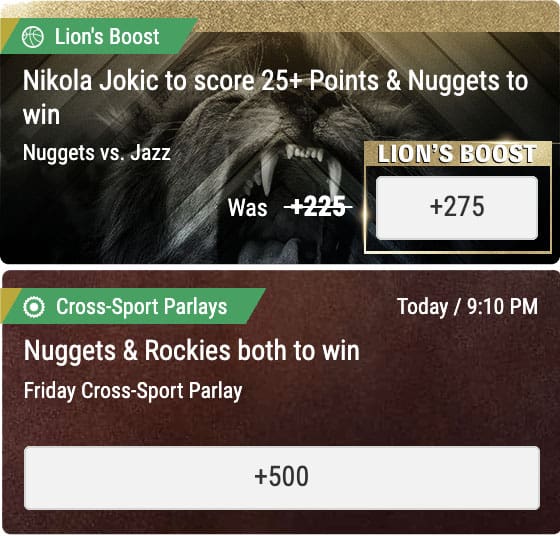 Nuggets Odds Boost from BetMGM
Jokic Over 25 + Nuggets Win = +275!
Cleveland Cavaliers at Dallas Mavericks
Pick: Mavericks | Best Spread: William Hill (-9.5)
At the time of publishing this article, our odds checker has identified William Hill as being the only book to offer the Mavericks at under a 10-point spread. As we mentioned in the intro, Dallas is on the second half of a back-to-back, but unlike the Lakers, they did not have to travel for this second leg.
While Dallas has not been great against the spread at home this season, they face the league's worst ATS road team in the Cleveland Cavaliers. The Cavs are 10-23 ATS on the road this season and come into this one having lost 8 games in a row and 11 of their last 12. They haven't won on the road in nearly a month.
Dallas is currently the 5-seed in the West with just a one-game lead over the Lakers and Blazers. This is important to keep in mind as seeds 7-10 have to deal with the play-in tournament. If Dallas wants to add distance between themselves and whoever loses the Lakers-Blazers game tonight, it is essential they take care of business at home tonight.
While 9.5 is a big number, Dallas has won its last two meetings with Cleveland by an average of 31 points. Furthermore, they have won 8 of their last 10 games by an average margin of just over 11 points. Clearly, this is a spot that Dallas can, and should cover a 9.5 point spread.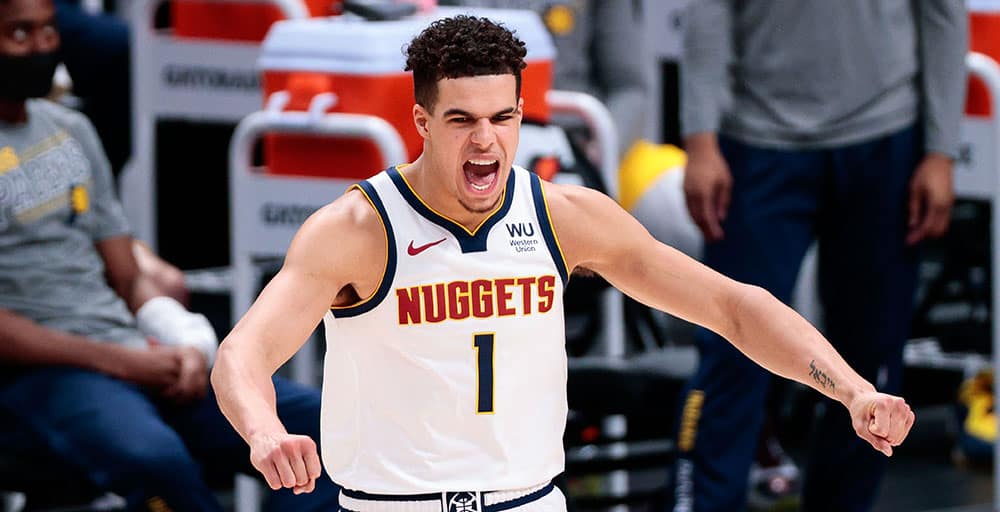 Prop Bet of the Night: Michael Porter Jr. (Under 21.5 Points)
This is one of those slates that make you with Kambi did not completely own the US sports betting market. As the odds provider for essentially the entire US market, when they don't offer prop bets for the majority of games and players, it essentially crushes the market.
Nevertheless, we were committed to finding a player prop under to target today, and Michael Porter Jr. is the guy that really stood out to us. At 21.5 points (-113) you are getting good value here for several reasons. First, of course, is the matchup. Utah is by far the toughest defense in the league vs opposing shooting guards, small forwards, and power forwards.
MPJ has crushed this 21.5 prop over the past month, going over 21 in 12 of his last 15. However, that number is deceiving as the Nuggets have played a cupcake schedule over that stretch. When facing even a slightly above-average defense, Porter has failed to reach 20 points on all three occasions.
Utah should be well-rested heading into this game after blowing out the Spurs in their last two and held Pascal Siakam well under his season average the game before the series with San Antonio.
Also worth a look, you are getting even money at most US sportsbooks on Chris Paul under 15.5 points tonight. The Knicks defense has been unbelievably good over the past month, and they have been particularly tough on opposing point guards. They held Ja Morant to only one field goal earlier in the week and should be able to hold Paul under his season average (16 PPG) in this matchup tonight.
Browse Latest Articles