It seems like only a few weeks ago that the Milwaukee Bucks were crowned as the NBA champs after defeating the Phoenix Suns. However, the 2021-2022 NBA season has officially arrived. In the spirit of the start of a new season, we wanted to take a look at the current odds for the 2021-2022 NBA MVP Award.
Not sure what players to invest in for the NBA MVP? Our goal for this article is to help you with that! We will go over our pick for the top favorite bet, our top mid-range pick, and our top longshot bets to win this year's NBA MVP.
Here's a quick look at the current odds from Caesars Sportsbook:
Current NBA MVP Betting Odds
Latest Odds from PointsBet SportsBook
| Player | Odds |
| --- | --- |
| Luka Doncic | +500 |
| Kevin Durant | +650 |
| Giannis Antetokounmpo | +700 |
| Stephen Curry | +800 |
| Joel Embiid | +800 |
| Damian Lillard | +1200 |
| Lebron James | +1600 |
| Nikola Jokic | +1600 |
| Player | Odds |
| --- | --- |
| James Harden | +1800 |
| Trae Young | +2100 |
| Jayson Tatum | +2400 |
| Anthony Davis | +2800 |
| Devin Booker | +2800 |
| Donovan Mitchell | +3000 |
| Russell Westbrook | +3600 |
| Paul George | +3600 |
Biggest MVP Odds Changes Over Past Month
It is always fun to see which players' stocks are rising and which are falling. There have not been any huge shakeups over the past month, the biggest move-up has surprisingly come from Russell Westbrook, who we gave as one of our favorite longshot bets when his odds were at +5500. He now sits at +3600.
Both Durant and Harden have seen their odds of winning the MVP award this season increase with the news that Kyrie may end up sitting home games for Brooklyn. Both players would certainly see an uptick in usage if that were the case, and if the Nets end up winning the East it seems likely one of the two would finish at worst in the top 3.
The biggest falls have come from Devin Booker, who we liked at 20-to-1 odds, but now sits at 28-to-1. This is surprising as the Suns won the West last season, remain an ascending team, and Booker seemingly had a solid offseason. Trae Young is the only other top-10 candidate that saw a 300-point odds change this past month, moving from +1800 to +2100.
Who Are the Favorites to Win the NBA MVP this Season?
Basketball is back and we are starting our NBA article series looking at the top 10 MVP candidates going into the season. Let's break down every front runner's chance of winning the NBA Most Valuable Player Award! Can Jokic repeat? How will Luka fare? Let's take a closer look at the current favorites and their
MVP odds at Caesars sportsbook.
Luka Doncic (+500)
Slovenia's darling is the #1 on the MVP list having the shortest odds out of all candidates. We would most definitely steer clear of betting on Luka, especially as being the favorite. The team around Doncic very likely won't be better this season and we are not sold on Jason Kidd as a head coach either. Winning the MVP award is extremely difficult if your team finishes around the 6th seed.
Kevin Durant (+650)
The Nets are sizeable favorites to win it all this year and it seems like only health issues could stop this team from winning a championship. The Nets have some issues around Kyrie Irving's vaccination status, but even if the star guard sits out the regular season, we have the Nets winning 6 more games than anyone else in the league. At this point, KD is our favorite to win it all and if he stays healthy, it will be really difficult to dethrone him.
KD is entering his age 34 season, but this could be a championship run to remember. There are really no teams out there that should be able to challenge Brooklyn if they stay healthy. If the Nets get the #1 seed, KD should win the MVP award more times than not. We still see a lot of value in betting James Harden at +1700 or better, as he will gain a lot because of the current situation in Brooklyn and the gap between KD and Harden isn't nearly as big as the market makes it out to be.
Giannis Antetokounpo (+700)
Based on the market lines Giannis is the second most likely player to win the MVP award. The 2019 – 2020 back-to-back MVP has a decent case this year and he should be among the front runners, but the Bucks are likely going to be a bit worse in 2021 after losing P.J. Tucker among a handful of other players. Still, we feel like Giannis is fairly priced amongst the favorites, but there is not a lot of meat left on this bone at the current price.
Joel Embiid (+800)
Joel Embiid will always have a shot at winning the MVP award and the Philly big will be among the top vote-getters in this season as well. The problem is, that Embiid has only played 51 games in back-to-back seasons and has never played more than 64 games in a regular season through his career. In an era of iron men like Nikola Jokic, this won't cut it. This, and the question marks around Philadelphia due to the Ben Simmons situation makes us skip Embiid here.
Stephen Curry (+800)
It feels like Steph Curry will always have a shot to win MVP. 2016's unanimous MVP might not be the young buck he was five years ago, but Golden State will still likely be a playoff team (especially if Klay Thompson is indeed able to come back before January), but we project the Warriors finishing outside of the first 5 seeds, making the task of winning this pretty difficult for Steph.
Damian Lillard (+1200)
It feels like Damian Lillard is getting better year after year and we could easily make a case for Portland being better this season after getting rid of Carmelo Anthony and Enes Kanter. Still, it is hard to imagine the Blazers claiming one of the top seeds in the West. We would also not be surprised to see some regression from Lillard in general. Passing on this one.
Lebron James (+1600)
Once LeBron James, a fan favorite is sliding outside the top five in MVP odds, you probably know he isn't going to win it. James is 36 and for the first time in forever, he had a pretty tough time with injuries last season. It is hard for us to see him rebounding, especially as the supporting cast around the LA big three is questionable at best.
Nikola Jokic (+1600)
Last year's MVP is still in the top ten coming into the season, but Jokic won't have Jamal Murray helping him win regular-season games. We still forecast Denver to be a borderline top 5 offense, but the lack of guard depth will hurt Jokic & Co. in the long run. We don't hate betting on Jokic at +1800 or better, but we have a hard time seeing him repeating, especially as European bigs generally don't win this award.
James Harden (+1800)
According to sportsbooks, James Harden has the 10th best shot at winning MVP this year. We don't agree with this and have Harden up much higher on the list. While Harden is already 32 years old, we should see him starting to regress for a few years at least. He is coming off back-to-back seasons where his scoring was down to 24-25 points per game on average, but he was averaging over 10 assists a game in both of these years. With Harden being fully healthy, playing for the championship front runner, we could see a bounce-back year from him. According to our projections, he will lead the league in assists averaged per game if Kyrie Irving misses most of the regular seasons and Harden also should see an improvement in his scoring average if his fellow guard is forced to sit out games.
Trae Young (+2100)
Based on his performance in the 2020 playoffs, we could make a case for Trae Young to have a decent shot at winning the MVP in 2021, but we still see questionable decision-making sometimes in the youngster's game. We are also expecting him to be among the players that will be the most affected (in a negative way) by the league's new rule change on shooting fouls.
Top Favorite to Win NBA MVP: Kevin Durant +750
Now that Kevin Durant is finally healthy and capable of playing an entire season, it's the perfect time to invest in him for the NBA MVP. KD only appeared in 35 regular-season games last year but he was back to his usual beast-mode ways during the playoffs and the Olympics. Though Durant has played 13 NBA seasons, he'll still only be 33-years old by the time this season rolls around.
If you look at the history of the NBA MVP Award over the last seven seasons, you'll notice that five of the seven MVP winners came from #1 seeds. This sets up perfectly for Durant since the Nets could very well be the #1 seed in the Eastern Conference once the playoffs tip-off. Sure, the Milwaukee Bucks may have something to say about that but the Nets definitely have the more talented squad when they are all healthy.
Sure, health is a bit of a concern with Durant but keep in mind that he played in 78 regular-season games with Golden State in 2018-19 before the dreaded Achilles tendon tear. He has shown the ability to play lots of minutes in the past. You can bet that Durant and the Brooklyn Nets will be out for blood after narrowly missing the NBA Finals last season.
Durant is almost unguardable when he's fully healthy. The former University of Texas star has insane ball-handling skills that enable him to play multiple positions on the floor. At 6-10, Durant can easily shoot three-pointers over just about anyone who tries to guard him.
There's not a lot of meat on the bone at the +750 price, but Durant hasn't won a regular-season MVP since the 2013-14 season. The guy is due to take home the hardware this season so we'll gladly put a medium bet on Durant +750 to win this year's NBA MVP.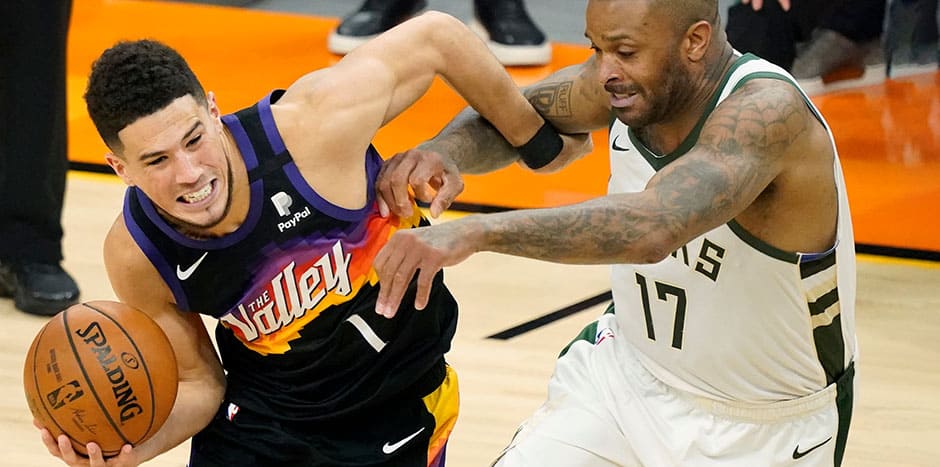 Top Mid-Range Pick for NBA MVP: Devin Booker +2800
Devin Booker has quietly become one of the league's elite scorers. The 24-year old averaged 25.6 points per game last season which ranked 14th in the league. Booker came close to leading the Phoenix Suns to an NBA championship last year but the Bucks got on a roll at just the right time.
The Suns should again be one of the top teams in the Western Conference and Booker is without a doubt the best scorer on the team. We love the fact that Booker is extremely durable. You can easily pencil this kid in to play in at least 70 games per season, which helps his MVP chances tremendously.
The crazy thing is that Booker is still improving as an all-around player. Having a veteran teammate like Chris Paul has improved Booker's performance on the court. Booker has made back-to-back All-Star games and we expect him to take another big step in 2021.
We recommended Booker at +2000 when these odds were initially released, so at 28 to 1, putting a small wager on Booker to win the 2021-2022 MVP award seems like a wise decision. Keep in mind that last year's winner, Nikola Jokic, was in this type of price range before the season started. Give us the best scorer on one of the Western Conference's best teams!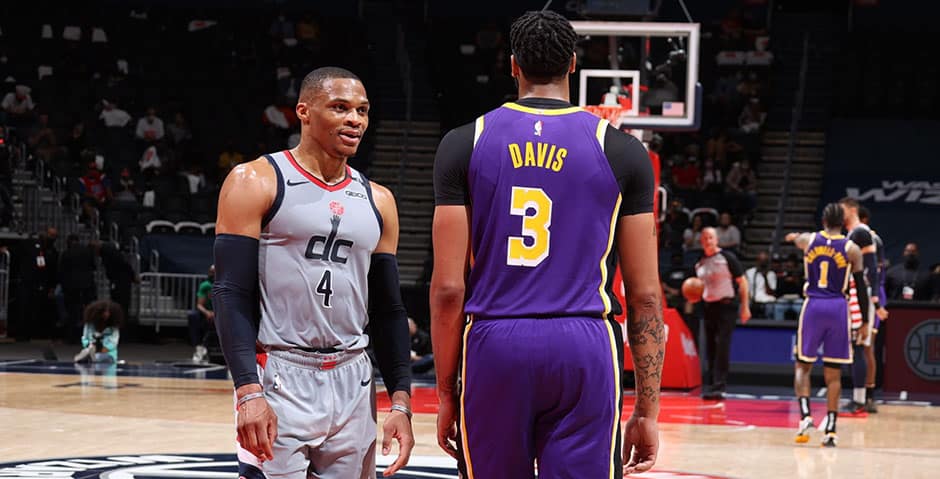 Top Longshot to Win NBA MVP: Russell Westbrook +3600
For our top longshot pick, let's go with Mr. Triple Double himself, Russell Westbrook! After toiling away the last couple of years with subpar franchises (Houston and Washington), can you imagine how thrilled Westbrook is to be on the Los Angeles Lakers? Multiple reports have stated that Westbrook has always dreamed of playing for the Lake Show!
If LeBron James, Anthony Davis, and Westbrook can all stay relatively healthy, the Lakers will be a contender once again in the Western Conference! This should help Westbrook's MVP chances, especially if he averages a triple-double for the entire season like last year! It also doesn't hurt that the Lakers are the most popular franchise in the NBA.
To win an NBA MVP award, a player must stay healthy the entire season. Luckily for us, durability has never been a problem for Westbrook. In 13 NBA seasons, he's played at least 70 games in eight of those seasons. That's a highly impressive track record of being able to stay on the court for the majority of the season!
Now that Westbrook is back on a contender, we expect him to play with some added motivation this season! If Westbrook finishes with numbers that are similar to last season (22.2 points per game, 11.5 rebounds per game, and 11.7 assists per game), he'll definitely be in the hunt for the MVP. The 36 to 1 number is down from our initial recommendation when he was priced at 55-to-1 but still leaves a ton of value in a small Westbrook wager.
Does Luka Doncic deserve to be the favorite?
Luka Doncic is one of the most talented players in the NBA so it makes sense that he's the favorite to win the MVP award. We were all reminded in the Olympics just how dominant Doncic can be when he's on his game. It's hard to believe that he's still only 22 years old.
The only reason we passed on Doncic for MVP is because of his supporting cast. The Mavs aren't a bad team, but they aren't elite either. We think Doncic will win several MVP awards during his career but Mark Cuban has got to get him some more help before that happens.
Browse Latest Articles